Class of 2023: Doechii
Embodying the resilient spirit of the character she created at her lowest ebb, the Florida-born rapper is coming out fighting and ready to take her place at music's top table.
Towards the end of 2020, Jaylah Hickmon - known at that time as iamdoechii - was listing her intentions for the next five years: collaborate with some of music's greatest figureheads; up the budgets; influence pop culture in a real and tangible way. Fast forward to November 2022 and the artist now known as simply Doechii is already three years ahead of schedule. "I got there a little quicker than expected!" she admits. "I've already hit marks that I thought were so far off. I need to revisit the drawing board and figure out where I want to take it."
Doechii is speaking via Zoom from the kitchen of her home in Los Angeles, where she's making pasta. Is she a good cook? "No. Horrible," she says, plainly. In some ways it's reassuring to know there's at least one thing the 24 year old isn't good at. Her ascent has been seemingly rapid and faultless. In the space of just a year she has blown through the milestones she laid out in 2020 at a rate of knots, a speed referred to in entertainment as 'overnight'.
She's opened shows for SZA, made a spectacular live TV debut on The Tonight Show hosted by Jimmy Fallon, dropped a verse on a David Guetta single that also featured Missy Elliott and walked in Balenciaga x Adidas for the star-studded Vogue World runway show at New York Fashion Week. She's released the floor-filling, house-influenced 'she / her / black bitch' EP and delivered an electrifying BET Awards performance that had her snatching her own wig off on stage - and that's just the tip of the iceberg. How does it feel to be Doechii? "This is exactly what I've been praying for my whole life. I just feel gratitude all the time," she says and then adds, with a laugh: "Well, not all the time, but most of the time!"
The 'overnight' version of Doechii's success story begins in the middle of 2021, when she scored a genuinely organic viral hit off the back of a TikTok trend which utilised a short clip of the single 'Yucky Blucky Fruitcake' and its now-ubiquitous opening phrase: "Doechii, why don't you introduce yourself to the class?" She didn't even have a TikTok account at the time. As her streams multiplied in the hundreds of thousands, Doechii found herself on the radar of Anthony 'Moosa' Tiffith - the son of Top Dawg Entertainment (TDE) founder Anthony 'Top Dawg' Tiffith and current president of the legendary label responsible for launching Kendrick Lamar.
Moosa flew her out to LA and took her to a session with producer Kal Banx. "It was my first time in a professional studio," Doechii says. "I was like, I don't really know how this works, I don't know what they're gonna want me to do, I just know that I don't want to go home and I really want to be a part of this legacy." She took a shot of tequila, went into the booth, and rained fire over the first beat she was played. The rest, as they say, was history. "I just went crazy," she says. "But I didn't have any words. I got signed off of gibberish."
"I have things to do that are bigger than me."
There is, of course, far more to the story than that. To understand how "a weird, creative, dirty little hoodrat" came to be one of music's hottest tips for 2023, we have to go back to Tampa, Florida, where Doechii was born and raised, the eldest of three siblings (she has twin sisters) in a single-parent household. Her mother encouraged her to take part in extracurriculars such as cheerleading, dance and choir, and when she reached her teens, Doechii pushed to attend a historically Black high school for performing arts - her vocals impressing enough at her audition that she was accepted despite living outside the school's district. She was classically trained there and, when graduation rolled around, she had intentions of pursuing a career as a professional choral singer or teacher, before realising it was possible to make music as an independent artist. She threw herself into writing songs and recording lifestyle vlogs, growing a small fanbase on SoundCloud and YouTube and playing live shows anywhere she could get booked.
"I was working every aspect of my business at that time," she says. "Making my own content, marketing, filming myself, taking pictures, styling myself, writing the music, shooting the videos. I did everything myself. A one-woman situation." She quickly outgrew Tampa's under-developed music scene, where the concept of paying artists to perform was considered a novel one, and moved to New York City in 2019 to further advance her career. Taking a job as a student advisor at a medical school - "Imagine me being your student advisor, I didn't even go to college!" - Doechii soon realised that she couldn't make music and work at the same time. "A big part of why I chose to do music is not only because I loved it, but because I really wanted to escape a job," she says. "I hate the idea of jobs and having a boss. It was 'choose them, and invest your eight hours into them, or invest everything into you'. I had to pick one."
Doechii chose herself. When the pandemic hit in 2020, she quit the job she was "completely unqualified" for and used her unemployment benefits to fund the creation of the 'Oh, The Places You'll Go' EP, which dropped in November 2020. Her return on investment was swift. 'Yucky Blucky Fruitcake' blew up the following April and she entertained several uninspired offers from major labels before she became the first female rapper in TDE's 10-year history to join the label's roster.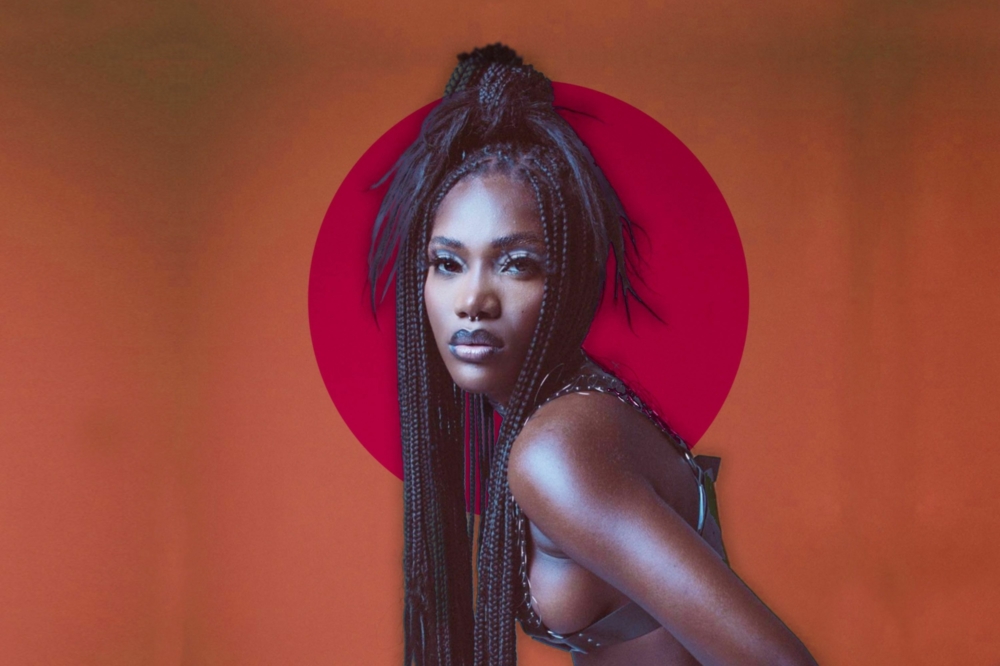 "I'm not gonna let my environment, or how people perceive me, stop me from doing what I love."
In March 2022, Doechii released 'Persuasive' - a sultry purr of appreciation for spending the whole day faded - in line with the announcement of her joint signing to TDE and Capitol Records. The "gibberish" she laid down in that first session would eventually translate to follow up single 'Crazy', which throbs and crackles with raw, unrestrained energy. In the video, easily the year's best, Doechii and her team of dancers perform in a stark, concrete skeleton of a building, lined up like an underground militia for their stomping choreography, running around toting guns and baseball bats, setting fire to cars. The flow is unchanged from the deal-sealing first cut, but the lyrics presented a challenge.
"I felt the theme in my soul," says Doechii, pointing at hits like 'Toxic' by Britney Spears or Beyoncé's 'Run The World (Girls)' as examples of songs with a storyline and a message, tied together with a snappy hook - the kind of songs she aspires to write herself. "I didn't want it to just be, 'I do this, I do that, blah blah blah'. I knew I wanted to make a statement so people could actually learn from it and be inspired by it for real."
The motivation to "embody freedom and fearlessness for somebody else" can be traced back to Doechii's origins. The moniker pre-dates her music career by over a decade; it was the name she gave to herself as she recovered from a suicide attempt following a sustained period of horrific bullying. She was just 11 years old. "I decided that you will not kill me," she says now, remembering how she came to rebuild her life after wanting to end it. "You will not kill me. You will not stop me. I found something to live for. I have things to do that are bigger than me."

"There is no dark-skinned, mainstream female rapper, who is a pop star, who is commercial. I put a lot of pressure on myself." 
This philosophy forms the foundation of her highly-anticipated debut album. The tracklist is currently on its fourth iteration and she's reluctant to share too many details while the project is still in flux, but the core message remains consistent. "I'm more focused on art right now rather than just entertaining people," she says. "I want the music to feel big and alive and to make people feel things again. It's getting quite numb in the world."
Although Doechii isn't exactly on a deadline - "My labels and my whole team agree that we need the best product, so fuck a date at the end of the day; if it ain't ready, it ain't ready" - recently she has been in the studio "non-stop" working to finish the album up. To her dismay, this has felt a lot like having the kind of job she was so keen to avoid. "I think every artist goes through this in their career," she says. "I gravitated towards art because it feels limitless. It feels like it's not a job. But it's actually more time-consuming and demanding than a 9-to-5. I work a 24/7. The rose-tinted glasses are off." Currently, she's trying to shift her mindset so she can fully enjoy the process again. "I don't want to be conscious of time, that's not what art is about."
It's not just about the hours she's putting in. Doechii holds herself to extremely high standards and the album won't be finished until it meets them. "I keep taking songs out because I'm making new shit that's better or closer to my point," she says. "I'll know it's done when I don't have any critique. I don't wanna cringe or be embarrassed about anything. I want to love every song and be able to listen to it over and over and over."
Her "demonic" ambition comes from a lifetime of "doing everything in excellence," an attitude that was instilled in her from a young age. "Just growing up as a Black woman, I was never allowed to half-ass things or I wasn't included," she says, with an audible it-is-what-it-is shrug. "I'm lowkey reacting out of trauma. There is no dark-skinned, mainstream female rapper, who is a pop star, who is commercial. I put a lot of pressure on myself."
She's all too aware from her own adolescent experiences that there is a very specific intersection of racism and misogyny that makes Black women - and dark-skinned Black women in particular - targets for hatred and discrimination. She also knows better than to think that the music industry is any different than the school playground. Nothing has changed since Doechii was a pre-teen, except for Doechii herself; now she knows what she's up against, and she knows what she can handle. "I'm not scared," she says. "I'm a soldier. I'm a leader. I'm gonna die fighting and I'm not gonna let my environment, or how people perceive me, stop me from doing what I love."
Like she said: it's bigger than she is. Bigger than her next target - 100k album sales in the first week. Bigger than a five year plan, or even a ten or twenty year plan. Doechii is thinking in lifetimes. "Eventually, I'm going to be someone's ancestor," she says. "And I'm gonna want them to channel me when they feel like quitting. So I wanna keep transferring that energy and be myself as much as possible so other people can be inspired by that, because I needed that when I was young. That's how Doechii came to be. She was me when I couldn't be me. I needed Doechii, and now I am her."

Read More