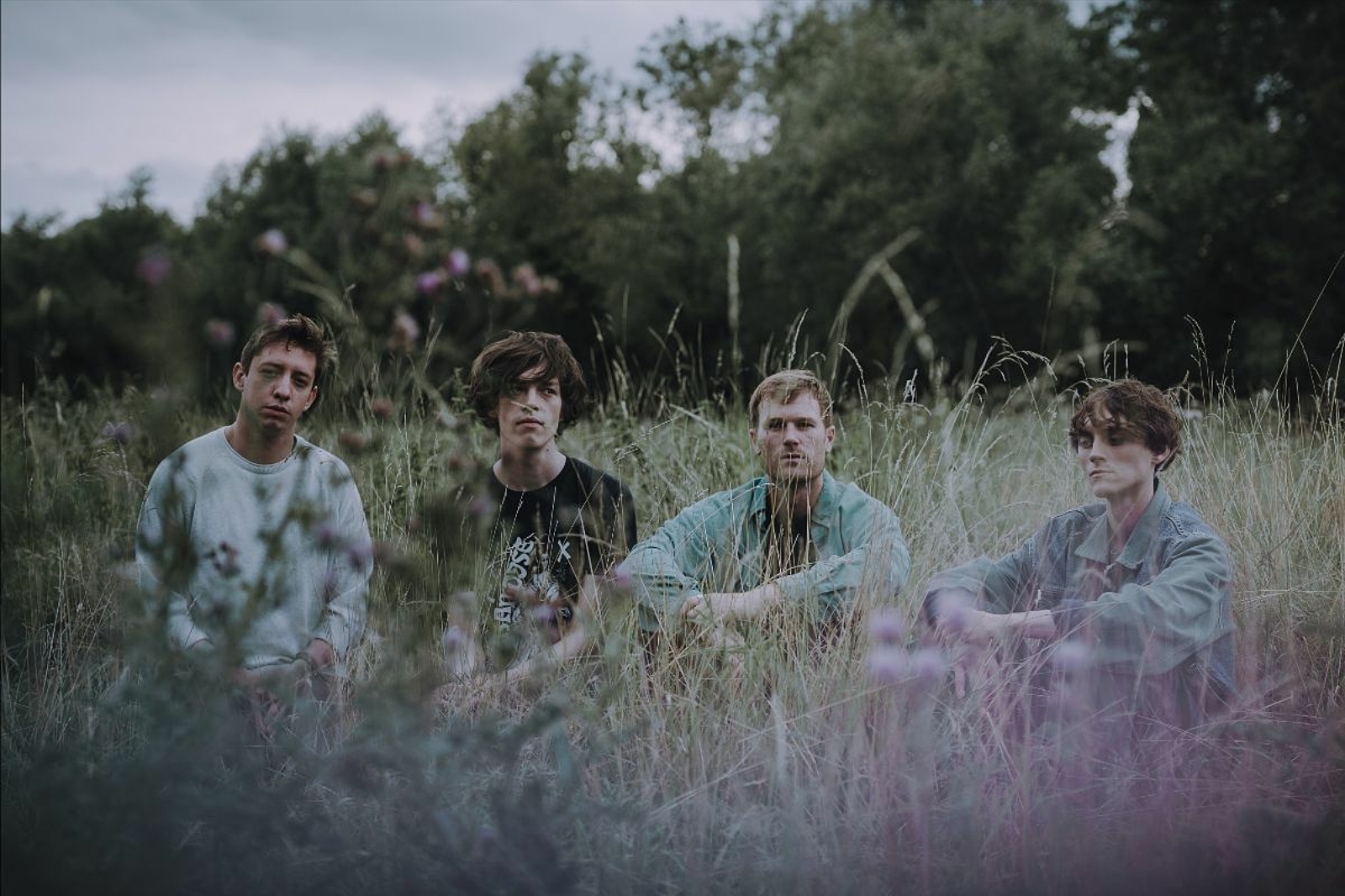 Photo: Jay Whitehead
Finding Sanctuary: Gengahr
Gengahr's Felix Bushe reflects on the rocky road towards their third record, 'Sanctuary', and how it's been the best thing they've done yet.
Days before Christmas, Felix Bushe is reflecting on the tumultuous - and at times, torturous - making of the third Gengahr record. 'Sanctuary' is their second full-length in as many years, but the speed with which they've turned it around belies the turmoil that it details. The ten tracks that comprise it are born out of a period of considerable personal upheaval for Felix; as well as suddenly losing his mother during the writing process, he found himself marooned on the opposite side of the planet to his girlfriend - her immigration issues could hardly have kept her further away from the Londoner, over in her native Australia.
Determined to mine the darkness for slithers of light, Felix embarked upon a prolific writing spree before the similarly-troubled production of Gengahr's last album, the twice-recorded 'Where Wildness Grows', was even finished. "Not many of those initial ideas survived this far," he says, "but I'm always more comfortable with the songwriter hat on. By the end, I had, like, sixty songs."
Complicating matters more was a sense of inertia amongst the ranks after touring for 'Where Wildness Grows' had wrapped. "If you're a few years down the line and things aren't going all that well," he muses, "you really feel it. You need to be very, very serious about what it is you want to do if you're going to make it work." In the back of his mind throughout the writing of 'Sanctuary' was the possibility that these songs would end up launching his solo career, rather than continuing Gengahr's.

"We're no longer teenagers, and real life shit's been cropping up."
— Felix Bushe
Gradually, the path became clearer. With two crucial old acquaintances brought on board - Bombay Bicycle Club singer Jack Steadman as producer, and 'A Dream Outside' boardsman James Bragg on engineering duties - the band decamped to the tranquil surrounds of Bude, Cornwall, where the seclusion and the freshly-constructed support network allowed for a reforging of old bonds between Felix, guitarist John Victor, bassist Hugh Schulte and drummer Danny Ward. "It gave everybody the opportunity to get back into the headspace we were in when we started out," relays the frontman. "It all started to feel rewarding again."

The resulting LP is a quiet triumph of clear-eyed simplicity that glides sonically between slinky disco ('Heavenly Maybe'), high-tempo guitar fizz ('You're No Fun') and off-kilter indie pop ('Anime', 'Icarus'). Save maybe for the eccentric electronics of 'Fantasy', this is the most immediate Gengahr release to date, with Felix leaning harder than ever before into the idea of a disconnect between sound and theme, his nervousness drowned in upbeat melody. "We've always been a band of juxtapositions," he explains. "It's something that's been there since the first record. I love pop music, and there's nothing better than finding that perfect balance between accessibility and weirdness. I'm always striving to make something that fits into both worlds. Jack's very much that way inclined, too, so he had a big part to play in drawing it out. He gave us a different window into what Gengahr could be. It's going to make some of our existing fans a little bit uncomfortable, but I honestly think it's going to be acknowledged as the best thing we've done so far. I can't see how it wouldn't be, at this point."

Another long-standing habit of Felix's is to frame his own experiences with the contexts of pre-existing characters - to use the works of other writers as prisms through which to filter his own thoughts and feelings. That was more important than ever during the making of 'Sanctuary', and as the emotional stakes were raised within his personal life, he met them head-on by drawing suitably epic influence from the ancient Greek literary works of Homer. "That's something I've always gravitated towards; that idea of almost becoming a ghost writer for protagonists from other stories. When I was working on these songs, I didn't know what the outcome of the situation I found myself in was going to be. I was reading the Iliad and the Odyssey, and relating to that level of separation and distance that the author felt from his wife, not knowing if he was going to be coming home. I didn't know if I was going to have to move to Australia or if the relationship would survive the strain of what was happening, so I latched onto that sense of uncertainty."
It's only now, with the episode having resolved itself happily, that Felix can reflect on the extent of the dark state of mind that 'Sanctuary' represents. "None of it is retrospective - it was all coming together as it was going on," he smiles. "In the end, the result was the best one possible; I married my girlfriend, we got her a visa despite how much fucking money it cost and how broke it left us, and it's the most positive ending we could have hoped for twelve months go. I can view everything through this new lens of gratitude now, especially given that we've made our best album on the back of it all - that's a massive bonus."
There's a sense that the manner in which Gengahr have managed to find order from chaos might come to define them; this third record always looked likely to be make-or-break anyway, and in overcoming so many hurdles in the production of it, they've demonstrated a level of resolve they perhaps didn't know they had in them. "Everything that was happening gave me a little bit more impetus, for sure," Felix agrees. "I was more determined than I'd ever been to make things work, and to make something that was worthy of the circumstances I was in. I felt very much alone for a lot of that experience, but looking back, there was a level of inspiration in it that I hadn't reached before. Something genuinely positive has come out of all that anger and frustration, and now we're back in the right frame of mind to go and do it all again."
'Sanctuary' is out on 31st January via Liberator Music.

Get your copy of the latest issue
Read More