Interview FIZZ: "We're really big on storytelling beyond songs"
An effervescent mix of personality and pizazz, meet the supergroup pushing pop music into a whole new universe, quite literally.
Sitting down to speak with FIZZ - the supergroup comprised of besties Dodie Clark, Orla Gartland, Greta Isaac and Martin Luke Brown - they seem almost out of breath. "We just did an interview where we tried to slip words into the whole thing," Greta says, showing a post-it note that lists, among other things, 'milk' and 'cell (brain/blood)'. "It was so stressful. We are not doing that again!" Safe in the knowledge that our chat isn't going to be punctuated by out-of-context dairy goods, their cheeky anecdote actually provides the perfect introduction to FIZZ.

Formed from a magical cocktail of long-term best friends, various combinations of roommates over the years, and four musicians in their own right, each with very distinct styles and sounds, FIZZ is a project that could only have been dreamed up by these four. "We wanted to call the band Housemates at one point, because that felt so at the core of it," nods Orla, "but we wanted something a bit more fantastical in the end." So FIZZ journeyed into their outlandish world and built it on the foundations of trust and friendship: "The bigness around the concept of FIZZ feels so ambitious in a way that could only really be carried out with three other people, and we're digging each other up and pushing each other to the front," explains Martin. "Like a delicious cake!" Greta adds.
Enter FizzVille: the backdrop for the immersive musical melodrama of debut album 'The Secret To Life', where all the action takes place. "We're really big on storytelling beyond songs," continues Greta, "and we always knew we wanted to mirror the theatrical tone of the album. FizzVille was conceptualised by all of us when we realised that making the album was like a retreat from our normal ways of working in music, and that idea of a retreat, or a holiday, or a day out at a theme park just influenced the entire campaign. We made this place called FizzVille, like a theme park or a beach town, and the way we imagine it is that every song on the album has its own designated ride or attraction, and it shows up in different ways.
"It feels really natural for us to present it in that way - like when you're a kid and you put on a show for your parents, and there's the spotlight, and it's made out of bedsheets and you're just presenting it to people that you want to be proud of you."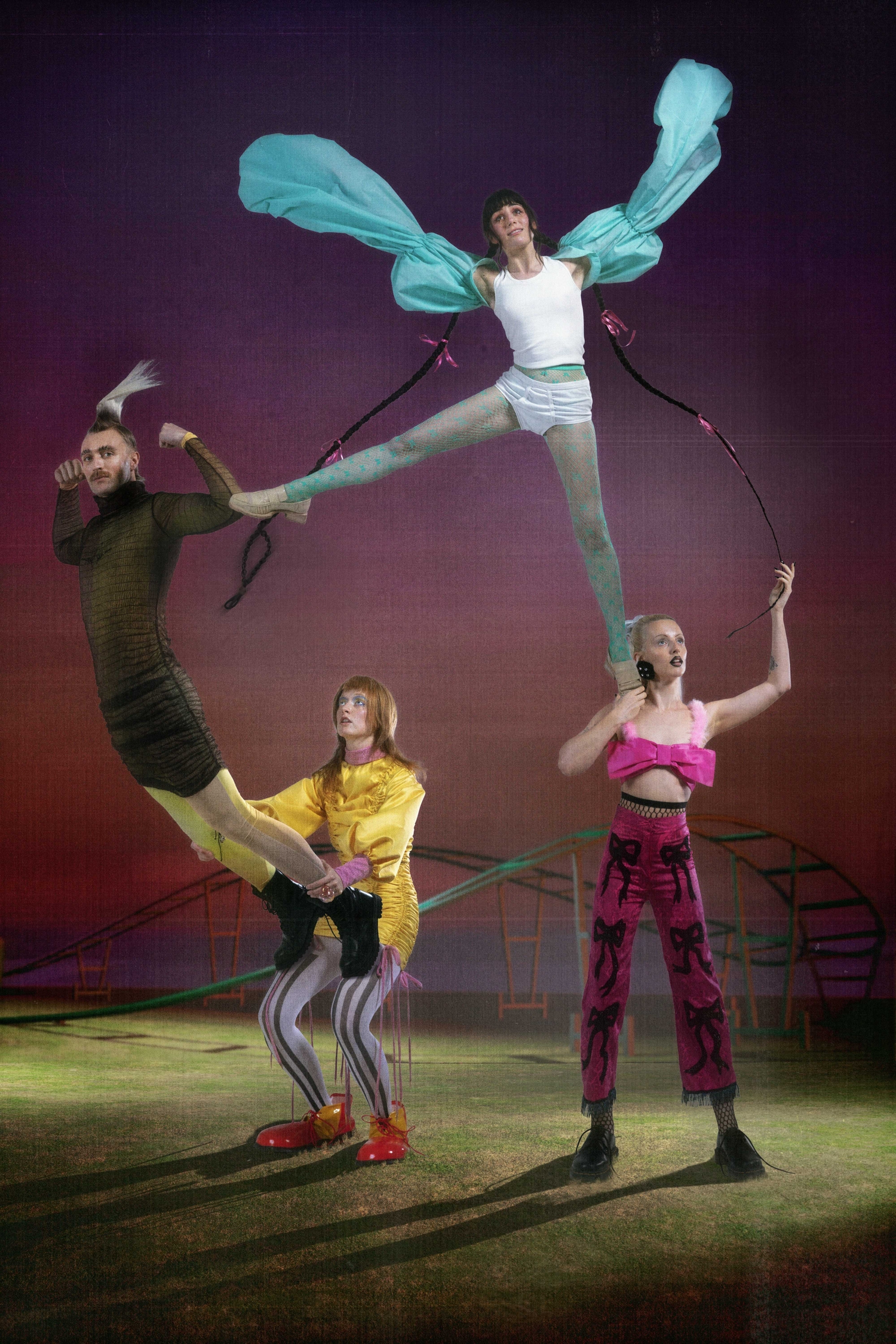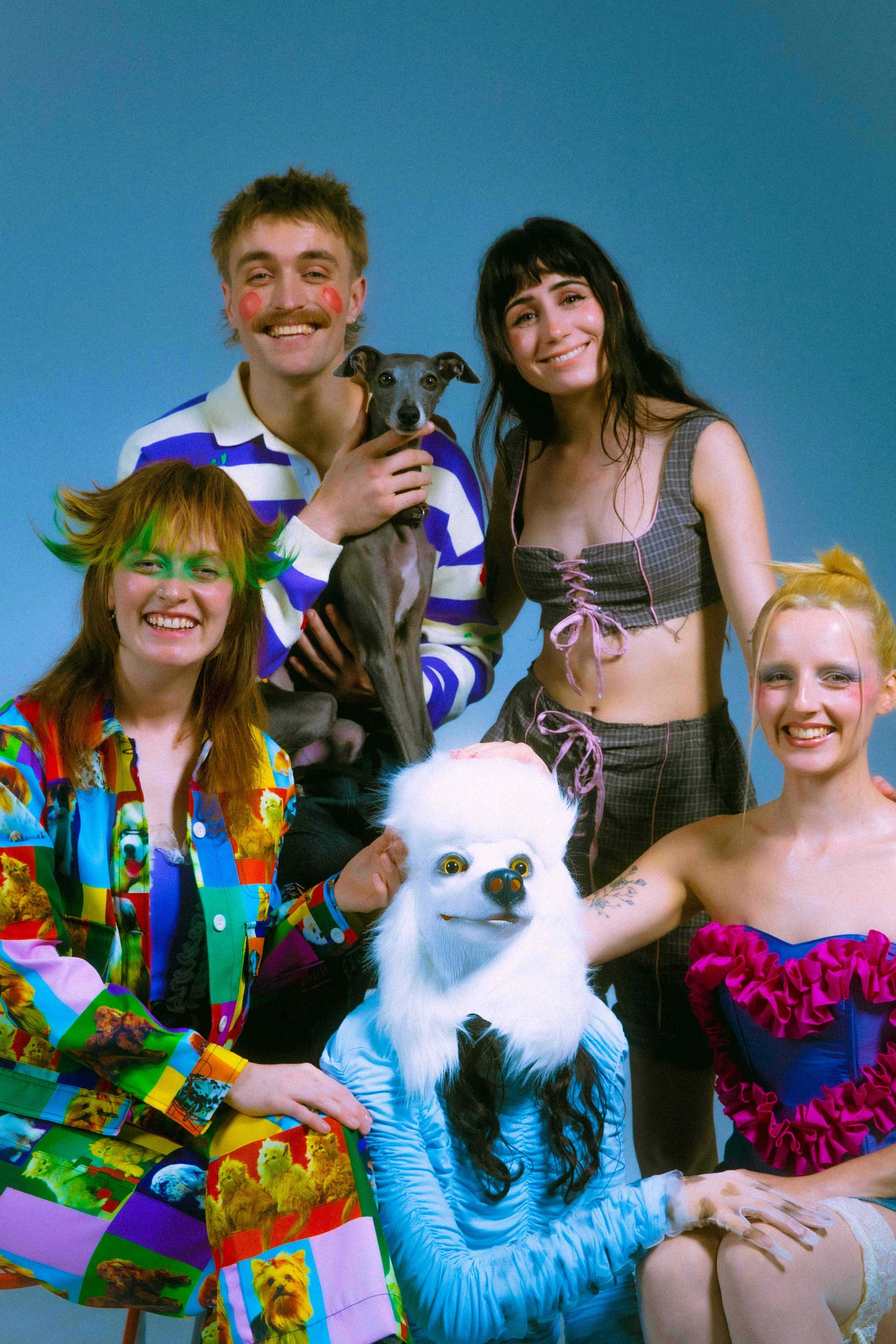 "We're really big on storytelling beyond songs, and we always knew we wanted to mirror the theatrical, fantastical tone of the album." - Greta Isaac
FIZZ and everything about them sparkles with natural, effortless energy; from the way they finish each other's sentences to the grandiose, effervescent sonics of 'The Secret to Life', which sits a world away from the musical output that its members have released independently. This flowed out of a hyper-conscious effort the group made to "leave our artist projects at the door," Martin says. "We went in, and we were doing music in a way that none of us had ever done it before. It was inverting everything we'd ever done with our own projects, and making it all about play and having fun. It was pure play - like, if someone said let's have a key change in the second verse, then yeah, sure!"
"For me personally, I don't write with a lot of people," adds Dodie. "It was a whole new way of writing. And I was like, 'Oh, this is how a writer's room could and should feel'. It's so interesting how, despite us saying yes to everything, a story can still be built."
On 'The Secret to Life', the group strive to capture something unique and pure that could only be the product of those four, in that room at Devon's Middle Farm, at exactly that moment. By extension, their producer Pete Miles was instrumental in encouraging the group to avoid overthinking things. "He would make the space very inspiring," explains Greta. "He would never allow us to grovel over a vocal stem! He would just be like, we captured something beautiful."
"The illusion of perfection is really a trap," Martin picks up. "You can sing through all the different vocal takes, or want the drums to be a bit more in time, and just want to tune that there. And this was a real exercise in just letting go and just letting it be. And that was pretty new for all of us."
"It's definitely easier to romanticise in hindsight, but when I think about the album making process, I don't feel like it's romanticised - it actually did feel genuinely very magical," Orla adds. "When we describe it it feels like a dream we all had, or a trip, it felt very otherworldly."
Operating at the perfect meeting point between passion, trust and imagination, now, they're kindly extending an invitation to us; it's time to feel a little of FizzVille's magic for ourselves.
'The Secret To Life' is out on 27th October via Decca Records.
Read More
Featuring King Gizzard & The Lizard Wizard, IDLES, Tkay Maidza, Sleater-Kinney and more.