Class of 2023: flowerovlove
Brimming with confidence (and with a trajectory that proves she's probably right to be feeling good about herself), teen pop sensation Joyce Cisse is aiming for world domination.
Joyce Cisse is standing in one of London's many Prets in a white shirt, blue sweater vest and some "very well-tailored" white trousers. It may seem like a fairly standard scene for anybody dwelling in the capital but, for Joyce, she's about to experience her first ever pinch-yourself moment.
"There was this girl and her family, and they were just wandering around outside contemplating if they should come in or wait for us to go out," she recalls. "By the time she'd made up her mind, I came out, and she was bright red and crying and her hands were shaking."
It was the first time that Joyce - aka flowerovlove - had been recognised in the street, but it's a situation that's getting more common by the week for the South London teen. In the two years since debut single 'Kiss & Chase' arrived, she's walked fashion shows, appeared on dozens of hype lists, and garnered a growing legion of loyal followers. Now, with her star ever further on the rise, Joyce always makes sure to wear a fire 'fit in case of another fan run-in. "Even going to bed, I'm in a matching pyjama set," she laughs. "If I'm gonna get kidnapped, the kidnappers will be like, 'She's too stylish, we've got to let her go!'"
Yet while her career check-points are being marked off steadily, Joyce is adamant that she's just getting started. In fact, she won't settle until she achieves her ultimate goal: namely the pop equivalent of "world domination". It's an aim Joyce has been reaching for ever since she can remember. Growing up wanting to be Justin Bieber, she was drawn to groups like Fifth Harmony and One Direction who were playing on the radio. "When I was younger and I wanted to be a pop star, I didn't know anything about music. I just wanted to be famous, that's it," she notes. "But now, [I want to be] a superstar."
It was only around 2020 that Joyce found herself getting more immersed in music, highlighting Tame Impala as the band that truly ignited the fire within her. "It gave me this overwhelming feeling that I wanted to cry because it's so beautiful," she reminisces. "That made me want to make music. I was like, I want people to feel the same way I feel, because I felt like that's what happiness felt like."
Though she didn't want to replicate the Aussie psych-rock outfit's sound, Joyce got to work at harnessing that feeling, beginning to create music with her brother in his bedroom or in their garage. "It's a trustworthy environment when he's there. I feel like good music is being made when he's there. It feels honest when he's there," she smiles.
Her early singles embraced that easy, breezy, summer-ready feeling - emboldened by the flower imagery that she'd adopted in her artist name. By the time debut EP 'Think Flower' arrived last year, she'd carved out a path soaked with nostalgia-laced, woozy pop gems, and this year's follow-up 'A Mosh Pit In The Clouds' saw her further build on that vibe, creating a refreshing and warm project that feels both timeless and wonderfully modern. "I just make music for how I feel at the time," she explains. "As long as it makes sense, your music doesn't have to sound completely different because I don't like that, it just feels forced. But it can sound like you in so many ways, and my music sounds like me."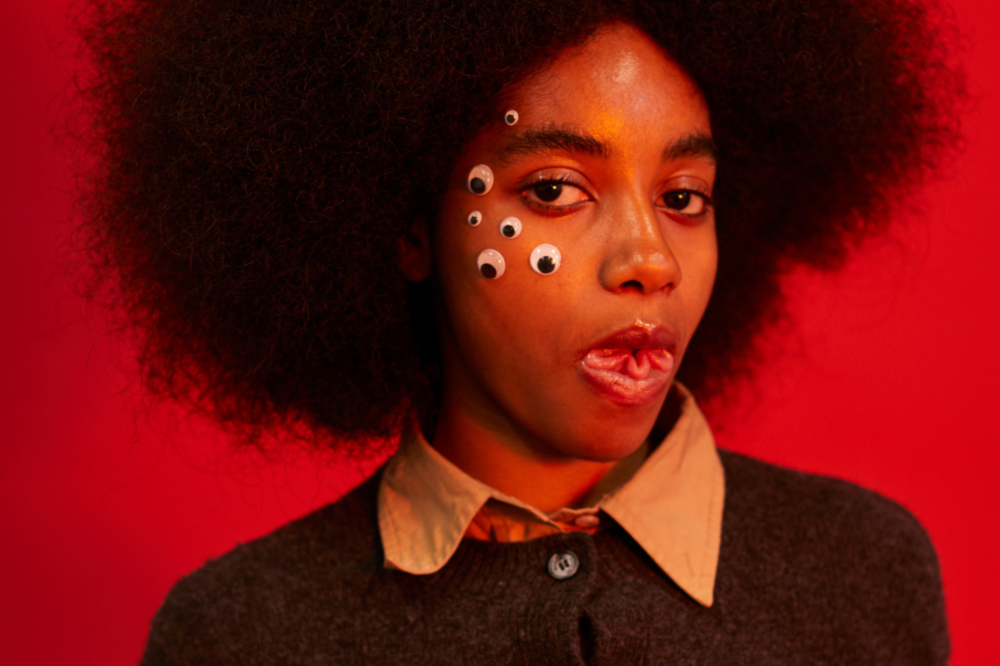 "I feel like I'm 20 years more mature than a regular 17 year old."
While many of us likely had no clue who we were at 17, Joyce is certain of her identity and armed with the creative vision to prove it ("I'm not going to change who I am," she states on recent track 'All The Same'). Carrying herself with the kind of confidence that many spend years cultivating, her young age has obviously been a talking point for many, but it doesn't bother her. "I think it does help me remember that I'm young, because I do feel like I'm 30 sometimes," she explains. "I think I've always felt a little bit older mentally. I feel like I'm 20 years more mature than a regular 17 year old."
Yet, youth still oozes into her music. Adolescent crushes manifest in this year's pure-pop single 'Will We Ever Get This Right', while 'Out For The Weekend' is an ode to getting dressed up with your best pals. 'Hannah Montana', meanwhile, sees Joyce pay tribute to the titular teen icon. Even outside of her music, she's hooked into the digital world, filming TikToks of her airdropping tracks to fans or promising people in Trafalgar Square that she'll give them £10 to pre-save her music.
"When I was younger, I always pictured it like you had to be signed to release music, and if you were signed you were definitely going to be famous," she says. "Now, it's actually a lot more work. There's more stages to it, and a lot of it you do yourself. You have to be on it! If more people are online, YOU have to be online."
It could wind up a tricky situation to navigate, especially for someone still growing up, but Joyce's 30-year-old inner voice has made sure that she balances her online and private life. "I don't like people to know too much about me," she explains. "I have boundaries about what I show people. You catch my personality, but you don't know anything about me. But, if you want to be a global superstar, people are going to find out stuff, so I've just gotta get ready.
"For me, it's about the people," she continues. "My goal is always to reach people, and numbers on a screen are always numbers on a screen, but when people recognise you in real life, it feels real."
With those numbers rising daily - both online and in real life - Joyce is getting ever-closer to her world domination goal, and she's more than sure that she's ready for it. "I think my music's good enough. I think if the whole world hears it, they'll love it. It's something I want and it's something I deserve. As soon as I make a song, I listen to it on repeat because I think it's so good," she laughs. "I've stopped doing that though because it takes away the beauty of the music. I've made a lot of songs which I love which I now only rinse, like, once a week…"
Backing herself to the end, Joyce's love and admiration for herself and all that she does is one of her most refreshing and endearing traits. Confident and self-assured, she also channels her self-love into her music, aiming to "make people fall in love with themselves" whenever they listen to one of her songs. It's a compelling aim to have, and one that she's standing firm in. "I've seen way too many signs now that say that it will happen for me to not believe it," she decides. "I only have a Plan A, and this is it."

Read More