Choose Life: Foals
Bunkering down from the chaos to make an album full of light, 'Life Is Yours' was written as a rousing statement of hope. Back with thousands of fans once more, Foals are ready to reap its rewards.
"When we got to Brixton Academy, I said, 'Isn't it weird that, for the first five years of the band, this was the pinnacle of our touring?'" considers Yannis Philippakis. "Brixton used to be the highlight of the tour, but though it was a really special show the other night - it meant a lot - it was by no means the pinnacle of the scale."
Sat in the dressing room of an industrial studio bunker in the arse end of North London, the Foals frontman is taking a break between filming takes for a raft of live performance videos that he, guitarist Jimmy Smith and drummer Jack Bevan are shooting today. Though the video aesthetic itself is sleek and minimal, the production is anything but, with dozens of bodies running around to bring the vision to life. Much like everything Foals do these days, the scale is large; if the previous weekend's 5,000-capacity Brixton Academy show felt relatively intimate, it's because it comes at the end of a run that's seen the now-trio play to 40,000 fans in London alone.
Perhaps the most notable thing about Foals' most recent slay round the country is that, these days, giant swarms of crowds feel par for the course. Having cut their teeth igniting the mid-'00s house party circuit nearly two decades ago, these days they stand as one of the UK's most celebrated live bands, but one who've kept that same feral spirit intact. Though the frontman describes feeling "comfortable" and "fully in command" of playing arenas now, there's no acquiescence to comfort to be found anywhere near the stage. Still flinging himself into crowds and getting in the throng of it all, no one seems as happy to have live music back as Yannis.
"I said to someone after one of the shows last week, when we play 'What Went Down' in particular, there's something about that song, and something about being free of the guitar at the end, where it feels like it just shouldn't be taking place…" he chuckles with a glint in his eye. "It's just too much; it's like a cartoon villain with electricity going through them, that's how I feel. At the moment, they light everything red during that song and it just feels like Battlefield Z or whatever that film is with the zombies. It feels like a boxing ring a bit, when they lower the [lights] and you're penned in. It just looks crazy."
Having spent the majority of 2020 and 2021 "jumping rope for an hour a day" to release the pent up tension ("At show time, there'd be phantom show energy where I'd just be terrified for anyone in my vicinity and they'd be like, 'Do you just want to go do something with yourself and get out the way?'" he jokes), the frontman speaks of returning to the stage with the same mix of happiness and relief as returning to a loved one.
"Just getting to watch how Foals crowds are, it looks fucking amazing; it's a joy to watch the crowd watching the show," he enthuses. "It's havoc out there but it's blissful. There are all sorts of people, all wearing t-shirts from different eras, and it's cool because none of this could have been there - this could all have been gone. The fact that the thing we love the most felt deeply under threat meant that we're obviously coming at it now with a renewed appreciation."
And tangled up beautifully within that sentiment, crafted as a means of hope and escape, comes seventh album 'Life Is Yours': the most uplifting, buoyant reach for communion and positivity that Foals have created yet.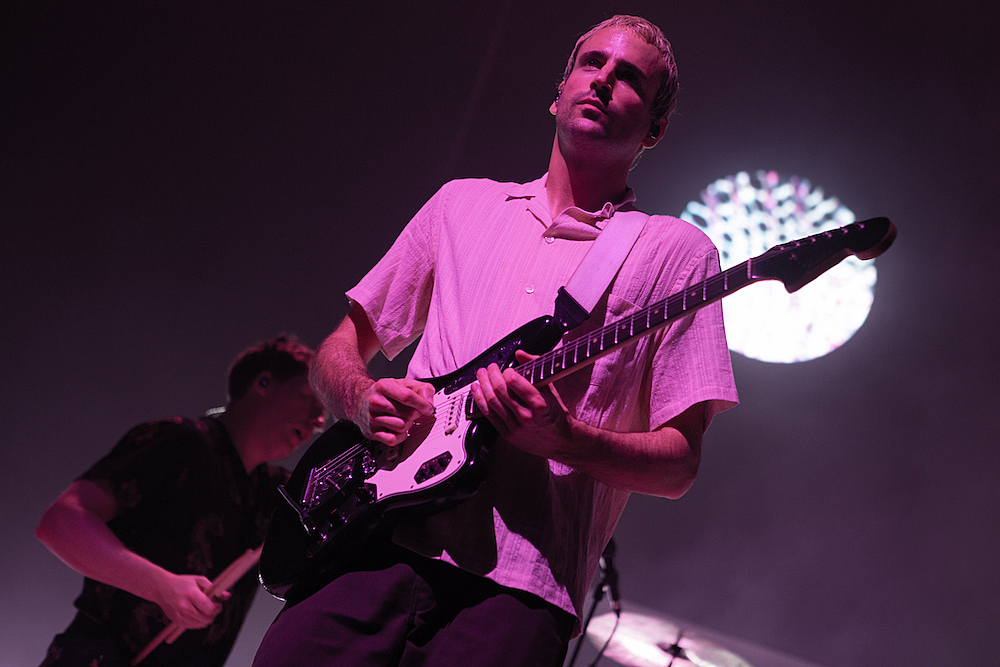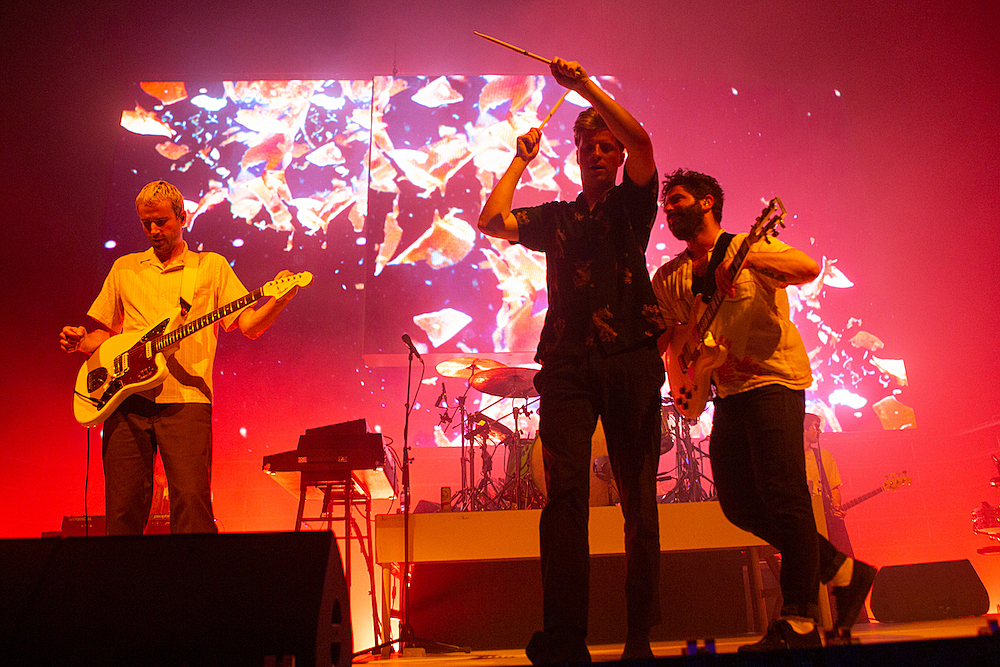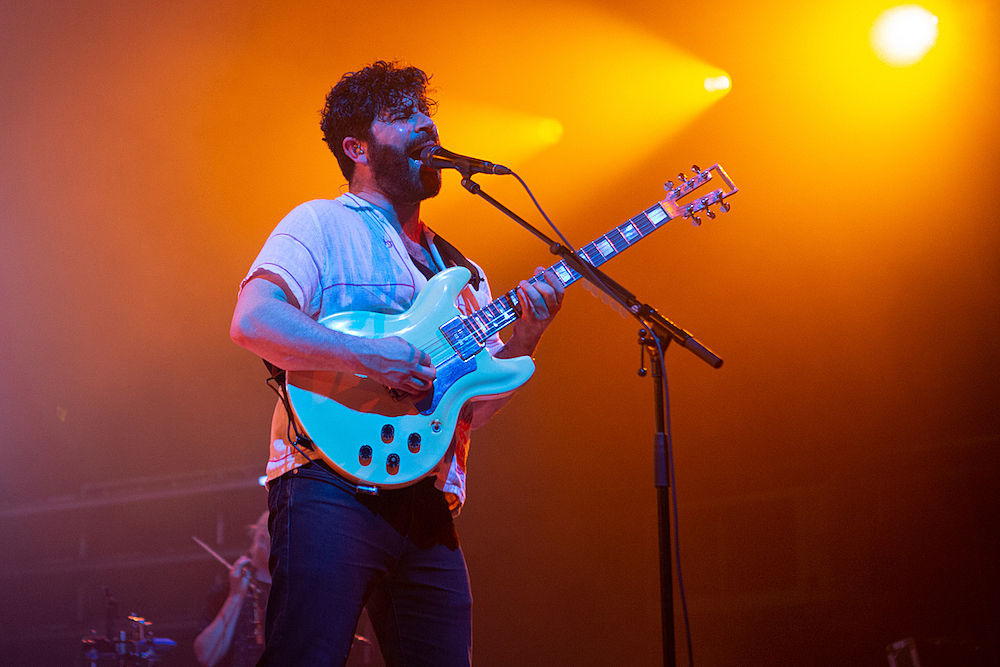 "When you lose sight of your roots, then you're just another band trying to make massive tunes."
— Jack Bevan
Back in the earliest days of the band, Yannis recalls being taken to techno shows for the first time by former keyboardist Edwin Congreave (who left to return to education before work on the new record began). Inspired by his experiences, alongside genre-smashing artists like LCD Soundsystem and The Rapture, it was this idea that first invigorated Foals to concoct their own hybrid, the manifesto of trying to "make dance music with guitars" forming the background of celebrated 2008 debut 'Antidotes'.
In many ways, 'Life Is Yours' harks back to that formative spirit. Purposefully eschewing the monstrous riffs that have peppered their recent albums, the band's seventh is more dance-indebted and limber, from the bubbling falsetto funk strut of '2001' to the bouncing synth pads that underpin 'Under The Radar'.
"I think it's probably a reaction to the fact that we wrote every type of song we possibly could on [previous double album] 'Everything Not Saved Will Be Lost', and it felt like such a wide spectrum across the two records in a way where we kind of wanted to deny ourselves certain things [this time]," Yannis suggests. "We wanted to write a record that has rhythm and edge, but that didn't have fuzz pedals and screaming. So we thought, let's write a dancey record that feels cohesive and is joyous and celebratory." He pauses. "It's not like we've written a record for a bouncy castle or something. There is depth…"
The depth perhaps comes from the way the trio approached their take on musical affirmation. Bubbling up during the second lockdown in a windowless room that the singer describes as "absolutely no frills, zero comfort", the music Foals were making might have been conceived as an antidote to the external Covid wilderness but, as Yannis attests, "it wasn't very party in the bunker". "There was a corrugated iron grill we had the keys to, and there was no light and no windows, and we'd just play for seven hours a day, five days a week," he explains. "We've never written in an opulent environment. We write in a way that feels very spartan where there's no comfort other than in the music. There's not even a couch or anything, absolutely no frills, and it's small so you're tight to each other."
"When we were writing the album in that little room, I wasn't really thinking in terms of the today-reality of the band; I was thinking about how fun it was to play at those tiny house parties we used to play at," adds Jack. "I wasn't thinking about having a dance party in front of 40,000 people, it's more like, let's imagine this with a low ceiling in a dark basement where the music is really loud. That whole era was really exciting and I think when you lose sight of your roots and where you came from, then you're just another band trying to make massive tunes."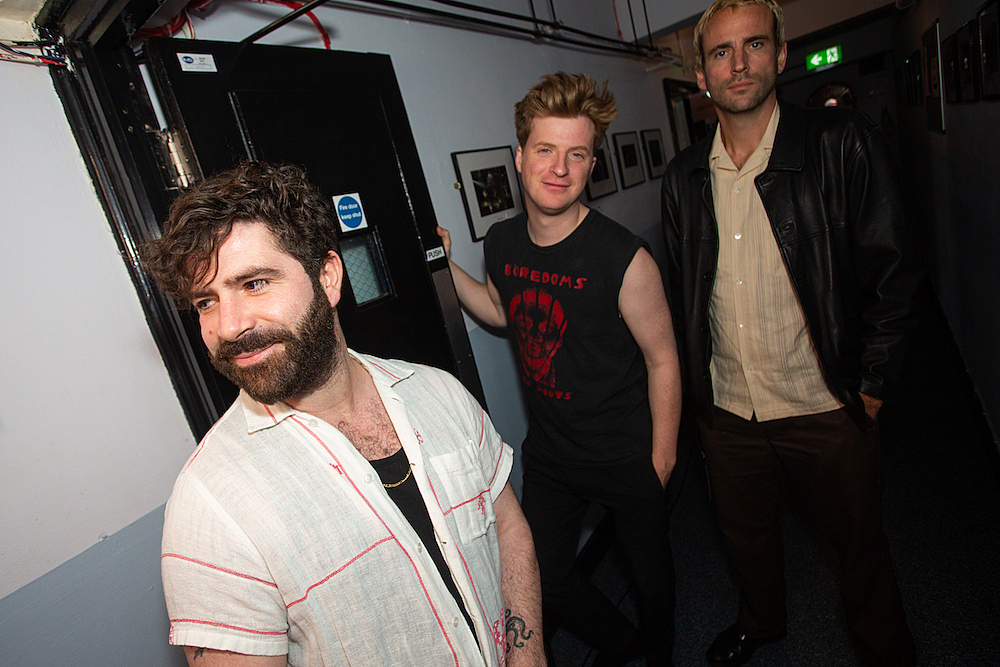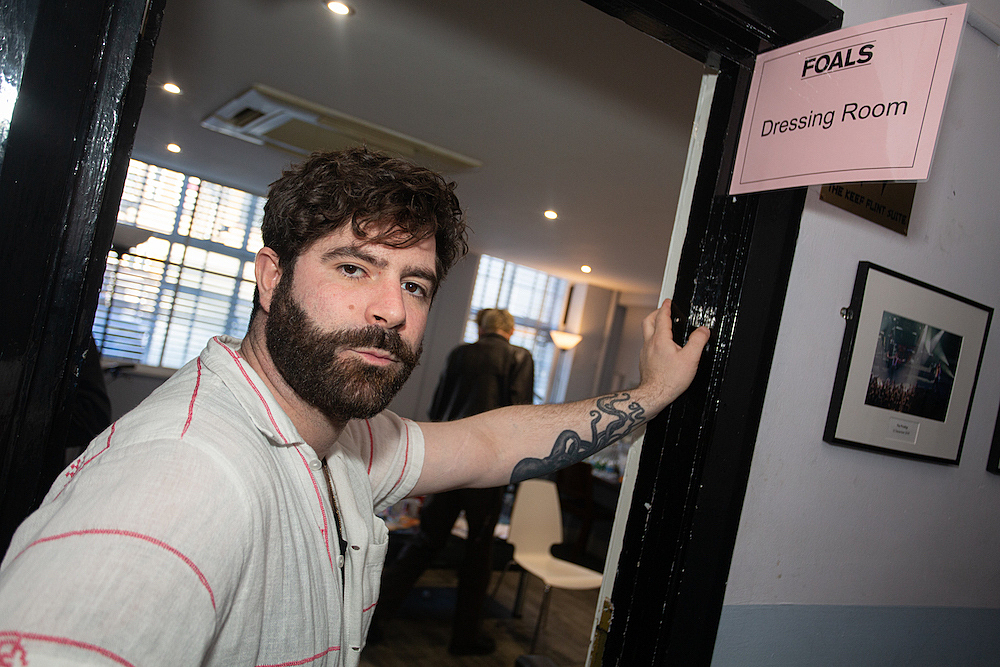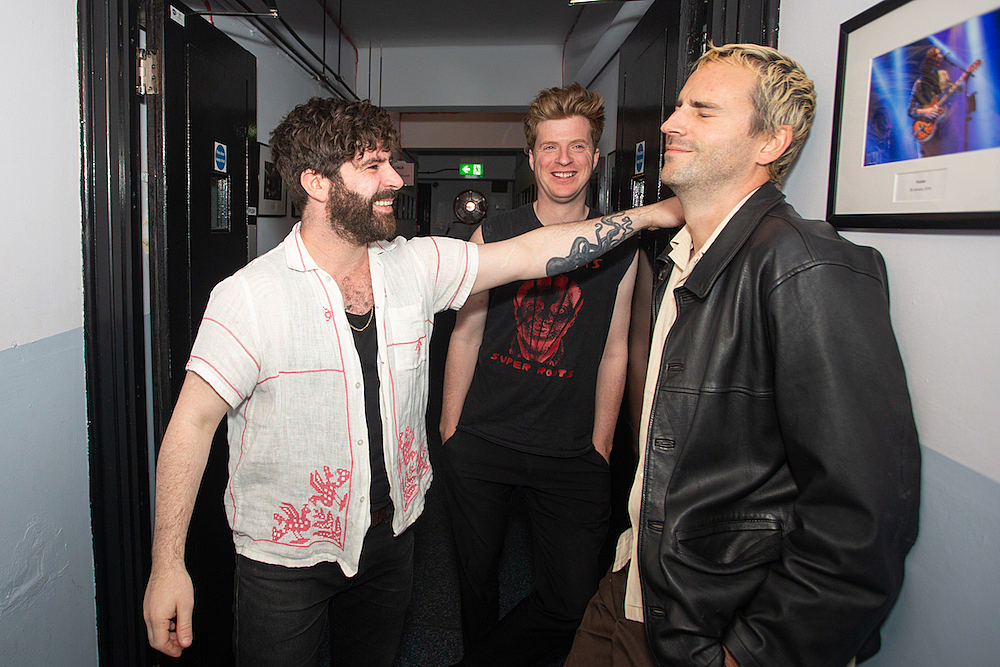 "I would question my sense of self without the group and without playing music - it's that fundamental for me."
— Yannis Philippakis
Though Yannis, Jack and Jimmy now stand as a bona fide BRIT Award-winning, chart-topping entity who'll this month take one of Glastonbury's highest spots, headlining The Other Stage on Friday night, there's still the overriding sense that Foals are, at their heart, the same band they've always been. They're one of the last survivors of one of the last generations to break through without the pressures of social media, and there remains a sort of uncensored spirit to the band that still feels raw and uncontrived and increasingly rare.
"When we were starting out, the way of making your band a great band was in the everyday, and then the appendage was that maybe you set up a Myspace page or something," Yannis says. "The online presence was very much a latter afterthought at that point, and so it meant that you had to conjure up excitement and energy in the here and now, and for us that was playing every show like it's our last. We weren't even thinking that there was gonna be a career in it, because there was a healthy DIY scene that was rewarding in and of itself. And then shortly after, lots of things migrated online and bands became more self conscious."
"A few times over the years, I've met kids in bands and they've said, 'How do you get big?' and it grosses me out so much as a question," Jack notes. "Do the thing you like and enjoy it, and if you're good enough, people will like it." "The only way it's bearable is if you actually like doing it; if you're just trying to do it [for fame] then it's just horrible," Jimmy grimaces.
In everything they do - from consigning themselves to a box room to write, to throwing themselves gleefully into a "physically draining" set night after night, to penning an album that throws a stylistic left-turn from their most successful release to date - Foals are still visibly committed to doing things not only the 'proper' way (read: no quick fixes), but in the way that works for them. They're pleased with their more industry-centric successes as much as they feel they're deserved. "If we never got any recognition of what we did then it would be annoying, but yeah, it's cool. Big whoop," Yannis deadpans when the subject of awards is raised. But more than ever, having watched it nearly slip out of their grasp, Foals just want to tear the roof off of every venue they step foot in and scorch an indelible mark.
"Coming back to these shows, there's a pride at how many people were there and the fact that people held their tickets for two and a half years and they're as excited as ever. Lots of bands' lifespans are about two and a half years…" Yannis notes, by way of comparison. "I would question my sense of self without the group and without playing music - it's that fundamental for me. I don't know who to be if I'm not making music, and a lot of it is being on stage. It does feel dangerous and electrifying, and it is fucking draining, but I live for it."
Life is theirs and, seven albums in, Foals are still riding it into battle with as much vitality as ever.

Read More