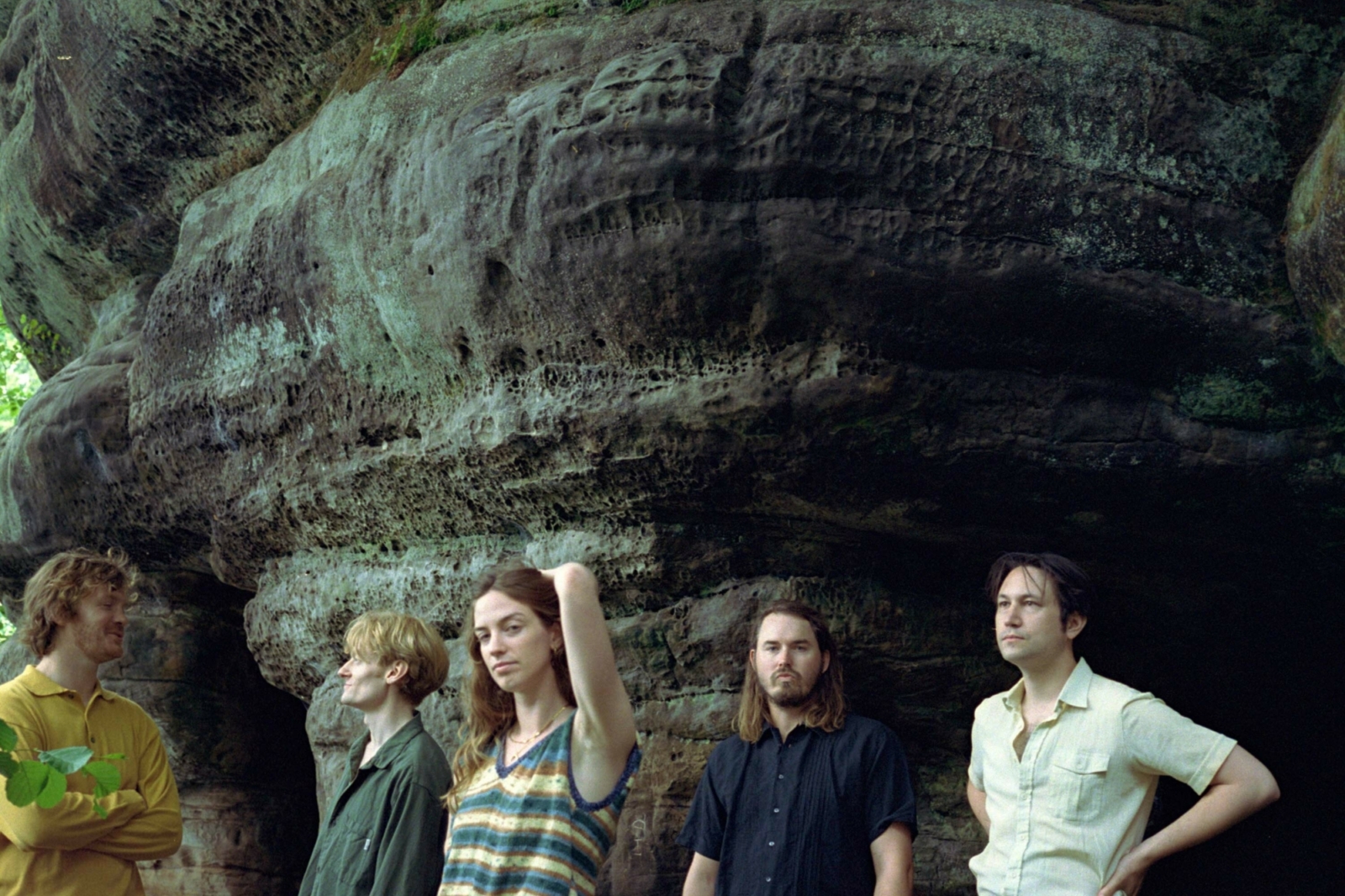 Photo: Holly Whitaker
Gently Tender: "Our intention is to make ourselves feel emotional"
We chat to Sam Fryer and Adam Brown ahead of the release of their debut LP 'Take Hold Of Your Promise!'
'Take Hold Of Your Promise!' has been a long time in the making. Having formed half a decade ago by ex-members of Palma Violets, and featuring The Big Moon's Celia Archer among their contingent, it's taken a whole heap of patience and time for Gently Tender's hybrid of indie, psych-folk, and soul to make a definitive statement on record.
And now, with all this groundwork finally coming to fruition, Sam Fryer and Adam Brown speak to DIY of the album's winding conception, of their determination to produce a timeless music that aims to inject a much-needed dosage of "raw emotion" into the indie landscape.
So you've finally got an album out! Has it been ready to go for a while?
Sam: We were ready to record an album two and a half/three years ago. We wanted Matthew [E. White], to produce the record, then the pandemic made that not happen.
He's from the states right?
Sam: He lives in Virginia. We went over to the States to try and demo some songs with him way before the pandemic. We got on really well, we loved his studio, the tools at his disposal: he had all these gospel singers, a house band, brass… We were just taken aback by all the options that were possible for this record. We finally managed to record the album last summer. But we were already ready to move on to the next record before we'd started the first one.
Adam: We really had to be patient. We knew who we wanted to do it with, we knew how we wanted to do it. But it took years for the stars to align, to do it how we wanted to. But now it's happened, and it's on its way out, it feels good. The album itself is what we wanted it to be, right Sam?
Sam: Yes! Everything and more.
Adam: It was totally worth it. We're a patient band, and it's paid off.
Let's talk about the recording a bit more. Did you have this idea about what you wanted to sound like before you went in?
Adam: I think Sam's always good at visualising his songs [beforehand], so we've got to somehow get that down on record. The benefit of working with Matthew is his process was so ordered. We're quite chaotic as a band. Sometimes the songwriting, or the song structures, are quite chaotic. Matthew was really good at translating that into something that made a little more sense, whilst somehow achieving all these sounds that Sam had in his head. He was the man for the job.
Sam: The main thing is soul. I've always felt that there is a massive soul element to our band. That's the thing we're gonna explore in the future, much more, how to take this band from being essentially an indie band, into being a gigantic soul project. Slowly and surely I think we'll get there. That's the thing that keeps me interested, the emotion in each instrument. I remember having a conversation with [Matthew] in Virginia and I was like, "I want people to listen to this, and almost want to cry." And he was like, "Yeah we can do that." Before we even went to record the album, we would email each other. I sent him some soul songs, where I love the bass and the drums and the way they balance each other, and he was like, "I totally understand that, I can see that working in the music."

"There's been a slight lack of genuine, raw emotion, particularly in modern pop music, for a long time."
— Sam Fryer
There's this spirituality, the religious undertones, the melodies, the emotion… What are the soul influences that have impacted you the most?
Adam: Some of the songs I sent to Matthew were by Curtis Harding. A song I remember sending him - ['Welcome to My World] - even though it's pretty modern, it's so timeless. I've always said from the beginning of Gently Tender, I want this band to feel timeless. A lot of people will be like, it's not possible to manufacture something and make it timeless. But I feel as though my natural voice can be from any era, so I never found that it was too difficult to achieve.
Sam: Me and Peter [Mayhew, bassist] bonded in the past over many nights taking LSD and listening to Isaac Hayes - which is the best thing you can ever listen to on LSD, because the saxophone solos just go on and on forever. That's a big influence. But even rock as well, the main rock influence is Love. Arthur Lee is a big one. He's using his voice in a powerful way, but he's talking about simple subjects, like love and loss, but always in a beautiful way. He's almost screaming it. I think I've identified with that method of, even though you want to talk about something sweet and tender, you can also be quite aggressive and brooding, and quite demanding about it. I think that's the style of Gently Tender.
Adam: I think that's the style of how we play as a band! We're not aiming to be the most technical band. What we care about, and what we rehearse, is how we play, not what we play. It's all about the feel. I guess that's something we would have in common with genres like soul, where the most important thing is the emotion that comes across. You're playing with your heart, not your hands.
Sam: I never like to overcomplicate anything in music. I've been stuck in the past of putting too many chords into a song, and I get to the stage almost where I don't want to play it, because it's too demanding. As long as I can put two or three chords together, and put as much emotion into those two or three chords as possible, that's where the happy balance lies for me. Everything is always about live for me.
What do you want audiences to get from a Gently Tender show, then?
Sam: Some of it's stuff we've already mentioned. But our intention is to make ourselves feel emotional. That's the main thing. We want to bring these emotions out in ourselves when we're playing. I think there's been a slight lack of genuine, raw emotion, particularly in modern pop music, for a long time. I do feel as though the world needs more reflection. There's been so much post-punk, and things like that, going around in alternative music, that there is a time now where we all need to go a little more inward. Although I do love some of these bands - they're great musicians, with great songs - I do think that there needs to be a bit more variety. And I think emotion can come forth into that variety. I think we bring something slightly different to London music right now. I don't have a choice in it, but I think I approach music in a slightly different way: It's not about how incredible you are as a musician , it's about how much raw emotion you're going to bring to the table, to the room, and about how honest you can be with yourself.

'Take Hold Of Your Promise!' is out 26th August via So Young.
Read More