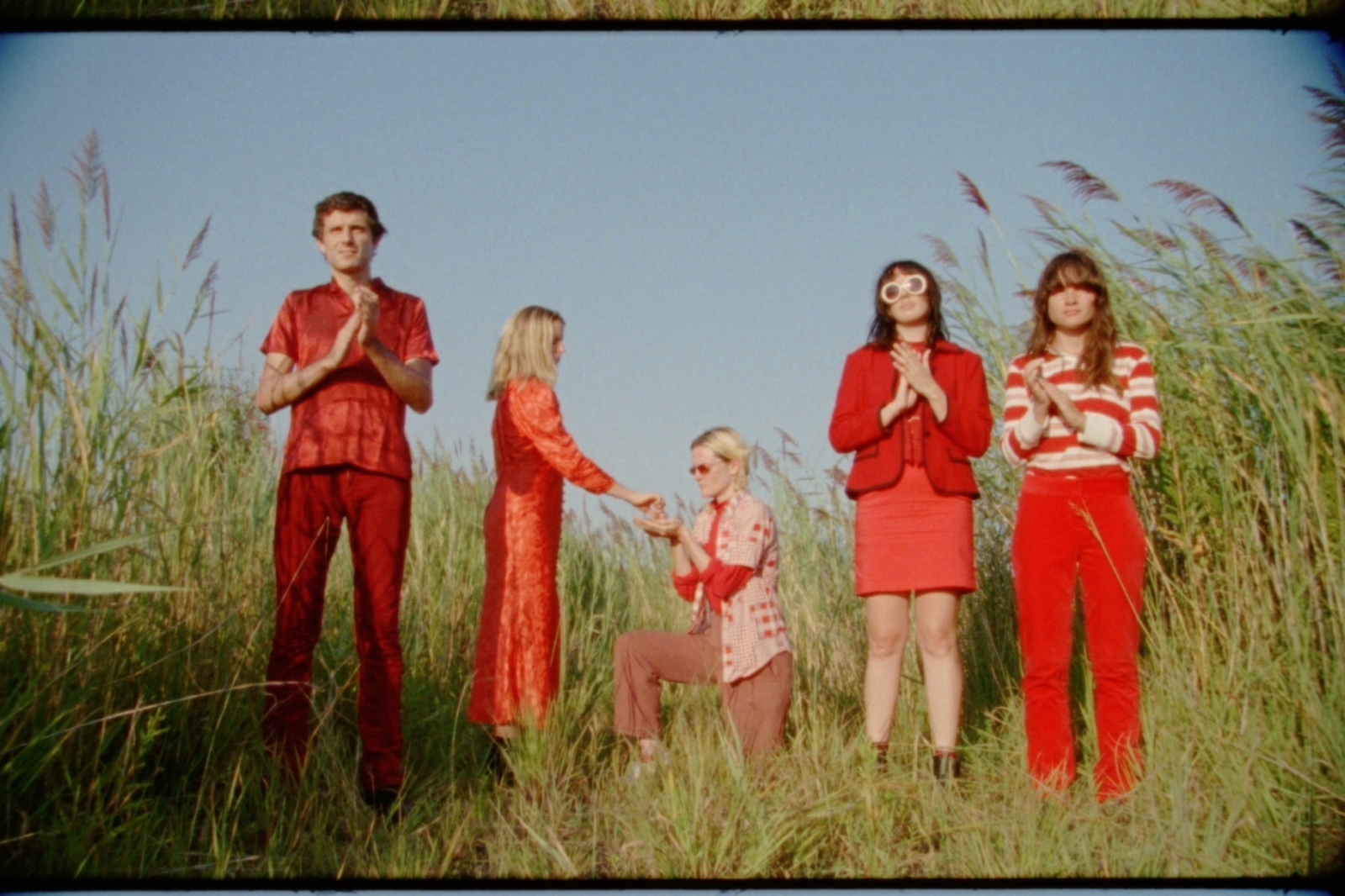 Photo: Cory Fraiman-Lott
Neu New York's Gustaf on pushing the humour in debut LP 'Audio Drag For Ego Slobs'
The buzziest band in New York City present their funky, fun debut album.
Lots of new bands make their mark at Austin, Texas' new music mecca SXSW, but few literally form the band on the way there. Back in 2018, Tarra Thiessen recruited Lydia Gamill to drive her band Ex-Girlfriends across the country from New York to the festival, but the band ended up cancelling the shows.
Sitting on a bunch of demos at the time, Lydia - a member of Bodega affiliates The Wants as well as a host of other NYC punk acts - decided to book some shows on the route from New York to Austin, nabbing the rhythm section of Ex-Girlfriends for herself and forming a band on a whim. Gigs were booked before the band even named themselves Gustaf; promo photos were taken and t-shirts made before they'd had a band practice.
"As someone who tends to overanalyse stuff, in order to make this solo project a band, it kind of had to happen that way," Lydia tells us from her New York apartment, just days before the band head out on a US tour in support of IDLES, with a UK tour alongside Pillow Queens following in November. "It was a case of jumping into the water and seeing what happens."
After their whirlwind beginnings as a band, Gustaf returned to New York and set about playing any show that would have them. Over the next two-and-a-half years, the five-piece became the buzziest band in the Big Apple without releasing a single song, relying on an endearingly retro cycle of word-of-mouth praise, with anyone alerted to their brilliance having to get off their sofa and to a gig to actually see what all the fuss was about. The tactic certainly worked in one case; having popped along to an early gig, Gustaf can now count Beck as their biggest cheerleader.
"The internet just publishes something in a way that makes it become very final," Lydia muses of the long wait for an official first Gustaf single. "What I love about our live shows is that they're very fluid, and it became a very specific, deliberate process to try and figure out how to record it.
"We'd really made a name for ourselves as a live band, which was a little stressful in terms of figuring out how we wanted to make the record sound," she adds. "We had so many fans who I think had already decided what the record would be like. They assumed they knew how a Gustaf record should sound."
"The human being is like a dirty air conditioning filter. It's those unsavoury, selfish, boneheaded emotions that live inside of you."
— Lydia Gamill
When the pandemic stopped their breakneck momentum, Lydia decided to finally sit down and work on this month's debut LP, 'Audio Drag For Ego Slobs'. Setting up shop in Honey Jar Studios in Brooklyn ("It's right by one of the most Instagrammed streets in New York City"), original tracking for the record was done in the studio before Lydia took the results back to her Williamsburg apartment with producer Carlos Hernandez.
"The method was a process of dumping and then refining, expanding and contracting," she says. "We'd have everyone in the band come in and throw it all out there, and then comb through it all after that."
The album that came from the process is one that does perfect justice to the band's action-packed, fervent live shows, all fronted by the magnetic, sardonic vocals of their leader. "You say I'm much too old to still be lo-fi," she winks on opening track 'Mine', which was also the band's debut single, released last December.
Backed by intoxicating funk-punk that traces New York's musical lineage - from Talking Heads through to ESG and onwards towards Parquet Courts - Lydia's history as an improv comedian informs her vocal and lyrical style: across the album she's funny, angry, cheeky, nonplussed and beyond. At times, she's all these things and more at once.
"Doing improv comedy was really good training for learning how to be present and comfortable with failure," she half-jokes. "Audiences are very smart and have good bullshit detectors, but they're also very easily manipulated if you presume strength and competence and calm. Learning how to feel comfortable and be in control with uncertainty was really useful."
The album's one-of-a-kind title, 'Audio Drag For Ego Slobs', comes from a self-coined term that Lydia and the band dreamed up. So, what exactly is an 'ego slob', we ask?
"An ego slob is someone who does a terrible job of translating the world within the context of themselves," she replies instantly, with the dictionary definition ready to be printed when the album takes off and Oxford comes calling.
"I was thinking about it as similar to a filter. The air comes into you and then it comes out a little dirty and messed up," she expands, accurately describing Gustaf's slightly messy but vitally human music. "The human being is like a dirty air conditioning filter. It's those unsavoury, selfish, boneheaded emotions that live inside of you. You need to pull them out and look at them and say, 'OK, alright!' and come to terms with them once you've extracted them. Everyone's an ego slob, and that's OK!"
Read More