Happyness makes the heart grow fonder
With their second record 'Write In' - and a healthy dose of Samantha Mumba - Happyness are turning over to a brand new page.
"Have you ever read The Time Machine?" Jon EE Allan asks. "Have you ever seen the movie The Time Machine? I haven't seen it, but maybe it's the same."
"Is that the film with Samantha Mumba?" Ash Cooper questions in return. "I haven't heard the name Samantha Mumba in so long!" Jon EE exclaims. "I know some of her music," Benji Compston offers. "Of course you do, you've been alive in the last twenty years and you've got a heart," Jon EE taunts. "I've got a heart, and a soul, and a pair of shoes I'm not afraid to wear on the dance floor!" Benji exclaims, laughing. This is how we find Happyness, discussing the inspirations for their new album, and, erm, Samantha Mumba, over brunch.
"We thought that were making a subtle joke," Jon EE comments. "We were talking to our label manager about it yesterday and he was like '…oh.'" "He never got that?" Benji asks, shocked. "Well, it's too late to change it now." Describing the lyric that gives their new album its title, with the first physical copies of the CD stashed in their bags, Happyness are turning a brand new page in their story. And in the immortal words of Natasha Beddingfield "the rest is still unwritten."
"The full line is 'drive a car, write into the sun,'" Jon EE explains of the title lyric. "We thought it would be funny if it was insinuated that it wasn't drive a car right into the big-thing-in-the-sky, but drive a car, write in to The Sun newspaper." He pauses. "Yeah, it's not that clever."
"We found it funny at the time," Ash reasons. "It's less of a hearty laugh, more of a titter," Jon EE describes with a grin. "We're also encouraging people who really hate the album to send us hate mail," Benji adds. "We're going to set up a P.O. Box."
Joking, mocking, and ordering shots of whiskey ("maybe I'll have a cup of tea instead of a whis- no, fuck it") in a small café, the excitement surrounding Happyness is vivid. "Our entire career, if you will, so far has been entirely centric on one album," Jon EE states. "For the first time we're kind of moving into a whole different chapter of our existence." Daunted and excited in relatively equal measure, with their second album the band have built outwards from the world of 'Weird Little Birthday' to create their most expansive and all-encompassing sound yet.
"I think because of all the stuff that's going on around us, on this record we've slightly tried to do something a little more positive."
— Benji Compston
"I think we started off thinking 'let's make a sunny, Randy Newman kind of album,'" Benji describes, grinning. "We went off on one a little bit too far, and had to rein it in a bit." Having written somewhere around 25 new songs for the new release, a large part of making the record was honing their creativity and knowing when and where to draw the line. "Relearning how to finish a song was the most difficult part," Ash states. A challenge though it might have been, the process of knowing when to step back turned out to be actually rather simple.
"When you're completely mentally exhausted and disillusioned with everything," Jon EE says, deadpan. "I think it's when deadlines are put in place," Benji counters. "That's why Guns N' Roses made that terrible album that took twelve years," he laughs. "'Chinese Democracy'?" Jon EE exclaims. "Don't fuck with 'Chinese Democracy'!"
A year and a half in the making, 'Write In' is Happyness at their most characteristic, richly layered with a wry sense of humour, and it comes across live, too. "This one's a little more individual," Jon EE describes, thinking back to their debut. "I think there's a lot on this album," Benji agrees. "The world has been through a pretty turbulent eighteen months. I'm not trying to say it's this big, sweeping, political album - it's completely not. But the nature of making a second album, combined with feeling a bit lost…"
"The world was going through a lot of shit, but I can't really think of a person I know who didn't have a really tricky year personally as well," Jon EE explains. "I think everyone started feeling a little kind of battered by it all." "As a result of that, the album comes across as quite a hopeful album," Benji sums up. "I think because of all the stuff that's going on around us, on this record we've slightly tried to do something a little more positive."
Sure enough, whether it's in the gentle harmonies and steadfast piano of 'The Reel Starts Again [Man As Ostrich]' or in the captivating wooze of 'The C Is A B A G', 'Write In' embodies no uncertain amount of magic. "All the songs in their own way I'm really happy with," Jon EE enthuses. "Probably my favourite time in the studio was getting the xylophone done on 'Tunnel Vision On Your Part'," he reminisces. "I'm going to miss the studio where we did that a lot," Benji mourns. "Maybe when it's been turned into a house we can go and stay there or squat a bit or something."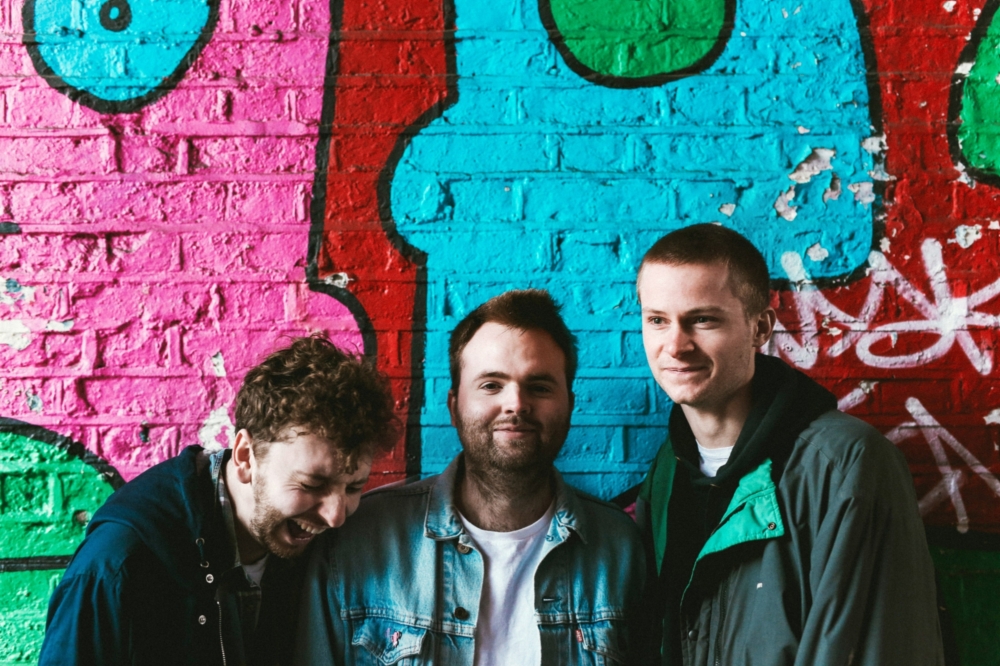 "It feels like we're ready for a new chapter."
— Jon EE Allan
Now being redeveloped, the studio that's birthed Happyness' output is a part of their story that, sadly, is now lost to them. "The downstairs was filled with second hand books endlessly," Ash recalls. "Any time someone else was doing a take you'd just go downstairs and pick something out at random – there were some fantastic finds in there."
"The second hand book shop slightly crept up the stairs to the studio," Benji continues. "We had the religious section and the physics section both upstairs with us." "The two sections that would definitely not get along with each other were put together to have some horrible conversations in the middle of the night," Jon EE describes. "It was actually quite beautiful. A perfect yin-yang equilibrium of religion and science. And we understood none of it," he laughs. "We were just the caretakers," Benji comments. "It was like Night At The Museum," Jon EE smirks.
Taking inspiration from everything around them – be that a pocket book on Japanese Kabuki, a collection of Mad magazines, or a book titled 'Man's Place' detailing how humans probably aren't the most intelligent animals in the world after all – the studio was a big part of the band's identity. "I think that our band and the music we make would've taken a very different course if we hadn't had our own space to spend as much time as we want doing stuff in," Benji affirms.
"It was really sad to lose," Ash agrees, "but I think the space and us together, we'd kind of done everything that we could've done musically." "It feels like we're ready for a new chapter," Jon EE clarifies. "Where it'll take place, we don't know. What will happen, we don't know," he shrugs. "It's beautiful. It's like a clean notebook." Declaring the world is their "slightly-not-as-free-as-it-used-to-be oyster," Happyness are welcoming their next chapter with open arms.
"I haven't heard the name Samantha Mumba in so long!"
— Jon EE Allan
That chapter begins with the release of 'Write In'. Describing the album as being akin to an "aeroplane meal on the way to the Great Barrier Reef," through its creation Happyness have expanded beyond their horizons. Their aim is simple. "We hope to become very famous," Jon EE expresses. "If people like it as well, that'd be nice. But we want to become famous," he grins. "It would be nice for people to like it, and to talk to us about it," Benji clarifies. "Even if they don't like it, just talk to us," he adds, laughing. "Invite us to parties!"
"I think, actually, this is an element of the record that we've completely forgotten about," Jon EE marvels. "A lot of the record was a kind of outsider longing to be invited to massive parties," he illustrates. "For a lot of it we were trying to create the sound of a big, glamorous party, with all the people dressed up and enjoying themselves, trays of drinks…" he lists, "and then just us hanging around." "Trays and trays of drinks, and never a headache in the morning," Benji exclaims, before laughing "if people on this album invite us to more parties, then we'll be happy." With the album release imminent, and now on tour with shows here, there, and everywhere, if there's one thing Happyness are ready for, it's celebration.
Happyness' new album 'Write In' is out now. The band are currently touring the UK.
Read More