In the studio with The Big Moon
On their Mercury-nominated debut, The Big Moon soared to greater heights than they ever predicted. We catch up with the quartet as they prep LP2 with the stratosphere in their reach..
"This is gonna sound really bad," begins The Big Moon's bassist Celia Archer, fidgeting awkwardly in the east London cafe where we meet the band today. "But I just sort of felt like…" She pauses again, looking pained. "Like it felt… good? And right?" She's talking about the band's 2017 Mercury Music Prize nomination for debut 'Love In The 4th Dimension' – an indisputably deserved and Very Good Thing, but one that the effortlessly endearing group still speak about, as with most of their continued achievements, with something between confusion and disbelief. "I just think Jules' songwriting is amazing, and I think we deserved it," she continues, still trying to justify her pride, "and I didn't feel imposter syndrome, which I thought I would with something like that, so that was a nice feeling…"
If The Big Moon, completed by singer and songwriter Juliette 'Jules' Jackson, guitarist Soph Nathan and drummer Fern Ford, aren't ones naturally adept at tooting their own horns (had we a pound for every time they described recent events as "unbelievable", we'd be buying ourselves a pretty fancy lunch), then lately they've thankfully had an increasing number of people taking on the task for them. Since emerging in 2015 with first single 'Sucker', the London quartet have become one of British indie's most joyous, celebratory talents, signing to Fiction, racking up across-the-board support (including a suitably celestial DIY cover) and THAT nomination along the way – you'd think they'd be a bit more settled into the compliments by now and yet… "We spent so long on the day being like, can you double check? Are you SURE? Are you ONE HUNDRED PERCENT SURE?" laughs Celia. "Are you sure this isn't a nomination for the nominations?!" continues Jules. "We didn't believe it until they read our name out on the radio, and they read out our name LAST," Celia says, shaking her head. "They did it in alphabetical order, but they used the 'The', so it went through the Bs and we were like…" she gasps, as the others chuckle around her.
But, contrary to their fears, 'Love In The 4th Dimension' was one of the chosen twelve; then, as 2017 came to a close, the band rounded off the touring cycle for the record with one final, sold-out hurrah at London's KOKO. "That was one of those shows where I came off stage and thought, there is no way I can celebrate this enough – I can't get drunk enough, I can't hug enough people to do it justice. It's just too much," smiles the singer.
"I like to go away, not really wash, just get really smelly and do it all."
— Juliette Jackson
So far, so fun, but then came the not-inconsiderable task of following up such a universally-loved opening statement and, after a couple of months of "vegetable time", Jules sat down to the job. "On the first album, songs were just written like, let's try and make some music! Maybe this will work, maybe it won't, I don't really care! Whereas now I really care about it, so I definitely heaped some pressure on myself," she begins. "It was a slower process this time, because I just cared about it more and I felt more ambitious. I just wanted it to be bigger and better."
Though live, and on the tracks themselves, The Big Moon are fully a gang – an eight-armed gaggle of laughing, lovable mates who you can't help but wanna join – it's always been Juliette holding the pen. Beginning work on LP2, the singer bedded down into full-on insular, creative mode. "I like to go away, not really wash, not really go out, just get really smelly and do it all," she grins. "When people went on holiday, I'd go and stay in their empty house and just cane it for a week. I went to Wales for a week; I went to my little brother's house and lived with his cat for a while. It's funny because I remember all the songs on the album by where they were written. There's one specific song that just makes me think about that cat, but it's completely not about the cat…"
Instead of feline odes, she explains that, this time around, her lyrical gaze has turned outwards. "I think a lot of it is about making sense of strange times. A lot of musicians are trying to make sense of that, and there's a lot of crazy stuff going on. You feel like, has this always been happening or have I just grown up and started noticing it happening?" she questions. "Then there's a lot of stuff about getting older, everyone having babies and feeling a bit ARGH! Everything feels different. The last album felt so innocent, and that time feels so innocent compared to now, so it's really about trying to make sense of all that."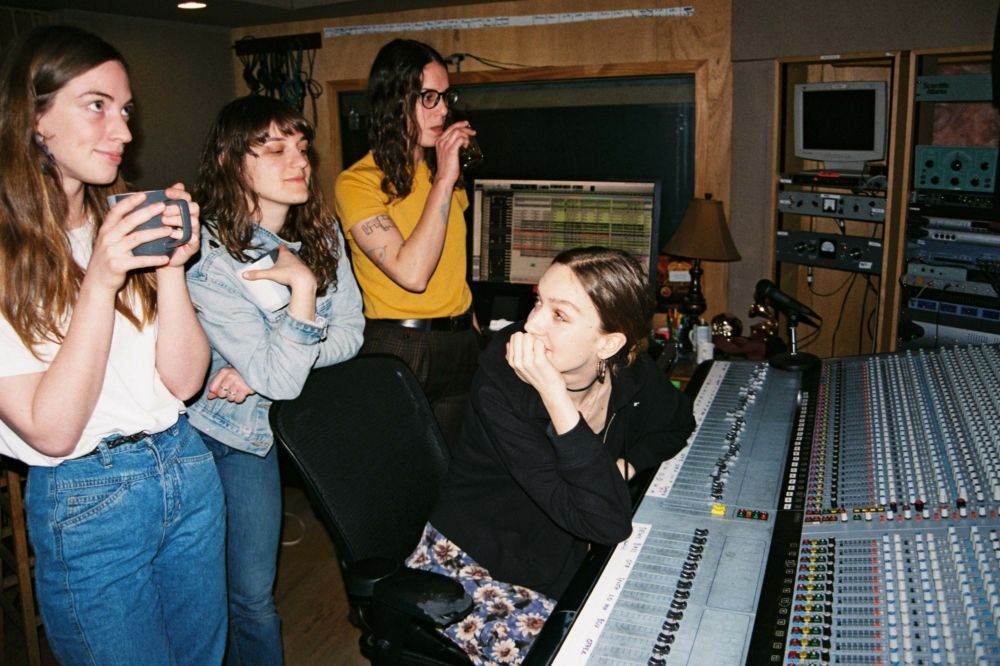 "I just wanted to make songs that you could dance to."
— Juliette Jackson
Recorded in Atlanta with producer Ben Allen (Deerhunter, Animal Collective) over an intense month that saw the singer have "a couple of full-on breakdowns" ("It's the pressure of decisions," explains Soph. "Even if the day isn't full on, you're still having to make a call on something so important. It's a really big deal"), the first taster of the record – title TBA – comes in the form of slow-building recently-released track 'It's Easy Then'. Described as "quite a good summer-upper for the rest of the album", it gives a taster of some of the sonic traits the quartet say populate the forthcoming release. "It's a lot more minimal with places where we've really held back a lot. But there's always a pay off; at the end of the song there's always a 'ta da!', otherwise what's the point?!" says Jules. "We weren't afraid of space in this, whereas in the first record we just filled it all," continues Fern. "When you leave space in the music, you don't need much to make it feel really good," picks up the singer. "I used to write songs and think the way to make it interesting would be to have a crazy tempo change, or make it shocking, but I don't really think that anymore.
"I just wanted to make songs that you could dance to. I feel like in the last year of writing, I've been going out dancing more. I'm still going to gigs and seeing bands, but I find it way more exciting to just be somewhere where the speakers are really loud and there's loads of sub bass. It's just so much more."
If you happened to catch the band's packed-out surprise set on Glastonbury's opening night, you'll have heard a few more teasers – particularly the glorious disco bop of 'Don't Think', a track we described then as "probably the best song they've penned to date". Missed that show? Well, you've got another chance to catch them when they head out on some totally nonchalant dates with a little band called Pixies next month… "Pixies are like, my favourite band," Jules explains, eyes widening. "We wanted to make a collage for the announce [of the tour] of every time Jules has said, 'Oh I just love the Pixies!', 'Pixies are my favourite band!', 'This song's kind of inspired by Pixies!'" grins Celia. "We were nearly even called a Breeders song – 'No Aloha'." "It's insane. I haven't really fathomed it. I think it's literally settling in right now…" nods Soph, as the band all look like they've been hit by the best bus in town. It's another time when The Big Moon can't quite get their heads around their own story, but needless to say, they'll be adding plenty more exciting chapters to it very soon…
Read More