Interview Playing With Magic: Japanese Breakfast
Having spent most of her career exploring the grief and pain of losing her mother, Japanese Breakfast's Michelle Zauner is flipping the script on 'Jubilee', her sparkling new record.
It's an early morning in Brooklyn when Michelle Zauner, otherwise known as Japanese Breakfast, calls in. Pausing frequently to collect her thoughts, she peppers conversation with apologies for faltering when her words don't piece together as precisely as they perhaps would later in the day. Her hesitancy is understandable though - not only because the morning has barely brightened, but because her work pressures a more conscious, personal response than many's.
The 32-year-old artist's first two records - 2016's 'Psychopomp' and the following year's 'Soft Sounds From Another Planet' - alongside a recent memoir, Crying in H Mart, all gouge at the intense grief following her mother's death in 2014. The albums, swimming between shoegaze, lo-fi and indie rock, utilise celestial synths and lamenting vocals to accurately capture her shattering pain. While Michelle's songwriting is a poignant addition to the eerie instrumentation, subsuming listeners into her intimate fragility, it's also filled with candour: a trait that pulls through to her memoir, where the tender memories that feed into her lyrics are given space. She likens the solace she finds in poking her wounds through writing to Nick Cave's sentiment on the loss of his son: "It was almost a comfort that you feel as much pain as you do in grief. Cave calls that the pact that you make with love."
Through that process, Michelle began to realise that she was finally ready to close the chapter on her as a melancholic character. Japanese Breakfast's upcoming album 'Jubilee' is antithetically joyful, bursting into the open with large arrangements that introduce listeners to another side of the singer. "I had this sort of narrative as an artist as 'grief girl' and I wanted to change that," she explains. "I felt I had said everything that I needed to say about grief and loss, and I wanted to tackle some other part of the human experience. I thought nothing was more surprising and challenging than a record about joy!"
Yet, before Michelle could reach that point, she embarked on the four-year process of mourning and reflection via writing. A challenge that proved essential to acknowledging her relationship with herself, she soon found she could look back at the work with warmth rather than just pain. "It was a way for me to archive what we had experienced and my mother's character," she nods, "to kind of relive a lot of really beautiful experiences."
"I think everyone should always try to push themselves to be the greatest version of themselves."
In the space of the last month, Michelle has not only become a New York Times best-selling author but her work has been widely received, by Asian Americans especially, on an inconceivably personal level. On social media, readers pour out their delicious recollections with the binding space of H Mart - the Asian supermarket that acts as a key character in her memoir, probing into her Korean-American identity. Still, the sunny feedback came as a shock to her, since the output of her book was primarily an exercise in thrashing out her own demons.
"I think if you're trained to think that you'll always be this sort of marginal voice, you never expect that you'll make it," she explains. "But it's a time where people are really wanting it. There are more and more mixed race kids that are fucking confused and are comforted by someone that's finally talking about it."
Yet Michelle is apprehensive to open the door to her work as more than a personal insight. Though, by sharing her own experience of the push and pull of her dual identity, she's undoubtedly giving a voice to a community that will reach far wider, she maintains that representation alone can be unproductive; during a time of increasing Asian hate crimes, storytelling alone is an insufficient healing and educational tool. "It's been tough for me," she sighs. "I don't know if representation solves anything. Because, in the same way, the shooting in Atlanta was a whiplash moment after finding out that Minari had been nominated for all these Academy Awards. And so, part of me is unsure. I've always been a purist with art and felt that it was such a salve in a way, and now I don't know if it is?"
Be that as it may, her story showcases a realistic, open and important portrayal of its protagonist. Tales like hers move away from stereotyping and fetishisation, still Michelle worries that, while her identity is worth discussing, it shouldn't become the sole marker of who she is as an artist. In comparison to many of her peers, she voices how she often feels as if her career is viewed as a consolation prize rather than a craft she worked hard to develop over time. "I don't mind talking about my identity," she says. "But I think sometimes it just feels like I'm only here because I'm like, on the margins."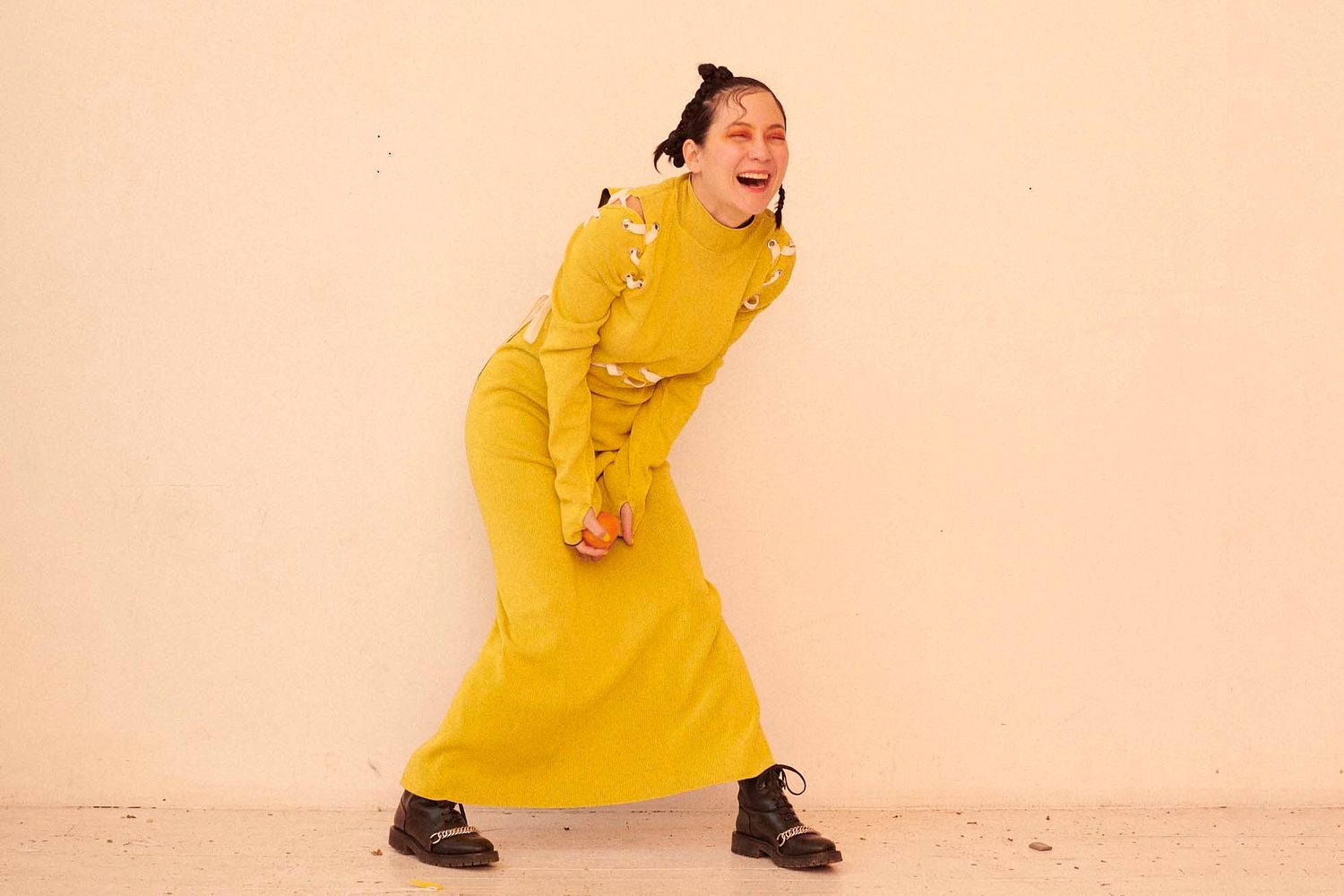 "I felt I had said everything that I needed to say about grief and loss - I wanted to tackle some other part of the human experience."
It's partly why she took the time to develop her musical knowledge for 'Jubilee'. Writing many of its songs on the piano - an instrument she had only recently taken upon herself to fully master, despite playing since childhood - she also worked with bandmate Craig Hendrix to form the punchy compositions and fuller arrangements that vibrate throughout the record. Elsewhere, the zesty production of friend and fellow musician Alex G shines through in the buoyant 'Savage Good Boy'.
Having spent time touring within circuits of inspirational musicians, for LP3 the emphasis was on expanding her creativity and pushing her abilities. "Meeting all these incredible musicians, many of which have gone to music school or a conservatory, and seeing what that education brought to their creative output," she begins, "I wanted to challenge myself to kind of up my chops, and it just felt like a necessary thing that everyone I think should do, you know? I think everyone should always try to push themselves to be the greatest version of themselves."
The efforts were not fruitless; 'Jubilee' boasts an exciting new stage for Japanese Breakfast, with an entirely new and invigorating atmosphere. Bouncing between explosive indie-rock, '80s pop and cinematic, orchestral instrumentation, the record is testament to the hard work that went into it.
It makes for an overwhelmingly optimistic album: one that seems defiantly at odds with the experiences and records that preceded it. Clearly a product of personal and artistic design, it's an album in which its author is purposefully choosing happiness. The future, too, looks to be one aligned with contentment.

"I want to enjoy the smaller things more that we took for granted for so long. And also, I've always had these three huge projects - I've been working on the book, 'Jubilee', and I've also finished the soundtrack for the video game, Sable, that's coming out later this year," she says. "It's the first time in my life that I don't have a sense of direction. I just have to float on those things and I'm really looking forward to that."
It's precisely the narrative of 'Jubilee''s opening track, 'Paprika', in which Michelle expresses: "How's it feel to be at the centre of magic? / To linger in tones and words?". She's unravelling how the anguish that often comes from creativity does not always have to be so traumatic. That, despite how "all alone [she] feels so much", maybe not everything has to hold the same emotional exertion. Most importantly, it's a record that suggests Michelle Zauner is finally where she always wanted to be - and that's a magical position indeed.
'Jubilee' is out now via Dead Oceans.
Read More
Featuring James Blake, Romy, Marika Hackman, yeule and more.