Strange Magic: Jockstrap
'I Love You Jennifer B' is an album of weirdness and whimsy, of technical prowess and nostalgic escapism. At its core sit Jockstrap: two musicians tinkering around in their own curious playground.
"It's kind of like The Sims," begins Georgia Ellery, peering from upside down on the Zoom screen. She's explaining Animal Crossing for someone who's never played, having written a song about one of the game's characters, 'Debra'. It's a suitably surreal situation to find her in: as one half of Jockstrap, she and bandmate Taylor Skye make music that could itself be described, at times, as skewed, wide-eyed, perspectively-warped and all manner of other things.
Georgia is talking about the track in the context of the pair's debut album, this month's much-anticipated 'I Love You Jennifer B'. Across ten tracks, Jockstrap veer from the gorgeous indie-pop of 'Glasgow' to the caustic club grooves of '50/50', passing through almost every conceivable sound in between. This is an album with "an orchestra on most of the songs", according to Georgia, and yet one that also contains breakbeats and 808s.
'I Love You Jennifer B' is a peak Jockstrap have been building to for some time. They started recording under the name five years ago, and released an EP - 2018's 'Love Is The Key To The City' - that immediately set them up as an intriguing outlier, even among a thriving London scene of them. All the elements that make Jockstrap unique were already there from the beginning, however: Georgia's strangely out-of-time, classical crooner delivery, Taylor's unapologetically wonky electronics, and a curiously ambiguous set of subject matter.
'Hayley', from that EP, was told from the perspective of a Las Vegas sex worker, and online the band flirted with strangely distorted videos and photos; throughout, you were never quite sure if the project was a serious proposition or an art-school in-joke. But crucially, their music was always shot through with bursts of sincerity - the emotive cores of later tracks such as 2020's 'Yellow In Green' or recent single 'Concrete Over Water' still heartfelt, and often heartbreaking.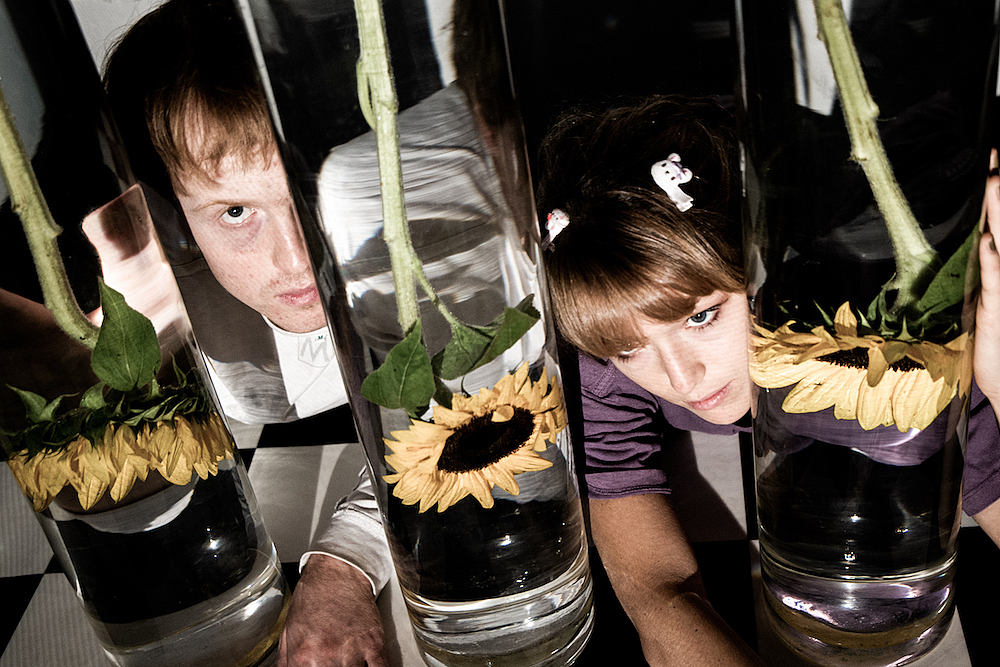 "I think it's good, always, to try and stay surrounded by people that you're inspired by."
— Taylor Skye
They met at the Guildhall School of Music and Drama in London - Georgia studying jazz; Taylor, electronic composition. Their unique live performances, with Georgia singing karaoke-like over Taylor's beats, were initially inspired by James Blake's early live outings. "His live show was all [performed] without laptops, so that's something initially we were interested in doing," she explains. "We're still quite keen on keeping laptops out of things - mainly because they break and they're expensive as well…"
The London dance scene in the 2010s turns out to be a key touchstone for both members, with the post-dubstep sounds of iconic clubs like Plastic People proving a common source of excitement. "We both listened to Annie Mac's radio show and the tracks that she put on compilation albums, which had people like Totally Enormous Extinct Dinosaurs and Disclosure," Taylor recalls: "Late night Radio 1, rave-y house music, which had a pop tint to it."
It hints upon a recurring idea in Jockstrap's work: that of a nostalgia for something you were never part of. The band exist within the first generation of musicians to have had access to an endless stream of content for their entire lives - all of music history, served up without context. When asked if Plastic People was a formative place for them, Taylor replies, "We never got to go there, so we were doing all this stuff in our bedrooms at 15." "It would've been cool to be there when Plastic People was doing its thing," Georgia muses. This feeling of displacement, of attachment to something you never actually experienced, seems key to understanding Jockstrap's strange romanticism.
Moving to London, meanwhile, had a marked effect on both members of the group. Georgia grew up in rural Cornwall, and while Taylor was born in the city, his family moved to Market Harborough when he was 11. Once in the capital, both quickly became embedded in its fertile music scene, with Georgia becoming part of Black Country, New Road. They soon found themselves within a much-commented-on South London scene of experimental music and similarly-minded peers.
"It was very formative for us moving to London," Georgia nods of the time. "We both wanted to do something exciting, [and] we both knew that London was the place where we could do that. We could finally be in a place where we could go and see all the artists that we were listening to on the internet, go to club nights, play with people … I would never have imagined that I would've been doing this when I was in Cornwall; I don't think I even knew a producer to make music with."
Both Georgia and Taylor, however, found themselves unsure of the narrative that built up around Jockstrap and their peers. "I think it's true that you should be a sceptic about that, because it's very romanticised a lot of the time," Taylor says. "These days, everyone is away playing gigs [or] is moving away, so you don't see as many people." How true was the narrative of the scene back at that time? "I think at the beginning, it was good to have a community of bands putting on live shows, being explorative, doing different things," Georgia explains, "because if you see someone else doing it, you have the confidence to do it yourself." Taylor concurs: "I think it's good, always, to try and stay surrounded by people that you're inspired by. And we still do - people that we were inspired by years ago are still inspiring us."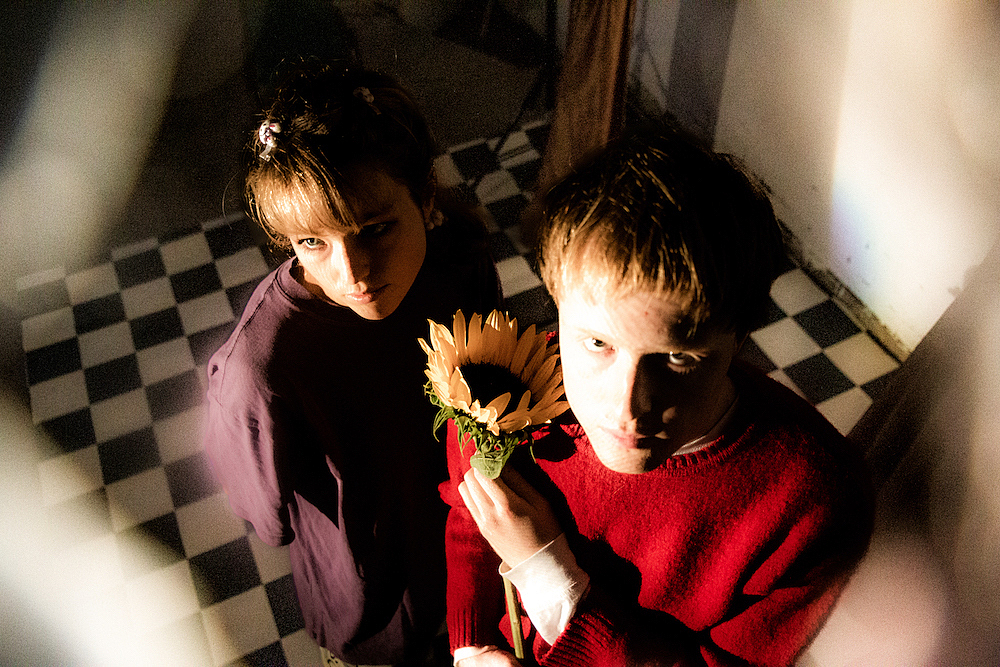 "Contrasts, and tension and release are important in music, so we're thinking about that in a compositional way."
— Georgia Ellery
In fact, it's when discussing the artists that they find exciting that the duo light up the most. Taylor recently saw a Playboi Carti show, and he suddenly comes to life describing the performance. "He just stood in front of his album, playing off Spotify, and it was one of the most moving things I've seen," he says, shaking his head. "He just screamed, it was like metal. It was a completely physical thing. His voice on the album is really pure, but live he just screams like the devil, not rapping, just standing there. So we might do that soon."
You can see why this juxtaposition might please the pair. On 'I Love You Jennifer B', as ever with Jockstrap, they confound and delight in equal measure. Their appeal has long been the tension between their impulse to create something beautiful (see: the crystalline melodies of 'What's It All About?') and to mar that with their chaotic, darker side (the uncanny valley ending of 'Angst'). As Georgia sings in 'Concrete Over Water': "Light and dark, at once". Do the band recognise that split in their work? "Um, no, I think we like pretty things, and we like abrasive things. So we include them in all the songs," Georgia laughs, awkwardly. "Contrasts, and tension and release are important in music, so we're thinking about that in a compositional way."
The band wrongfoot us from the very first moment of the album. Where their previous work has been conducted on synths and piano, opener 'Neon' begins with pensive acoustic guitar, more suited to a record by The National than to a group once signed to Warp. The delicate fingerpicking of 'Lancaster Court' is followed directly by the pummelling vocal warmups that begin '50/50' - full of clashing textures and structures, all coming up against one another in a discordant symphony.
Lyrically, however, the record feels like it takes a different line to previous Jockstrap fare. Many of the tracks here feel personal and confessional – vulnerable in a way they weren't before. Taylor has noticed this shift in Georgia's lyrics too, noting that "it feels a bit more like a diary to me." Speaking on the line between opening up and keeping things for yourself, Ellery dances around the merits of both.
"I think it's important to obscure, [in order] to preserve it. Whenever I write lyrics, they usually start as notes on my iPhone. They're thoughts and feelings that I'm having, that I need to write down to process, or there's been a nice moment, and I want to capture it," she shares. "For me personally, it's a good thing, being transparent about things that are private, because it's cathartic when you release it. Sometimes you write about things that you can't tell people in real life, that you're nervous to [say], so when you say it, and everyone can hear it, it feels good."
Jockstrap have made a difficult, brilliant album. But it's apparent that they care about only that - the music - and feel profoundly uncomfortable digging into everything around it. Some artists thrive when discussing their work, and the discourse around it becomes part of the art itself, but not so much these two. Taylor nods: "I think, often [if] someone's good at music, they're not good at talking about music." He pauses. "I like hearing Georgia explain the songs, [though], because I learn about things."
Georgia stops to consider the question. "If we can give some interesting knowledge on the music, I think that's what we've been doing. Arca's really good at talking about her thoughts on trans philosophy, that's amazing to listen to, and we can't do anything like that, but we can talk about music."
It sums the duo up. When asked what links together the songs on 'I Love You Jennifer B', Georgia has a simple answer: "I think the thing that ties it together is the fact that Taylor and I [made] every song." It's a simple statement for a record so twisting and complex, but maybe that's the beauty of it. For Jockstrap, it's the music that's the key - nothing else matters.

'I Love You Jennifer B' is out now via Rough Trade.
Read More