Joyce Manor: Looking back to move forward
With the monumental task of following up the most successful record of their career, Joyce Manor had to take an unconventional route to get to their new album, 'Cody'.
In 2014, Joyce Manor perfected pop punk. Twenty years after Green Day's 'Dookie' 'broke' the genre and a further twenty still since The Ramones formed to invent it, the art of tearing through four-chord songs in two-minute bursts was brought to its apex by the Joyce's third album, 'Never Hungover Again'. It's a truly stunning record. The problem with perfection, however, is that following it up isn't easy.
It's probably a wise move, then, that rather than attempting a direct sequel, Joyce Manor's forthcoming album 'Cody' - aside from gap-bridging lead single 'Fake I.D.' – effectively bypasses the legacy of 'Never Hungover Again' and clears up some of the unfinished business from early in their career.
Back in 2012, Joyce Manor released their second record, 'Of All Things I Will Soon Grow Tired'. It's a record that the band have publicly spoken about with regret and even now, four years after its release, guitarist/vocalist Barry Johnson describes the album as both "reactionary" and "difficult". Reactionary, because after a straightforward self-titled debut, Joyce Manor wanted to prove that they could be more than just a pop punk band, and difficult because proving it was never going to be easy for a band with limited experience and resources.
"There's a lot on that record that we should've given more time," says Johnson with a sigh. "There are so many things we could've fleshed out. I think there's some really good stuff on there - lyrics and ideas that I'm really proud of - but some of the execution is a little bit off. I wish we could've done it better… I'm just so frustrated by it that I can't listen to it without all my frustrations coming out."
With the frustration associated with 'Of All Things…' clearly a fairly deep wound, perhaps it's not entirely surprising that on 'Cody', with more time at their disposal and Elliott Smith/Guided By Voices producer Rob Schnapf at the helm to offer his expertise, Johnson and his band have taken a second run at it.
"I think we were finally brave enough to try something along the lines of 'Of All Things…' again," Johnson confirms, "but with a producer this time and actually taking our time to make it better. There was stuff on that album that we were still really proud of, but I feel like someone smarter could've done more with and now we have that. I think we did it."
It's hard to disagree. Where the more subdued moments on 'Of All Things…' felt out of character, Joyce Manor now know themselves well enough to retain their identity through 'Cody''s melancholy. Where that second album's pace-changes felt awkward and disjointed, 'Cody' ebbs with confidence and flows with cohesion.
Johnson wasn't done taking inspiration from their past there. 'Cody''s centrepiece is the four-minute 'Stairs' - practically a prog-rock epic by Joyce Manor's standards. That song was written a decade ago, but on a recent acoustic tour with Hop Along's Frances Quinlan, Johnson rediscovered his love for it and it ended up on the new album.
"I remember when I wrote it being really, really proud of it," Johnson says. "It went over really well on that tour, but it needed re-working. It used to sound like a weird folk-punk song, that's why it never made it onto a record until now."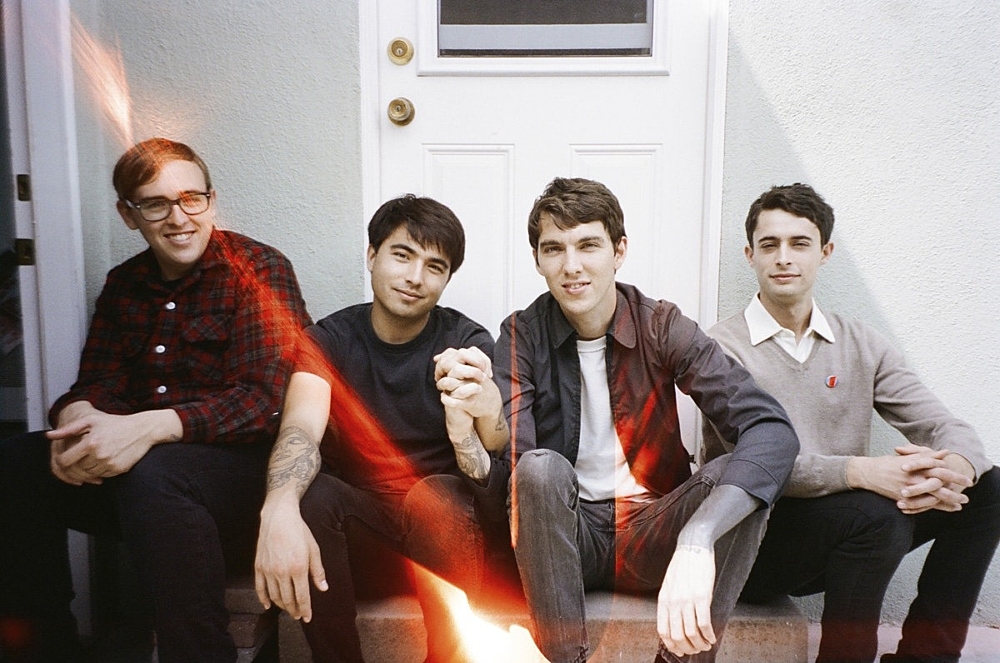 "I don't know why it's darker. I won't know until years from now."
— Barry Johnson, Joyce Manor
Lyrically, 'Stairs' makes for one of the most knuckle-biting narratives Johnson has ever penned as he sings about loving someone so much that you become paranoid about all the things that could hurt them, to the cartoonish end of Johnson wishing he could lock the subject of the song in his room, hiding them there so no one could hurt them. There's tongue-in-cheek humour to it all of course, but for a Joyce Manor song, it's pretty dark.
In fact, compared to what's come before it, 'Cody''s deliberate pacing, pensive lyrics and near-total absence of the major key triumph that often punctuates the band's music makes it a darker Joyce album in general. This wasn't a conscious decision, however, merely the result of a newly-learned studio technique and a rich vein of creativity for Johnson.
"For the first time, we set the BPM of the songs to where the vocal melody sounded best," he explains. "This means we tracked it slower and that brings out certain melancholy qualities in a song. As far as thematically or lyrically, though, I don't know [why it's darker]. I won't know until years from now. I don't think about that stuff when I'm writing, especially on this record. This one was the least amount of editing I've ever done lyrically."
"I wrote most of the album in one week. I was just writing entire songs that I didn't have to edit at all. 'Last You Heard Of Me', 'Make Me Dumb' and 'Over Before It Began' were all written in the same day. In November I wrote an insane amount of songs, maybe 30 or 40, and they were all coming out finished. Maybe they all have a similar, sadder feel because I just tapped into something. I couldn't really tell you what or why, though. Nothing in my life happened. I'm not sure I was consciously reflecting on anything."
'Last You Heard Of Me'
Subconsciously, however, there had to have been some amount of reflecting going on. Johnson is almost 30 now and you don't include songs you wrote at 19 or speak of the past as much as he does on songs like 'Reversing Machine' or 'Eighteen' without indulging in some nostalgia.
"Well, maybe I do reflect a little," Johnson concedes later. "My early twenties were a long time ago and it's weird to have a part of your adult life feel like a totally different person, so I think back on that. If you try and do that at eighteen or nineteen, you're what, eleven years old? Ten? There's nothing to write about at that point. But now, I can think back and write about being in my early twenties and even the time I wrote 'Stairs'."
Back in the present day, Johnson and his band are on the cusp of their new album's release. And brilliant though that album is, Johnson himself warns that its detour from immediacy might alienate some on first listen. But while it might take longer than 'Never Hungover Again' did to embed its metaphorical (and musical) hooks, it's an album the band had to write. Thanks to 'Cody', Joyce Manor can now go forward with a closet entirely free of musical skeletons and with a whole host of new tricks up their songwriting sleeves. By turning to the past, Joyce Manor have set themselves up perfectly for the future.
Read More