Lightning Strike: Waxahatchee
Four albums in and with a turbulent, vital new album under her belt, Katie Crutchfield's finally feeling comfortable in her shoes as one of indie rock's best songwriters.
Philadelphia is, without much doubt, the current hotbed for indie rock in the United States. From Hop Along and Mitski to (Sandy) Alex G and The War On Drugs, the city's lower rents and proximity to New York are providing the base for a new community to thrive.

Being a spearhead of this recent flurry of activity probably doesn't come too naturally to Katie Crutchfield, who released her acoustic, introspective debut album as Waxahatchee from her native Alabama just five years ago. But, if anything was going to give her the confidence to go big on her fourth solo record - and second on Merge Records - working with Dinosaur Jr./Sonic Youth/Kurt Vile producer John Agnello should probably do it.

For her first three albums, last releasing 'Ivy Tripp' in 2015, Katie kept things very close to home. Recording with Kyle Gilbride - of the now-defunct Swearin', the band in which twin sister Allison was a chief songwriter - it was a situation that both benefitted and hindered her, with the prospect of moving on serving as a line in the sand.

"With Kyle, we'd essentially grown up together and experimented with everything," she begins, sat in an East London bowling alley halfway through the promo tour for new album 'Out In The Storm'. "So it was a completely different experience, in a proper studio, and I did things a little bit more traditionally. That's why sonically, in my opinion, it's so different."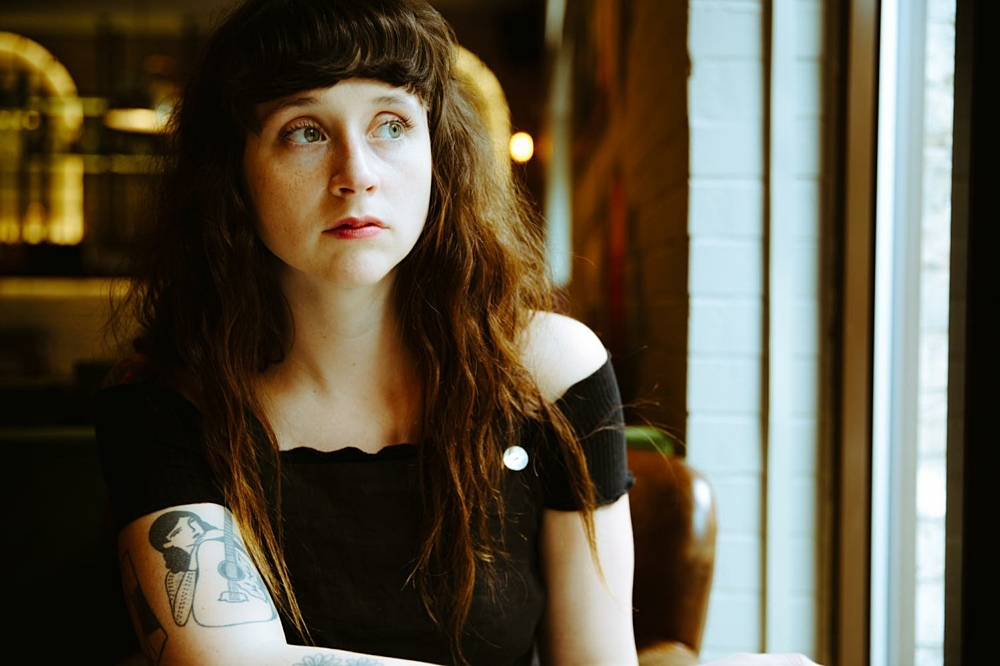 "I want this to be a record people put on when they've had a really fuckin' bad day."
"Those relationships were very specific," she goes on, "and I just needed to try something different. A lot of the people I made this new record with are still people I'm really close with - my band for instance. My sister too, and Katie Harkin [Sky Larkin, Sleater-Kinney] played lead guitar on a lot of the record. She's one of my oldest friends. It was still people I was close with, but just a different vibe."
This change in process ties together with the album's blustery first impressions: there's the title itself, a signal of travelling into the unknown; the bleak, weather-beaten cover art; the record's first single, the immediate, crunchy 'Silver'. It all points to the start of something new for Waxahatchee, and 'Out In The Storm' was borne of long-standing relationships coming to a close, in turn opening the door for Katie to explore infinite new avenues. "I feel like a very natural leader," she says. "Some of the dynamics I've worked amongst in the past have made it hard, but a lot of those relationships have ended, and that is what the record is about. It's not unnatural for me to take a lead, and if it ever does feel unnatural, I know something's up."

Across the whole of 'Out In The Storm', there are knowing nods to Katie's past, be it in reference to relationships or her own previous material. It all enforces the idea of moving on, one that courses through the record's ten songs like a battering ram. In highlight 'Sparks Fly' she sings "I take it back, I was never alone / My censored thoughts, mild and monotone," almost mocking her fragile former self, before calling herself "a live wire, electrified". "Sometimes it makes me cringe," she reflects, thinking back to her bare, hugely emotional debut 'American Weekend'. "I feel like I captured and articulated a really specific moment in my life, and although I don't really relate to it as much any more, I'm still glad that it's down. It's so melodramatic, and the things that crushed me then seem so small now, but that doesn't make them less valid."
"It's all the stuff I always needed to say and never got the chance to."
'Maturing' is an overused term when relating to the progression of artists in the stage of their trajectory that Katie currently finds herself, but 'Out In The Storm' signals the singer kicking on and setting herself up for a career which looks to be an extremely long and fruitful one. Despite this, there's still plenty of turmoil in the album's fibre, and it's a heartbreak - though she doesn't refer to the album as a break-up record - that gives 'Out In The Storm' its firepower.
"I was really emotionally overwrought when I wrote this record," she comments. "My friend Daniel, who took the photo for the artwork, described it as 'claustrophobic', and I completely agree. There's so much in there, but I think it's cool, I think it's good. It's all the stuff I always needed to say and never got the chance to. For me, one of my priorities as a songwriter is to articulate exactly how I'm feeling, and if I can get really close to being able to do that, hopefully that will draw people in and help them to relate to it. That's the best feeling, and I think that I did that."

Katie cites an inspiration of "pure frustration and anger" on the album, and from vicious opener 'Never Been Wrong' to 'No Question' - a track in which she's the grittiest and most determined she's ever sounded - there's a vital urgency to 'Out In The Storm' that most songwriters would crave to be able to draw from more than a decade in.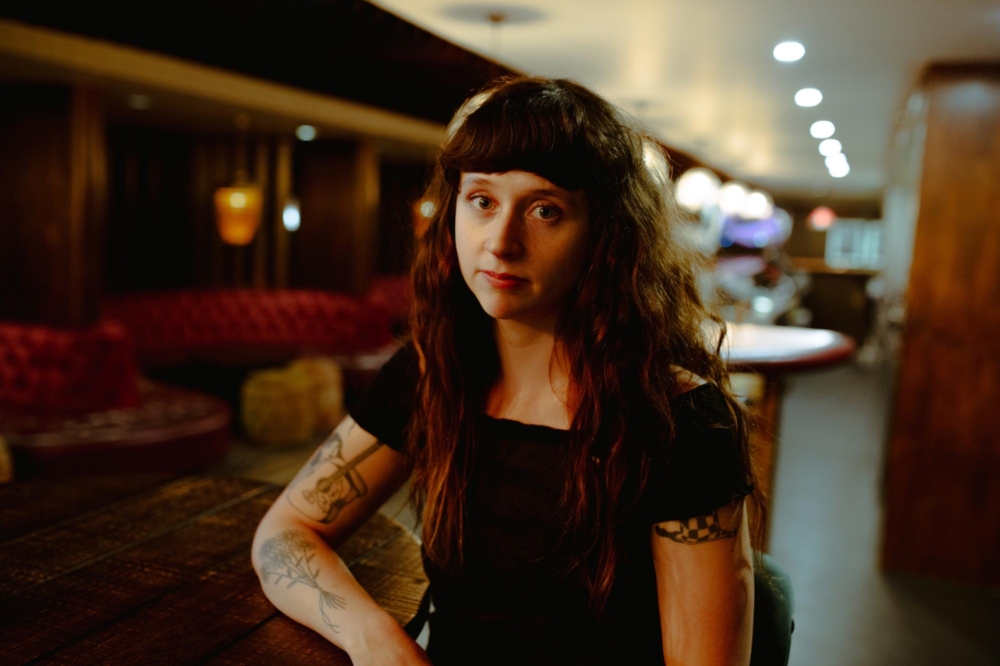 "I want this to be a record people put on when they've had a really fuckin' bad day, and they just need to release some kind of frustration," she throws in. "It's always a good feeling to be a professional musician yet not think 'oh, it's time for me to write another album' without a real impetus. With this record, and the way that my life went recently, it was a case of 'oh yeah, I have to write this album'."
"I see myself, hopefully, as a person who will make a lot of records," she states, with a quiet confidence that's infectious. "I've always done it, and I hope I will always do it. This is just one of 'em, and maybe the next one will be very difficult."

Reinvention isn't on her mind, but the tweaks made on 'Out In The Storm', and the, ahem, stormy relationships that fuelled the album's anger, have made her an even more vital component of the indie rock scene that's making Philadelphia so exciting right now. Not that she'd admit it, though. "I try not to put too much stock into it. I feel like I do my best to just lean into what's happening and get caught up in the magic of it."

Waxahatchee's new album 'Out In The Storm' is out 14th July via Merge.
Photos: Phil Smithies

Get your copy of the latest issue
Read More