Interview Little Boots: "Once you hang around this industry, you realise that everybody is bullshitting"
Taking the do-it-yourself route, Victoria Hesketh's next step is all about making shit happen.
It's been a manic morning for Victoria Hesketh, aka Little Boots. Her latest album, 'Working Girl', is about to be released and true to form, she's working hard. Back in 2009 and in the wake of the release of her debut 'Hands', Hesketh topped the BBC Sound of 2009 poll and received a Critics' Choice nomination at the 2009 BRITs. Since then, she's worked on 5 EPs, another critically acclaimed LP, and somewhere in-between touring and DJ'ing she's found time to set up her own On Repeat label.


Although Hesketh has no regrets about her decision - which wasn't 100% out of choice - moving away from the safety net of a major label also proved to be a lot more work than she originally anticipated: "I have to work hard because I have three more jobs now, rather than just singing and writing the songs," she says. "But it also means I can do, say and make whatever I want. It's ultimately ten times more rewarding so it's definitely worth it."
She's also clear that her experience of working with a major early in her career helped her pursue this venture: "You really have to have a lot of knowledge of the industry. Even just going through major label to being independent is such a huge learning curve."

Amidst the never-ending stories of dwindling revenues and lack of support for emerging artists, it's refreshing to hear a voice of defiant optimism. "Every year the landscape is changing; it keeps you on your toes, constantly adapting and paying attention to what's happening. It's kind of weirdly exciting 'cos all the rules are being rewritten and changed. Old school of how you make pop stars is being ripped apart. Even though it may not be as lucrative as it was, artists have got more control over their destiny."


Given this backdrop to the latest release, it feels necessary to enquire to what extent the record is autobiographical. Turns out it all started as a joke, with Hesketh buying silly shoulder pads and just generally having fun. But behind this playfulness, "not caring about what you do" is an important lesson in creative development. She recalls that back at the start it was all about fun; then "once you get wrapped up in the industry" everything becomes more considered and less spontaneous. "I just think I came full circle. We had a bit of a joke at the start but there's parts that really relate to my story, " she pauses. "And then it became this character that wasn't me but what I was writing about, this 'working girl', my alter ego, my fantasy boss figure."
"Once you hang around this industry you realise that everybody is bullshitting, it's just some people are better at it," with a mischievous tone in her voice she adds" "It's like me and my label partner. We walked into a distributor's office, gave the chat, pretended we knew what we were doing. And they just said, 'Great - we'll back you!' And you realise that if you go out there, walk the walk and talk the talk... by pretending to do it you're doing it. If you put yourself out there and go for something, things will happen. Stop dreaming about stuff, stop looking at your phone and waiting, look up and out, go into the world and do shit!"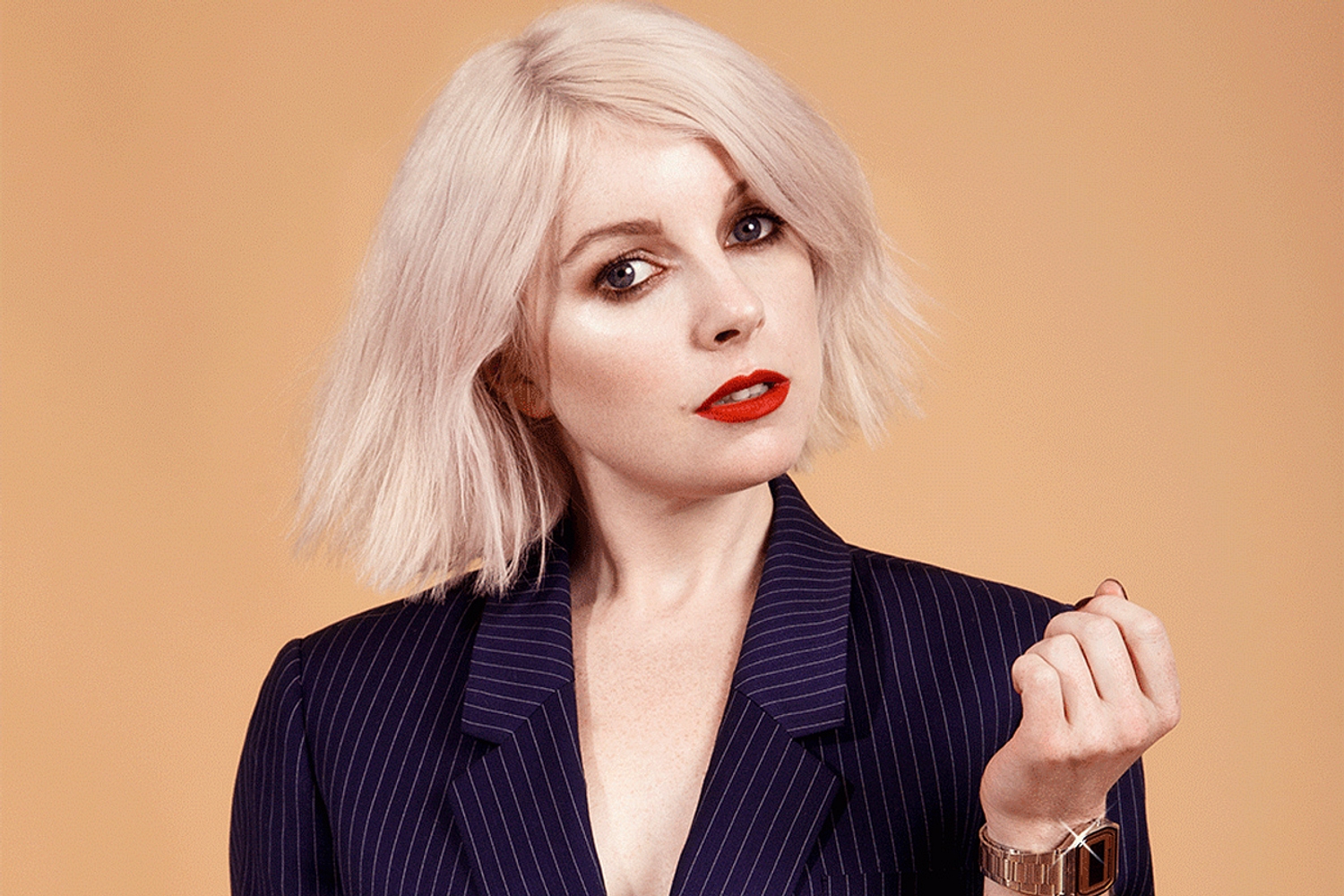 "The secret is having a long career rather than a quick flash in the pan."
— Victoria Hesketh
Featuring production from the likes of Simian Mobile Disco's Jas Shaw and super producer Ariel Rechtshaid (Haim, Charli XCX) as well as songwriting help from On Repeat signing Tom Aspaul and Jeppe Laursen (Lady Gaga's Born This Way), on 'Working Girl' Hesketh has created a brilliant world of high concept tongue-in-cheek pop, brimming with ideas and influences celebrating her diverse musical palate, from 90s house to 70s disco, R&B and experimental electronics. "I just get excited about working with different, new people. You have an idea with someone in the room that you may never have when you're on your own. A lot of the time you think those cool producers are never going to touch a pop song, but then you ask them they have this kind of morbid curiosity. So it was a nice mix of completely new unknown people and people like Jas, who I worked with before: pop, all-out bangers and more kind of alternative experimental pop."
The fact that Little Boots songs are not just sugar-coated pop is also evident in her lyrics. Echoing the title of the 1989 film, the album subverts the concept of 'working girl', inviting the listener to consider darker themes of addition, materialism and life in a world consumed with anxiety and fear of failure. "You can't have it all shiny-happy or you going to end up like Katy Perry. I like lyrics with darkness and despair but with really uplifting music." 'Real Girl' is "about the illusion of perfect we constantly see of girls in magazines", 'Paradise' is a pensive dreamy late night drive of tired anxiety ("I need a resurrection. Something to bring me to life.") and 'Get Things Done' is a cautionary tale of 'Working Girl''s tough life ("Go out, stay in, make no mistake"). The dark sensuality of 'Taste It' is also a nod to the writer's own experiences with her former label. "The lyrics are about success, addiction and ambition. We're addicted to social media, fast food, consumer culture, technology, so many things… It's just such an addictive culture and it's also relevant to me with my first record. I got the taste of that kind of world: you know it's there and you want it again."
With all her experience of the music business, Hesketh is equally open that in reality it's "a giant rollercoaster" with no guarantee of success at the end. "The challenge is to have the strength and self-belief to hang on in there and keep creating. There's no set line between business and pleasure, between where you start and where your art starts. I'm always on. Nobody really knows, you've just gotta have faith in yourself and you've got to have faith in people around you. And it's constantly... terrifying. The secret is having a long career rather than a quick flash in the pan. And I'm lucky I've got amazing support from my fans, I've managed to set up a label and a business."
Little Boots' 'Working Girl' is out now via On Repeat.
Read More
Featuring James Blake, Romy, Marika Hackman, yeule and more.