All The Small Things: Metronomy
New LP 'Small World' might mark Metronomy's most pared-back work to date, but as Joe Mount enters his self-proclaimed 'phase two', he's feeling more content than ever.
After two decades spent crafting addictively wonky, leftfield floor-fillers, Metronomy's seventh album 'Small World' is restrained, downtempo and often melancholy. For the first time, electronics have been relegated to make way for sombre acoustic guitars and gently emotive piano pop. Its front cover, a photograph taken by Joe Mount's mother in the '90s of some lush gardens near their home in Totnes (grounds that have since faded into disrepair) invokes the warm glow of nostalgia. In short, it's something of a curveball.
For Joe, however, this shouldn't come as too much of a shock. "I feel like I've cultivated an understanding that you shouldn't necessarily expect anything from a Metronomy album stylistically," he counters over Zoom from a French hotel room. From their transformation from the frenetic electro of 2008's 'Nights Out' to the expansive conceptual pop of its successor 'The English Riviera', and then again into a driving, psychedelic soul project on 2014's 'Love Letters', the group have always been prone to a change in direction. Nevertheless, he admits, although "it probably won't surprise people that it's a bit different, the kind of different that it is might be unexpected."
As well as making use of a gentler and more emotive sonic palette, however, there's a confessional aspect to Joe's songwriting on 'Small World' that he's never really explored before. "I remember the first time that I felt this weight on me / I was only fifteen," he sings on the reflective 'Things Will be Fine' for example: a line inspired by his teacher's decision to show a teenage Joe Raymond Briggs' harrowing nuclear disaster animation, When The Wind Blows. "They talked about how, if there was a nuclear war, Plymouth would be hit because it was a massive naval base and everything around us would be disintegrated," he recalls. The 'weight' he sings about "is that feeling that no one is in control of anything, that everything is just chaotic and terrifying."
"I've always thought that pop music is for teenagers, and I've always thought that I make pop music. So if what I do doesn't interest those people, then I'm not doing very well."
— Joe Mount
Although he's wary of pinning 'Small World' to the pandemic, it's perhaps no surprise that it was written during the tumult of lockdown. Joe spent it with his wife and two young sons. Naturally, his children would ask questions, "and you're like, 'Yep! This is normal, don't worry!'" he laughs. "You realise the amount of times in your life that your parents must have had to act fine when they didn't have any clue as to what was going on."
The last few years also saw him reflecting on his age; he'll be 40 this year. "I was aware that I'd be coming out the other side of this [pandemic] older than I thought I would," he says. He'd think about the future of Metronomy, too. "I'd be thinking to myself, 'Well what do you want to do for the rest of your life? You've spent 20 years doing this thing, do you want to spend the next 20 years doing this thing too? Is Metronomy the thing that will define you forever?"
The answer, of course, was yes. However, with that commitment came a reassessment of just what kind of artist Joe wanted to continue to to be. "It feels to me like I'm entering phase two of my career in music, and a part of that is me wanting to be a bit more open about who I am," he says. It's why 'Small World' ended up being so personal. "It's more consciously written about me, whereas perhaps other albums were a bit more vague in terms of what they were about." The songs that do engage with the kind of universal, youthful pop themes of old - like the sweet and groovy ballad 'Right On Time' - he explains "are getting harder and harder to write". "It's basically about meeting someone and falling in love, and the last time that happened to me was 11 years ago! I suppose now, it feels a bit like, come on, start writing about something that's true…"
Yet 'Small World' also proves that honesty and maturity need not mean dullness. Lead single 'It's Good To Be Back' is breezy and buoyant, made more charming still by its kitschy video in which the band endure an experience part-Groundhog Day, part-Dora The Explorer. Nor has Joe abandoned his love of pure pop. He's always been open about the importance of staying relevant with successive generations; not too long ago, he said that the minute he stops seeing teenagers at the front of Metronomy shows he'd consider calling it quits. "I was being serious," he doubles down now. "I've always thought that pop music is for teenagers, and I've always thought that I make pop music. So if what I do doesn't interest those people, then I'm not doing very well." And so, in order to navigate any potential conflict between his focus on pop and the maturity he's exploring on 'Small World', he's found a way to explore each in different ways.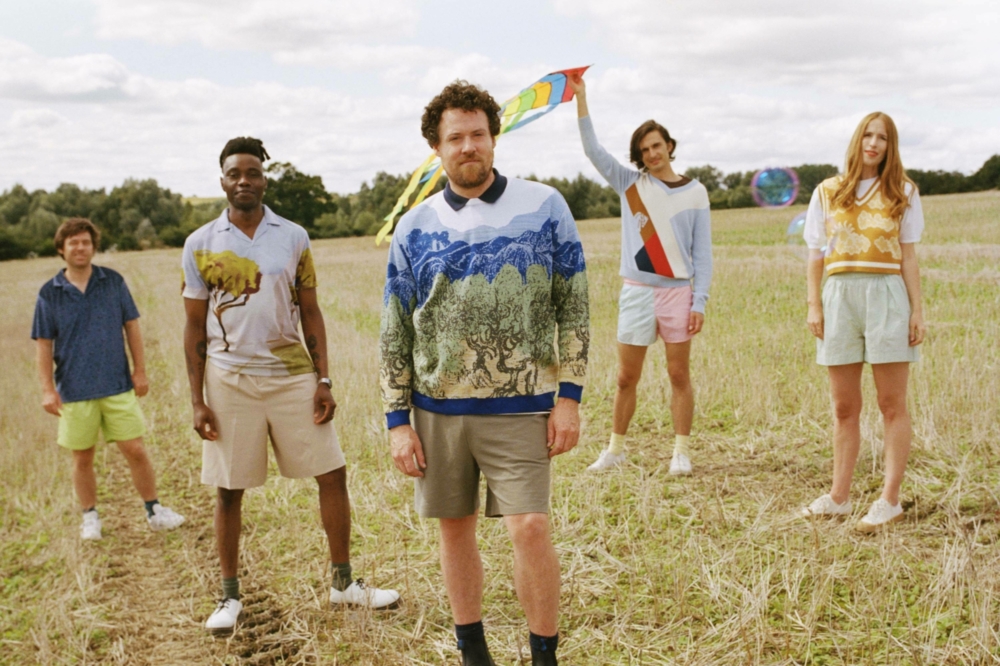 "It probably won't surprise people that it's a bit different, the kind of different that it is might be unexpected."
— Joe Mount
The 'Posse' EP, released last September, acts as the first in a planned series in which Joe provides slick and catchy beats for newcomers like Biig Piig, spill tab and Sorry. Because he's collaborating with young people, he says, it's a genuine connection to that kind of music. "I make music as Metronomy and I also produce, and if you're a good producer, you'll work with up and coming artists. Through working with other people you can vicariously have that connection and it's totally legitimate; it's not me pretending I'm a young person, it's just working with exciting young people. Collaborating with other people, that's how I can still feel relevant." Whereas before, the kinds of beats exhibited on the 'Posse' EP might appear on a full-fledged Metronomy record, now he's holding back in search of coherence. "Anything energetic and fun, I'll keep that for other stuff, and anything that feels leaden will now be Metronomy," he jokes.
Far from leaden though, 'Small World' is an emotionally-rich album that exhibits Metronomy at their most coherent; there's a flow and a mood to the songs here in the same way that 'Nights Out' brimmed with the pent-up emotion of crap provincial nightlife, or 'The English Riviera' with faded seaside glamour. "I feel like it's 'true', it has a simple and clear identity which is very important," Joe nods of their new album.
It says a lot about his status that, ultimately, despite 'Small World' being perhaps the most dramatic switch-up of his career, it's not remotely jarring. The loyalty and trust that he's built up through sheer longevity - Metronomy standing as one of the few survivors of their generation of indie bands who can still sell a meaningful number of tickets while maintaining critical acclaim - means that it's not that much of a risk.
He remembers his self-consciousness early on when he heard Erol Alkan playing his manic early single 'You Could Easily Have Me' at formative London electro night Trash. "I thought, 'This is awful compared to the other stuff he's playing'," he recalls, "but what I didn't realise back then is that that sound is a uniqueness." Today though, he has no imposter syndrome ("There's luck, but there's also decisions that you make") and is entering 'phase two' with confidence and poise. "Something about what I do means that I'm still around and people are still interested." Sometimes when he's on stage, he'll even stop to smell the roses. "I'll look at the crowd and think, 'Why? What is it that you like about this?' But to me, that's just something magical."

'Small World' is out now via Because Music.
Read More