To say Baxter Dury has lived a colourful life would be an understatement but heading into new LP 'The Night Chancers', we find a man embracing his lot with a grin and a healthy dose of ridiculousness.
Baxter Dury is lounging in the bath, fully-clothed with a rubber duck perched jauntily atop his crotch, narrating about his recent spray tan experience. "She convinced me to get an 8.5%, and you know how they call Benidorm the gammon ghetto?" he questions, as a picture of his admittedly rather orange self gets flashed up for reference. "I was the gammon king."

A natural raconteur and blessed with a surreal and hilarious way with words, you can tell Baxter thrives in odd situations such as these. As DIY sends him down to pose on the riverbank outside his West London flat - the Thames-side building he grew up in with his dad, Ian Dury of The Blockheads, and recently returned to - he gamely prats around with the affable nature of a man who's long-since accepted that his life is a bit different than most's. "I was around entertainment, so I was brought up with exhibitionists. When my Dad used to pick me up he'd have a Union Jack enamel in his teeth and a CND sign shaved on the side of his head," he begins with an immediately recognisable London drawl. "I'm used to people drawing unnecessary levels of attention to themselves, so I don't really mind doing river pimp things…"

There's a certain level of inevitability to Baxter's artistic bent; brought up around a fair amount of insanity, you sense he's not a man who could hold down an office job with any great success. Currently he's particularly plugged back into the "maelstrom matrix of history" - having just signed a book deal, he's got a box of old photos and ephemera in the corner, and is spending his days trying to conjure a picture onto the page of a particularly notable period of his childhood.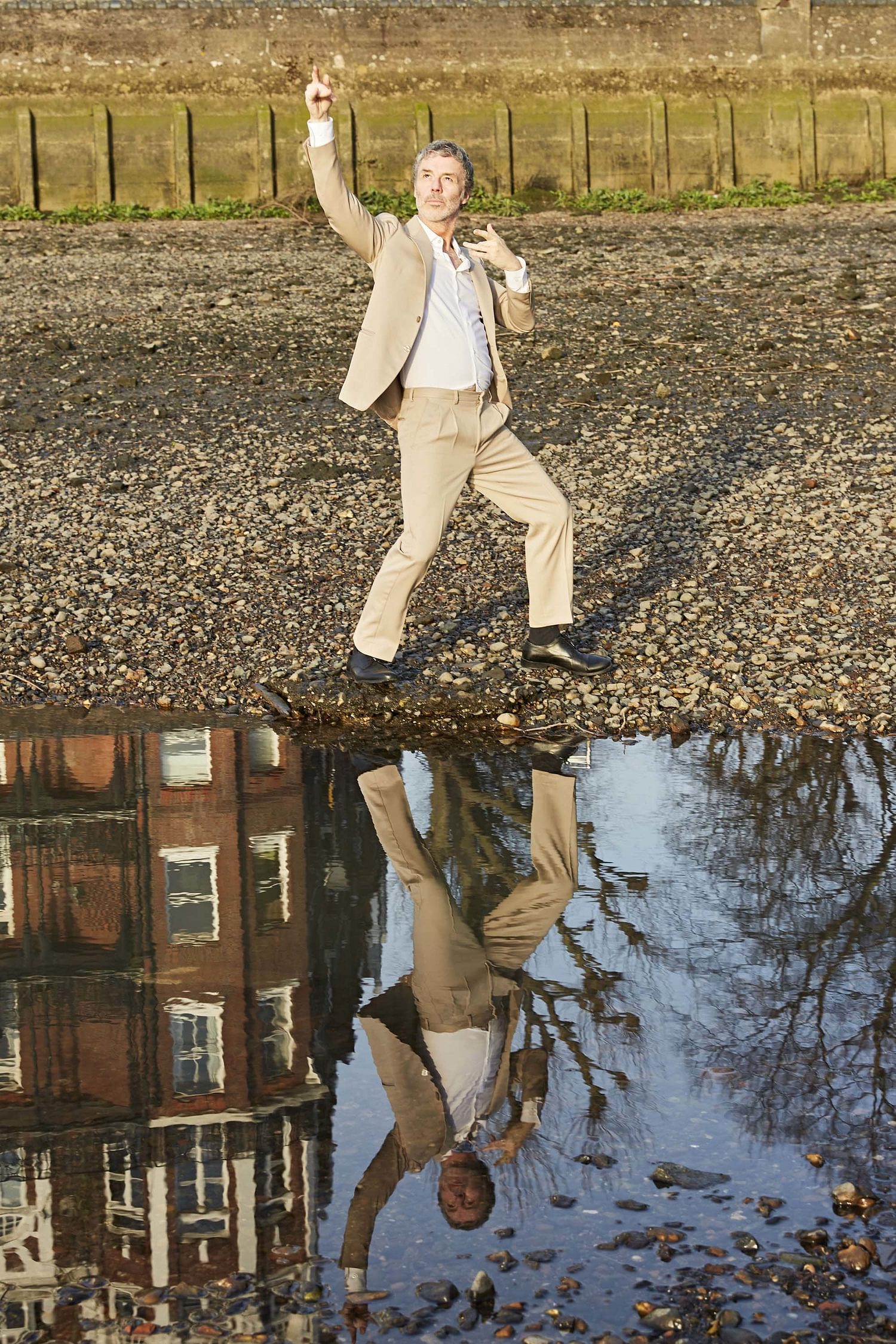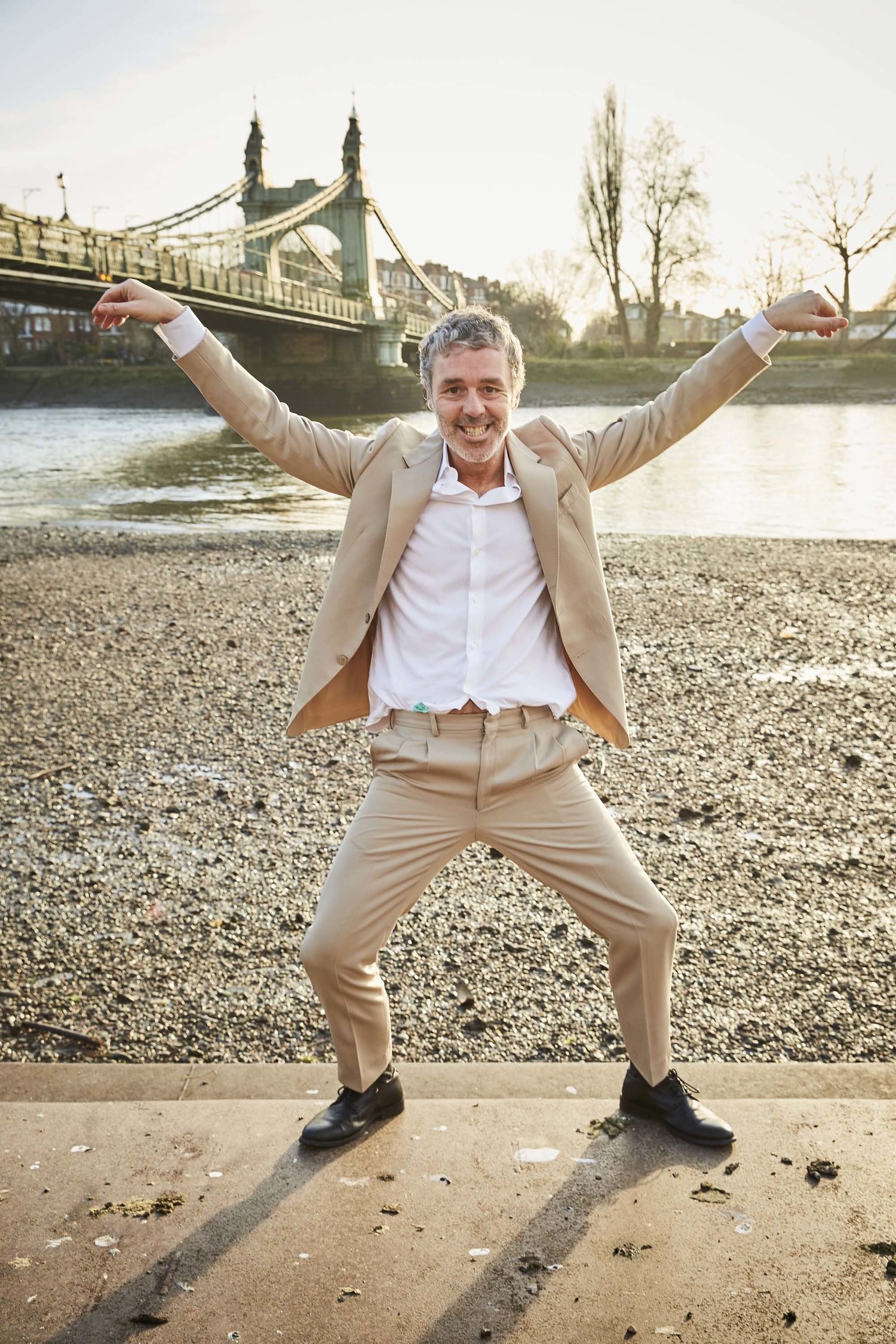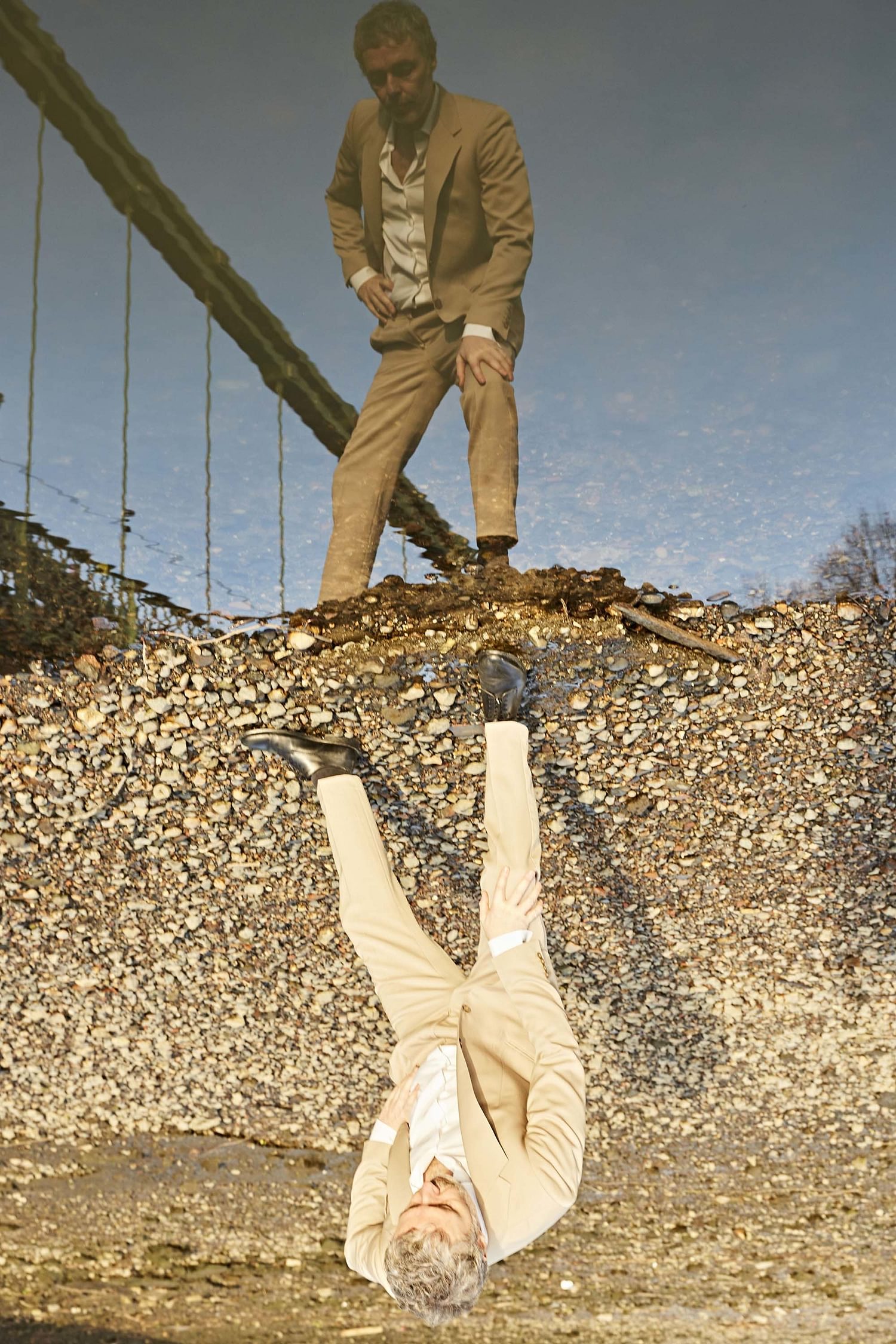 "In Paris, they think I'm some kind of sex sheriff."
"I lived here with a guy called the Sulphate Strangler who was one of Dad's old cohorts, a rock'n'roll security type person," he begins. "He thought it was quite a good sociological experiment to make me live with him to show me what the edge looked like so I never totally went over it. Mum had persuaded Dad to send me to a private tutorial college, so I was driven every morning by Strangler in a tiny white Nissan with a kamikaze sign on the front, and he was so big each of his elbows breeched out of the window and I had to sit in the back. It was a pretty fucking weird thing.

"So I'm in a semi-bleak process of trying to put that down, and I'm a feral, unstable source of information, but if I do it as a slightly inaccurate dreamy thing then it's a possibility I'll finish it," he continues. "It's not about music, it's not about Dad, it's about a child and a giant odorous man and how they bond. It's a story - like ET."

Though bike-riding aliens might not actually make their way into Baxter's own tale, it's a cast of wayward characters that slink over the singer's latest musical venture, 'The Night Chancers'. Having spent the last two decades populating his canon with the kind of miscreants and rotters best kept under the cover of darkness, on his sixth, they're out in full force, from the 'Slumlord' with his "murder shoes" and "dirty eyes", to the posh boy "polo lizards" that make up 'Saliva Hog'. If 2017's standout 'Prince of Tears' was a break-up album by any other name, then 'The Night Chancers' comes out with more of a sneer than a sob. "I'm just drawn to [the underbelly], it's where it all occurs to me, where the world begins and ends. If you're too successful, a porcelain-faced successful person, then it's just not of interest," he shrugs. "I have no interest in that outside Brexit Trump thing. It's not that I don't give a fuck, I just don't understand it, but I understand self and I have a vain way of looking at the world. It's all about me me me me me."

It's a narrative style, coupled with a red wine-soaked onstage demeanour and a fondness for an Italian suit or two, that's given Baxter a reputation that somewhat precedes him... "I think in Paris they think I'm just a weird love factory, and I really like the idea of pretending to be this really bad guy, but they think I'm some kind of sex sheriff," he grins. "I think it's a style. There's a right balance where you can look a bit seedy and it looks quite good. So I'm tapping into that bit, but I'm not trying to be a sex sheriff."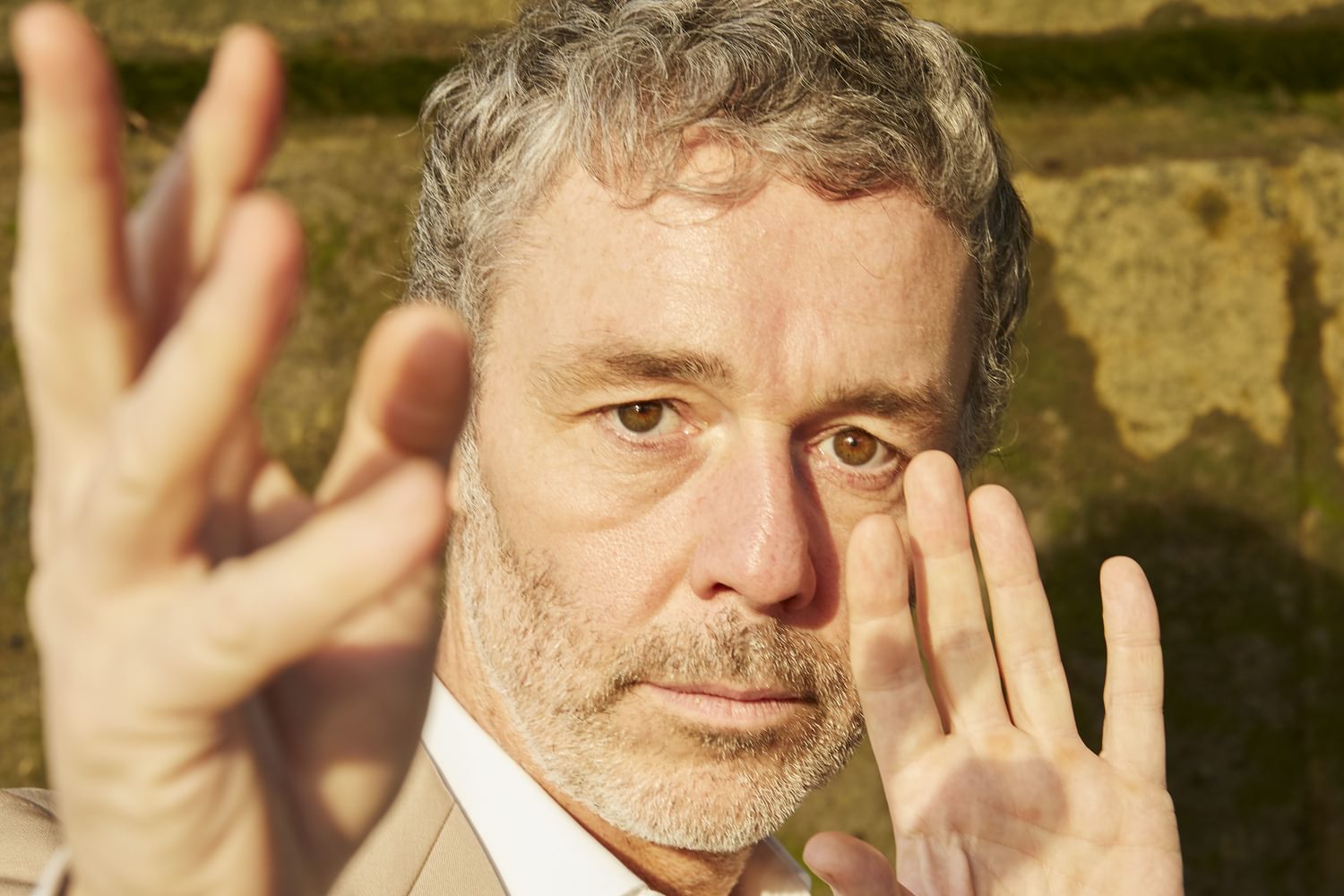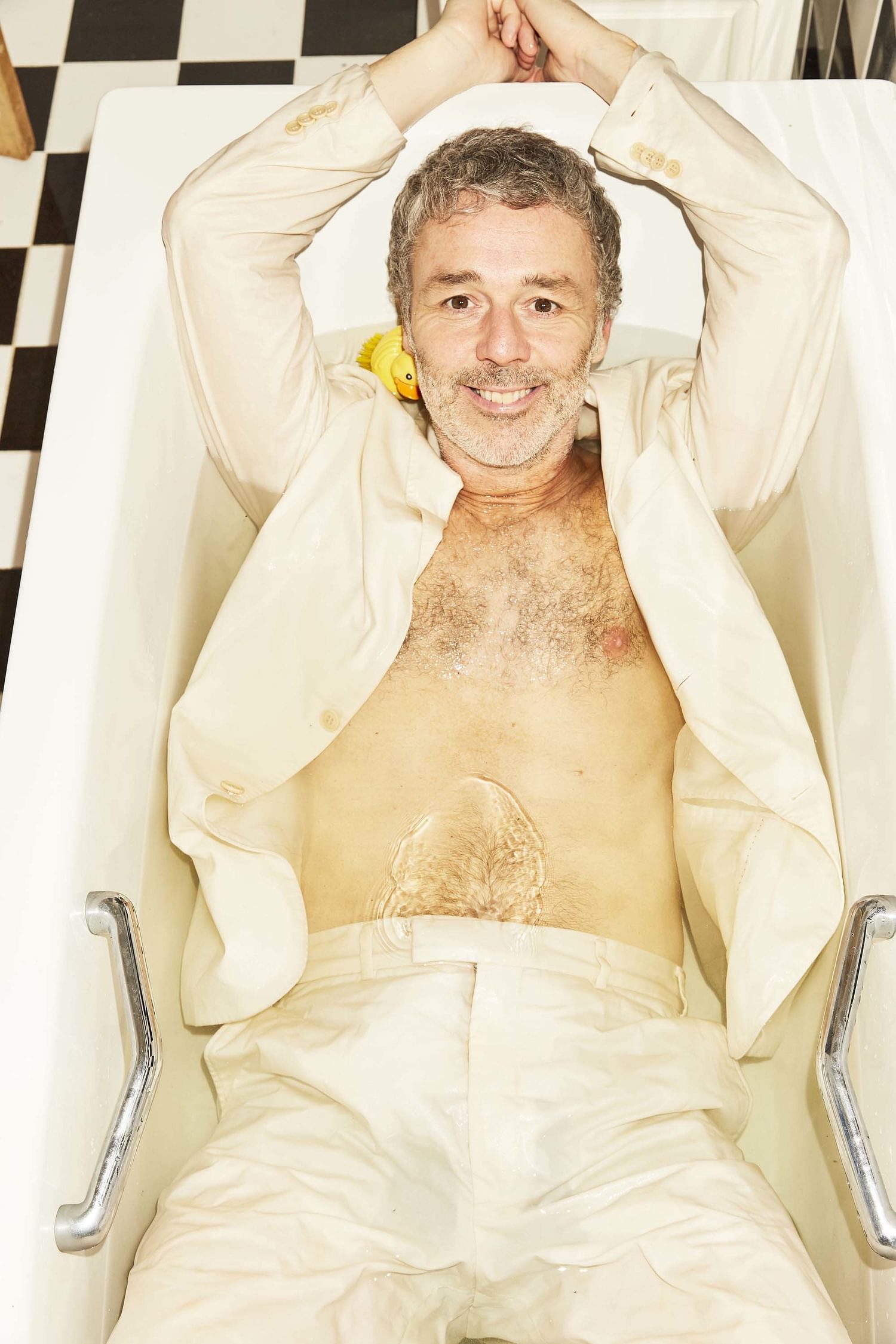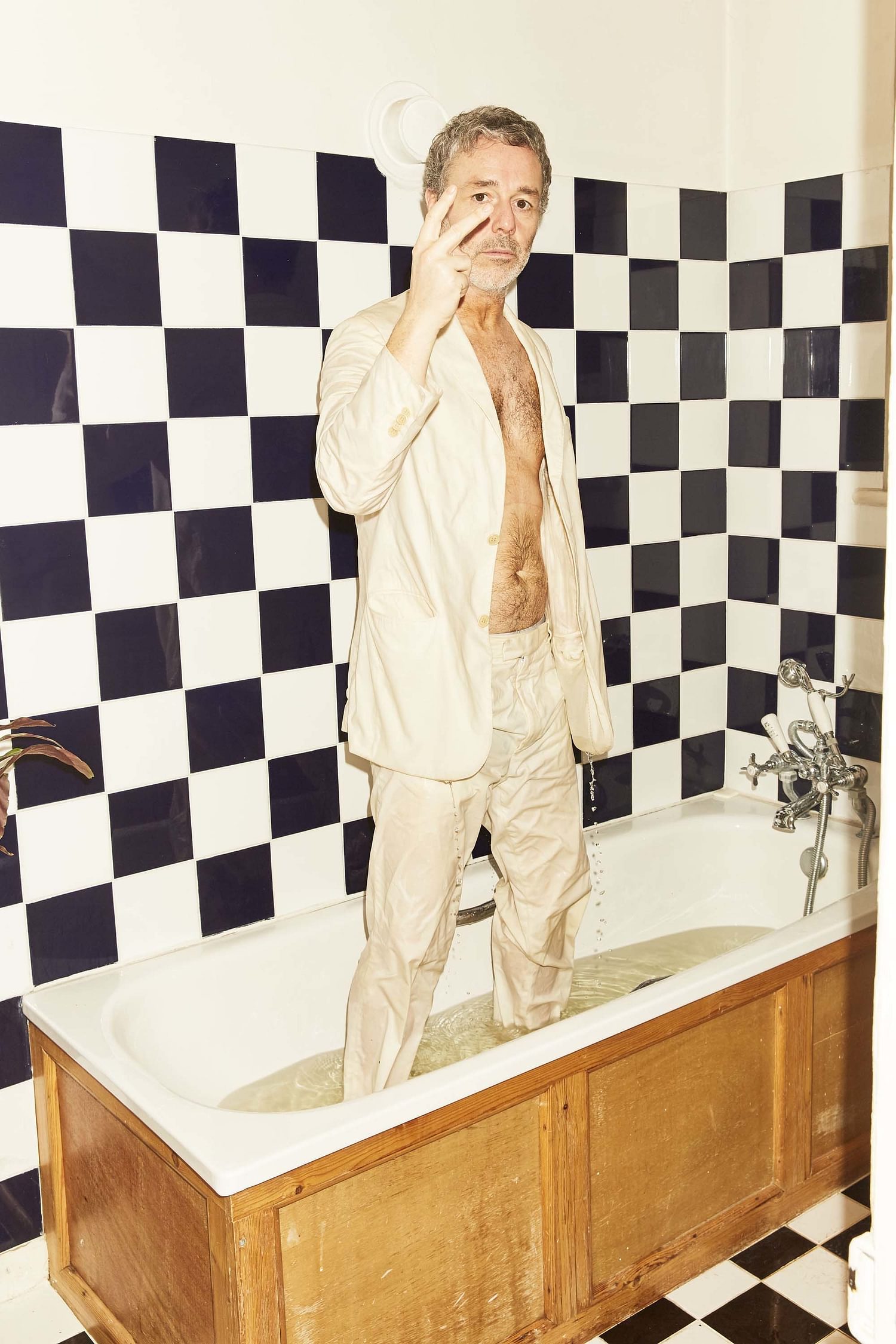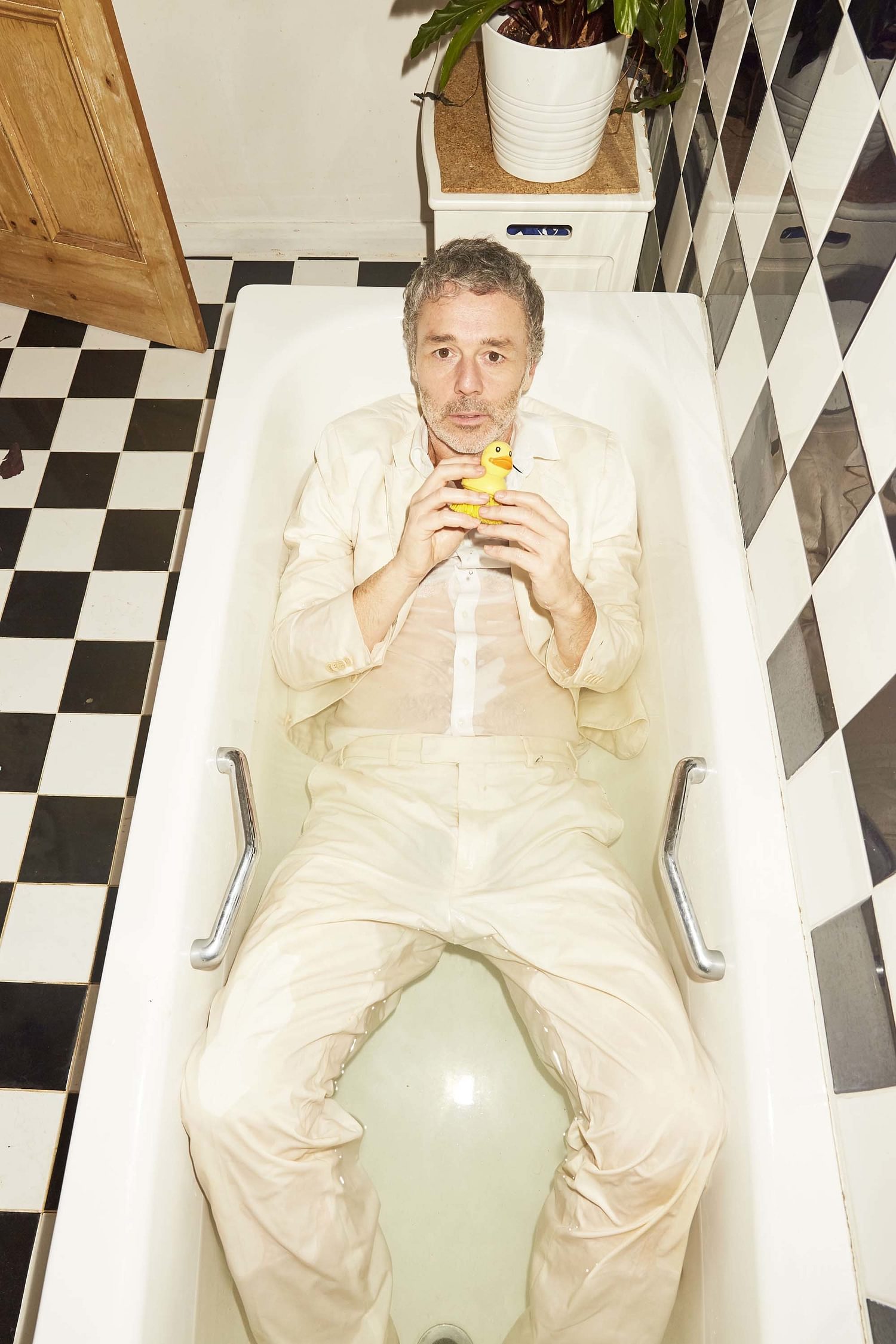 "I have a vain way of looking at the world. It's all about me me me me me."
Having collected a small congregation of likeminded artistic pals around him, Baxter's phone book might read like a who's who of music's more out-there characters, but much like his wild west mythology, the reality is actually a lot more wholesome. "Me and Jason [from Sleaford Mods] will send each other very sweet-natured texts twice a month, and the Fat Whites will never show me what they're up to; I come in and everything gets hidden. Not to say I'm the straightest person in the world but I don't wanna make a cake with a swastika on it," he notes. "And Jarvis has got a flat in Paris, so whenever I'm in Paris we're these strange, ill fitted suit-wearing ex pats that hang out. He's a really good DJ and I'm awful - I call myself DJ Vulnerable - so he'll DJ and I'll just get cocktails and annoy him."

The picture it all paints is of someone both very normal, and very much not. He'll merrily remember when, as a kid, the Blockheads played 10 nights at Hammersmith Apollo, making them the only artist to accomplish the feat aside from Bowie; the next minute, he'll be saying how he cried at the Taylor Swift Netflix documentary and got ribbed for having Google alerts set up on himself ("I didn't think anything about it, but my friend was crying with laughter over it, and retrospectively I thought, 'Yeah... you do look like a bit of a cunt'").

It's a winning combination, one that makes a period in Baxter's company one of life's more amusing ways to spend time. It's also one that, six albums in, has cemented the singer as a true cult hero - a man who might never reach the dizzying heights of fame he saw firsthand as a kid, but whose charm and idiosyncratic musical niche has earned him his own, justifiable tribe.

"I think [my success] is kind of capped. I'm 48 and I make weird, narrative-based, slightly morose music," he decides. "But it's too tiresome to be stuck marinading in your own expectations, you'll go fucking insane, so I'm pretty relaxed about it. I live a good life, there's a great balance. I live here and I can look at the sunset, and I was in the bath and everyone laughed and someone brought some Hobnobs. And I think I'm actually really good, so once you think you're really good it doesn't matter so much. I definitely drink it in. If someone says 'Are you Baxter?' I'm like 'YES! It's ME! I'm AMAZING! This is the best day of your life!"
'The Night Chancers' is out now via Rough Trade.
Read More
Featuring James Blake, Romy, Marika Hackman, yeule and more.