Interview Moonchild Sanelly: "Now is my flex time and I'm going for EVERYTHING"
She's got awards in her eye-line and Beyoncé in her phone book, and with her second record in the works, Moonchild Sanelly's message of "freedom, joy and liberation" is exactly what the world needs.
"I'm collecting the awards - I'm collecting the Grammys, I'm collecting the BRIT Awards, I'm going in. Now is my flex time and I'm going for EVERYTHING," hoots Moonchild Sanelly, chuckling manically like a woman with a wickedly delicious masterplan. Blue-haired and speaking a mile-a-minute, the South African singer might only be a couple of weeks into the recording of LP2, but vision is not something that's lacking.
It's a trait that's evidently fuelled her for a long time. Performing and releasing in her hometown for more than a decade, it's only in the last two years - via notable collaborations with Africa Express, Gorillaz and a not-so-little turn on Beyoncé's 'My Power' - that she's begun to make waves in more international circles. The move, she explains, is no fluke. "I have a hustling mentality where I just know how to make things happen for myself," she explains. "I always said I want to play every festival in the world, I want to be able to go everywhere. And when I started getting a taste of that, that's when I started collaborating. I'm not gonna change who I am but I'm going to introduce people to who I am through someone they know."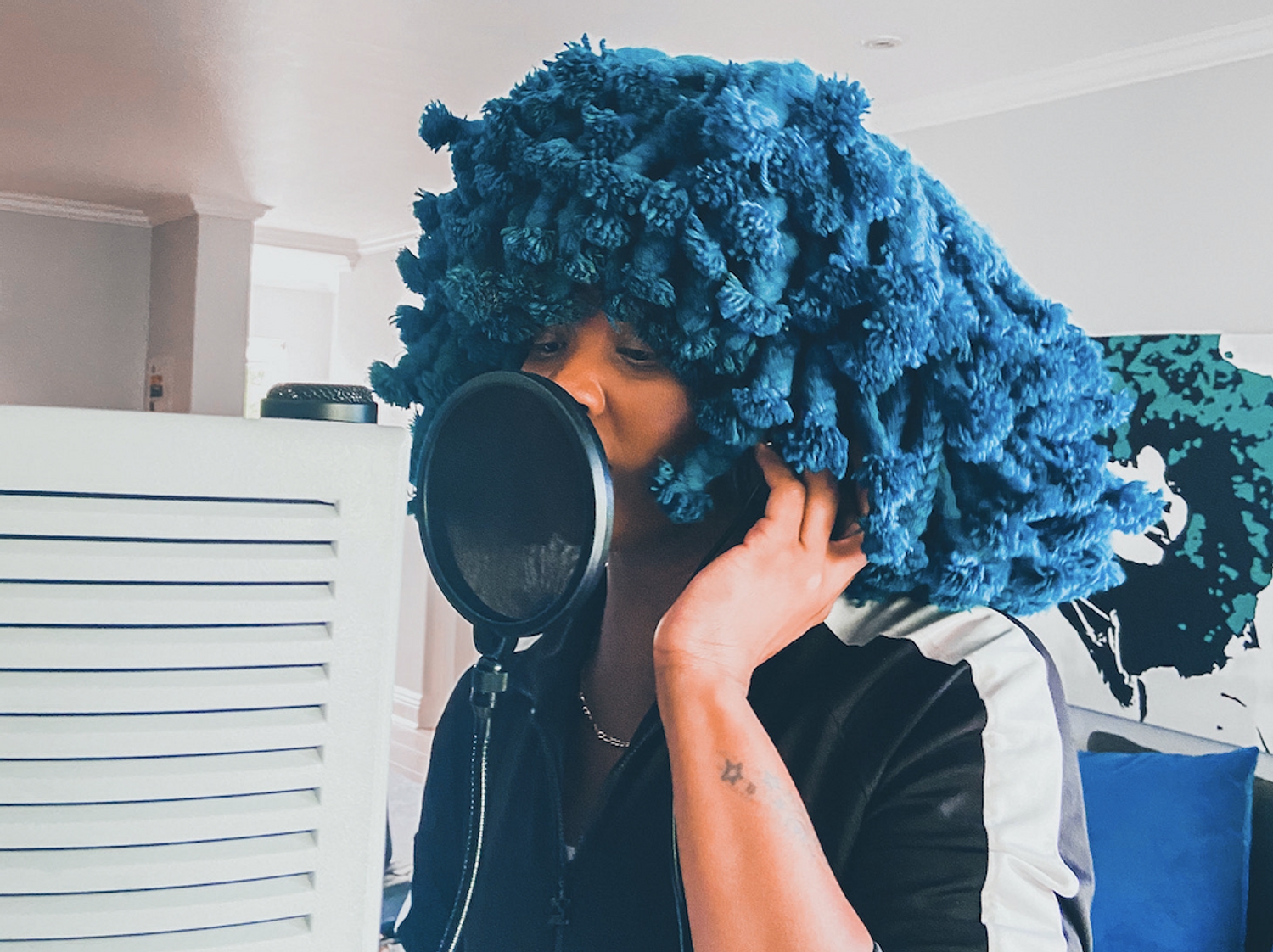 "I learnt that whenever they say 'black sheep' it's because they don't want you to know you're powerful."
Earlier this year, it led to a re-release via Transgressive of EP 'Nudes' - a record that properly introduced the singer's fundamental "mission" of self-love and acceptance to the world. Now, she's creating the sonic patchwork of its full-length follow up, and the ambition - both personal and professional - behind it is tangible. "The whole message should start with body positivity and sexual ownership because there's a lot of bullshit [in the world] but if you can control you in any scenario then you're past bullshit," she affirms. "I'll never tire of representing who I am because I wish I had someone like me when I was growing up. People are going to get tired of trying to stop me because I know how to work very, very hard and people will demand my comments more than others can stop me from getting it.
"My mum equipped me with so much confidence in myself. So when she died, by the time the world heard anything - whether that was my music or poetry or fashion - I already knew what would make me happy," she continues. "I was never expected to be the one that was successful, but now everyone that was living by the rules of society in my family, they're all [just] surviving, whereas here I am. I learnt that whenever they say 'black sheep' it's because they don't want you to know you're powerful when actually it means you're special."
With Diplo, Ghetts and more already confirmed to appear on the singer's newest, the word is clearly getting out. And as for one final special guest? "No comment," she squirms with a cheeky grin when we mention the Queen Bey word. "I don't wanna jinx it…" We'll touch wood for tradition's sake, but clearly Moonchild Sanelly makes her own luck. Superstardom beckons...
Read More
Popular right now
Featuring James Blake, Romy, Marika Hackman, yeule and more.