Natural Instinct: Caroline Polachek
With Chairlift, Caroline almost had to destroy the success she'd found to become creatively happy. On the release of solo LP 'Pang', she's following that steadfast artistic path into new waters.
Life for Caroline Polachek has often been about following her gut. Whether that's by uprooting to Los Angeles (a recent move), finally putting out a record under her own name in the form of new album 'Pang' or even, as she explains on the phone from across the Atlantic, choosing to commit to music in the first place.
"I'd interviewed for this Chelsea gallery called Elizabeth Dee," she recounts of the time she decided to turn down her former dream job and fully dive in. "I was set to start as an assistant there, and I had to call them and say, 'I'm really sorry, but I'm going on tour with a band called Ariel Pink, and I'm not going to be able to start work.'"
In 2008, Caroline was in the final year of her degree at New York University, simultaneously working four low-paying, arts-adjacent jobs. At night, she would write and record for Chairlift, the independently-minded synthpop project she'd started with Aaron Pfenning a few years earlier, along with Patrick Wimberly, who joined the group in early 2007. However, that year, their song 'Bruises' launched them into the spotlight when it was featured in a ubiquitous iPod Nano commercial, quickly turning them into the poster children for US indie in the late '00s. But notoriety wasn't necessarily something the group wanted for themselves.
"We were very suspicious of the mainstream, actually," Caroline recalls. "Chairlift was coming from a very DIY, experimental background. We were really in love with the ways in which underground music could exist: playing in basements, garages, coffee shops; mostly illegal shows in abandoned car parks." One show she attended in far east Brooklyn, she says, featured eight drummers playing at the same time underneath a giant subway overpass. "I was definitely underage. I was like 20, drinking a giant PBR [beer]…"
The period was a special one for New York-based outfits like Chairlift, who benefitted from the community of a thriving indie scene, but it was also a particular tipping point for the wider music industry. "You started seeing the real, palpable influence of cracked production software. These were the tools that were used in the big studios - we're talking $10,000 software leaked online," she says cannily. "Everyone with a laptop had the crack and had access to it. So what you were seeing was these bands that had quite an underground ethos being able to make music with the same kind of palette as the major labels. I think that really set the scene for bands like MGMT, Yeasayer, and Chairlift."
Suddenly, Caroline and her collaborators found themselves at the centre of an "international indie pop circuit" that, while exciting at the time, wasn't quite how they wanted to form their identity. "It was only once Chairlift went back to the studio for a second album that we actually got some perspective on how we'd been swept up into this whole new, branded, 'Urban Outfitters' existence," reflects Caroline. "We were really pushing back against that with our second album, which a lot of fans weren't into, and which our label certainly wasn't into. But I think that's when we actually found ourselves as musicians."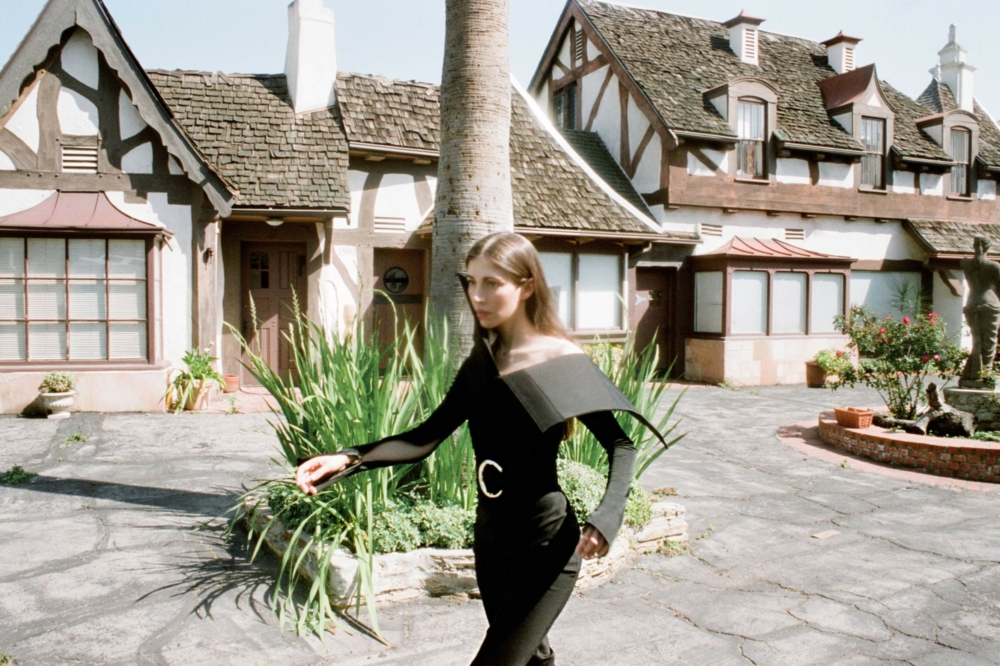 "As I've gotten older and more sentimental, I've started listening to love songs very differently."
Now, in 2019, Chairlift have been disbanded for over two years, and Caroline is gearing up for the release of 'Pang'. While the record is not the artist's first solo project, it marks the first time Caroline will be releasing music under her full name as opposed to her stage moniker Ramona Lisa, or her initials, CEP. "It just felt really clear to me that now was the time to do that," she explains. "I'd been in a collaboration so long, for 12 years, and I was really excited not just to stretch my wings as a solo artist, but also to not have to build any sort of conceptual disguise for what I was doing anymore."
For Caroline, 'Pang' is distinct for its lack of confines - conceptual or otherwise. "In the past, those limitations have been really exciting for me. Having a bandmate who you have to reconcile all opinions with is also a really useful form of limitation. And the two solo albums before [2014's 'Arcadia' and 2017's 'Drawing The Target Around The Arrow'] were very much concept projects. Those concepts again helped to keep me on task and keep the palette really meaningful. But this time around I felt like I had a lot to say, and I really just wanted to present my voice in a very straightforward way."
What Caroline feels is most 'her' about the record is that vocal, which she describes as "more raw and balls-to-the-wall" than usual. What is "balls-to-the-wall" singing like, exactly? Caroline pauses only briefly to answer. "It's really going for a line that you a) don't even know if you can hit and b) probably haven't even written yet. So, very much improvising in front of someone, praying blindly."
Caroline's powerful, versatile voice is the guiding instrument of 'Pang', an album that glistens with pop shimmer and a tremendous amount of emotion. Co-produced with PC Music's Danny L Harle, the record leaps from despair, uncertainty, and exasperation to euphoria and back again, even dipping into ice-cream-sweet infatuation with 'So Hot You're Hurting My Feelings': a boisterous, synth-charged ode to longing.
"There was a lot going on in my life while I was writing this album. I was feeling a lot of big change, and a lot of self-doubt, a lot of self-questioning. To write about anything else would have seemed crazy," she says. In the past, Caroline has spoken about her determination to specifically avoid making music about love and romance, citing the bloated size of the canon as the logic behind her reasoning. But 'Pang' demonstrates a significant departure from this ideology. "As I've gotten older and more sentimental, I've started listening to love songs very differently: not necessarily as songs about a person or a relationship, but as songs that are essentially devotional or spiritual, [ones] about your relationship with life and existing."
However, as is the norm with much personal work nowadays, Caroline made the album with an eye towards the political, intending the record to be in some measure a critique of late capitalism and modern mainstream feminism.
"We have this idea that we're all individuals in charge of our fate, and the responsibility of 'living the American Dream' is on us," she begins. "And I think the version of feminism that women are being sold right now in pop culture is that being a good feminist is an extroverted act in terms of loudly defending yourself and pushing against things. The idea of giving into something that you're not in control of is identified with the old model of femininity, or the model of femininity where you're controlled by men. But this record isn't about giving in to a man per se, or any sort of system. It's about giving in to a part of yourself that you're not consciously in control of, and taking instructions from your intuition."
There's that intuition again. Currently, Caroline is settling into her new LA life, following that gut feeling across the country, if only for a couple of years. Where she'll artistically head next, who knows, but chances are it'll be led by that same inner intrinsic impulse. "I want to try my hand at scoring. I want to try my hand at acting. I guess being in LA is conducive to those kind of things," she says. "It's a good place for making things right now, but who knows [about the future]. Life is long."
'Pang' is out now via Columbia.
Read More