No Holds Barred: Nova Twins
Carving out a singular space in the rock landscape, Amy Love and Georgia South have resolutely done it their way. Now, with the advent of Nova Twins' 'Supernova', their potential feels limitless.
There's a series of videos on Nova Twins' Instagram feed of the pair commanding a huge arena crowd. Vocalist Amy Love punches her arm into the air as the gaggle of fans wave a seemingly endless sea of lights. Both band and audience jump in time to a relentless punk drumbeat. It's an impressive sight for any headline act; that Nova Twins were only playing support, on the road with Doncaster loudmouth Yungblud, makes it spectacular. "It's great to feel that energy," Amy says today, huddled next to bassist Georgia South in the back of a van on the way to their next show. "It's the best feeling to be able to come back and share it with fans again."
Having cut their teeth on the London DIY punk circuit, the highly-anticipated release of 2020 debut 'Who Are The Girls?' was quickly met by an abrupt end to touring. Previously overlooked by the industry at large but having made a name for themselves on stage, it threw a potential roadblock their way. Unable to take to the road, however, the album took on a life of its own. "Suddenly there was this virtual online discovery," Amy notes. "That album carried us through as a band. More people kept discovering it. It was an album that kept on giving."
For Nova Twins, it marked a definite shift in momentum that highlighted the power of their community. But the fact that word of mouth had helped to propel them forwards wasn't surprising considering the band's early days. Sitting outside of the conventional, it was the support of other artists that initially helped give the pair a platform, their live show in particular drawing high-profile attention. "We weren't a buzzy, up-and-coming band. We were just existing," Amy looks back. "There were so many bands who took us on tour because they WANTED to take us on tour, and not because they had a deal with management or an agent."
Over the past years, Amy and Georgia have joined the likes of Tom Morello and Prophets Of Rage, Fever 333, Skunk Anansie and Wolf Alice on the road, as well as Black Honey, who gave Nova Twins a shot when they were first starting out. Following a couple of festivals last year, the pair's return to the road in 2022 came in support of Bring Me The Horizon, including a huge performance at London's O2 Arena. "It was like being pushed as little ducklings onto the lake," Georgia recalls. "We're swimming now."
That show saw Nova Twins join the headliners on stage for a live rendition of the collaborative '1x1', with their closest family and friends sitting a stone's throw away. "That was a head spin, looking out to a full O2 Arena," Amy smiles. "It was a magnificent view. I cried when I came off that set. It was amazing."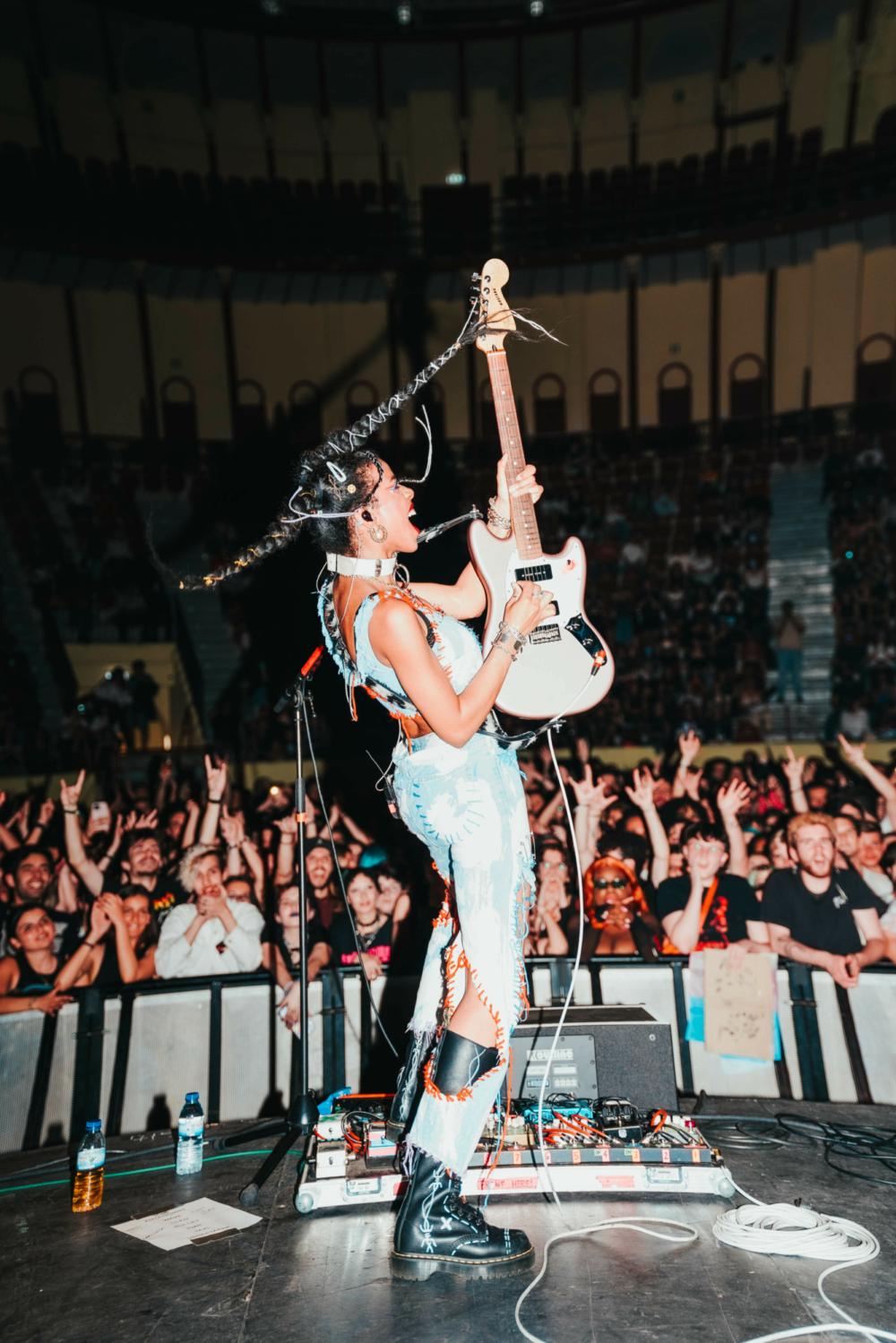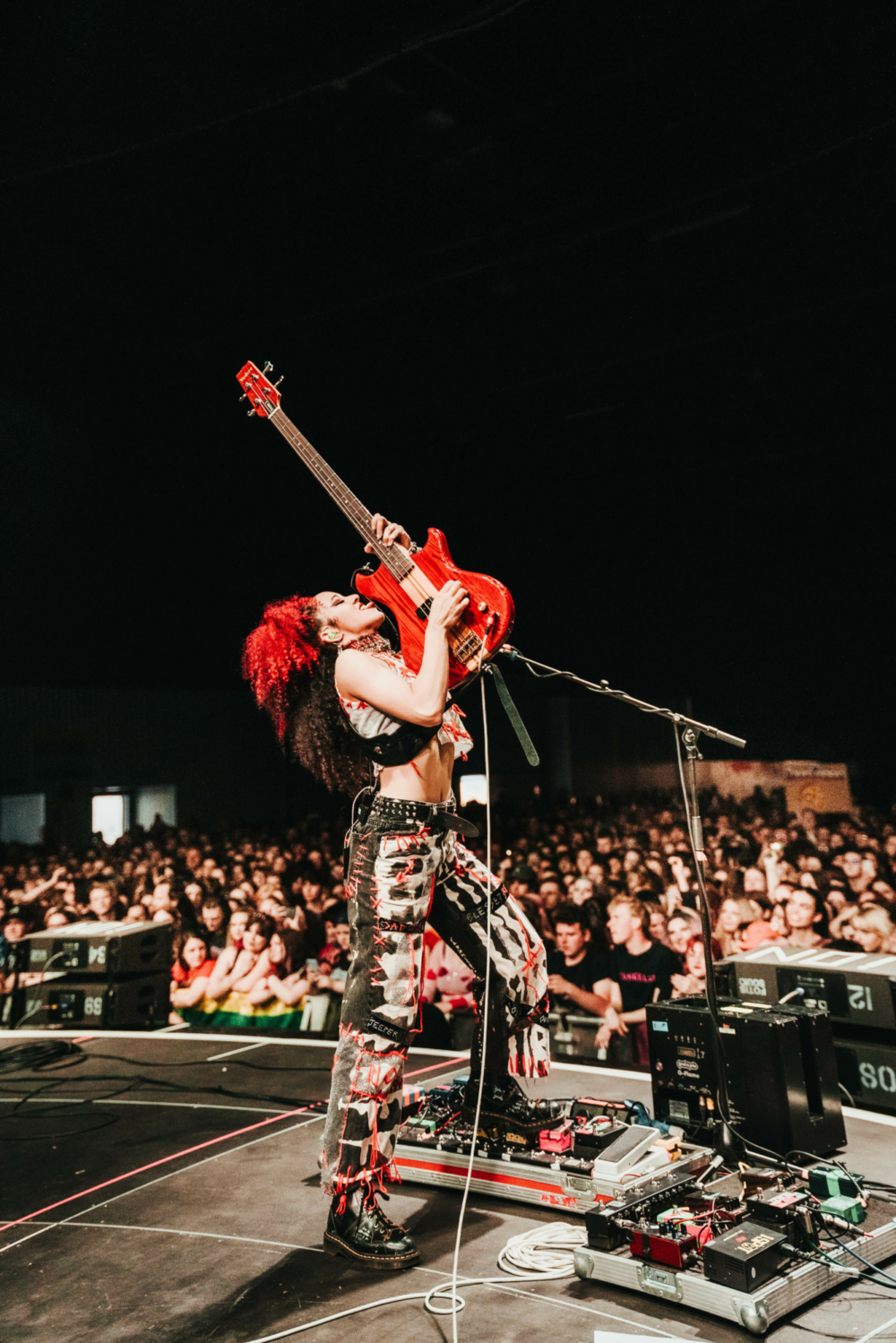 "When we started as a band you couldn't exist in every space, but we're a mix of everything."
— Amy Love
Playing alongside such a varied list of bands, Nova Twins have seen a notable shift in fans attending their shows. "We both feel like we're not part of a conventional society," Amy says. "Anyone who lives outside of those lines is basically at our shows. That's what we are representing. Of course we want to represent young Black women, but it's more than that - it's the marginalised communities. We band together, that's what it's about."
This sense of community and togetherness underpins everything about Nova Twins' career. It's what leads them to put up signs detailing their values at live shows, and is the catalyst behind their Voices for the Unheard playlist - a way of offering marginalised bands the same platform they received coming through the ranks. "It's like a relay; we're going to take that baton and keep moving forward with it, and hopefully keep bringing up other artists who may not get the same opportunities because of how they look, what they believe in, or who they love. We're just trying to break the mould," says Amy.
Nova Twins harness the power of growing up outside of the norm. Although being mixed race women in the alternative scene often comes with its challenges, it also offers a certain sense of freedom. "We've never been one thing," Amy continues. "We never could be one thing. When we tick checkboxes, it's always 'other'. That flows through everything we do. We've had the best of all worlds."
It's this that allows the pair to pull from a huge range of musical influences, and the thing that's drawn attention from such a wide-ranging list of artists, forming the foundation for all their creativity. Nova Twins haven't grown up restricted by social norms or expectations, and that willingness to go against the grain has become second nature. "We've always just done it because we're already the outsiders anyway," Georgia laughs with a knowing look.
New album 'Supernova' channels this energy, unafraid to blend styles and tackle issues head on. The rousing 'Cleopatra' takes inspiration from the Black Lives Matter movement, while 'Antagonist' offers a call to arms written as the country opens back up. It's as cathartic as it is empowering, but also very personal to both Amy and Georgia.
"We've got songs that don't just address politics," Amy notes. "We've got songs about breakups, killing our boyfriends, and sex. Dig deep and you'll see we're just two normal girls making our way through life. There's such a sense of triumph. There's power and energy, and moments of vulnerability. We hope that when people listen to it, they get that main character energy."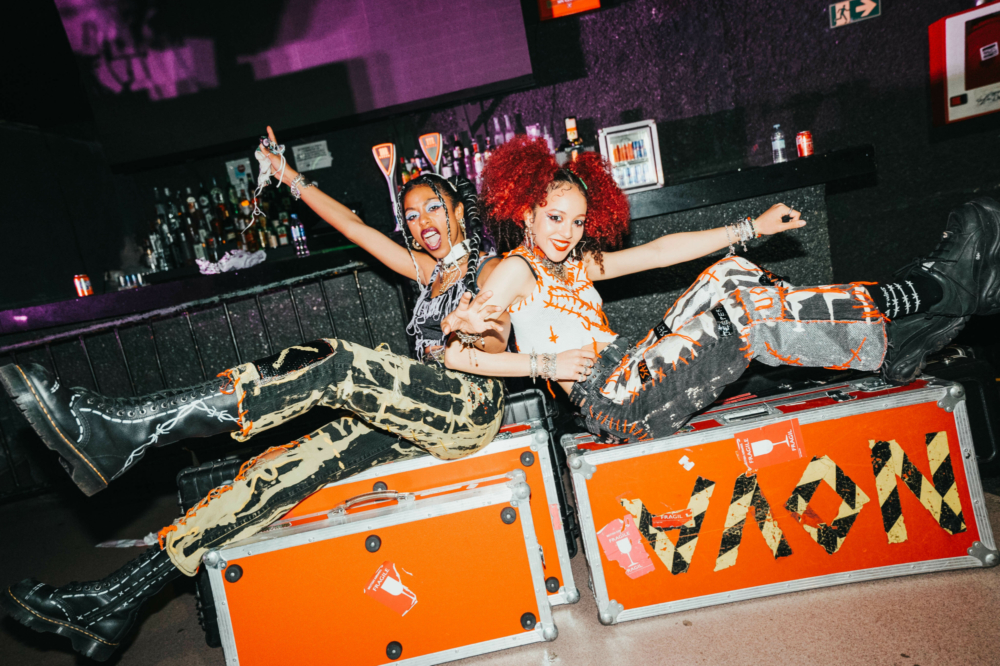 "When we tick checkboxes, it's always 'other'. That flows through everything we do."
— Amy Love
Georgia reveals that many of the album's songs were written with festivals in mind, leading into a summer which sees Nova Twins take to Glastonbury, Meltdown, Download, Latitude and more. Their place on such varied line-ups is a natural progression of their journey to date. "It's something we've always wanted," Amy smiles. "When we started as a band you couldn't exist in every space, but we're a mix of everything. As the years have gone on, and the more we've kept pushing, we're able to be in all these different spaces."
It also gives the pair an opportunity to meet the fans who have both discovered and stuck by them throughout the last few turbulent years. "When we first started as a band, there was predominately white cis males at our shows," Amy says of a powerful change. "They are always very welcome and have been very respectful in our space, but we noticed there weren't any women or people of colour at rock shows. At festivals we were the only ones on the bill who looked like us. What's so amazing now is to see the change and the diversity. Now when you come to a show, you'll see a mixture of different people enjoying it."
"We'd hate for people to carry on experiencing what we experienced," Georgia adds, "going to rock shows and being the only one like [them] there. We feel great when people come and have never seen more of themselves at a show before."
And how have Nova Twins achieved it? "The more open you are, the more you get to experience," Amy concludes. "Always just follow your gut. Don't let anybody tell you what version of yourself you should be. You need to back yourself."

'Supernova' is out 17th June via Marshall Records.
Nova Twins play Slam Dunk (3rd - 4th June), Meltdown (10th - 19th June), Glastonbury (22nd - 26th June), Provinssi (30th June - 2nd July), 2000Trees (7th - 10th July), Latitude (21st - 24th July), FM4 Frequency (18th - 20th August), Pukkelpop (18th - 21st August), and Andalucia Big (8th - 10th September).

Read More