Neu On Trend: Lynks Afrikka
Taking anxiety to the club and proving that most things are best served with a side of humour, Lynks Afrikka is putting on a party, and everyone's invited.
"I'm worried Lynx Africa are going to sue me and I don't even want to be called Lynks Afrikka anymore because it's only called that in England, so everywhere else I just look like this random white drag queen with Africa in their name," grimaces Elliot Brett - the man behind the pink knitted mask. "I could be called something else in different territories, but it's called Axe Africa abroad… That's a lot worse…"
It's the second potential lawsuit that's cropped up in conversation today; having sampled a calming mantra from the Headspace app on recent single 'On Trend', he's now gunning for a brand collab to stop the men in suits from coming a'knocking ("I'm happy to wear a bodysuit with the Headspace logo on it?! Let's not fight. I use your app! Don't @ me!"). But really, they'd be fools to sever their ties with the 23-year-old performer anyway. Making some of the most fun, smart, hilarious yet subtly provocative music around, and throwing a joyous party wherever he goes, Lynks Afrikka is exactly the kind of ambassador for living unapologetically that any self-help app could hope for.
Starting out making "shit house music" and "sad boy indie pop", it wasn't until one fateful night at a house party that Lynks was truly born. "Musicians always have that bank of random shit on their laptop that's too weird to use, but one day my mate asked if I wanted to do a set at a party so I thought fuck it, and took that as my in," he begins. "I did a Kate Bush cover and a song called 'Why Aren't You Dancing?' which was just me shouting "Why aren't you dancing?!?!" over a beat that got more intense over five minutes. That song was actually great," he muses. "I should release that song."
In that first set was also 'Don't Take It Personal' - a series of scatter-gun rhymes over propulsive beats, about acting erratically under stress - and recently-released track 'How To Make A Bechamel Sauce in 10 Steps (with Pictures)' which is… well, exactly that. "There is nothing deeper to it than this: I had the beat, and one of the tabs I had open on Google was 'how to make a bechamel sauce in ten steps, with pictures', and the heavens opened and the light shone on my face, and that was it," he narrates. "People are trying to find deeper meaning, like, is this a critique of the dairy industry? Is it a sex thing?! Get your mind out of the sewers! But sex sells you know. 3,000 plays on Spotify, cash that £8 in."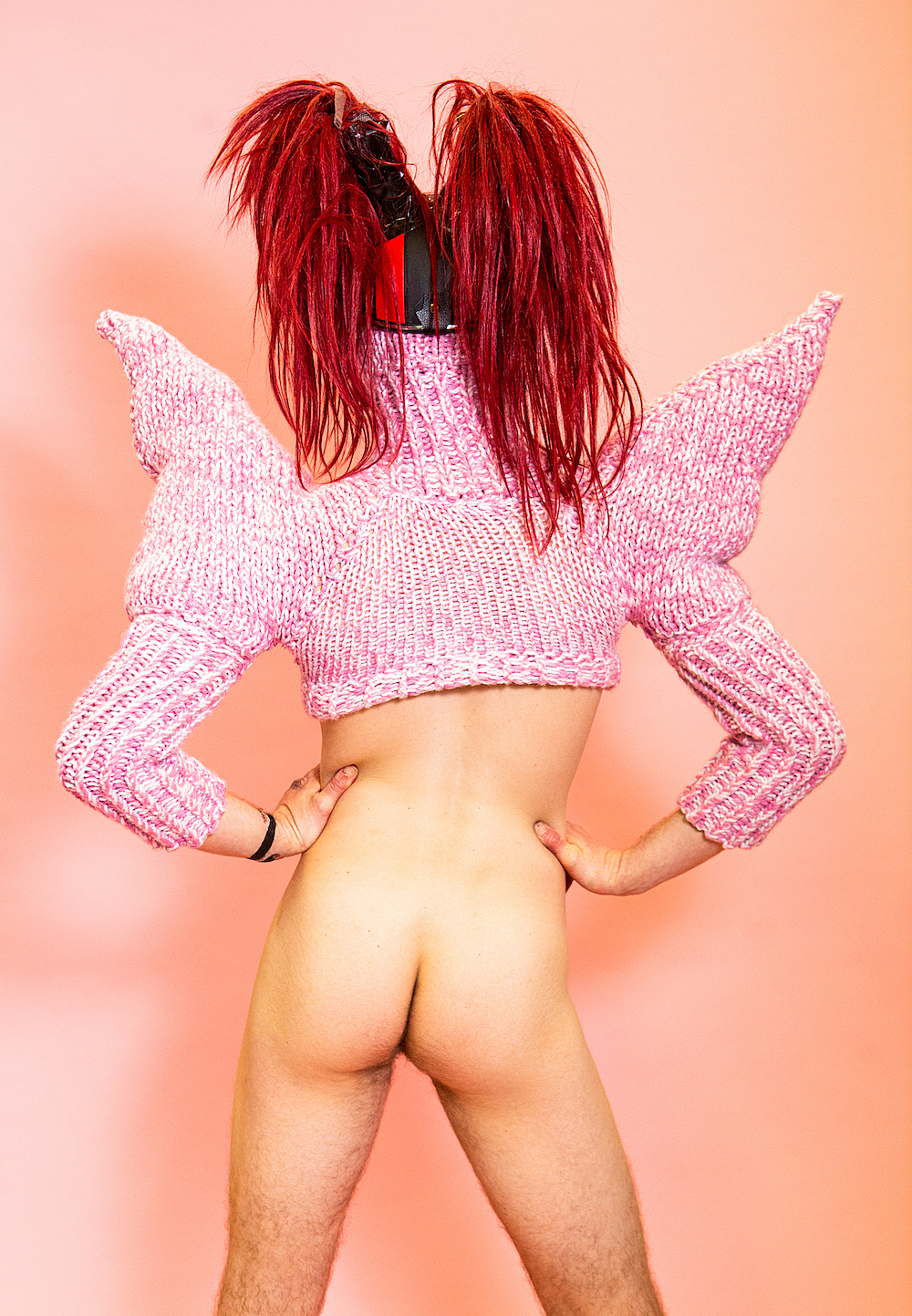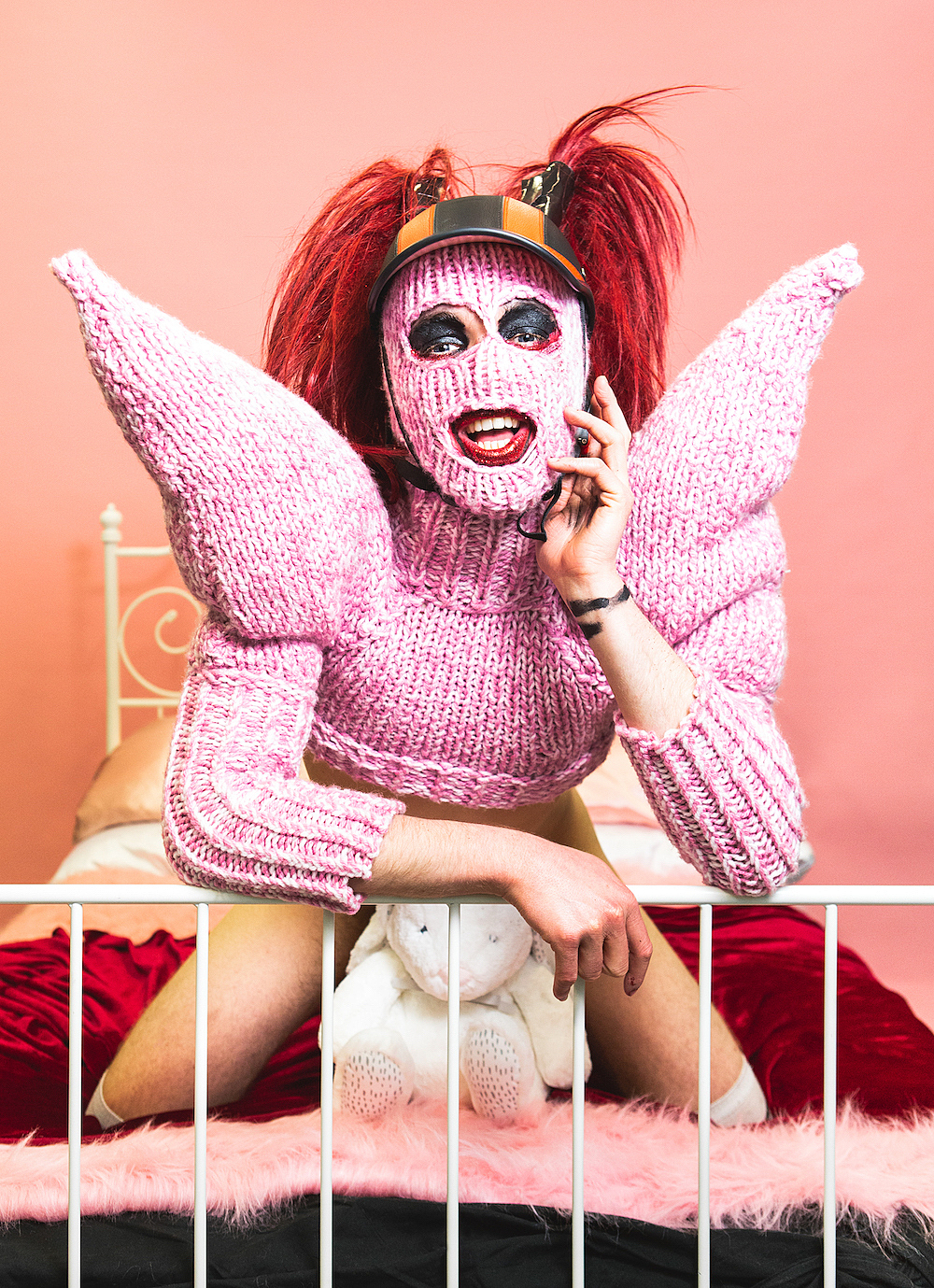 "The whole idea of Lynks Afrikka is to make the most entertaining show I can."
Stating that "the whole idea of [Lynks Afrikka] is to make the most entertaining show I can, which to me is dance music, comedy, costume… layering every single thing that's entertaining and interesting", and aiming to pack one-liners and gags into every track ("calibrate my chakras / call me Chakra Khan" goes 'On Trend'), it'd be easy to peg the singer as purely an entertainer, one drawing from drag and the club kids of the '90s to make one uniquely anarchic, arresting package. But there's meaning behind the mask, too; just by existing as his lipstick-smeared, anxiety-narrating self, he's occupying a space that's traditionally not been acknowledged by the wider world.
"We're only seeing queer archetypes in the mainstream right now. Queer Eye, for example, are the most put-together, almost inhumanly-perfect people. We're never seeing imperfect queer people, and when we do show them, they're kind of torn apart," he says. "So I'm trying to show the rough edges and the insecurity. Gay people are always the fairy godmother, or the godmother fairy, but sometimes it's really fucking hard being gay.
"People make jokes about stuff they're scared of and you can see that in my music," he continues. "You take the big bad wolf and dress it up as a clown and then it's not scary anymore. No wait, actually that would be terrifying. A wolf clown would be horrible! Ignore that! But if you take the scary thing and put a humorous spin on it, then now whenever I think about the impending ecological collapse of the world, I'm like, 'Lol, I made that funny song!'"
In person, as in song and on stage, Lynks Afrikka is incapable of resisting a gag; he's endlessly charismatic and a natural entertainer, with that most integral of ingredients - a vulnerable side. But he's also onto something fresh and ridiculously exciting, and you sense he sort of knows he's struck gold, too.
"I basically saw Lynks Afrikka in my head - this mad Leigh Bowery-esque creature jumping all over the stage being the maddest MC ever - and it was such an easy thing that hadn't happened yet," he grins. "And when you think of something that should have happened that hasn't then it's like, well, I guess I've got to do it now!"
Read More