Alive & Kicking: Parquet Courts
What do you do when you're heading into your 7th album and 2nd decade as a band? If you're Parquet Courts, then you go out clubbing, take a load of psychedelics and carry on your sweet contrarian way.
For Parquet Courts, the end of 2020 will be remembered at least partially more nostalgically than for most. Marking the 10-year anniversary of their first live show in December, the New York quartet underlined their inaugural decade together with a career-spanning live broadcast from Brooklyn's Pioneer Works. But for the band members themselves, heading towards the latter half of their thirties has meant opening more doors - and definitely not just relying on past glories. 2018 album 'Wide Awake!', of course, had brought super-producer Danger Mouse into the fold to deliver one of the band's most acclaimed records to date. And now, three years on, this month's 'Sympathy For Life' offers something even more ambitious and unexpected.
Built from 40-minute improvised jams inspired, uncharacteristically, by dance music in their hometown and beyond, the band's seventh album - though grounded in themes and sounds they've explored previously - is more groovy and hungry than anything they've released before. Parquet Courts have found not only a 'Sympathy for Life', but a new appetite for it, too - with psychoactive stimulants and New York nightclubs firmly on the menu. Co-lead Andrew Savage sums it up well: "It's never too early for a mid-life crisis".
"[We were] spending all our time in the rock music world at these big indie festivals," begins Austin Brown, the band's co-vocalist and fellow songwriter. He's sat in a dark room in his New York apartment; a rather gloomy environment compared to that of bubbly counterpart Andrew, who is accompanied by a verdant pot plant and some dazzling sunlight shining through his kitchen window. Likewise, Austin is methodical and introspective, speaking in laboured monologues that resonate like drones. He's surrounded by percussion and guitars - the kind of set-up you'd expect of a seasoned indie band. But he's less concerned with the world Parquet Courts established themselves in.
"[We were] on tour incessantly and feeling exhausted by the culture surrounding it," Austin continues, questioning the "uni-directional" concept of the concert, with all people facing the front. So as he sought inspiration for the band's next chapter, he decided to mix things up a bit. Austin Brown went clubbing.
The Loft was the destination that opened the songwriter's eyes: a mythical establishment among New Yorkers, known for its premium audio system and eclectic music policy, where rock, soul and disco records intermingle with club bangers. It's been around for over 50 years, once frequented by legends like Arthur Russell, Keith Haring and DJ Larry Levan of the Paradise Garage, Austin explains in a bite-size New York history lesson. Its legacy as a place of inclusivity - where, historically, Black, Latino and LGBQT+ communities could express themselves without fear of persecution - was tangible for the Parquet Courts frontman. "I could feel that sense of community," he continues, unconsciously echoing the opening monologue from Primal Scream's 'Loaded': "It was about everyone being there together… where you can feel free to be yourself."
The Loft put dance music culture in context for Austin, as opposed to the inaccessibility he'd experienced at the raves and techno clubs he'd frequented in previous years. "[It's] subversive, anti-establishment, progressive, and also the most enriching American psychedelic experience that has been created," he notes. "This was something I really wanted to carry into the process of creating our new record."
"As a rock musician, I benefit from living within capitalism. I can be critical of [that], and I feel like I need to be."
— Andrew Savage
Court Order
Need a recap of Parquet's catalogue so far? Here you go.
'American Specialties' (2011)
The band's lo-fi debut was initially a cassette-only release, mostly made up of one and two-minute guitar schisms laced with recorders, cheap synths and plenty of fuzz.
'Light Up Gold' (2012)
The schizophrenic garage rock of the band's second studio album honed a winning formula, with tracks like 'Borrowed Time' and 'Stoned and Starving' fuelling their wider breakthrough.
'Sunbathing Animal' (2014)
LP3 was recorded at the Outlier Inn in the Catskills - the same studio used for 'Sympathy For Life'. The title track exemplifies the kind of racket PC were becoming increasingly recognised for, as they continued to demonstrate a boundless energy.
'Content Nausea' (2014)
'Content Nausea' reimagined the four-piece as 'Parkay Quarts', since drummer Max Savage and bassist Sean Yeaton were largely absent this time round. Austin Brown and Andrew Savage recorded this selection of quick-and-to-the-point punk songs on a four-track cassette in two weeks, with the finished package hitting shelves just six months after 'Sunbathing Animal'.
'Human Performance' (2016)
Album Five took the band's heart-racing art-punk into a more earnest realm, with the brooding title track among a number of highlights proving they were more than just a one trick pony.
'Wide Awake!' (2018)
The band's most recent album was their first with an outside producer - Danger Mouse, of all people. A focused affair addressing real world traumas like racial violence ('Violence'), that was simultaneously more joyful and humour-laced than any of their previous works.
The band decamped to the Catskills in upstate New York to put this vision into action. "It's an area of sacredness," says Austin. "A magic and fertile place with clean air, mountain water, and a lot of protected land." It's also the area where 2014 album 'Sunbathing Animal', and large sections of 2016's 'Human Performance' were recorded. With Rodaidh McDonald (The xx, Hot Chip, King Krule) on production duties for the first time, 'Sympathy for Life' would be a whole new kettle of fish - inspired not only by subversive and communal recording methods, but also by Grace Jones' dance-rock fusion and the euphoric social commentary of Happy Mondays.
"Roddy's definitely down to burn the midnight oil," Andrew explains of the band's producer, as he describes the marathon improvised jam sessions that took place around the clock. These would be recorded in full, and later edited down from freeform modes to create structured tracks. Such methods often defied sanity and stamina: "I'd go take a nap, and a few hours later I'd come back, and the same song would still be being laboured over," he continues. "There was an intensity there - that kind of fourth wind you can only get out of extreme energy loss."
"For some of these, I wasn't even playing an instrument," Austin continues, offering further proof of the band's unconventional approach. "I was playing everyone else's instruments." He'd move between echoes, pitch-shifters and distortion while manning a 16-channel dub station, he explains - something akin to the techniques used by the late Lee 'Scratch' Perry. Andrew describes his bandmate's craft across the record in simpler terms: "He was the control master of the jam".
The song 'Plant Life' was a product of such barmy improvisation techniques. Though the wider album was crafted by "sending rototoms into a geodesic dome made out of triangles" (sure!) and making the drums "so layered we couldn't really tell where the sounds were coming from" (OK!), 'Plant Life' is straight to the point. Built on drum shuffles, percussion and beats, it also boasts a lo-fi melodica organ that harks back to Gorillaz's mercurial dub debut 'Clint Eastwood'. Add in a disorientating, David Byrne-esque vocal and you've got Parquet Courts' most Talking Heads moment to date.
It wasn't just Austin's crackpot dub antics and communal songcrafting vision that brought an experimental edge to proceedings, however. An essential creative tonic for Andrew Savage became even more of a catalyst. "It all started one day when I went to the gym on acid," he begins, nonchalantly. "I just felt like, 'I'm a fucking machine here, I'm killing it'.
"Something about the psychedelic experience gives you this mind over matter thing," he continues of what he terms "trippy lifting". The psychedelic psyche, he explains, puts physical exhaustion to the side, and enabled him to focus more intensely. "I not only have my wonderful physique to be thankful for, but it also started this songwriting process for me," he jokes. "I guess it could be considered a performance-enhancing drug to some degree."
Yet, for all the lunacy that fuelled the album's composition, 'Sympathy for Life' still sounds undeniably like Parquet Courts. Take 'Trullo' or 'Walking at a Downtown Pace'. Each strut to the discreet kick-and-clap of a disco beat - the kind you might have heard at The Loft in the '80s. And yet both are decorated with enough percussive shuffles, noodling guitars and synths to disguise it almost entirely. The latter track's swaggering bass line, meanwhile, is textbook PC, just as the elastic band guitars of 'Just Shadows' and the young-and-dumb garage rock of 'Homo Sapien' feel like familiar territory re-modelled. There's a consistent lyrical theme for the band, too, as Andrew gladly confirms. "It's kind of become a common denominator at this point."
"We are living in late capitalism," he carries on, passionately. "We are a product of it, and we benefit from it. Rock music [was] spawned from capitalism, [and] even at its most severe and underground iterations it is OF capitalism. I don't see us any differently. As a white person, I benefit from living in a racist society, and as a rock musician, I benefit from living within capitalism. I can be critical of both of those things, and I feel like I need to."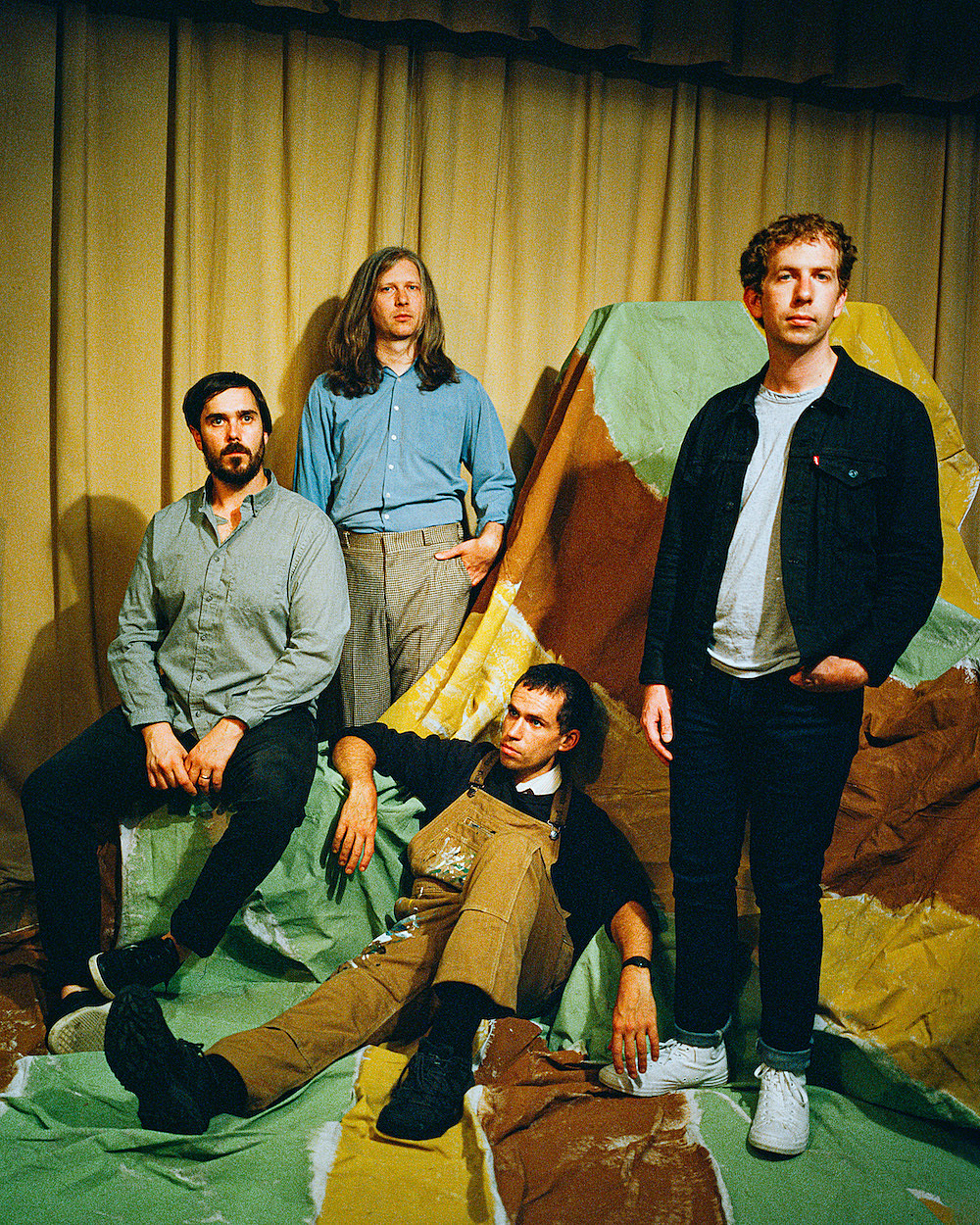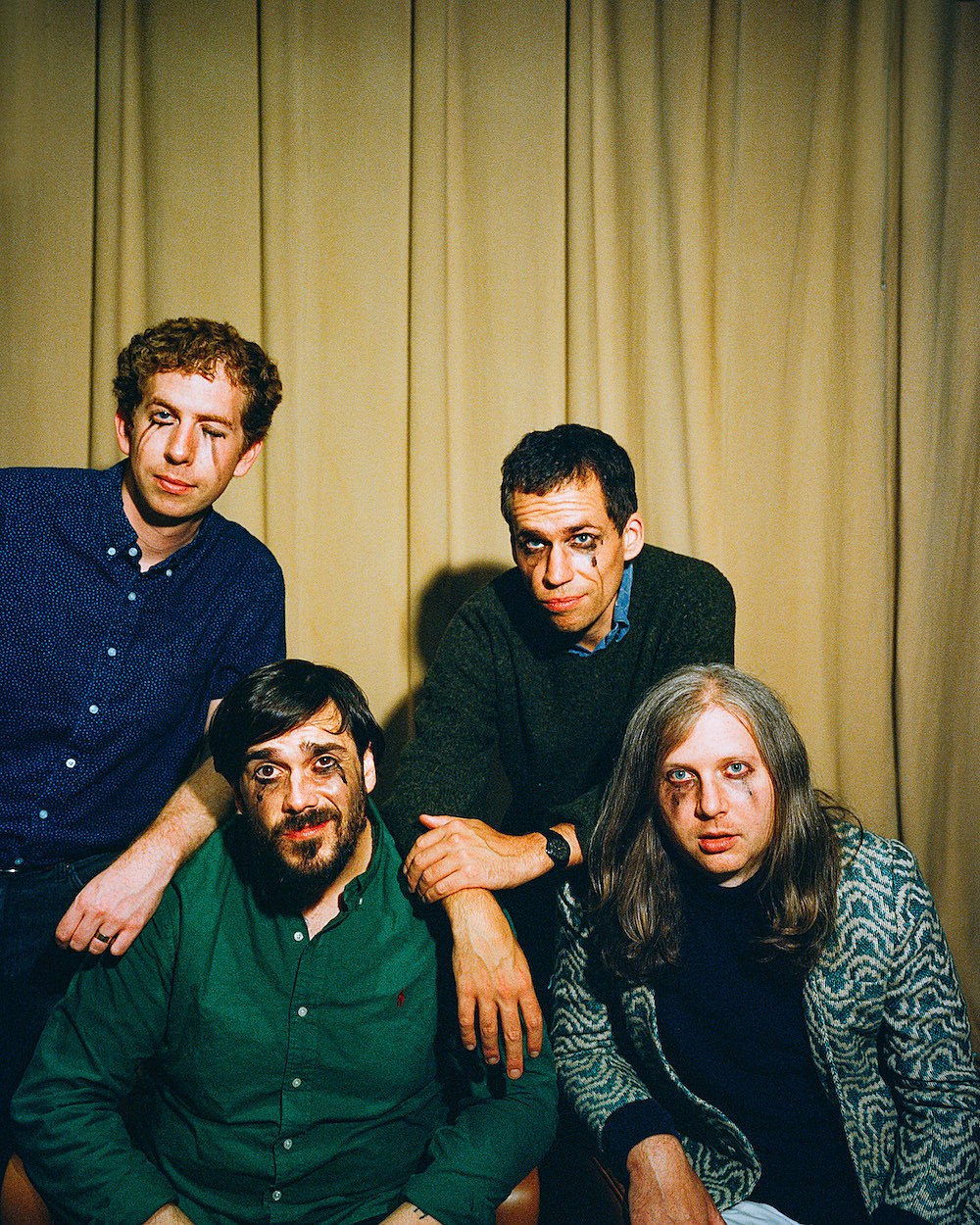 "It's never too early for a mid-life crisis."
— Andrew Savage
Much like the band's previous albums, then, a reactionary outlook remains at the heart of Parquet Courts' work. Electronic jam 'Marathon of Anger', for example, places itself at the heart of the Black Lives Matter movement, with chants of "We've got the power, the streets are walking" calling out over gloomy bleeps and chugging bass. The cognitive dissonance between the words and the sounds speaks volumes of the struggle to achieve change.
The roaming 'Just Shadows', meanwhile, is about being unable to escape the global marketplace. It unfolds like a collection of warped haikus: "Amazon Fire, twenty percent off / Global cost, vast species death / Suggested for you." It feels potent and charged. "As soon as you leave your apartment, it's all around you," Andrew rues of the invasiveness of consumer culture. "Advertisements, text, lights. We have this omnipresence of technology, and we're always in it. It's a very hard thing to escape."
'Application/Apparatus', likewise, is delivered in an almost robotic rhythm, with lyrical soundbites referring to operating mechanisms, Bluetooth options and an "application, soothing like a mother's voice". It's about the non-stop mechanism of living in a global city, Andrew notes, while 'Homo Sapien', conversely, is "your classic 'everything fucking sucks' punk song".
"I think that all of our records are turning points," he concludes of their latest, with its mind-boggling experiments, perception-altering experiences and socially conscious character. The sentiment is shared by his bandmate. "We're finding that right line between our influence and our evolution," Austin concludes. And on 'Sympathy for Life', the balance is right.
For Parquet Courts, then, the beat goes on. And as long as it does, the band will keep playing, too.
'Sympathy For Life' is out 22nd October via Rough Trade.
Read More