Album review
Parquet Courts - Human Performance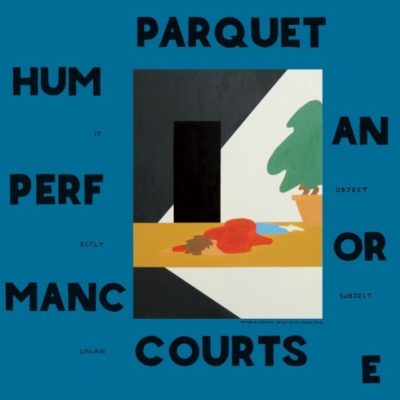 A tightrope walk between impulse and laser-point precision.
Label: Rough Trade
Released: 8th April 2016
Parquet Courts' reputation for nonchalance sometimes threatens to overshadow everything else. Camera shy and dishing out barbed-wire-tongued statements like there's no tomorrow, they've built their modest empire on stern faces and steely resolve.
As 'Dust' kicks 'Human Performance' with all the cocksure arrogance of a spaghetti western, that attitude still clearly rules the roost. There's a knowing wink to it this time around, though - scorched guitars lead the way, but an almost comic bassy bounce backs them up. It's indicative of 'Human Performance''s one-two of the serious and the silly – for every deranged and pitch-black 'I Was Just There', there's a 'No Man, No City', perking up the grimy sentiment with the best (and most unexpected) inclusion of bongos you'll hear this side of that Wagner bloke off X Factor.
The jagged noise they perfected on 'Sunbathing Animal' still runs the show, but 'Human Performance' finds them pulling back the pace too. Every time things threaten to veer into lethargy, though - 'Steady On My Mind' the prime suspect - the rubber band snaps back into place, Parquet retaining their trademark taughtness.
Even when they slow things down, 'slacker' this is not. A tightrope walk between impulse and laser-point precision, 'Human Performance' is Parquet Courts at their most knotted. Considering how relaxed they are about the whole thing, it's a miracle they manage to tie themselves up so tight.

Get your copy of the latest issue
More like this