Album Review
Parquet Courts - Sunbathing Animal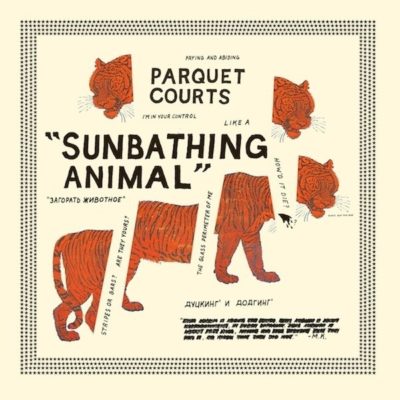 A triumphant slap in the face to all the slacker-taggers.
Label: Rough Trade
Released: 2nd June 2014
The main criticism people had with Parquet Courts' debut album 'Light Up Gold' was that its A-side was way more enticing than its B-side. After all, you had the one-two punch of 'Master Of My Craft' and 'Borrowed Time', as well as the brash-but-bold anthems 'Yonder Is Closer To The Heart' and 'Careers In Combat'. Things got decidedly more mellow after that - 'Stoned And Starving' defined the latter half of the record, seemingly overshadowing the excellent 'Disney P.T.' and the lethargic, mopey likes of 'Caster Of Worthless Spells' and 'No Ideas'.
That mopiness is all but gone on the band's second effort and Rough Trade debut 'Sunbathing Animal'. Sure, they're lyrically the same angst-ridden twenty-somethings that made 'Light Up Gold' the record it was, but musically they're stripped-back - there isn't much beyond three chords most of the time. Focused, tight, and coherent aren't words you might want to read associated with a Parquet Courts album, and it might be worrying to hear that it's far more polished than before, but on 'Sunbathing Animal', they're all the better for it. This is Parquet Courts' triumphant slap in the face to all the slacker-taggers - they've shed blood and worked damned hard for this.
Their knack for storytelling - which frontman Andrew Savage has always sported no matter what project he's been involved in - has matured, providing extra strength to the slow jams this time around. What's most fascinating though is their less is more approach - as was mentioned earlier, there's nothing complex going on in any of these songs, but the guitar work sounds just as fiery and invigorated as ever, and their hooks are vibrant and incessantly catchy. The one-two punch on 'Sunbathing Animal' is 'Vienna II' and 'Always Back In Town', the former acting as a repetitive nod-along intro into the latter's infectious earworm qualities.
That notesheet version of 'Sunbathing Animal' wasn't meant to be taken seriously - its tongue-in-cheek intention should've been obvious, and anyone who thinks otherwise should've walked away a long time ago. They're missing the point. The studio recording of 'Sunbathing Animal' is actually ferocious, unhinged and utterly riotous - its timing couldn't be more perfect. Following 'She's Rolling', a six-minute slow-burner that'll at first test your patience with its drone-like pounding, it's an in-your-face declaration of war - a testament to everything this band can and will achieve in its imaginative and captivating elements. It's Parquet Courts burning off steam after restraining the urge to resort to stoner jokes and fart gags for seven whole tracks, and like the rest of this album, it's fucking glorious.

Get your copy of the latest issue
More like this