Party of Five: The Horrors
After fourth LP 'Luminous', The Horrors found themselves stuck in a rut. Now, they've returned with a renewed fire in their bellies, and their most exciting new material in years.
Faris Badwan is talking about what makes his band tick. Discussing the motivation that drives The Horrors forward and what they were aiming for on forthcoming LP 'V', there's a word that keeps cropping up: fun. In the space of five minutes, he says it six times. "We want to make records that are fun every time." "We just want to do something that makes us feel excited and like we're having fun." "More than doing a reinvention each time, it's more like [finding] what feels fun."
If it's an unexpected conversational tick from a band who began their careers as death-obsessed goth antagonists before emerging as critically-lauded shoegazers, then it's also symptomatic of where The Horrors' heads are at right now. Five albums and a decade in, the London quintet knew that, in Faris' own words, they "had to feel excited about it otherwise [they] probably wouldn't have made another record." "We knew it had to be a record that reinvigorated us as a band," he admits. So they set about switching up everything that felt safe or stagnant – new producer, new studio, new writing methods – and emerged with 'V': their most vibrant, varied and well, fun album since their howling debut.
Sitting in a North London beer garden, a stone's throw from the church where they recorded 'V' with producer Paul Epworth, Faris and guitarist Josh Hayward still cut a towering silhouette. Both are in the throes of extreme jetlag having returned from a whirlwind trip to Japan that morning, self-medicating on a constant stream of cigarettes and, in Josh's case, a little hair of the dog. Faris has just, at 4pm, woken up – his first sleep following a solid 56-hour waking stint, wandering around Tokyo. He still, of course, is immaculately tailored; the only person who would think to accessorise with a pocket square under such conditions. Maybe it's the delirium, but the notoriously provocative frontman is also on chipper and open form today too. "Apparently when I wake up, I'm in a very good mood," he grins from behind a pair of sunglasses. "You've got about seven minutes before he turns…" jokes Josh. But, in all likelihood, The Horrors are probably just happy because right now things are slotting into place. And, for a long time before, they weren't.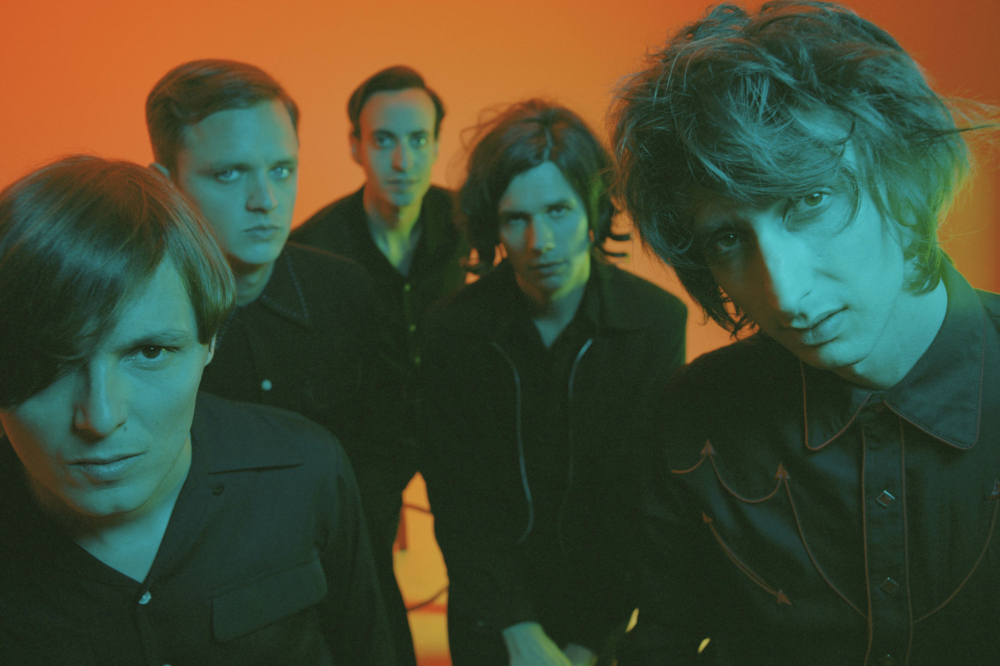 "I just have a chronic fear of boredom and that's what I want to avoid"
— Faris Badwan
Though 2014's 'Luminous' was almost entirely well-received and earned them a Number Six chart placing (their second highest to date), the pair both agree that it marked a creative low point for the band. "It wasn't so much the output, more the process and the ways of writing songs," Faris explains. "We realised that all of our songs that we like the most have been quite spontaneous in the way that they were written. On the last one some of the instinctive things weren't there." "We were really going over things, trying to perfect every part. It really takes the joy out it," adds Josh. "You start to become scared of your own mistakes." Faris takes a drag of his cigarette. "I think we just forgot for a little bit what's good about the band."
Both maintain that they don't see their last LP as a misstep, but agree that 'Luminous' marked the end of a certain period for The Horrors. They never actively discussed the possibility of calling it a day, but Faris admits that "maybe people might have been feeling that way without talking about it." "If we'd kept working with the same methods, it would have felt like it wasn't interesting anymore," says Josh. "For some people, getting big is the interesting bit. But from the offset," he laughs, "that's quite clearly not been the case for us." "Some bands want to get to that place where they're like, 'This is how we write songs and if we do this, we'll get another song'," theorises Faris. "It becomes quite formulaic, but for me that seems like the opposite of creativity. You have to have some sense of uncertainty or risk."
Having become stifled by the self-built Dalston studio base where they produced both 'Luminous' and 2011's 'Skying', and the entirely insular, self-reliant dynamic within it, they ditched both in favour of trying the total opposite. Ironically, the building that used to house their former studio is now an Escape Room game. "It probably felt a bit like that when we were there anyway, to be honest," mutters Faris.
Teaming up with Epworth - "a creative producer who's almost like part of the band for the process" - gave The Horrors the kick to question their own norms. Instead of over-analysing, they were encouraged to revert back to a more instinctive, fast-paced way of working. Nothing was out of bounds and, quickly, the band started taking those risks again. "Paul reckons we've written about 70 tracks for this record, and that's just come from him saying you can't say no to anything, you just have to see it through," enthuses Josh. "Normally you get to the point where you're all second guessing each other all the time, and you won't do something because you think that someone else might not like it, but he [doesn't let you]." They even did the most un-Horrors thing of all, and got the ol' campfire classic out. "I think the biggest thing is we tried writing with acoustic guitars, which seems stupid. But the classic method of writing on acoustic guitars and having a proper producer?" says Faris, with a wry laugh. "Yeah, it turns out that actually works…"
"I'd hate people to think we're human"
— Josh Hayward
Thankfully, 'V' is about as far away from an acoustic record as it's possible to land. From the grinding, industrial throb of lead single 'Machine' to the joyous, expansive chorus of 'Press Enter To Exit' or 'Something To Remember Me By''s propulsive, dance pulse, it's a record that's in turns heavier, poppier and weirder than any of their previous material to date. It's audibly an album that treads new ground and, crucially, it's one where the band themselves sound reinvigorated. "The main thing about this record is that it feels like a beginning," Faris says. "Normally after finishing a record, i'm so creatively exhausted I can't think of doing another one for a little while, but with this one I almost feel like we could go back in straight away."
Ten years in, it's a strong position to be in. Having reinvented their own wheel on game-changing second LP 'Primary Colours', The Horrors set their bar intimidatingly high early on. At times, it seems, it was difficult to rise to. "If you've really cracked something and done something really different, then there's a massive pressure to repeat that and do something incredibly different again," explains Josh. "And because that [concept] is something very unknown, it becomes very tricky." But largely, the band have kept their heads down and steadfastly carried on forwards. Ignoring the standard procedure of anniversary tours and indulgent career-marking celebrations, The Horrors seem relentlessly committed to living in the now. "I never think about two years ahead or three weeks ahead or anything, I just have a chronic fear of boredom and that's what I want to avoid," shrugs Faris. "I feel like if I keep doing that when I'm doing stuff, then things will fall into place."
The Horrors could soon be allowing one concession to the past that people might not be expecting, however. Ten years after the release of 'Strange House', and seven since they stopped performing its shrieking wares live, the dirtier throb of 'V' might finally be the album that welcomes those early tracks back into the fold. "Something like 'Sheena is a Parasite' – doing that live, we'd play it twice as fast, I'd be singing three times as fast, and it's just a very different way of approaching a performance," Faris explains. "But there's a way to fit them into the set [on this record]. I love the idea of performing things like our first single, so yeah, for sure we will."
Nonchalantly rumbling that he "still likes provoking people" and that he doesn't think they've changed very much as humans from those antagonistic early days ("I'd hate people to think we're human," laughs Josh), you sense that Faris could still spit out those early calling cards with as much deathly bile as he did back in 2007. Though their shows have always rung with a certain intensity, there's a playfulness to them currently that feels like those old days. It's all, of course, down to that elusive, endless quest for fun. "A lot of the bands [we started out alongside] really ended up figuring something out, doing the best version that they could of it and then calling it a day. Which is great if that's your goal – they've done it, and that's probably why they stopped," suggests Josh. "But I'm glad it appeals to us to chase having fun," Faris adds. "We'll never be finished."
The Horrors' new album 'V' is out 22nd September via Wolf Tone / Caroline International.
Taken from the September 2017 issue of DIY, out now. Read and subscribe below.

Get your copy of the latest issue
Read More