Partybaby in the UK: "We really did start this band as a joke"
For a band started "as a joke", Partybaby's debut UK trip was nothing short of a monumental victory – broken fingers and all.
"I think it's maybe the most English thing ever," reflects Partybaby's Jamie Reed, "to play your first UK show in a pub on top of the Brighton Pier!" Just minutes after the LA punks stormed DIY's stage at The Great Escape, among the dodgy carpets and dodgier wood panelling of Brighton's premier fake pub Horatio's, spirits are soaring.

"I think it went well," admits Noah Gersh, his calmer demeanour a world away from the jittery wreck who took to the stage. "We were really, really, really nervous. We've had so much love from you guys over here from the beginning. I remember the night before we put out the first track ['Everything's Alright'], with you guys, Jamie and I were sitting at a bar close to our house being like, 'Well, tomorrow's the day that the world hits us and we have to go get jobs.' So every step of the way since then, I'm convinced that that's the time it's gonna… y'know. Someone's gonna walk on stage and just stab me and it'll be the end!"

"Everything that's possible could go wrong!" laughs Jamie. "You could spontaneously light on fire in the middle of a show, or it's like, your guitar could just die and you have nothing on stage. None of that happened, and people were smiling, and they clapped, and that's a really great feeling."
Bleak though their mindset might be, Partybaby's rise has been marred by daft accidents from day one. As he speaks, Jamie's finger is wrapped up in a splint the size of a small mobile phone. Rock 'n' roll injury? Battle wound from a particularly gnarly show? Not quite.

"We thrive on limitations."
— Noah Gersh, Partybaby
"Noah and I are tirelessly working on new music, all the time," he explains, only slightly embarrassed by the tale he's about to tell. "A few weeks ago, we got back from the studio at like three o'clock in the morning. So tired, all you want to do in the whole world is get in bed - I just remember thinking, 'All I want to do right now is be naked in my bed' - and sometimes you gotta fanangle your foot out of the hole in your pants. My finger got caught in-between the pants and my leg…"

"He literally broke his own finger taking his pants off…" finishes Noah with a sigh. There's a sense that this isn't the first time he's had to play responsible adult to Jamie's sugar-high antics.

"We woke up the next morning," Noah continues, "well - we don't live together, we live close, but we don't live together, thank god – I had woken up. The thing we had done the day before in the studio, it felt like we had broken through. I was so amped on it, and we were both like, 'This is the fucking thing!' And I woke up thinking that it had probably been a dream – it was one of those songs. I was like, 'Man, I just listened back to one of last night's songs, it sounds incredible.' He was like, 'Yeah, it is, I broke my finger.' Like, 'It's been fucking six hours! What happened?!' We didn't even go out drinking!"

"Six really quiet hours!" Jamie smirks. "I had a feeling like I should splint it – I'm not in pain, so I'm not gonna go to the emergency room, 'cause I need to go to bed – so I literally wrapped it in masking tape and Kleenex, and I taped it to my bed so that it would be elevated." The pair of them crack up at the image of Jamie spread-eagled in bed, crooked finger taped to the headboard. Sticky tape has been his friend ever since – taking to the stage this evening, several inches of duct tape were the only thing preventing him from dropping his pick. "I literally just duct taped it to my finger before the show," he says between giggles. "Like, 'This hurts, but at least it's not going anywhere!'"

"We thrive on limitations," Noah says with a roll of the eyes.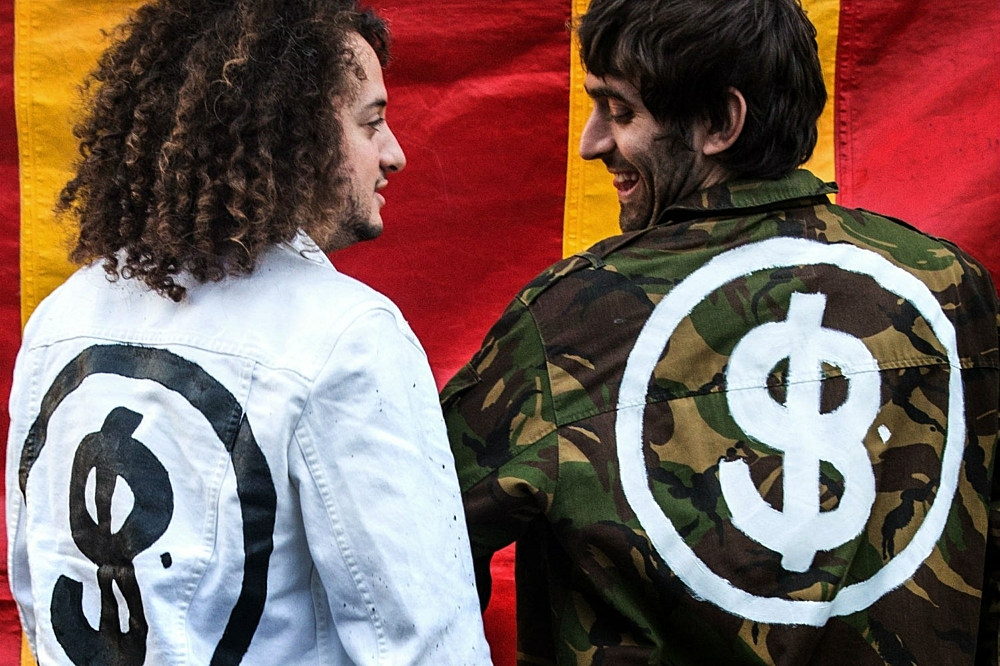 There's a feeling that everything around Partybaby is a limitation at this point – that the world's not spinning fast enough to keep up with their thousand-mile-an-hour enthusiasm. "Our record's been done since before we played our first show!" Noah grins. "It's a bit of a weird thing, to figure out how you want to put music out into the world these days. We wanted to let the music just be there, and not have it be about our faces. Not trying to be like The Weeknd, or some mysterious thing! The music is genuinely about having fun with your friends, and it's not about us looking cool or whatever. It's not about that. We've been figuring it out as we go. I generally… I'd like to put out more than one record a year. We write 'em! It sucks to sit on music."

"The moment that we become sedentary people, we start to lose our minds a little bit," Jamie admits, "So we like to keep working, and stay in the studio. We make the music by ourselves, start to finish, so we don't need to ask anyone's permission, or book a studio or anything."

"I hope we can get to a place where the music can come out a little bit more seamlessly," continues Noah. "We have the ability now, and maybe the infrastructure in place, where if we sent one of those songs out to get mixed, it could go up tomorrow. That would be amazing! The way people used to cut dance records and go to the club and put them on and let people go off to 'em – that's amazing!"
"Or like golden era Dylan and The Stones and the Beatles – they'd put a record out every six months," recalls Jamie.

"They'd try to top each other!" says Noah, the pair finishing each others' sentences seamlessly.
'I Don't Wanna Wait'
Margot With The Flow
Jamie's latest tattoo was done by none other than 'Wolf Of Wall Street' star Margot Robbie. As you do. Partybaby take us behind the ink:
Noah: We live a weird life, man…
Jamie: So, I met her a couple of years ago, just out drinking with friends in New York. It was this crazy night, and I only realised later that it was her. It was a few years before 'Wolf Of Wall Street' came out, and all that stuff. I met her at a pre-Oscars party in Los Angeles, that by all means I snuck into in the trunk of a car. I had no real reason for being there!
Noah: He asked me, like, 'Do you wanna come?' I was like, 'Fuck off, hell no!' [laughs]
Jamie: I arrived at this party that was for the top of the tops, in the trunk of my friend's car [both laugh]. She vaguely remembered this night that we had, and I just started talking – looking for anything to talk about – like, 'Yeah, I made an appointment to go get a new tattoo this morning, but the appointment's for next week and I really want one right now.' She was like, '… I give tattoos. I have a kit, I have everything.' It began very much as a joke, and then as the conversation progressed she was like, 'Well, what do you want?' I want 'Come Together' on my arm. She was like, 'Alright, let's go.' I found her a little later and she was like, 'You want a tattoo right now, let's go, come, I'll give you a tattoo in my hotel.'
Noah: So I'm out drinking – this is where the story gets great – I'm out at a bar with friends, and Jamie texts me like, 'You're never going to fucking believe what's just happened'. I see this giant long thought bubble and I'm like, 'This is big, he's about to tell me a hell of a story…' And he just deletes it and goes, 'Just look at our Snapchat.' [both collapse laughing]. I was standing in the bar like, 'What the actual fuck.'
Jamie: Now it's actually my favourite tattoo that I have.
They're a once-in-a-blue-moon kind of duo – a comedy double act that somehow find time amongst the calamity to pen instant anthemia like it's nothing – "We write a song every day. We try to record a lot of them," admits Jamie. Where he might come off as the finger-snapping, whirlwind party animal, Noah is the yin to his yang – a quieter, more reflective personality (but one that's no less swayed by the promise of tequila). Together, it's clear to see where Partybaby's duality comes from – fire-starting pop-punk anthems with a head and heart of gold, it's a trust exercise that'd collapse if either of the two were to turn away.

"I wanted to say it on stage tonight, but I never talk on stage," explains Noah. "I've been thinking about it all day, because we'd talked about it: this band genuinely started as a joke. I'm not taking the piss – we really did start this band as a joke. We were really enjoying it, we were liking the music we were making, but we were certain that we were never gonna play a show; we were certain that we weren't gonna put it out, that it was just gonna be on our phones. We were doing it to fall back in love with making music."

"We were doing it to appease ourselves," Jamie nods.

"Every moment that's happened since has been crazy," Noah continues in earnest. "We had to work backwards – we had to find a band to play! We rehearsed for five months, because we had never played the songs. We rehearsed the songs when the time came to play live, because it had just been us banging it out in the studio and being done with it."

Looking out over the Brighton beachfront, Jamie thinks back to the day before: "We looked at each other when we were at the airport, leaving Los Angeles, like, 'Hey, this thing we started as a joke, that we'd never play for anyone… people invited us to go play in the UK right now.' It's the most special feeling in the world."
Photos: Emma Swann / DIY.
Taken from the July 2016 issue of DIY, out now. Subscribe below.
Read More