Neu Ray of Light: Girl Ray
From school rock clubs and canteen ladies to mature indie pop and a possible impending prog opus, get to know your new favourite gang.
In 'School of Rock,' Jack Black taught a bunch of school kids about the joys of AC/DC and took them to Battle of the Bands victory. North London trio Girl Ray's story also starts at a rock club. Except, the one guitarist / vocalist Poppy Hankin and bassist Sophie Moss went to in Year 7 wasn't quite as exciting. "It was an after school club and there was just four of us," Poppy explains. "I kind of expected someone like Jack Black to be there," Sophie laughs.
Undeterred, Poppy and her friend, drummer Iris McConnell, formed a band, but couldn't quite decide on a sound, instead writing all sorts of weird and wonderful songs across the holidays. "We didn't really know what we were doing and then it kind of developed over time," Iris explains. Their initial confusion lead to a number of pretty funny concepts though. "We wrote about the school canteen lady and about how she was mean, but it was genuine," Poppy says. Iris sums up the phase perfectly: "it took a while to find what we were doing."
It all seems quite far from the sophisticated indie pop that they're making now, but after properly recruiting Sophie a couple of years later, Girl Ray were well on their way to finally finding their signature sound. They released their first single while still doing their A-Levels (called 'Ghosty' in reference to one of their old band names, Ghosty Mo) but never felt the pressure of exams and essays. "It worked out," says Iris.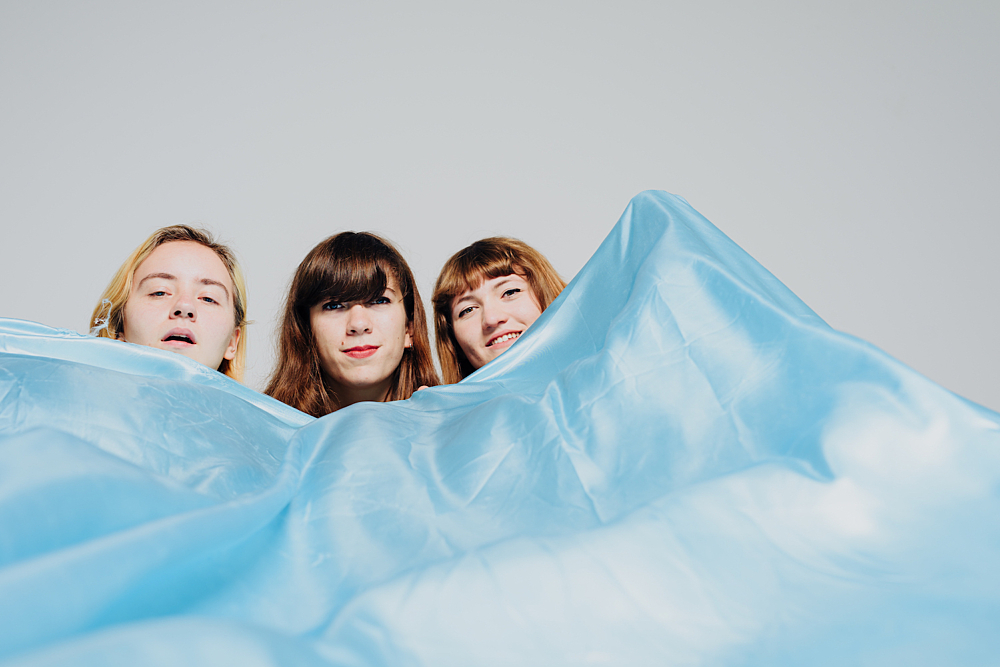 "We wrote about the school canteen lady and about how she was mean."
— Poppy Hankin
Now a million miles away from singing about the dinner lady, they've just released single 'Trouble' and the more contemplative B-side, 'Where Am I Now', which both combine charming vocal harmonies and simple yet sparkling wordplay with lilting guitars. They even have an album in the pipeline, which they plan to fill with crowd favourites from their recent tours supporting the likes of Slow Club and Meilyr Jones.
They certainly weren't short of ideas for the record, which is likely to be filled with the type of breezy indie pop we've come to know them for. Saying that, Poppy thinks that they might have "got carried away"; they've also penned a 10-minute prog extravaganza. "You know the bit in Father John Misty's 'Holy Shit' where there's the total rock out and all the strings?" Poppy asks. "We were like, 'right, that's going to happen, then there's going to be the 'Pet Sounds' bit, then there's going to be the Pink Floyd bit.'" It all sounds a bit like 'Bohemian Rhapsody' but that's probably the point. "There's this bit that's completely out of BoRhap," Poppy says. "It's definitely a B-side for when we've caught people's attention!"
Not that they really need a wig-out to do that, mind. The trio's charming indie pop is already proving to be attention grabbing in itself. If Jack Black's kids entered the Battle of the Bands against Girl Ray, they'd have to settle for being runners up.
Read More