With eye-popping lyrics, an album full of bright and brilliant funk-pop earworms and a perhaps unexpected emotional honesty, Remi Wolf is the 360-degree pop star the world has been waiting for.
It's not too often that you find a pop song that simultaneously references the infamous Two Girls, One Cup video, horror nightmare The Human Centipede and Chuck E Cheese within the first minute. But then, it's also not too often that you find a pop star like Remi Wolf.
Raised in California, Remi first got the music bug after she created a pre-teen girl group called Citrus with two of her friends, which went onto become a slightly more serious (and less fruit based) production during high school. "We would busk on the street, and I think that was the moment where I really started to think that I could do it as a career," Remi recalls. "We were performing on a street corner at this art fair and were out there for two hours. We made, like, $180, which at the time was unfathomable. And I was like, holy shit, this is a career! That's where it kind of clicked for me that maybe people liked my voice and what we were doing. Before that it was pretty much just our parents being like, 'Good job, girls!'"
It was upon heading to LA's USC Thornton School of Music in 2014, however, that Remi's journey to the fully-fledged technicolour pop star we see before us today truly began. Residing in a "bit of a trap house" with 11 other people studying alongside her, she would spend her days surrounded by people living and breathing music for the first time.
"We were non-stop partying for three years, but also non-stop writing music and hosting shows," she recalls. "I was meeting people through all these parties we were having, and I was writing songs with all my roommates all the time. And we were just jamming for like, six hours a day in our living room! I think that, as much as we were kind of just like fucking degenerates, I also learned a lot through that house and I found that it just really expanded my mind. I had a very limited idea of what the fuck was going on when I went into college, but I came out of it like my world had just been so broken open."
And it's these early, all-consuming forays that helped Remi hone the lyrically-wild funk-pop sound that's now become her trademark. Learning how to push the limits of her songwriting, the results led to the "pretty fucking crazy" tracks that decorate self-released 2019 EP 'You're A Dog!', its 2020 follow-up 'I'm Allergic To Dogs!', and her highly-anticipated debut full-length 'Juno', which lands this month.
"I think people [see] my music as a beam of light. It's just such a difference to what's actually going on in my life."
A kaleidoscopic pop offering, 'Juno' dazzles from start to finish, with so many lyrics designed to stop you in your tracks that it could give you whiplash. From Billy Bob Thornton and Angelina Jolie references on 'Sexy Villain', to an "orgy at Five Guys with five guys" in 'Quiet On Set', back to shouting out Red Hot Chili Peppers' frontman Anthony Kiedis on the aptly-titled 'Anthony Kiedis', you really never know what could be around the corner.
"I've always pretty much said exactly what I want and how I feel," Remi says. "I think I've had a pretty distinct writing style since the beginning. It's obviously something I've been crafting for a while now; I'm always writing from a personal experience. I know a lot of people sometimes will write from other views, but that's not my vibe. I have too much going on that I need to get out!"
Inspired by her relationships, the "big throughline" of the album, however, is Remi's experience with her mental health. Even the aforementioned Two Girls, One Cup nod pulls from a moment closer to home. "'Quiet On Set' is insane," she smiles. "I think that's my most balls-to-the-wall song lyrically. I just gave no fucks at all; I made a lot of disgusting references in that song. I think I was just feeling there was a lot of weird, disgusting stuff going around me socially and I was really pissed about it. Hence, the 'eating my ass like human centipede' [line]. I think that was the first lyric that popped into my head, and after I said that lyric, we just sent it."
Though she interprets her struggles through a lyrical lens that's seemingly bright and vivacious, beneath the witty wordplay and cheeky checkpoints, there's a flipside. "It's been the most transitional year that I'll probably ever have," she nods. "I went through this entire career glow-up and then I got sober and also like, made my fucking debut album. I've had a lot of ups and downs through the entire experience. I've had a lot of mental health issues for the past year, and I've been really struggling.
"I think people, especially through Covid, saw my music as like a beam of light and will put it on to dance and feel better, you know? It's crazy that people go to my music for that joy. It's just such a difference to what's actually going on in my life."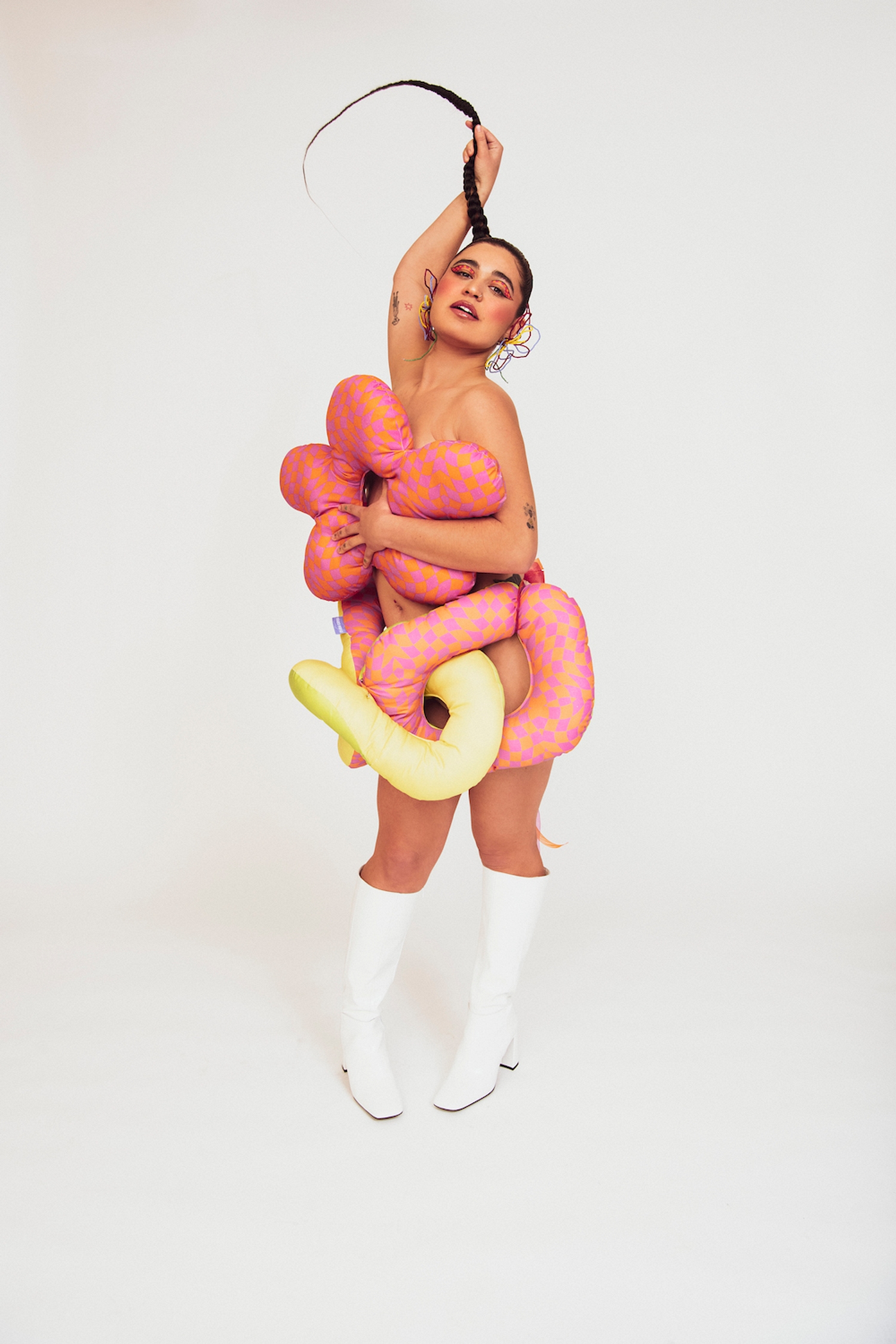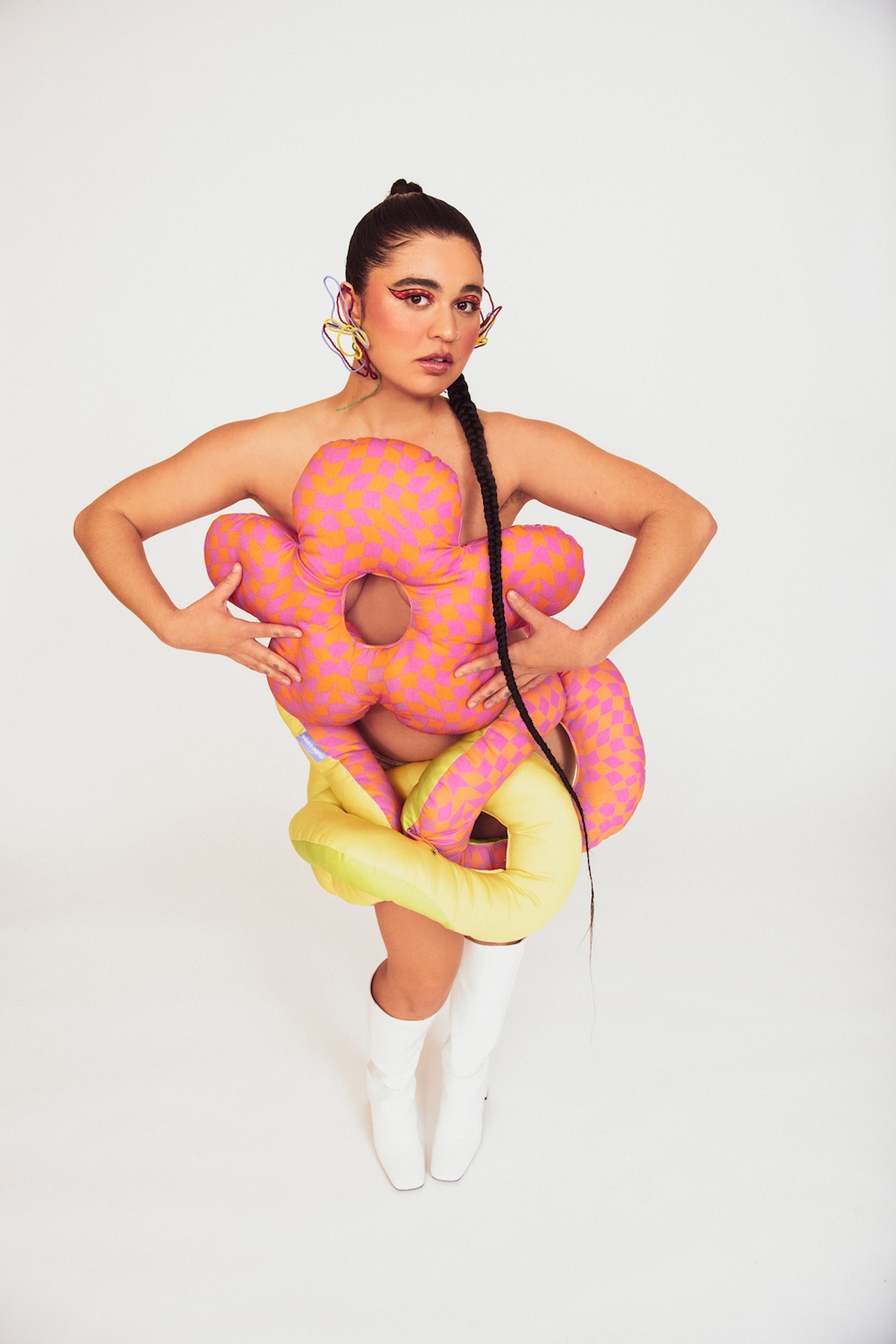 "The number one goal for me is [to keep] pushing the boundaries of music forever."
Although masked in sing-a-long bops, Remi's rollercoaster journey is evident throughout her songwriting, and 'Guerilla''s lines of "Hiding my mind, smoke away the depression" or 'Volkiano''s mentions of "Fought myself in circles / 'Bout to flip from drinking to sober" hold nothing back. But Remi's dedication to open honesty within her lyrics has never been something she's shied away from. "Everything that I'm saying is really grounded in feeling for me," she states. "I feel like some people listen to my music and they're like, 'This is fun, this is crazy' which is so great, and I want people to really think my songs are bangers that they can listen to. But also what grounds them for me is that I write from a very honest place. It all makes a lot of sense in my head, and is really me expressing myself and my true emotions."
While Remi's pop songs might not be as bright and bubbly as they at first seem, 'Juno' remains a colourful and vibrant snapshot of her life, and Remi's undeniable energy will likely see her hailed for pushing pop's boundaries yet again. Full of infectious vibes, the 13 tracks find her showcasing her shapeshifting pop-funk skills, and she's not done wowing us just yet. "Now, more than anything, I just want to push myself and always feel like I'm stretching myself in a good way," she notes. "I want to be growing artistically as I grow as a person. I think that's the number one goal for me at this point: to set a goal of pushing the boundaries of music forever... I don't even know what the fuck that means! I'm just gonna keep doing what I do the best that I can. That's my goal."
Her tracks so far have sparked a few differing reactions ("Some people were like, 'This is fucking trash' and some were like, 'Holy shit, I love this!'" she laughs of the response to 'Quiet On Set'). But by continuing to do what she's doing, Remi has been instantly - and rightfully - ushered in by her lovingly-named Remjobs as one of the brightest, most unique new voices in pop to emerge in a long time, resulting in a rise over the past 12 months that's been difficult to ignore.
Now, coming out the other side of a wild year and learning to take care of herself, Remi is spending time working out how to balance her new life. She's bought some crystals that clear out bad energy and enhance creativity and sexuality to aid her along the way. And she's hoping that her debut can provide the same comfort to others. "I hope people find a bit of themselves in the album, or just find some joy and something relatable about it," she smiles. "Something that makes their day better. I hope people feel that in the music."
'Juno' is out now via EMI / Island.
Read More
Featuring James Blake, Romy, Marika Hackman, yeule and more.