Vibe Check: Sigrid
Returning with second album 'How To Let Go', Sigrid is chomping at the bit to pick up where her debut left off and take her rightful place back on the stage.
Three years ago, fresh from the release of her debut LP 'Sucker Punch', there weren't many places you could go without hearing one of Sigrid's bright and vivid pop hits; whether blasting over the speakers at a supermarket or igniting a sing-along throughout the festival circuit, 'Don't Kill My Vibe' kicked off a whirlwind period for the Norwegian singer where she felt ubiquitous. Now, having scored a top five album and a pair of top 20 singles in the UK, Sigrid is older, wiser, and ready to do it all again with her recently released follow-up, 'How To Let Go'.
"Have I changed?" the 25-year-old wonders while sipping a cup of coffee, speaking over Zoom from her flat in Oslo. "It's hard to tell because I'm in it right now. If you ask me in a year I'll probably have a better idea of how I'm dealing with it. But I've been told that I know a lot more than I did before, just in terms of how many shows I can do in a row, and what tires me out, and what makes me happy."
Penned over the last two years, Sigrid's latest full-length - despite her fame - finds the singer navigating the kind of struggles that all twenty-somethings face, specifically learning to let go of "insecurities, doubts and fears". The acoustic-leaning 'Grow' explores what it's like to be an adult, inspired by the star returning to her small home town in western Norway as the strikingly different person she is now, while 'Mistake Like You' looks at heartbreak as a learning lesson, ("Instead of, 'Ah, that fucking hurt!'" she laughs). Elsewhere, the thumping 'Thank Me Later' provides an opposing side to that heartbreak, with closure coming in its chorus of "I need to let you go, let you go / It's better for us both", and its preceding track 'Risk Of Getting Hurt' sees Sigrid reflecting on how it's still better to take risks than play it safe ("It's just not a thing worth doing, if there's no risk of getting hurt").
"I feel really lucky to have the tools to write about my feelings," she explains of the songwriting process this time around. "I love getting something productive out of feelings. I want to write reminder songs to myself, and whenever I'm in a mood, I'll listen to my own songs all the time! Why not?! I wouldn't write songs that I didn't love, and I always set out to write songs that I wish I had in my playlist."
"I love getting something productive out of feelings. Whenever I'm in a mood, I'll listen to my own songs all the time."
Finding herself "digging even deeper lyrically," 'How To Let Go' also sees Sigrid exploring different ventures sonically. Though still a pop album at its heart, the singer's second leans closer towards the rock and stadium-filling acts that Sigrid loved listening to growing up, with Stevie Nicks and Freddie Mercury cited as major reference points. "It was only a matter of time before I made an album like this," she says. "It just felt like where my voice wanted to go. I've always loved singing straight-from-the-heart big choruses and big melodies, and the production just naturally leans in that direction now."
'How To Let Go' also offers up perhaps the most surprising collaboration of the year in the form of Bring Me The Horizon team-up 'Bad Life'. Beginning life when Sigrid ran into the band's Jordan Fish backstage at a festival, the pair and frontman Oli Sykes soon began working on a song that would morph into the suitably anthemic track. "I've been a fan of Bring Me for years, and I listen a lot to their music in the tour bus and backstage, especially before I go on stage," she smiles. "I've always been a bit shy but I love listening to really emotional and heavy music. I'll be sitting on a flight completely silently and there's screaming in my headphones!"
Sigrid hopes that these new sonic explorations and the album itself - "It's the best one so far, in my humble opinion" - will silence those who might still question her stature as a songwriter. Bounding onto the scene in her iconic white tee and jeans combo, and armed with unashamedly pop big-hitters, she's often had her legitimacy questioned, with "industry plant" rumours thrown in her direction.
"It baffles me that a t-shirt and jeans could make such a big conversation!" she laughs. "It hurt me a bit at one point because you do feel discredited for who you are. That whole outfit thing came from, not because anybody forced me to do it, but because I come from a place that has four seasons in one day and you just have to wear practical clothing. On stage, I felt like everything was pretty chaotic around me and everything was brand new, so for me it was just having one less thing to think about.
"But that discussion around authenticity also made me feel like, is it authentic if I wear a dress?" she continues. "I just thought, I'm not gonna let anyone else decide. I hate being told what to do, so now I'm just chilling. I know what makes me happy and what I need."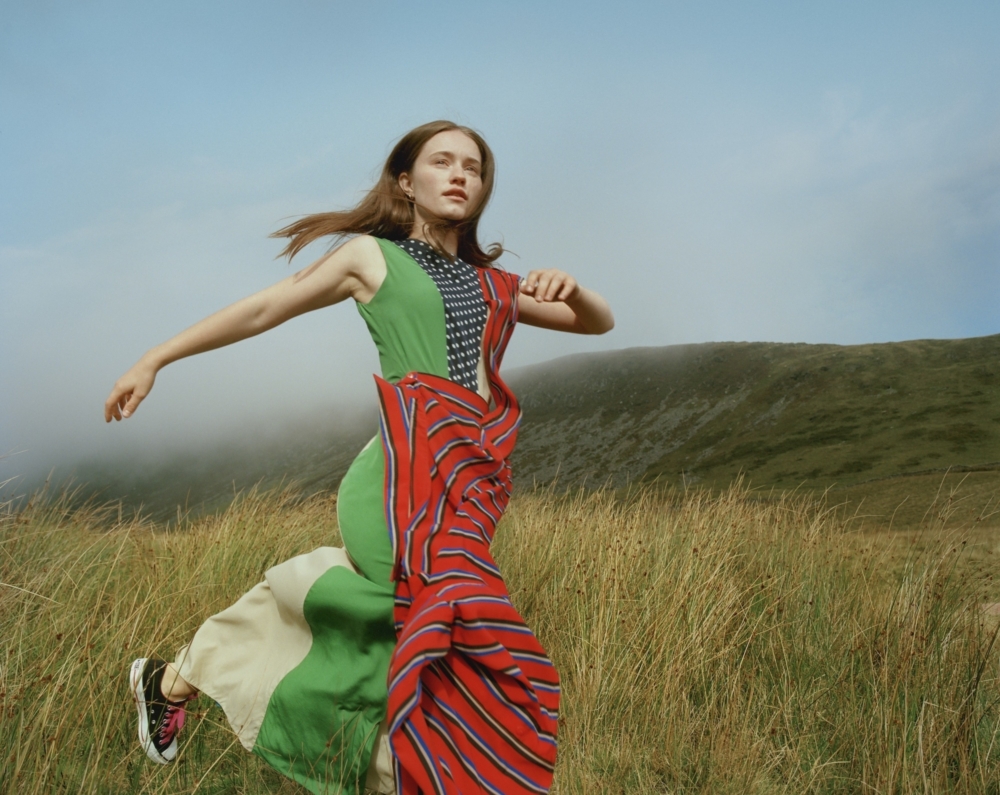 "I hate being told what to do, so now I'm just chilling. I know what makes me happy and what I need."
'How To Let Go', then, finds Sigrid embracing herself more completely than ever as she reflects on growing up. And though she may have had some brief moments of doubt ("I was like, 'Fuck! Am I in a difficult second record?'"), she's flipped the script and embraced the difficulty to create an uplifting and celebratory pop album. "I feel a bit more equipped and prepared because it's the second time, and I'm just trying to enjoy it," she explains. "I don't get this time back so I'm gonna fucking enjoy myself!"
What Sigrid is really looking forward to, though, is the next few months, as she triumphantly makes a return to a busy festival season where she'll be hitting up the likes of Glastonbury, Mad Cool, TRNSMT and more. "It's so cheesy, but I know I'm going to be emotional over the next few months," she says. In fact, the thought of returning to the stage was something constantly on her mind throughout writing 'How To Let Go', and its live vision can clearly be seen in the record's huge, made-for-the-field choruses, ready to be screamed back to her by thousands.
"I'm kind of back on my 2019 schedule," she grins. "I've been waiting for this… Touring and playing festivals is such a huge part of me and my identity and who I am. It's what I love to do. It's my safe place! I just can't wait to have my life back."
Promising new visuals and classic upbeat Sigrid energy, she's eagerly awaiting the time when her band can show off their favourite parts of her new music, pinpointing the guitar solo at the end of 'It Gets Dark' and the clubby rock-pop vibes of 'Burning Bridges' as the songs she's most looking forward to performing.
"Expect a crazy Norwegian running about on stage, and you don't understand where she has all the energy from," she laughs. "Just pure adrenaline! I hope that's the takeaway. You come to our shows and you hear, hopefully, what you think are catchy songs, and we're bursting with pride because we haven't been on tour for so long. And there will be a lot of joy - I feel like we have very joyous concerts and it's very fun and celebratory. So yeah, come for the party!"
'How To Let Go' is out now via Island.
Sigrid plays Best Kept Secret (10th - 12th June), Overoslo (10th - 18th June), Isle of Wight (16th - 19th June), Glastonbury (22nd - 26th June), Roskilde (25th June - 2nd July), Lollapalooza Stockholm (1st - 3rd July), Palmesus (1st - 2nd July), Mad Cool (6th - 10th July), Pohoda (7th - 9th July), TRNSMT (8th - 10th July), Slottsfjell (13th - 14th July), Moldejazz (1x 8th - 23rd July), Standon Calling (21st - 24th July), Tramlines (22nd - 24th July), Sziget (10th - 15th August), Flow (12th - 14th August), Pukkelpop (18th - 21st August), Parken (19th - 20th August) , Pstereo (19th - 20th August) and Raketnatt (26th - 27th August).
Read More