Interview The Brightest Flame: Perfume Genius
Reaching in and wilfully emboldening himself, on 'Set My Heart On Fire Immediately' - his fifth LP as Perfume Genius - Mike Hadreas is burning harder than ever.
It's 9am in Los Angeles, and Mike Hadreas is reflecting on the utter weirdness that is daily life in the middle of a global pandemic. "You know how cats can tell that an earthquake is going to happen?" he chuckles over Skype, swaying in circles as if hypnotised, his eyes fixed on the ceiling. "I mean, spiritually and emotionally, I've felt like that for a long time…"
Gallows humour has always been the performer's default, an outlet almost as vital for processing his anxieties as his brutally honest output as Perfume Genius. In conversation, these two personality traits seem to co-exist on a knife-edge. One moment he's cackling at the memory of some salacious gossip, the next he's exposing the darkest parts of his psyche, visibly close to tears. It's this unfiltered honesty that makes the 38-year-old so hugely likeable; more than most acclaimed musicians, you can't help but still will him to thrive. Not that he needs anyone's help on that score.
In the decade since his devastating debut 'Learning', the Seattle-born singer-songwriter has blossomed exponentially with each release, from the lo-fi confessionals of 2012's 'Put Your Back N 2 It', to the dissonant textures of 2014 breakthrough 'Too Bright' and the electronic-tinged tenderness of 2017's 'No Shape'. Continuing the trend, his latest LP represents another huge leap forward creatively. For a while it was 'No Shape' that was somewhat misleadingly touted as "an American rock'n'roll album by big American pop star Perfume Genius". It's with this fifth studio album that he's finally met the brief.
Packed with bold, brilliant songwriting, 'Set My Heart On Fire Immediately' finds Mike retrospectively addressing the lack of representation he felt growing up by essentially rewriting the Great American Songbook from a queer perspective. As he explains, "I've always listened to a lot of classic music and ballads from the '50s, '60s and '70s, but I've never fully felt included in them, or that they were sung with someone like me in mind. And so I've had to make that for myself."
To achieve this, he assembled an all-star supporting cast including 'No Shape' producer Blake Mills and legendary session musicians Pino Palladino (Elton John, D'Angelo), Jim Keltner (John Lennon, Bob Dylan) and Matt Chamberlin (Tori Amos, Alanis Morissette). Stylistically, the record varies hugely, from the Cyndi Lauper-inspired funk of 'On The Floor' to the swampy guitars of 'Describe', via 'Jason' - a burst of baroque-pop that sets a tale of transactional sex to a shimmering harpsichord melody. Ask the singer, however, and he'll describe the collection as "one of the most sonically cohesive I've ever made."
"When I was writing this record I realised I really was starving for MORE feeling, MORE connection, MORE in my life."
Where his first three records found him processing the traumas of addiction, depression and chronic illness, 'No Shape' was framed as the sound of Hadreas turning a corner emotionally, having been written from a place of stability. On 'Set My Heart On Fire Immediately', the grounding seems less black and white.
"Um…" he hesitates, shifting in his seat uncomfortably. "I mean, I still feel this root of stability; this safety in my relationship and myself that was really hard to build up. It took a lot from me, living against my instincts, to get there. But at the same time, I think in tandem with getting healthy and preparing myself for all the stuff I need to do for work - and how anxiety-producing all that is - I've kind-of ended up retreating into myself, hiding and detaching. I disconnected from the world, and disconnected from myself in a lot of ways."
It was this desire to close the gulf that inspired the album title, as Mike explains. "When I was writing this record I realised how disconnected I was and how much I really was starving for MORE feeling, MORE connection, MORE in my life. And that hasn't been very easy to figure out, because I had thought that in order to stay healthy and to stay sober - and to show up for my job and to make this music - I needed to be far away from my feelings or only pull them out when I was required to, during a song, or for an hour onstage. So I was like, 'Well, maybe I can bring some of the stuff I feel when I'm writing into my daily life'."
Equally influential was his work with choreographer Kate Wallich on 2019's touring show The Sun Still Burns Here. A collaborative project unifying dance and music, it found him co-directing and composing the soundtrack as well as performing with her company The YC, dancing alongside his long-term boyfriend and bandmate Alan Wyffels. Having lived with the debilitating effects of Crohn's disease and struggled with his body image his whole life, Mike found the experience both hugely challenging and deeply rewarding.
"I would cry all the time, you know?" he sighs, leaving a huge pause before continuing slowly. "I've always been obsessed with leaving and being something else; of restlessly wanting out [of my body]. And with dancing, there was this new language that made me feel really satisfied just being there. I mean, it was mixed with absurdity and fantasy, but we created a world that I felt like I was connected to, and I was in. I think I just need to let some of that fantasy into my real life, and not have it be so... clinical and cold."
Ultimately, these experiences fed deeply into the lyrics that would become 'Set My Heart On Fire Immediately', too. "The themes of craving community and connection - it was very much influenced by the dance," he nods. "It changed my relationship with my body and it forced me to attach. I talked previously about being detached: dance forced me to be hyper-present and hyper-connected to myself, and in the moment with my body, and in the moment with other people's bodies. I rearranged what I thought I wanted in my life, and what I thought I was looking for. It shook me up, for sure."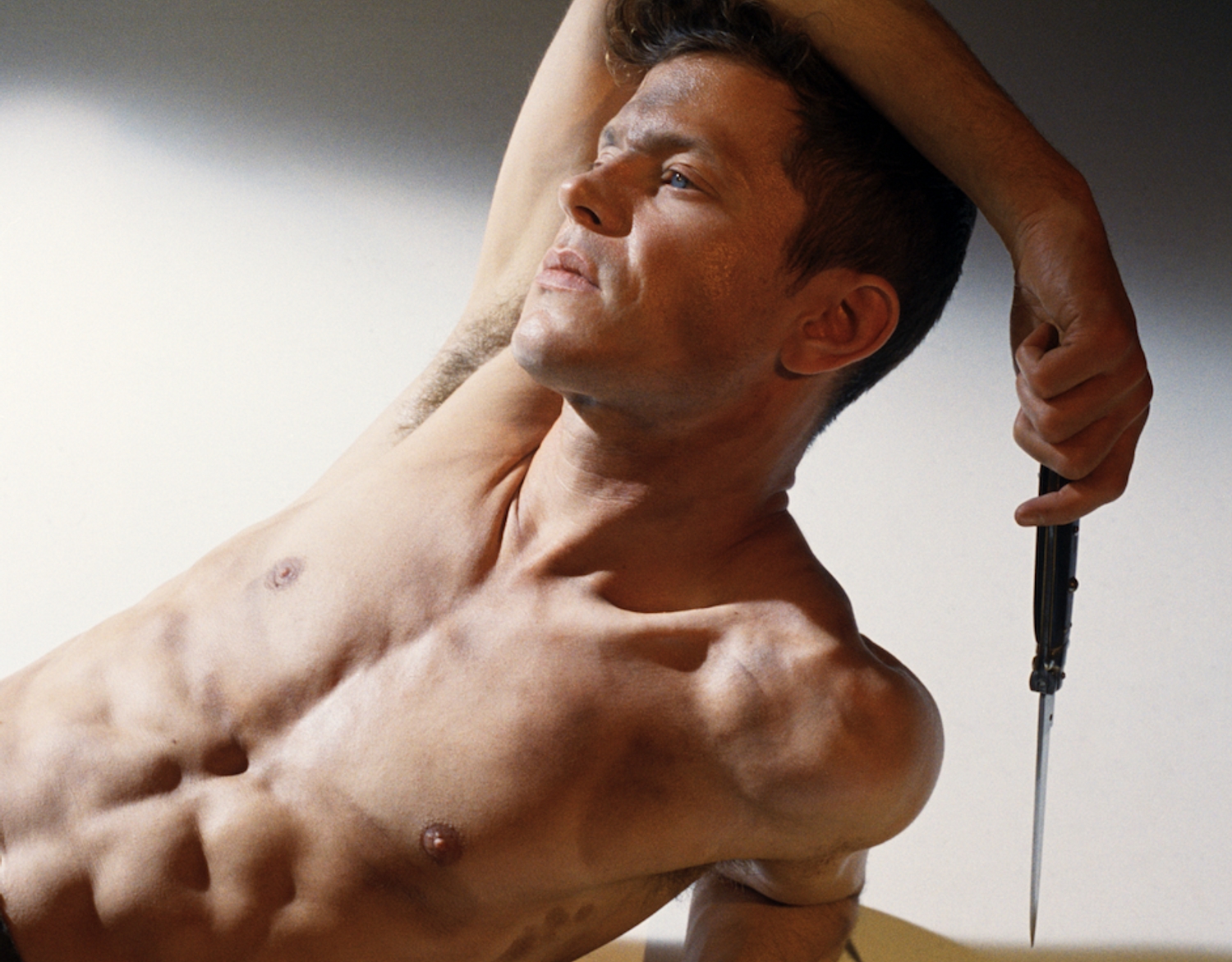 "I've always been obsessed with leaving and being something else; of restlessly wanting out [of my body]."
The experience speaks of how immeasurably Perfume Genius has grown as a performer in the last decade. Where his very earliest shows famously found him hunched behind his keyboard, eyes clamped shut through fear, he's now a magnetic physical presence, commanding the attention of the audience with his fluid poses. "It's pretty wild," he concedes of the progression. "What is required to make me feel uncomfortable and like I'm really pushing myself is so much more than it used to be. In the beginning I would get off stage after just sitting and singing with my eyes closed for 40 minutes or whatever, and I would just be wiped out. And now, literally, I try to physically knock myself out onstage."
This aggression is reflected in the record's rugged cover art and promo pictures, which find Mike variously stripped to the waist, smeared in dirt, and wielding a sledgehammer. It is, undoubtedly, the most masculine expression of his identity yet. "I feel like that naturally," he says of the image change today, adding with a laugh, "And, in a fun way, it has the same amount of performativity as if I was wearing ruffles and a hip bustle or something."
And yet, in some respects the singer remains very much as he ever was. When pressed for his proudest achievement in the decade since 'Learning', he cites his continued emotional honesty. "I feel like I've always come from the right place. I'm talking a lot about how I feel emotionally and my anxieties and blah blah blah, but in the end, when I write, I know when the song is real, and when it's going to be helpful," he smiles. "And wherever I've been emotionally or circumstantially, I've never lost that. Because [helping others] is ultimately what frees you from your own feelings. It's the most purposeful thing I've ever felt."
With the benefit of hindsight, we ask what advice he'd offer to the Perfume Genius starting out ten years ago. "Well, it's always the same," he replies softly, but without hesitation. "'You're OK. You're OK exactly where you are. You can look at yourself in a picture from five years ago and remember how much you hated how you looked, and how you were embarrassed, but look at how sweet you were! You had nothing to worry about - you were OK. You just needed to be quiet with yourself and relax on the world a little bit, and just be.
"I mean, I know I'm going to look at a picture of myself five years from now, and be like, 'What are you doing? Why are you freaking out? Why aren't you being more grateful and just feeling and doing stuff?' But it is what it is. I think over the years I've learned, at least intellectually, that that's available to me."
'Set My Heart On Fire Immediately' is out 15th May via Matador.
Read More
Popular right now
Featuring James Blake, Romy, Marika Hackman, yeule and more.