On the campaign trail for new album 'False Alarm', we join the Bangor trio as they traverse the UK for a series of sweaty club show stop-offs (and an altogether larger Glastonbury crowning)…
It's 7:59pm in the normally ropey surrounds of Kingston's Pryzm nightclub – a place of carpeted floors and varying colours of WKD, and a gaggle of early-teens are getting twitchy. The clock ticks over to eight and, without missing a beat, the excitable chants begin; a few moments later, three men clad in turtlenecks and primary colours step out to a stage kitted with painted red microphones and a cobalt blue backdrop to a roar of cheers.
This kind of pandemonium and these boyband-level squeals of enthusiasm have greeted Two Door Cinema Club regularly throughout their career; since first emerging nearly a decade ago, the trio have always maintained a consistently strong live following, their success built on graft, frequent trips in the tourbus and grassroots fandom. But, since those early days as "little kids with our hoods up, just staring at the ground," recalls singer Alex Trimble, much has changed. They've very nearly broken up, come back from the edge and, now, pushed forward with a record in their newest 'False Alarm' that's built in a far more stylised, idiosyncratic world than anything their first album fans might have come to expect.
Yet, though the band (completed by bassist Kev Baird and guitarist Sam Halliday) stand today as a barely recognisable group of confident, engaging adults - hoods nowhere to be seen - their crowds have barely changed. "It's been totally blowing my mind. When we put our first album out, the front row was 14 to 18-years-old and you expect that if those fans are gonna come with you, then they're gonna get older," begins the singer. "But what seems to be happening is those kids are growing up and moving further back in the room and there's new kids filling up the front." "The front row stays the same age and we get older…" nods Kev.
As more and more bands that first came through alongside the group fall by the wayside or putter slowly into irrelevance, Two Door have managed a rare feat, not just of transitioning into indie semi-stalwart territory but of fostering an ever-renewing fanbase alongside their longstanding old supporters; against all odds, at a time when guitar music is arguably at its least mainstream-infiltrating, young kids are finding the band and claiming them as their own. "You have to be fashionable to go out of fashion, and I don't think we've ever been fashionable," suggests Sam, sat in their dressing room, by way of explanation. "I think people are still surprised by us. Like, 'Two Door Cinema Club are doing The O2?!'" picks up Kev. "I think the people who know, know and there's a tight-knit community of people who really care about the band, and as much as when we were younger it sucked a bit, it's given us the kind of staying power that we have because it was never built upon bluster."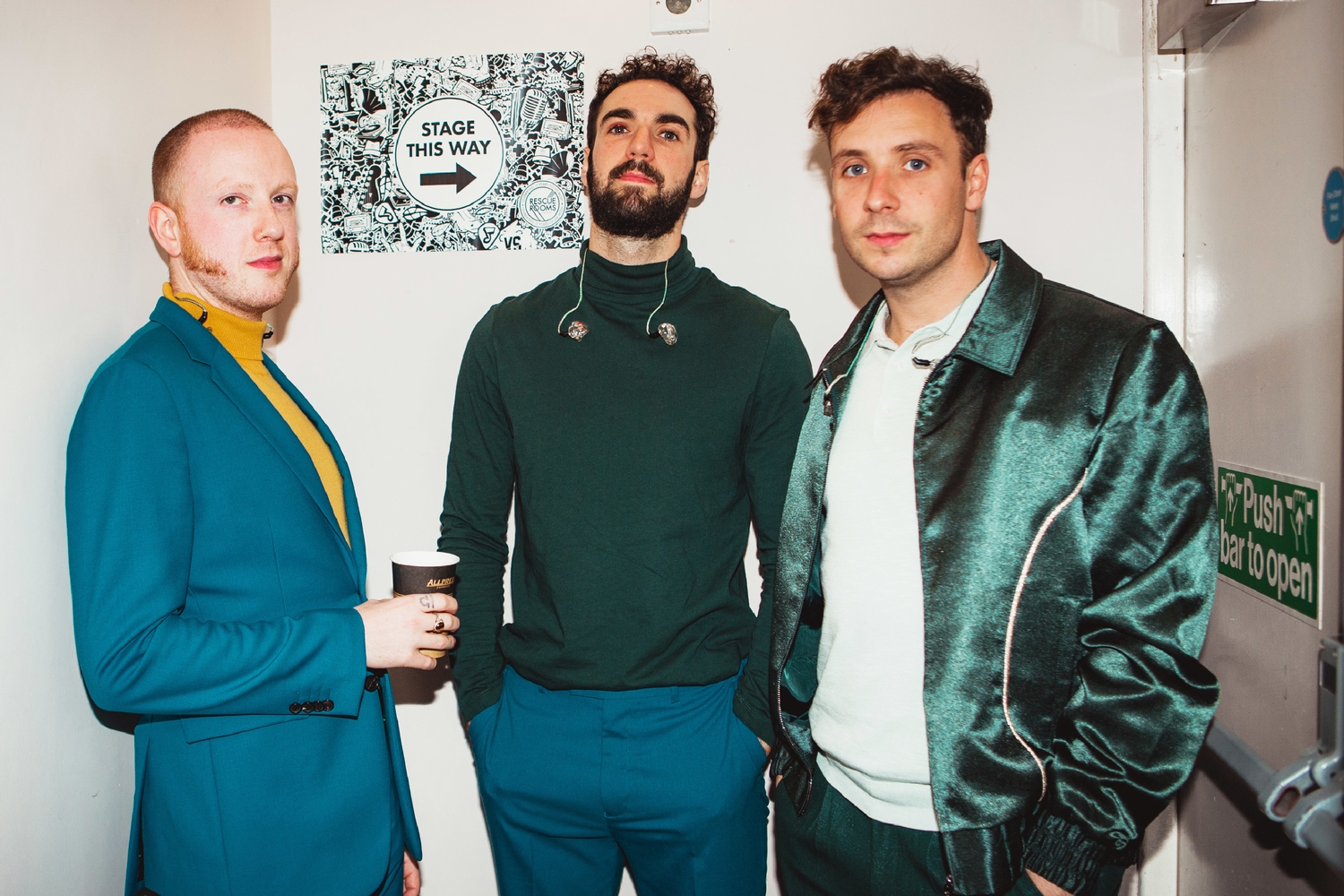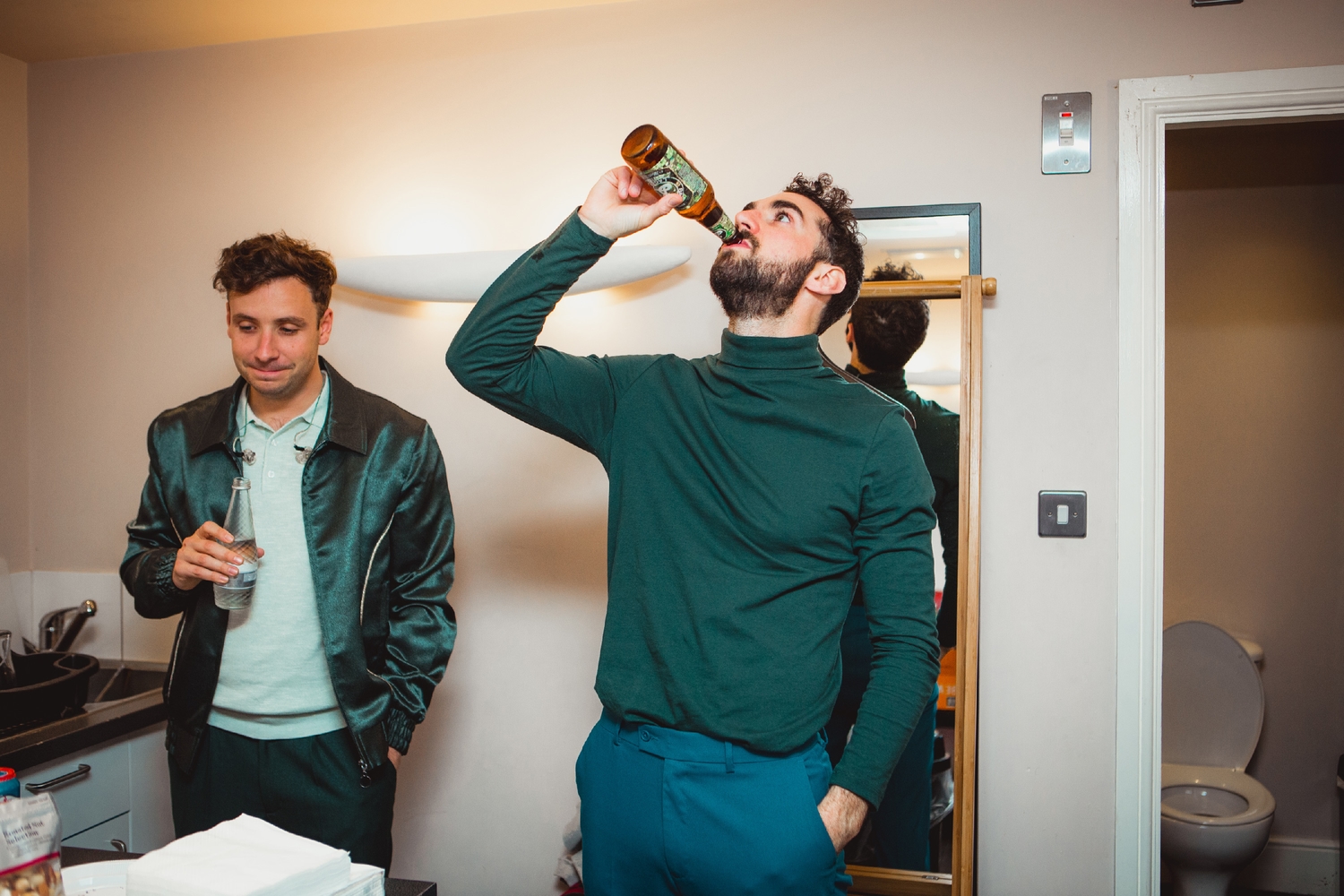 "You have to be fashionable to go out of fashion."
— Sam Halliday
Far from bluster, the group have actively been working their collective arses off over the past few weeks. Check their socials and you'll find all kinds of playful, semi-preposterous stunts going on to tee up the tongue-in-cheek language they've concocted for their fourth record. When the album was announced, they strapped a test pressing to the back of a rocket and launched it into space; more recently, they've had a 35-ft, blimp-like red fire extinguisher touring around London on the back of a truck after an announcement that the specially-commissioned stage prop had been 'stolen' (it was, we would hazard a guess, an ahem... false alarm). Backstage at those first Kingston shows, meanwhile, the band are visibly knackered. Alex is on vocal rest having lost his voice "three times in the last month"; Kev has a swollen eye that's ballooned up as though he's been punched – actually, it's the result of an exhaustion-based infection. "I woke up at 4am this morning in Calais," the bassist shudders between shows (they have an hour or so for a sit down while the first group of sweaty kids pour out and the next batch of slightly rowdier adults shuffle in for the second performance; both gigs are very much sold out).
But if all that sounds like a recipe for disaster then, on stage, you'd never know. Bounding onto the springy keys of recent single 'Talk', both sets tonight are impossibly tight, high energy things that cherry-pick a couple of already-classic newies but primarily treat the rowdy masses to the hits. "We're not a very self-indulgent band; we understand what people want," Kev shrugs after. "There's nothing worse than when you've heard one track from a new album and the artist plays the whole thing in its entirety. No one gives a shit! That happened when we went to see The Mars Volta and that's why we're adamant that we'll never do it," Sam jokes. "Being in bands when we were teenagers that tried to be about being clever and feeling like you're making something that's superior... that's not fun." "That's the lesson we learned: that thing is not fun because no-one likes it," Kev nods. "That was why, when we started Two Door, it was purely about writing songs that were accessible, having a laugh and not taking yourself too seriously."
If this lack of pretence has always worked in the band's favour sonically – the earworm hooks of breakthrough singles 'What You Know', 'Something Good Can Work' et al sending them straight into radio A-lists – then historically there's been something more tentative and cautious about the slow reveal of Two Door, as people. As Alex recalls, those early shows found them hiding in plain sight, slightly lost among the increasing madness they'd inadvertently caused around them. "It was like you were just waiting for people to find out that you weren't supposed to be there. You're waiting for people to say they've made a mistake and they actually meant to book Three Door Cinema Club and you've ended up there by accident," says Kev as we rejoin them backstage at Nottingham's Rescue Rooms the following week, ahead of another sold-out warm-up show. "[We were] trying so hard to be accepted, and to be cool and to be liked – which is all the wrong things you can do..." continues Alex. "And for us, that was just by not showing anything of ourselves. We thought if we let our real selves out then we'd just be dismissed and kicked out the door."
As time went on, the gigs got bigger, the production more confident and "like a proper rock show", but the band had other problems. Talking now about their first time headlining London enormo-dome The O2 back in 2013 following second LP 'Beacon' and in the middle of a fractious period that would soon lead to an extended break, Alex describes the experience as "horrible". "We weren't talking to each other and it was such a weird night," he continues. "It was depressing, because everyone asks how it was and I can never lie, and I always say it was awful. It was shit." This autumn, however, they'll return for a second slice of the pie as part of their forthcoming arena tour; the other venues they're playing across the country are also the largest they've graced. "It's nice, six years down the line, that we get to try it again," he nods, smiling. "You've got to be grateful for that."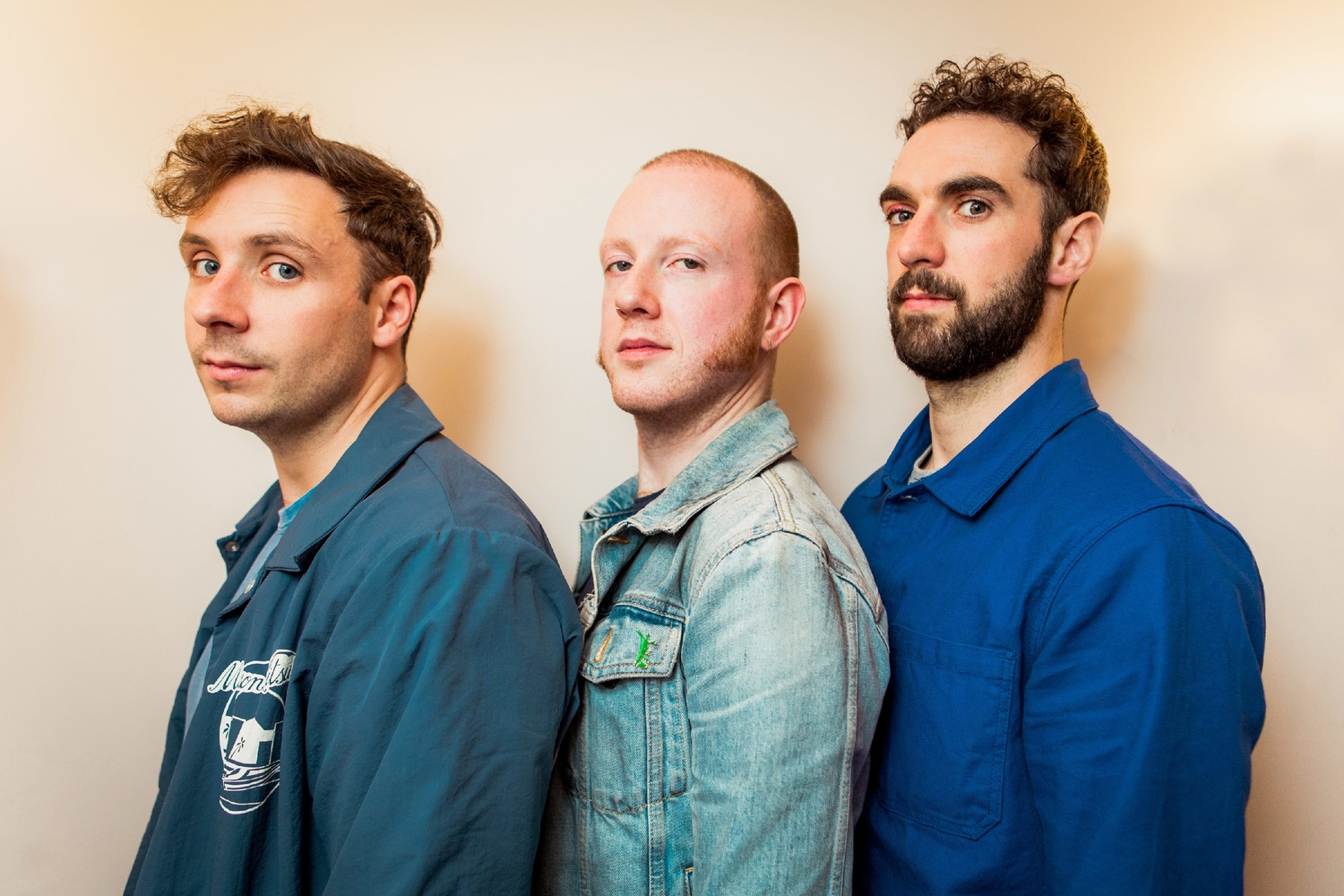 "We're not a very self-indulgent band; we understand what people want."
— Kev Baird
This time around, you sense that everything will be different for the band. Not only are they all actually friends again, but there's a palpable sense of enjoyment and ease both on stage and in the dressing room ("I certainly wouldn't have been sitting here with a glass of wine [on tour for the last album]," notes Alex, pouring himself a 5pm vino and puffing on a vape). These days, a million miles away from the nervous performer of old, the singer has become a true frontman – one who eyeballs the audience, commands the stage with posed, poised movements and has developed a bright, eye-popping uniform built for lovingly-doodled fan art. "It's made it easier to become that guy on stage," he grins of his natty new garb. "I'm not terribly extroverted in day-to-day life and so there's always had to be an element of creating this alternate persona when you go on stage because you're there to entertain people. Whereas I find these days, when I put that suit on, I feel like I know what I'm doing and I'm becoming that person." "It's a strange suit of armour – the turtleneck..." Kev adds, sagely.
Another night, another massive gig. There's full on mosh pits for the oldies, while the Franz Ferdinand strut of recent single 'Dirty Air' threatens to eclipse even the biggest hits for the title of Best Two Door Track to Date ("It wasn't even a single; we've been taken aback by the reaction," says Kev). It's an arena-ready show that's been dreamt up with the aesthetic care of the theatre, and in tiny venues like these it feels huge. On Glastonbury's Other Stage, where they're co-headlining with Tame Impala and where we round off our Two Tour, however, the show is in its element. With sharp, geometric visuals - some of which are pigmented to perfectly match Alex's mustard and blue suit for ultimate satisfaction - adding to the carefully-curated world they've constructed, and a field full of fans dancing it out in the evening sun, the band are on the form of their lives.
When they take to some of the UK's biggest venues in October, it'll right a few historical wrongs in the group's career. More than that, though, it'll cement Two Door Cinema Club as a band that were never just a fad, but have seen out several phases, emerging more triumphant, creative and successful than ever. "Going back to talking about other bands that aren't around anymore, we've always thought when you chase that big moment and that big success, that's when you start to make mistakes," says Kev. "Who knows where we'll be in a year or five years, ten years? But you just have to go at your own pace and it's not a competition. You just have to follow your own path."
'False Alarm' is out now via Prolifica / PIAS.
Read More
Featuring James Blake, Romy, Marika Hackman, yeule and more.