Nearly four years on from their Mercury Prize-winning second album, Wolf Alice are finally back and propelling towards June's imminent 'Blue Weekend': you'd better get ready.
If you've been keeping up with the latest series of stalwart music show Later… with Jools Holland, you'll have clocked that, with the distinctly un-Covid camaraderie of its usual set up temporarily out of bounds, bands have been forced to film their performances elsewhere. Dry Cleaning rocked up to London's sparkly Moth Club for their recent debut, while Kings of Leon shot theirs in their own Neon Leon bunker studio: so far, so good. But nothing on the show to date has even grazed shoulders with Wolf Alice's first performance of recent returning track 'The Last Man on Earth'.
Spaced out in the grand belly of Alexandra Palace's theatre, singer Ellie Rowsell begins its opening minutes at the piano, bathed in an orange glow, before a rousing, mid-song swell brings the rest of the band in, augmented by a live three-piece string section. It's emotional, a truly beautiful thing, we tell the band over a five-way Zoom today - the kind of moment that could silence an entire Glastonbury Pyramid Stage field… hang on, are you drinking out of a vase?! "I'm in my own house, doing my thing!" retorts bassist Theo Ellis as it becomes clear that his vessel of choice is, in fact, an enormous ceramic jug. "I hate those little shit glasses my mum had in her house so now I'm in mine I have biiiig jugs. Fuck you mum!"
See, while Wolf Alice (completed by guitarist Joff Oddie and drummer Joel Amey) might be objectively successful these days - a Mercury Prize-winning, Number Two-charting band who've widely been touted as one of the finest the UK's produced in years - it's still just as hard getting them to take their own accomplishments seriously as it ever was. Ask them about that memorable trophy-bagging night back in September 2018 and Joff will concede "a sense of jubilated exhaustion" while Theo becomes more animated recalling the fact that their local boozer reopened for them to celebrate.
It's not that Wolf Alice aren't proud, but they're also evidently still a million miles away from your stereotypical high-flying rock band and its accompanying egos. "I still honestly don't think I've [got my head around it]. The four of us don't talk about it between ourselves a lot, and I don't think it's really even something that I believe has happened," Theo nods. "If you dwell on it enough it can make you feel a bit crazy, so it's kind of a way of protecting yourself, by not getting anxious and thinking about the fact that you won the Mercury…"
Still, let the record state that win the Mercury they did, and now, an uncharacteristic nearly-four-years later, the quartet are preparing to unleash its follow up, 'Blue Weekend'.
"I did what I always do, which is go out and let some bad things happen to me so I have something to write about."
— Ellie Rowsell
After setting aside a number of months - between three and six that they can't quite agree on - to decompress and, in Ellie's words, "become our own separate people again rather than one mass entity" ("A big blob rolling around the world playing shows," nods Joel), Wolf Alice began proper work on the record.
Having built a reputation as a sensitive, nuanced lyricist with a keen eye for detail, was the time off a necessary thing to respark inspiration for the singer? "I just did what I always do, which is go out and let some bad things happen to me so I have something to write about," Ellie shrugs with a smile. "There were lots of moments where I was like fuck, I don't know what to say. But I think I just have some kind of probably quite naive assurance that eventually I'll feel inspired at some point." And across the record (we've heard it; it's - spoiler alert - genuinely incredible), that theory proves itself time and time again, taking in, by turns, some of the most vulnerable, honest and righteously defiant moments the band have coined to date.
"If anything, I feel like having more of a platform would make me wanna write less in a way, because it's more scary?" she ponders. "But growing older takes you the other way where you don't wanna hide and you wanna be more confident in what you've got to say. It's a really daunting process in that respect because you're putting yourself out there, but also you understand the benefits of being brave."
Heading to Brussels with producer Markus Dravs at the start of 2020, the unexpected arrival of you-know-what meant that what should have been a fairly regular recording experience soon turned into an intense, three-month quarantine. "There wasn't any way to escape the album," Joff recalls. "We were living in a studio that we couldn't really leave so it got quite intense because that was the only thing we could focus on." "I'm really grateful for the opportunity to be able to work like that and have all the time and resources not just to put down what you want but to experiment a bit, but it made it a very different experience," Ellie agrees. "It was just harder, which at the time was… hard."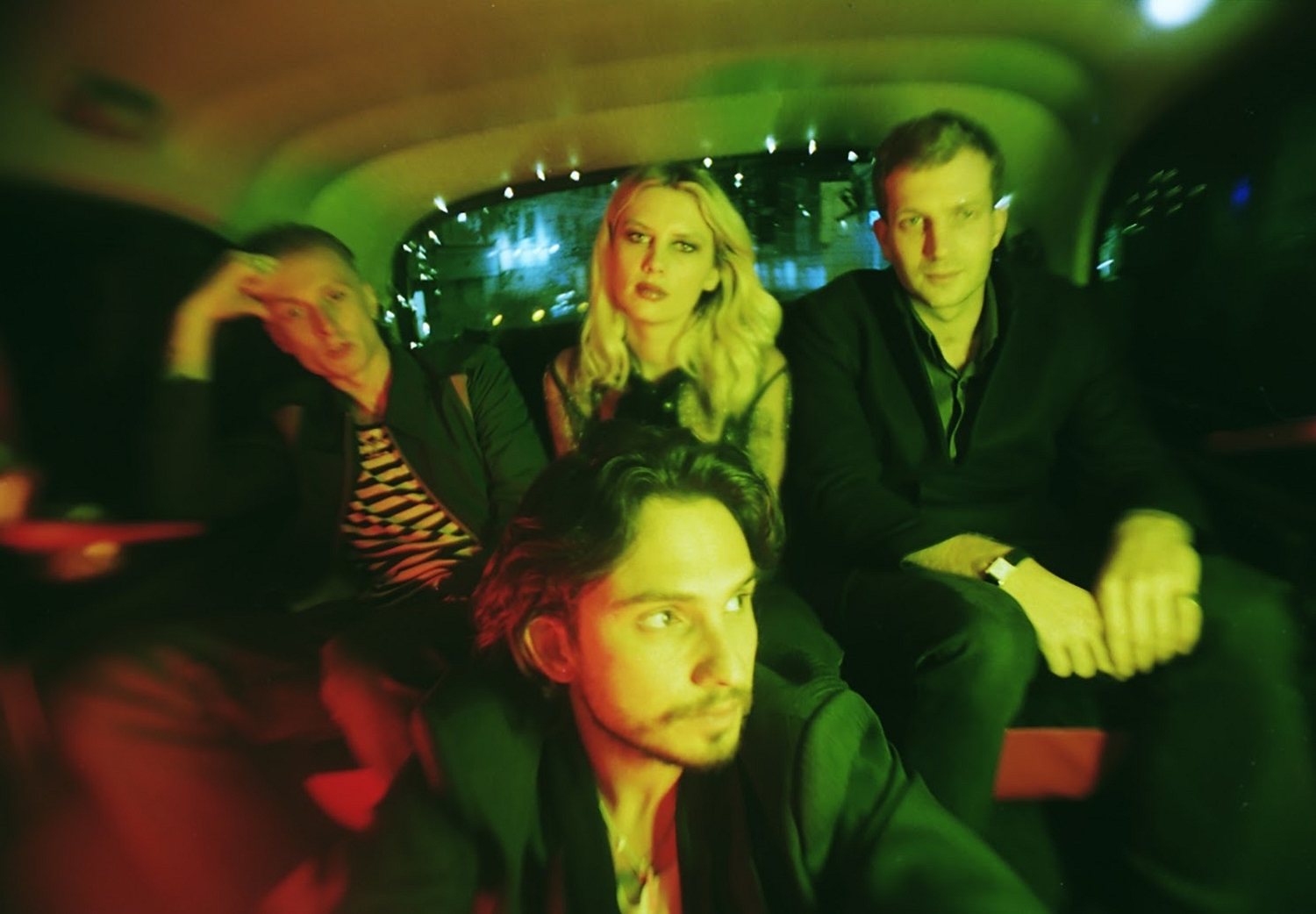 "I was so excited when we announced [the album], I couldn't feel my fingers."
— Theo Ellis
But through the difficulties, and almost certainly as a result of those seemingly endless hours spent fine-tuning every second of their forthcoming third, 'Blue Weekend' looks set to do everything their hugely anticipatory fanbase could have hoped for. Gearing up for the release, there's a genuine tangible excitement around the band that's rare; everyone, as Theo grins, seems Team Wolf Alice. "I hope so," he continues, "I was so excited when we announced it on the radio, I couldn't feel my fucking fingers." "Were you sitting on your hands?" Ellie quips.
Despite the pressure of following up such a game-changing record for the band, the quartet seem grounded and on top of it. "I've personally felt the same kind of pressure every time we've gone to make an album because we had quite a lot of expectation from [the beginning] of people being like, 'Are you gonna prove yourself or are you gonna fuck it up?" suggests Joel. "So there is a weight to it, but it's not really about the Mercury Prize or if your third album is going to be your 'OK Computer', you just wanna do the best that you can."
And the best they can, it turns out, is an album that's so good, even its authors can't downplay it: the rarest accolade of them all. "I had a fry up here and we all listened to it on my speakers and were like, 'This is sick'," Theo chuckles.
"There's a hopefulness to [the record] that I really hope doesn't get lost. You know when you watch a film and you get left completely despondent, where even though it's been an amazing piece of art, it always flavours the memory of it badly? Hopefulness gives it that sense of, 'Oh, I'm always gonna like that thing'."
We've got a good feeling the world is gonna like 'Blue Weekend' an awful lot.
'Blue Weekend' is out 11th June via Dirty Hit.
Read More
Featuring King Gizzard & The Lizard Wizard, IDLES, Tkay Maidza, Sleater-Kinney and more.