Interview
Wolf Alice: "Every aspect of being in a band is great"
As DIY celebrates its 50th issue, we invite Ellie, Theo, Joff and Joel to the barmiest party in town.
Look, this might come as a surprise, but we really like Wolf Alice. From their earliest days, through first London shows at DIY Presents nights, via those incredible early EPs and onto 'My Love Is Cool' - still the debut of a generation, 'btw' - and beyond, they're everything that gets us giddy about music, all tied up in a sassy little bow. It's only right that they take centre-stage at DIY's 50th birthday party.
In 2011, they were: Ellie Rowsell and Joff Oddie had formed Wolf Alice as a two-piece the previous year, while Joel Amey and Theo Ellis were brief acquaintances. Bassist Theo sort of knew they'd eventually become an amazing band, but the others hadn't cottoned on by this point.
Right now, they're: One year on from releasing 'My Love Is Cool', one of the best debuts in years.
'Sup Wolfies! What's the BEST thing about being… well, you?
Theo: DJ sets!
Ellie: [laughs] …no. Yeah, we've had a few amazing DJ sets in our short career, but I'm not sure that's the best thing. I think the best thing is… there's not one thing…
Theo: Every aspect of being in a band is great – playing gigs is great, being able to play with instruments and work with different engineers and producers and going to different studios – every aspect, for us, we enjoy. And just sitting in vans for prolonged periods of time is great as well!
Ellie: And not feeling bad about it, cause you have to! Justifying your laziness!
You're in a bus now though, fancy gits - isn't that nicer?
Theo: It is much nicer, yeah, but we're still lazy.
What have been your favourite, or the most surreal, or the most silly moments of the past few years?
Ellie: We've had a fair few surreal moments. I think going to the Grammys was up there with one of the surreal-est we've ever done. Definitely felt out of place there…
Theo: Yeah, the Grammys – that's definitely the most surreal it's been for us. You don't really start a band and like, play the Old Blue Last for your DIY night, and end up at the Grammys. (*cough* Thanks Theo… - Ed)
Were you sat next to anyone particularly mind-blowing?
Ellie: I was sat next to Joff! [laughs]
Joel: From Wolf Alice?!
Theo: Rev Run! Of Run DMC fame. Beck was getting moved around a lot near us, Lady Gaga wasn't far. James Bay and his hat.
Ellie: All the… 'celebs'…
"All these reunions can fuck RIGHT off and they should start getting proper bands to headline festivals."
— Theo Ellis
If you could relive any day from the past five years again, what would it be and why?
Ellie: I'd go back to Glastonbury and do it properly. I don't remember it, so… There's lots of things. I'd like to go back to New Years' Day in Australia, and know that I was about to have the best year ever.
Which forgotten bands of the past would you like to see come back?
Ellie: Duran Duran!
Joel: Classic answer!
Theo: Aside from that, all these reunions can fuck RIGHT off and they should start getting proper bands to headline festivals. Latitude seems to be the only place where they get new bands to headline. Foals did it, Alt-J last year and now they've got The Maccabees – I really admire that festival for doing that. What's quite annoying is… I understand if you wanna see a band come back, I get that, but when it's a festival headlining opportunity… I think that should be saved for your own shows.
Ellie: Or just have one reunion headliner and have the other two be new or something.
Theo: And also try and only have one reunion! People seem to think you can just 'reunion' all the time. Like, what's this, your sixth reunion? This is only our third reunion, by the way.
If you could give yourself one piece of advice when you started out, what would it be?
Theo: Don't bleach your hair.
Ellie: I don't know – I don't have any advice!
Joel: Follow your gut. Trust your gut.
Ellie: If it feels wrong, it probably is wrong.
What does a new band need in order to 'make it'? Time and space? A stroke of luck?
Theo: I think you just need good songs, real ambition, the want to do well. And work hard at it. It's not a tricky formula, I don't think. Everyone thinks now, with this 'online PR' realm, that you can create a band or something. If you've got really good songs and rehearse loads - and obviously you're beautiful…
Ellie: Yeah, you just need to rehearse – if you've got the songs then all it is is rehearsing and getting out there. Playing as much as possible.
Which three new acts are the most exciting, and why?
Theo: There's a band called Fish who are really cool. Crows, I think, are one of the best live bands in the UK at the moment.
Ellie: I'm really into… I really like Alex G at the moment. But he's had three albums out so… he's still just making new waves over here in the UK.
How do you think the Internet has revolutionised how bands get recognition?
Theo: Any way of helping more people get hold of music is probably a good thing in the early days, but it's kind of a double-edged sword. You get a lot of bands complaining about streaming services and things like that, whilst also making quite a lot of money, which seems ridiculous.
Ellie: I think it's great in the sense that it doesn't matter where you're from. It might be hard – I don't know, coming from London I'm not sure how it feels to be a band from, y'know-
Theo: Mordor.
Ellie: Yeah, Mordor! It just gives equal opportunities —
Theo: To bands from Mordor.
Ellie: To people who want to be in bands but might live in… Mordor.
How important do you think it is for bands to support one another?
Ellie: It just makes things more fun, you know? One of the best things about touring is getting to play with your favourite bands every night and stuff.
The line-up for those Forum shows certainly proved that - how did you pull all that together?
Ellie: We paid them! [laughs] Nah – we looked at the bands that we wanted to see ourselves. They're the bands that we have excitement for.
Theo: We're on tour so much that it's almost the only time we get to see other bands. So that's a wicked opportunity for us, as well. They're all wicked. I'm really excited to see Abattoir Blues.
Ellie: I'm really excited to see every band. I'm so happy with this line-up.
Theo: This mini-festival that we're doing.
Ellie: They're all some of my favourite UK artists, and I'm really happy that they wanted to play it.
We put on Abattoir Blues at our Hello 2016 show in January - they were amazing.
"Tame Impala could headline a festival."
— Ellie Rowsell
Which acts will headline festivals in five years' time?
Joel: Five years' time?! We'll be doing our reunion headline slot then.
Theo: It's hard for us to tell.
Ellie: I think now, Tame Impala could headline a festival.
Theo: The 1975.
Ellie: The 1975 could headline a festival, yeah.
Joel: Kendrick Lamar.
Theo: Kendrick Lamar… BBK are headlining a festival… and I think we would like to headline a festival one day as well. Please. Mr Rob Bank. '@Emily'.
How do we continue to nurture the music scene?
Ellie: I think that radio stations could play smaller bands more, smaller artists rather than just…
Theo: Playlists.
Joel: Less playlists.
Ellie: Yeah, less playlists. I think people should encourage people to buy music more. I think labels should re-think whatever they're doing at the moment.
Theo: It's also important that the Arts Council keeps helping funding bands at all levels who need help with equipment and van hire and stuff like that.
Joel: More awareness.
Ellie: Stop shutting down independent venues.
Theo: Just stop being knobheads!
What can we do to save the current crisis of venues being shut down?
Theo: Keep on going and checking out new bands at your local independent venue.
Ellie: Yeah, and making people aware of it – I think people don't realise, you know? It's hard, though, because you want to play the venues that maybe are owned by O2 or whatever.
What's your favourite music venue in the world and why?
Joel: I really like Manchester Albert Hall.
Ellie: I like Manchester Albert Hall, yeah – I think that's one of the most beautiful venues.
Theo: It's genuinely beautiful. The Olympia in Dublin is also amazing.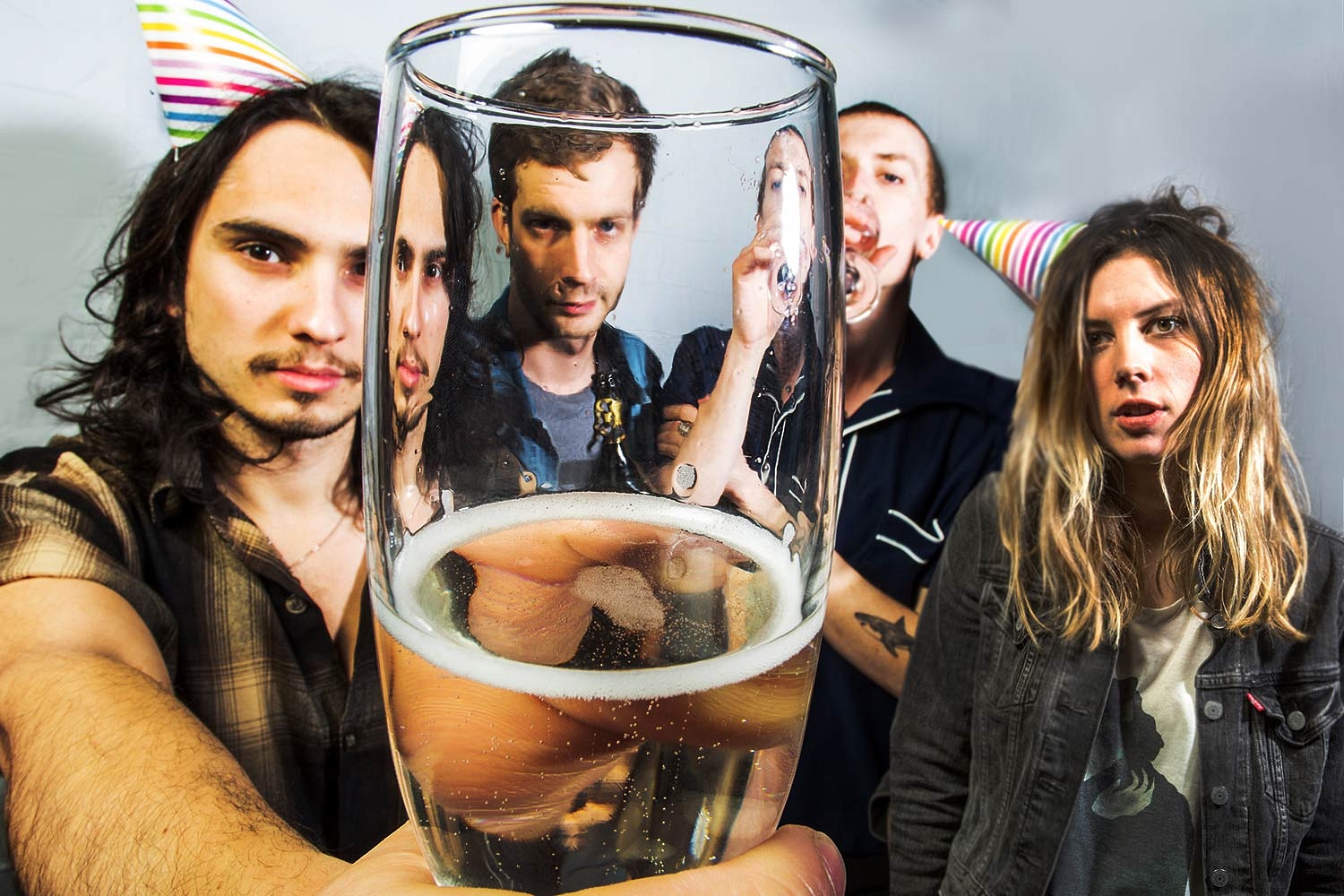 "There's a palpable energy to grime that everyone, like us who are in a completely different kind of band, can see it from the outside and think it looks amazing and it's really cool."
— Theo Ellis
Outside of bands, what's the most exciting thing happening in music right now?
Ellie: Grime music's exciting at the moment.
Theo: I think grime's genuinely having a revival, because it's been around for so long and it's genuinely the most British thing that we have. It says so much about our culture and it's amazing. All of the shows – you see Drake going down to Village Underground and going on stage with Section Boyz, all of that's like seminal moments.
Ellie: The excitement about grime and grime music, at their shows, within their scene, is really… jealous… making. [laughs]
Theo: There's a palpable energy that everyone, like us who are in a completely different kind of band, can see it from the outside and think it looks amazing and it's really cool. They're putting out a lot of really good music at the moment. Because it's been going for so long it's got a massive identity. It's like fifteen years old or something. It's a shame that it's only being noticed now, to be fair.
Photos: Emma Swann.
Taken from DIY's 50th issue special, out now. Subscribe to DIY below.
Read More