Sports Team share the offbeat indie melodrama of 'Beverley Rose'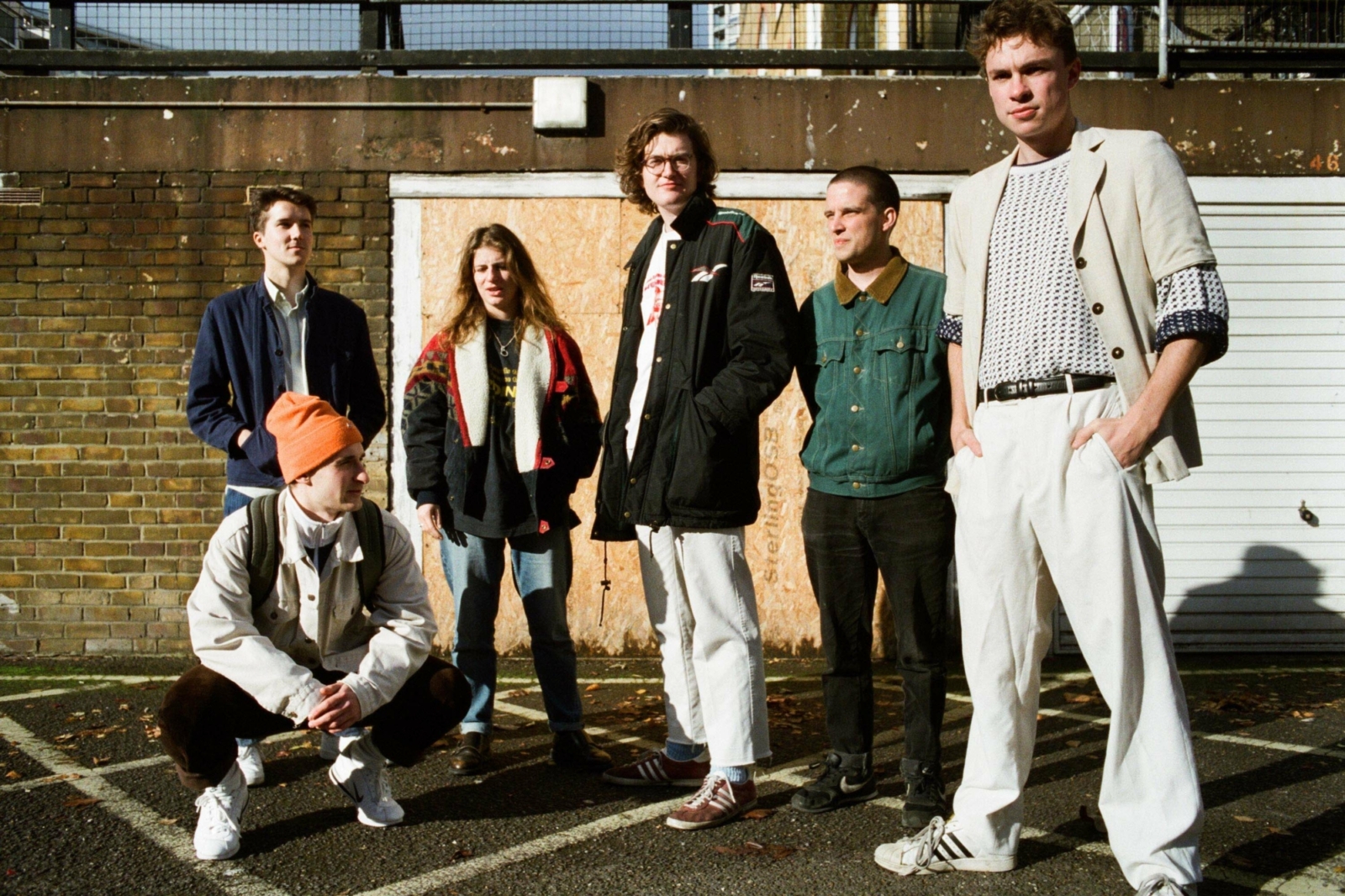 It's a musing on "commuter-belt Britain"
Londoners Sports Team have been putting in the hours on the live circuit over the last 12 months, building an increasing fanbase for their idiosyncratic brand of semi-chaotic indie.
Putting a playful sense of humour to the fore (one early track was an ode to Ashton Kutcher, while band member Ben is basically their beer-swilling on stage Bez), the band channel wonky Pavement sensibilities with an added appreciation of the theatrical from vocalist Alex Rice. And now, they've served up second single proper 'Beverley Rose' - a musing on "commuter-belt Britain" and all the mundanities that go with it.
We caught up with the band - who'll be playing DIY's Hello 2018 show at the Old Blue Last on January 16th alongside Boy Azooga, JW Ridley and Underwater Boys - to get a little more info on the whole shebang.
Have a gander, and listen to 'Beverley Rose' below.
Hello Sports Team! Can you give us a potted history of the band up to this date please?
We're all from different parts of the world. Al's from Leeds. Henry's from Cornwall. Ben's from Chesham. Rob's from Surrey, and Oli and Alex grew up in Kent. We met studying at Cambridge and now live in Harlesden (West London), between the McVities biscuit factory and an evangelical church.
Tell us a story about 'Beverley Rose'.
Some songs take about two years to get to a point where we want to record them, and some will be finished in an hour. 'Beverly Rose' was one of the longer efforts. It's been knocking about in various forms for at least a year. We used to play it with a soaring, U2-esque chorus which has sadly been amputated.
What do you think this track shows about your next steps as a band?
[First single] 'Stanton' was the first song we wrote and 'Beverly Rose' is from somewhere in the middle so there's definitely a bit of forward motion. The rest of the tracks on the [forthcoming] EP are more recent, although 'Camel Crew', which will probably be the next single, is from the same era. We've now recorded quite a lot that we have tucked away for mid 2018.
What is life like in the Sports Team studio?
I think we've had quite an unusual studio experience in that we haven't had time constraints, and have been able to play around with a lot of the tracks. We met [producer] Dave McCracken about a year ago, and he gave us run of his studio in Hammersmith. He did a lot of Depeche Mode and Ian Brown back in the 90s, then spent a bit of time working for Roc Nation on Beyoncé style stuff and now he's back in working with bands. Most of the time when you're in the studio you're just sitting about waiting. Alex is quite particular about his vocals, so there will be days where we do nothing else. Wait for hours until he's happy with the inflection of "Rome".
The studio does back onto an old timber yard, which is quite a fun place to wander around. There are lots of machines and foxes and stacks of wood.
What's with Bez?
That's Ben Mack. Ben gets the Bez comparison a lot, despite showing no emotion on stage. He's started to play a bit of synth now alongside percussion, so hopefully will get Bob Nastanovich before too long.
What are your main influences, musical or otherwise?
The Family Cat. Haircut 100. Th' Dudes. Pavement. Jake Thackeray. Eddy Current Suppression Ring. Ashley Giles's journeyman career.
Tell us about your next six month plans.
'Winter Nets' is out in January, so we're playing a few shows around that. There are a few non EP singles that'll probably be released in the first part of 2018 and then we're touring. We've spent a lot of the last year working behind the scenes, so now we're all just looking forward to getting out and playing.
Read More