Album Review
Morrissey - Low In High School
2 Stars
This charming man? It looks like these days it's more a case of bigmouth strikes again.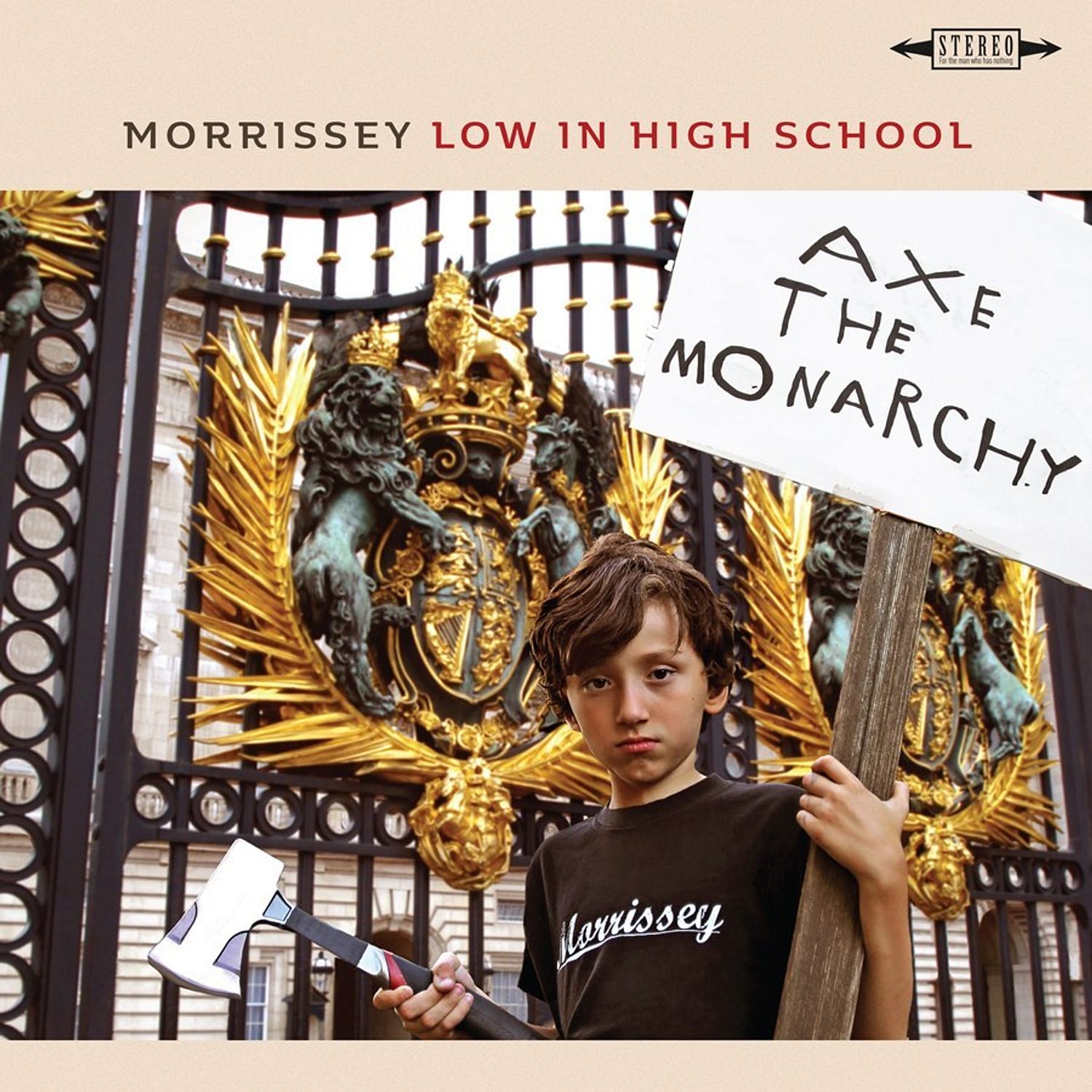 For all its trademark Moz-touches (overwrought and often hilarious lyrics, dense, exploratory sonics) 'Low in High School' often fails to connect - for more reasons than one. Like 2014's 'World Peace Is None of Your Business' which came before it, any smudge of sincerity is often overshadowed by a nasty cynicism and a smug self-righteousness. And then, there's the cringeworthy sex songs (but more on those later).
Striking a tone that hits at jarring odds with the times we're in, and often veering into cheesy melodramatic panache while it's at it, this album is all too often coloured by a dead-end brand of contempt; channelling the same bitter strand of one-way dialogue that its creator regularly airs on topics ranging from his support of Brexit, to his dislike of Madonna - who he once, in 1997, called a symbol of "desperate womanhood". Opener 'Love I'd Do Anything For You' - which sounds like an overblown Muse, minus the knowing ridiculousness and the sideways smirk - wastes no time whatsoever in taking aim at the mainstream media, while title-track 'Spent the Day in Bed' simply urges to "stop watching the news" and stay inside oblivious. When Morrissey's not bemoaning his own status as "cannon fodder" or declaring his hatred for "all human lies" (yep, all of them!) he's telling us that the government are spraying our eyes (he doesn't elaborate on this one further), or making sweeping cloying statements about the world at large.
Any songs more focused on forging, erm, human connections, suffer from flaccid execution. "I just want my face in your lap," declares the unintentionally hysterical lead single. And 'When You Open Your Legs' possesses the subtlety of a fully-matured walrus trying to navigate an obstacle course designed for guinea pigs, Morrissey singing of being enlightened spiritually by the sight of somebody's nether regions atop what sounds suspiciously like a cover of Dean Martin's 'Sway'. "Everything I know deserts me now when you open your legs," he booms, later declaring "I see it all as plain as day, how people only give once they receive." It's not quite the bulbous salutations that haunted his debut novel, but it's still wince-inducing.
What made The Smiths so brilliant was the way in which their music turned profound loneliness into a weapon, and charged misery into protest and rebellion. For all the desolation, it mounted a fightback. In the current political landscape - where we're told to distrust all media, hate all politicians - biting back and building up alternative positive grass-root movements feels vital. Staying in bed, escaping through the medium of bad sex writing, and replying with total apathy and hopelessness? Not so much.
This record does have its moments, though any instances of real connection are a notable rarity. 'Home is a Question Mark' shows Moz doing what he does best; colliding weighty syllables with dramatic cadence, his pipes still as booming as ever. His musings on loneliness and grapples with belonging land with light touch, and here, it's easy to believe every word he's singing. And while it's also easy to believe that his warnings against becoming unwitting believers in 'The System' are also sincere ones, they land with a sour note. This charming man? It looks like these days it's more a case of bigmouth strikes again.
Read More
Featuring James Blake, Romy, Marika Hackman, yeule and more.