Live Review
Azealia Banks, Brixton Academy, London
19th September 2014
Banks is a balls-out troublemaker and she's happy to flaunt it.
As the three-year wait for her debut album continues, Azealia Banks has become as well known for her twitter beefs as she has for 2011 mega-hit '212'. Her performance in Brixton tonight however, surely puts to rest any speculation that she's all bark and no bite.
It's about three-quarters of the way through the show when the room is plunged into darkness, the only light is from the falling rain projected onto the back of the stage and Azealia's voice echoes over howling winds in a spoken word piece. When the lights come on again she is already centre stage, stood profile, wind-swept hair and shouting through a loudspeaker into her microphone to some serious heavy beats "I wanna be free!" Everyone goes crazy. It's a moment that pretty much sums up her entire performance; bold, surprising and utterly mesmerising, it screams, 'I'm here and I'm here to stay!'
Right from the start it's a homage to her theatre school that she's dazzlingly created on stage; backing dancers all in black are choreographed to perfection, confetti cannons shower the room and Azealia Banks' name is up in lights. Like any good starlet she waits until the crowd are properly hyped before sauntering out to crazy applause. Her entrance song is aptly the Prodigy's 'Firestarter'. Banks is a balls-out troublemaker and she's happy to flaunt it.
Fans tonight have clearly forgotten broken promises of her much overdue album - that, or they don't give a shit. There's a crazed carnival vibe in the air, scantily clad and brandishing glow sticks, the crowd are out for a party and Banks doesn't disappoint. She is dressed in what is for her a relatively subdued outfit. Head to toe in black she rocks an industrial crop-top dripping with leather body armour - she is defiantly the epitome of style and class.
Songs are short, punchy and plentiful. There's every kind of sound from grime to dancehall, house and cool Caribbean grooves but the vibe is always party and hard bass oozes through every track. It wouldn't be true Azealia Banks if she didn't mention her elusive LP but tonight she showcases not only tracks from her critically acclaimed mix-tape 'Fantasea' but also a few yet to be released treats.
"You may have all heard about 'Wallace' in social media," she explains. "It's a deep psychedelic story about a guy with a dog head" we're told. But once the bass drops, all her weird explanations seem unimportant. Banks flaunts her impressive range of vocal skills interchanging slick R&B slow grooves with her trademark quick-fire rap verses.
Centre of her own spotlight she sings a cappella before breaking into self-released single 'Heavy Metal and Reflective' and the room is filled with sirens, flashing lights and pounding industrial sounds. There is a moment of silence and like the queen of her own castle Banks looks out at the audience and grins widely before the beat drops for the final verse.
"Been to hell in back with the industry and my album" she tells us before donning an English accent "There's nothing on here we can play on the radio" she jokes around, impersonating her label bosses. "I'll let you be the judge of that," she smiles and introduces another new release, 'Chasing Time'.
It's a huge poppy number with moments of roaring gospel and is underpinned with a couple of rap verses. It's slick, befitting for a diva but it's all a little bit too Beyoncé, and that's just not Azealia's style.
It's her sharp tongue and fierce attitude that draws people to Azealia Banks and that has contributed to the success of '212'. It's this that everyone is calling out for now and almost Intuitively she moves seamlessly from 'Chasing Time' into singing a soulful intro to her biggest hit to date. The crowd goes nuts, the beat drops for '212' and everyone is dancing again.
Azealia Banks may be a social media gob-shite but it's on stage that she is at her best. Rude, grimey beats, fiery rap and a bit of bare-face cheek, tonight she has blown everyone away and has proven that she's way more than just a one hit wonder and actually, she's a star in the making.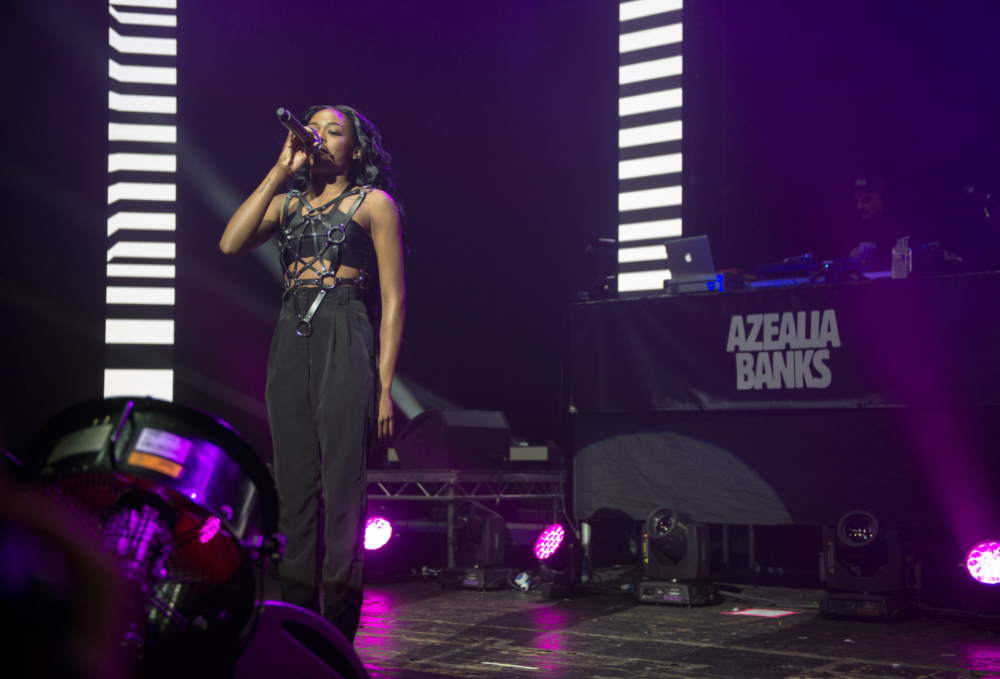 Photos: Nathan Barnes

Get your copy of the latest issue
Read More