Live Review
Chvrches, SSE Hydro, Glasgow
2nd April 2016
Tonight the trio truly hit home… several thousand times over.
"We are a band called Chvrches, and we haven't played Glasgow for a very long time…" Lauren Mayberry stands triumphant atop a tiny podium on a gigantic stage, in front of a rapturous, packed-out arena. Yep, Chvrches are filling arenas - and this victory is so much more than a matter of numbers. The synth champs last gigged in their home city in 2014, but a lot's changed since then.
It's a Saturday night, and it feels like a birthday party. Earlier in the evening, a confident, capable Shura tackled the gargantuan space head on, and Glasgow's favourite sad boys The Twilight Sad came out fighting with typically melancholic vigour, throwing down heavyweights like 'I Became A Prostitute' and 'Nil' to a swollen, roaring crowd.
Then the lights flicker, and Martin Doherty and Iain Cook emerge, taking their places on tech-heavy, Star-Trek-esque risers. Mayberry runs out to the brim of the stage, soaking up every inch of the view. Opening with 'Never Ending Circles' and flying straight into 'We Sink', Chvrches' thunderous choruses-upon-choruses have always packed some seriously cathartic weight, but tonight the trio truly hit home… several thousand times over.
"Raise your hand if you're related to Martin!" Mayberry laughs, pausing for a breathless shout-out and a quick wave to the band's extended family. Deservedly confident and obviously at ease, Chvrches transform this spaceship-sized spectacle into an intimate "home-front" gig; a word-perfect, emotional crowd responds to every track as if it's a Greatest Hits compilation, and an ecstatic run of 'Recover', 'Clearest Blue' and 'Leave A Trace' sees the band fall in, hard. By now even the highest balconies are upstanding, swaying arm in arm. 'The Mother We Share' closes out this long-awaited home town victory lap; a gargantuan production that still feels like a family affair.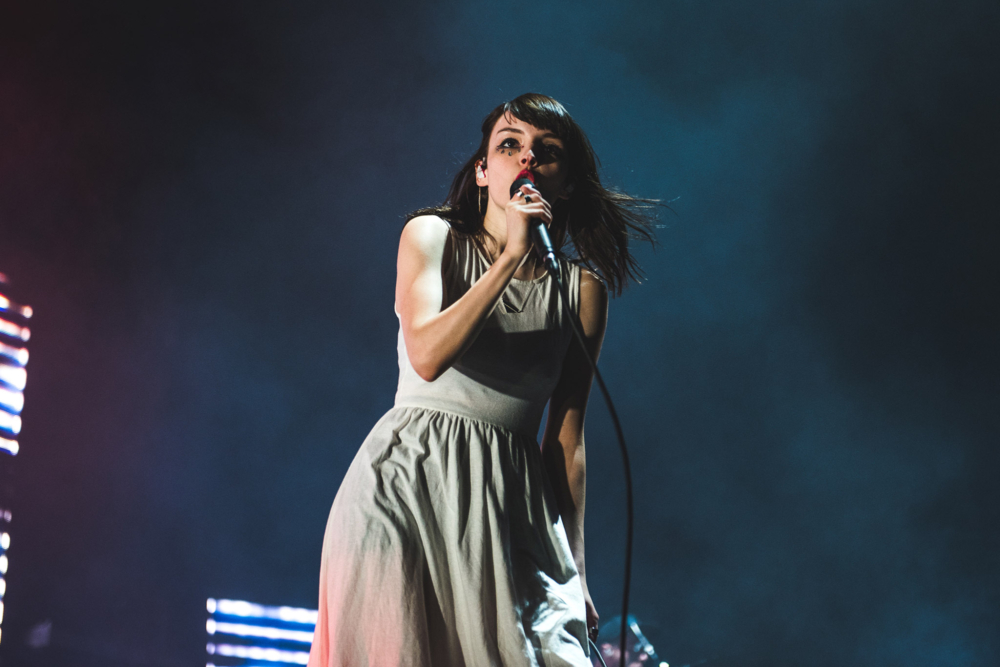 Photos: Ryan Johnston

Get your copy of the latest issue
Read More