Festivals David Byrne, Jarvis Cocker and Clockenflap's leftfield stars top a bill that's anything but staid
Sunflower Bean, Shame and Irvine Welsh (yep, that one) also delight in Hong Kong.
Now at the end of Euro festival season 2k18, and already in the midst of the first raft of announcements for next year, it's a regular if warranted grumble that most events are still playing it pretty safe in terms of their line-ups. Inevitably, there'll be a small clique of bands doing the headliner rounds (this year, the summer was dominated by Arctic Monkeys; next year, it looks set to be The Cure), while there are precious few shindigs that go rogue, do it well and live to tell the tale.
Europe, however, could do with taking some queues from Hong Kong's autumn weekender Clockenflap. Located in a huge concrete space sandwiched in between the harbour and the city's towering, skyscraper-laden banking district, the festival doesn't look like a hotbed for alternative arty types - it's more akin to unwittingly finding yourself at an HSBC party in the middle of Canary Wharf. But its line up is a lesson in how to play it slightly unexpected, but come up trumps.
Friday night kicks off with the spacious, Daughter-esque soft rock of Taiwan's Zooey Wonder on the Main Stage before New Yorkers Bodega take to the ridiculously-named Your Mum stage for an exemplary set of angular art-rock. With all five members stood in a line, their combination of driving, repetitive hooks, intelligent aggression (singer Ben Hozie) and uninhibited moves (co-frontperson Nikki Belfiglio) work in strange tandem; it helps that the likes of 'Gyrate' and 'I Am Not A Cinephile' are perfect idiosyncratic gems. By the time they re-appropriate The Smiths ("I was looking for a job and then I found a job on Craigslist") on 'Name Escape', the – let's face it, largely ex-pat – crowd are fully converted to their bookish strand of strangely danceable hits.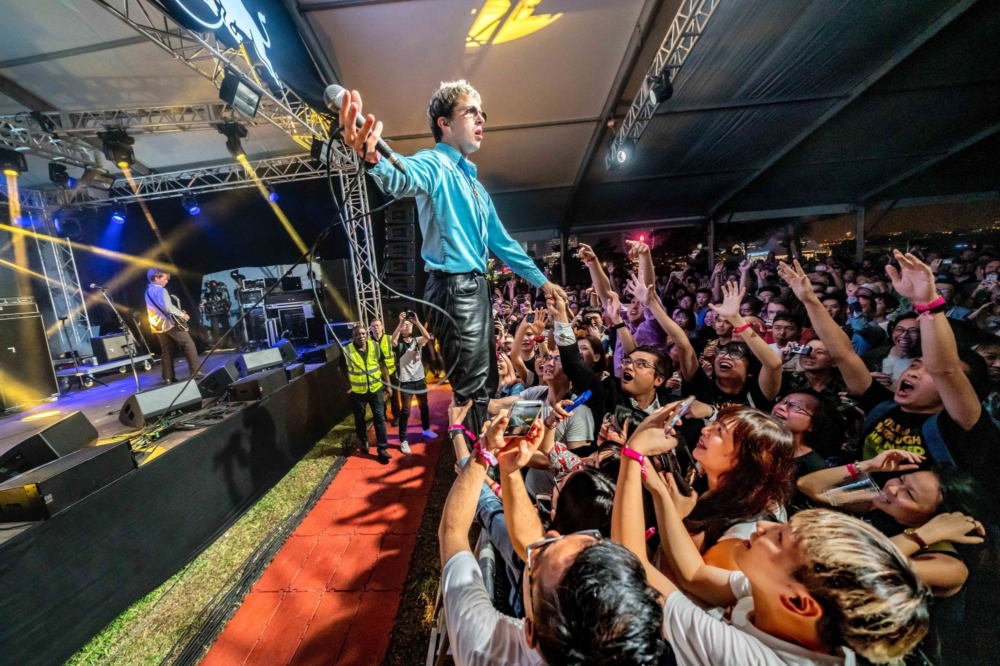 Cigarettes After Sex suit the twinkling lights and darkness, but largely pass by without much excitement. The same can't be said, of course, for Shame, who bring their festival season to a close with a couple of new tunes that point towards phase two. One, entitled 'Cowboy Supreme' and debuted today, suggests the quintet could be treading more complex ground second time around – replete with an off-kilter time signature, full on guitar solo from Sean Coyle-Smith and soaring climax, it could be their most scruff-of-the-neck giddy hit since 'One Rizla'. The rest of the set, meanwhile, is a sweaty, topless reminder of exactly why they've dominated 2018 so fully.

It's left to Interpol to close the evening, and though the NY legends' Main Stage crowd isn't massive, they're still an imposing proposition – their brooding slices of noir cutting sinister shapes against the corporate backdrop.
Saturday begins breezily with Alvvays, whose melodic melancholia eases ailing heads like a sonic balm, but it's Irvine Welsh – yep, he of Trainspotting authorship fame – whose unlikely DJ set really heals us. If there's a less cynical, more pure sight than the now-60-year-old Scot dad dancing to 'Another One Bites The Dust' in the middle of a tent shaped like a luminous pink acorn, we're yet to set it. Irvine doesn't give a shit about being cool, and that makes him the coolest of them all.
The second of tonight's holy trinity of 'older legends still being fucking awesome' comes in the shape of Jarvis Cocker, presenting his new show Jarv Is… Now fully into the third decade of his career, it would be so easy for the Pulp frontman – like so many of his Britpop peers – to have sunk into mediocrity, but tonight shows that Cocker's still peerless. Emerging with his back to the audience, looking at them through a hand-held mirror (his take on a selfie?), he proceeds to dish up the strange new sounds of his forthcoming second solo album replete with robotic chanting and musings on evolution. At several points he breaks into an attempt at speaking Cantonese; ahead of one song he descends into the crowd to ask the front row their personal fears ("the Chinese government!" replies one, slightly awkwardly…); it's all perfectly, inimitably Jarvis. "What is a Clockenflap?" he asks. "Is it frightening or is it friendly? Could you stroke it? Would it eat grapes and survive?" He's not got the answers, but as long as the be-suited genius is still up there questioning the norm, then that suits us fine.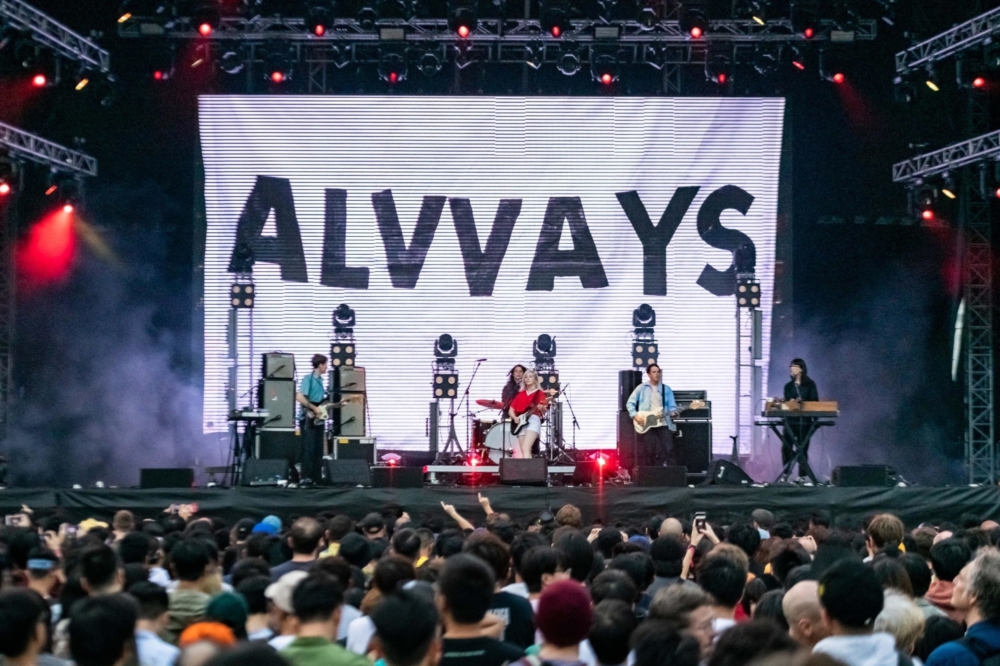 Hong Kong's own GDJYB take to Your Mum stage, their math rock stylings coming on like early Foals in their most tricksy of forms, but it's David Byrne who provides the evening's most jaw-droppingly joyous of thrills. Now mid-tour, the whispers of Byrne's show already edging towards iconic status have been manifold; with so much hype, the Talking Heads frontman has some mighty big shoes to fill. Instead, he and his band go barefoot. It's an apt metaphor for the singer's approach to the show as a whole. Where most established artists are content to dish out a standard retrospective, Byrne has developed something so far removed from the expected that it's more theatre than gig. With his band on wireless instruments, weaving and dancing in and out of a black box space bordered by shimmering curtains, the show completely changes the game on what a heritage set like this can be. The songs may have stood the test of time, but there's absolutely nothing regressive happening here; as they end with an encore of Janelle Monae's protest song 'Hell You Talmbout', there's no doubt that Byrne's is the most forward-thinking show we've seen in a long, long time.
Sunday finds Sunflower Bean on the form of their lives. If the trio have always pinched equally from ingredients coarse and sweet, then with new EP 'King of the Dudes' in tow, they're branching into singular territory that borrows from no-one. Tonight, Julia Cumming's voice is a weapon; throatily howling at one moment and serving up a lilting cover of Neil Young's 'Harvest Moon' the next, the sheer power that she wrings from every note is palpable. You can tell the band are invigorated right now and it's thrilling to watch. Standing on the side of stage throughout, you could even argue that the New Yorkers have something of an effect on pals Wolf Alice, who take to the stage next. Maybe it's because, as they declare with not invisible relief, it's their last festival of the year, or maybe it's because Julia's set the bar ludicrously high, but Ellie Rowsell is on roaring form tonight, stomping round the stage and screaming like she exorcising the whole country's demons in one.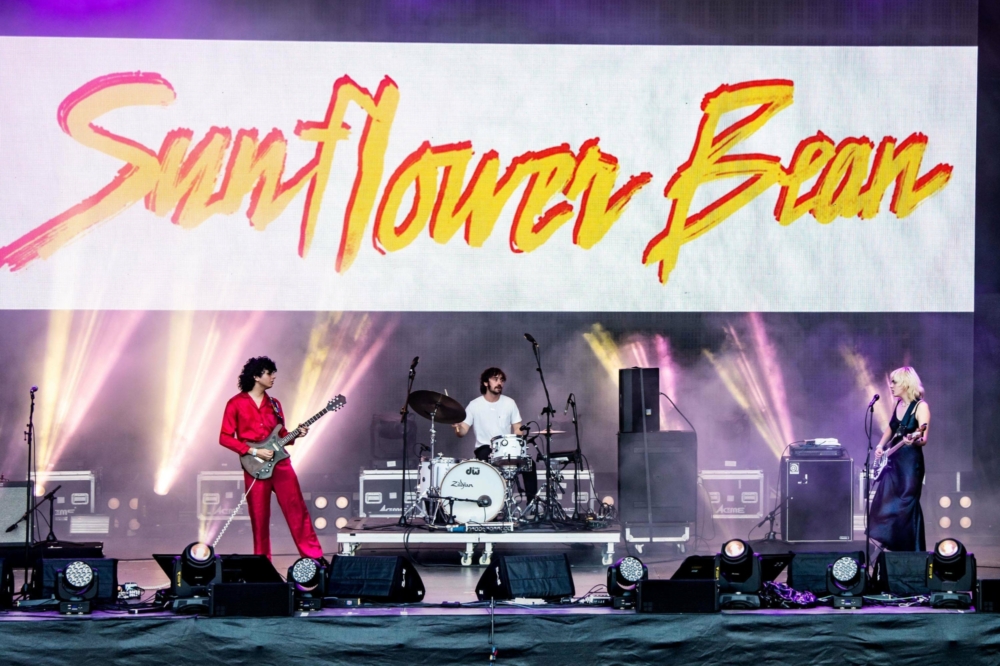 Over on the Main Stage, legendary Japanese musician Cornelius is an altogether stranger but utterly mesmerising proposition. Dressed in white lab coat-like suits like musical mad scientists, he and his group veer between hazy dream pop and eccentric, electronic madness. If there are a slew of modern bands (Tame Impala, MGMT, UMO) who could be cited as sonic reference points, let it be noted that Cornelius got there way, way before any of them.
The second stage finds The Vaccines dishing up tub-thumping newie 'All My Friends Are Falling In Love' and uniting the considerable crowd in a series of insatiable, rabble-rousing hits before it's left to Erykah Badu to close the Main Stage with a strange and beautiful set that pierces through the darkness in otherworldly fashion.
Pulling together a disparate but joyous bill, Clockenflap is a showcase for the masters of their own field.

Get your copy of the latest issue
Read More