Live Review
FIDLAR, The Forum, London
14th November 2015
The spirit is as frantic as the music, which burns through like wildfire.
"I'm a man of few words, so all I'm going to say is, this one goes out to Paris" states FIDLAR's Zac Carper before the band launch into a wall of blisteringly defiant, furious noise. It speaks a thousand words. If the senseless cowards who attacked Paris' Bataclan on Friday thought their actions could silence punk spirited rock 'n' roll – tonight proves them absolutely wrong.
Nashville's Bully, led by Alicia Bognanno, are the main support act. Tracks from June's debut 'Feels Like' translate brilliantly live; Bognanno's screams contrasting her ice cool stage presence. Hair covering her face, there's a unspoken confidence impossible to ignore. Tales of periods, abuse, relationships and general growing pains effortlessly interweave among scuzzy guitar work. The Cobain inspired 'Trash' is a force of nature, pummelling the concept of love into submission, but 'Milkman' shows a lighter sonic side, brilliantly unapologetic in its 90s alt-rock revivalism and forcing drummer Stewart Copeland into overdrive.
The line "I could be a milkman, or I could get up and be what I want to be", evokes Sheryl Crow with the devil on her side. It's also the perfect mirror for FIDLAR's death wish fuelled life affirmancy.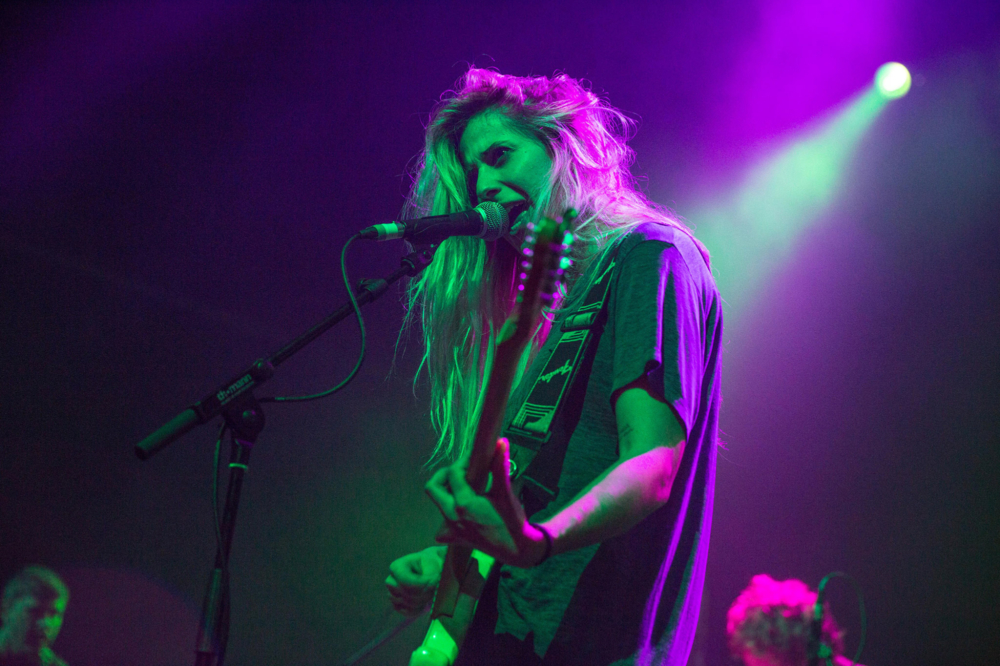 FIDLAR are the sound of reckless abandon and the words of its consequences. Tonight London's Saturday crowd are certainly ready for high, infected by the jaunty get-up-and-fight guitars on 'Stoked and Broke', willfully ignoring the morbid honesty in Carper's howled "I just wanna get really high / smoke weed until I die".
But this is exactly how the band want it to be. The FIDLAR experience on record offers reflection – Carper's struggles and demons well documented - live it's simply a wave of beautifully hedonistic destruction. A heady mix drawing on everything from pop-punk to surf rock, and shoegaze licks that might just make Billy Corgan smile. Maybe.
The result is the kind of gig that isn't supposed to exist in 2015. You can forget your mobile phone recording, it's impossible for anyone at pit level. Palpable with energy, people are too busy bouncing off each other and scrambling for some air above the breathless throng.
The spirit is as frantic as the music, which burns through like wildfire. Tracks from second album 'Too', released this summer, are particularly well received. '40oz on Repeat'¸ propelled by guitarist Elvis Kuehn and his brother Max on drums, is a sure fire anthem for the disaffected, calling for belligerent self-confidence even if "everybody's got somebody, everybody but me".
'West Coast' follows, perhaps their most accessible party song to date; bassist Brandon Schwartzel is crucial in keeping things sounding tight as Zac flies through at sonic speed. The line "got drunk and barfed on my shadow" still rings as one reveller throws up in a corner, catching my eye and smiling. Seconds later he's back up and jumping around to a cover of Weezer's 'Undone — The Sweater Song'. What else.
A fitting inspiration. Fuck it dog, life is a risk, I guess.
Photos: Emma Swann

Get your copy of the latest issue
£8
Read More