Live Review
Janelle Monáe, The Roundhouse, London
12th September 2018
It's all Janelle - and it's glorious.
So blessed it hardly seems fair, pop's most underrated overachiever serves not only face but looks, bars and moves, dishing up an entire blowout of sensory delights to a sold-out audience of willing captives at the circular North London venue.

For 90 or so minutes Janelle Monáe has the several thousand-strong crowd in her thrall. The roaring begins the moment the lights dim and the theme from 2001: A Space Odyssey booms through the speakers - a suitably dramatic start that nods at the performing arts space, as well as at her own flair for theatrics and Afrofuturism. Entering on a gurney draped like a morgue patient, while sterile visuals play in the background, the trolley is in fact nothing more than a decoy and Janelle appears at the top of a quasi-pyramidal white platform parked centre-stage at the climax of opener 'Dirty Computer'.

From then on, she and her onstage crew of supporting players take us on a thrilling ride through her wild and wonderful psyche, bolstered by giant video screens like a Pinterest board of the best life possible. It's a revelatory experience - less Cindi Mayweather, the pristine android alter-ago of albums past and more the real Janelle Monáe, sans pompadour and tuxedo; as flawless as ever, but with the pay-off of impassioned vulnerability added into the mix. And the result is a startling intimacy.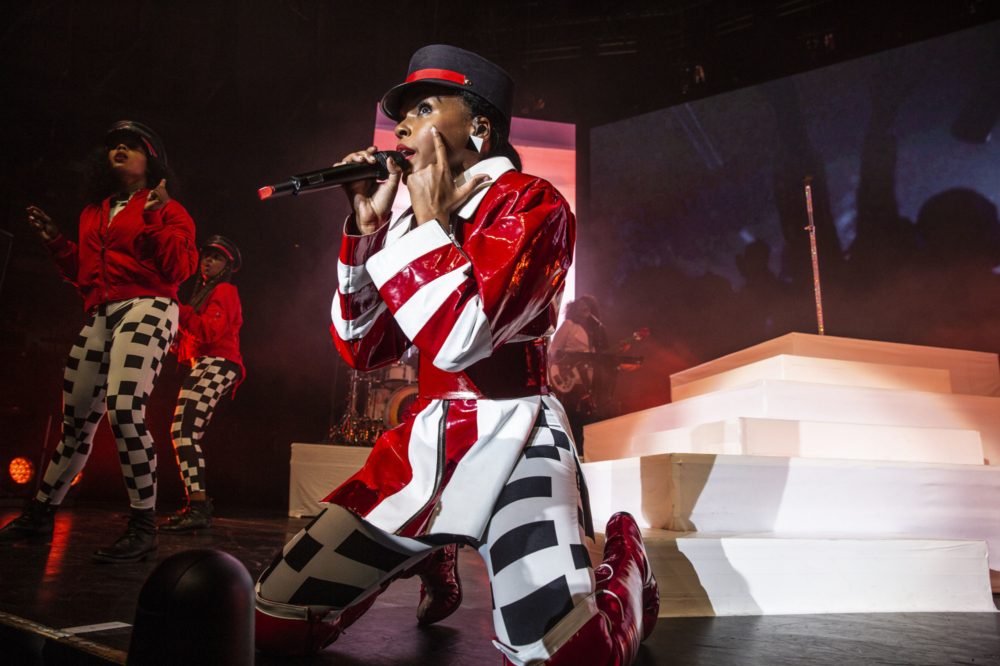 Holding court like a dashing androgynous queen, for most of the night she's surrounded by a troupe of über-talented dancers, who epitomise #blackgirlmagic and they along with her all-black backing band (barring one ethnically ambiguous guitarist), honestly look like they're having the time of their lives. In everything she does there's shades of Beyoncé, Erykah Badu, Madonna, Michael Jackson and, of course, late mentor Prince. But in the magical alchemy of originality that only comes via multiple influences, it's all Janelle - and it's glorious. A stunning live version of 'Electric Lady', all heavy bass, brassy soul-funk swagger and laid-back grooves, is pure celebration as it seems like everyone on stage is singing and swaying in sync. Janelle's vocal versatility and ability to adopt different personae means she literally sounds like different people on different songs, whether it's gentle and understated such as on the enticing 'Take A Byte', which beckons with a cool, breezy charm, or wrenching and lovely on 'Primetime' which serves as the signature ballad/love song moment, complete with a big 80s-tastic breakdown at the finish. It's on 'Django Jane' though, greeted with a huge clamour of recognition, that she really scales the peak of her talents. Lounging confidently on a red and gold throne and donning a kufi cap as in the video, looking like the benevolent and utterly stylish dictator we'd all love to be ruled by, Janelle goes in hard and outdoes your favourite rapper and their mother by spitting viciously clever bars on family, culture, black women and women in general: 'We gave you life, we gave you birth / We gave you God, we gave you earth / We fem the future, don't make it worse / You want the world? Well, what's it worth?'. It's a merciless flow that takes no prisoners.
Understandably, the setlist focuses on 'Dirty Computer', but records past aren't forgotten. A sprightly, bouncing rendition of 'Tightrope' sees her strut and glide across the stage with a gleeful grin, whilst she comes over all carefree partygirl on addictive R&B banger 'Yoga', half hollering, half singing "get off my areola". 2010's 'Cold War' is the biggest tonal shift however. With no dancers to flank her and dressed in a military greatcoat accented by gold epaulettes that lends an air of authority, she furiously emotes, her voice soaring over the frantic pop-rock melody as she sings straight from the heart about living in a world that pushes you to be at war with yourself - especially if that self is Othered. "Tonight we are celebrating self-love… embracing the things that make us unique, even if it makes others uncomfortable", she states with conviction at one point. Being black, female, working-class and, until recently, vague about her sexuality, Janelle Monáe sits at the intersection of several identities and there's numerous shoutouts to those on the margins; LGBTQIA people (with specific mention of the trans community), Black Lives Matter and women's rights. The night is definitely a joyous Afrocentric celebration of melanin and the divine feminine, but it's also an all-inclusive one: everyone's invited.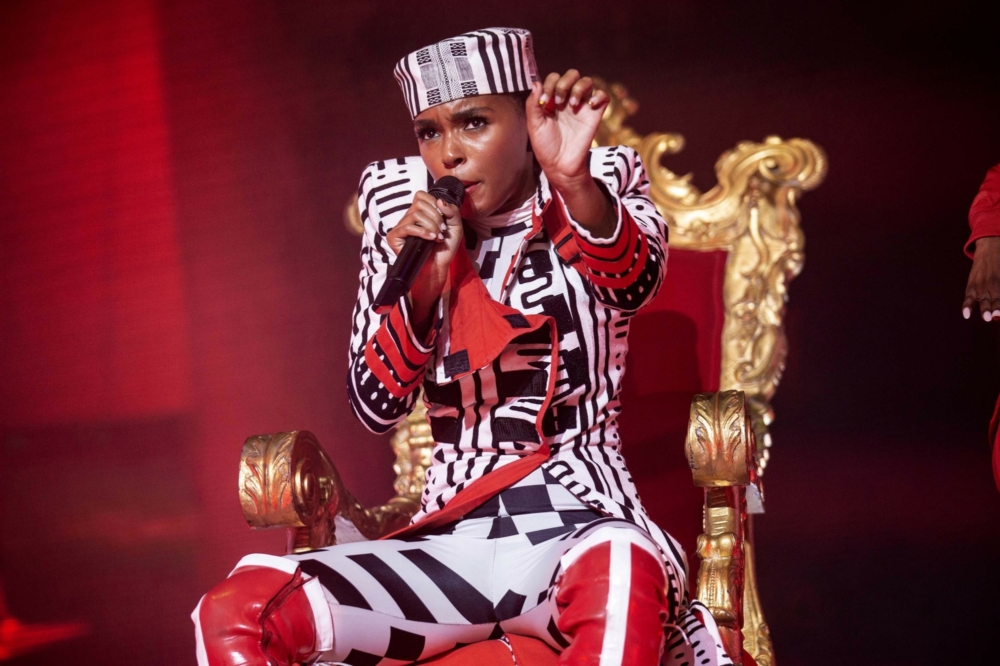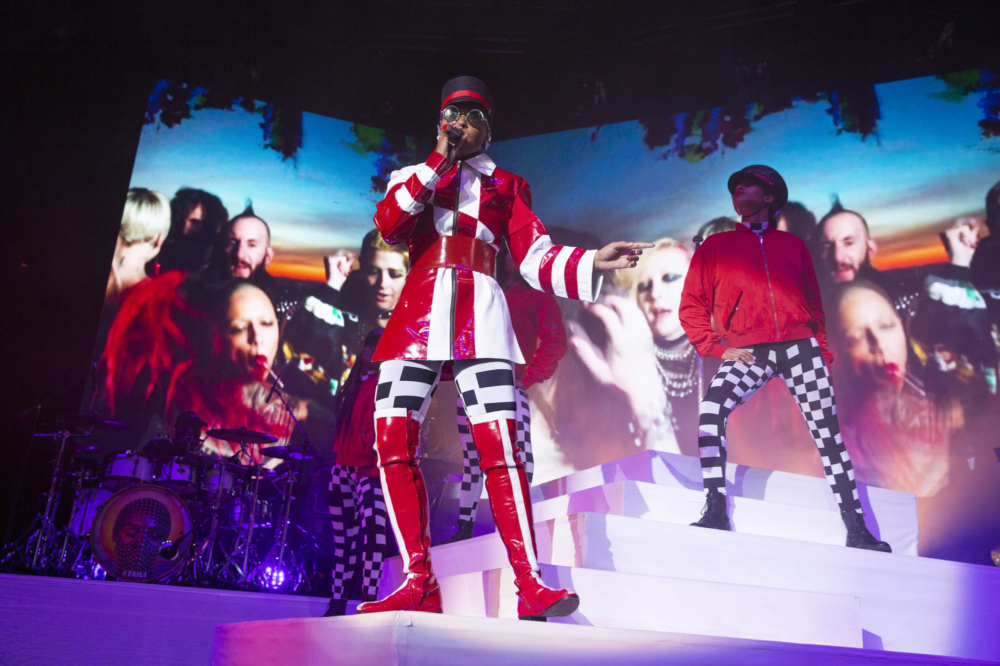 'Pynk' is a prime example of this. An unassuming female empowerment anthem of gently plinking synth that's so far beyond suggestive yet never veers into being sleazy, likely due to Janelle's delicate delivery ("pink where it's deepest inside… crazy / pink beyond forest and thighs") - it's nonetheless greeted by a wall of enthusiasm by everyone present: male, female or non-binary. Of course, some of that might be down to the humorous vision of seeing her wearing *those* ruffled labia trousers in real life, which are - what else? - several shades of pink.
If any one moment could be picked as a stand out however - and FYI, this is a fiendishly difficult task - then it has to be 'Make Me Feel'. Baiting us with an extended intro, Janelle shadow dances MJ-style at the top of the plinth for a good couple of minutes, decked out in a chainmail face veil and shiny silver trousers, bringing the crowd to fever pitch before getting into the fun and funky Prince-inspired number and moving in fluid synchronicity with her dancers. 'I Got The Juice' is also eye-opening, not only for bringing up a number of fans to dance with her on stage (including actress Michaela Cole) but also for issuing the challenge: "If you try to grab my pussy cat, this pussy grab you back (hey!)".
There's no question: Janelle Monáe is a superstar. Already more than 'just' a triple threat of singer, actress and model, she's is also a skilled dancer, producer and expert rapper. And just as importantly she's a proud black woman, defiant feminist, queer icon and ultimately, an iconoclast. She puts on a huge dirty pop spectacle that is so much bigger than the stage she finds herself on; we're witnessing the ascent of a stadium-ready rockstar who should be filling up arenas right now - and undoubtedly one day will.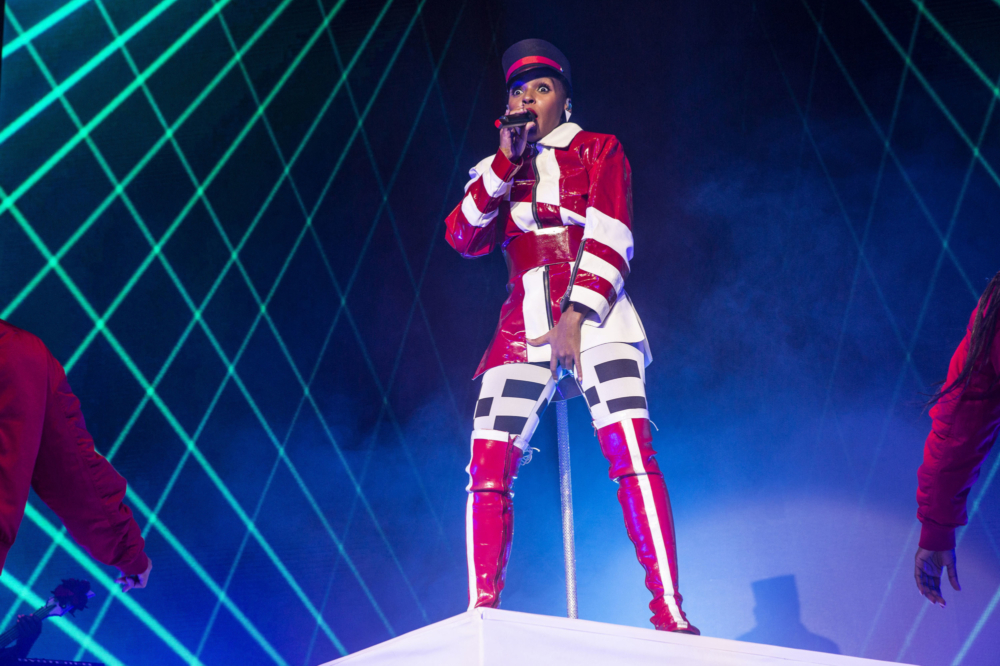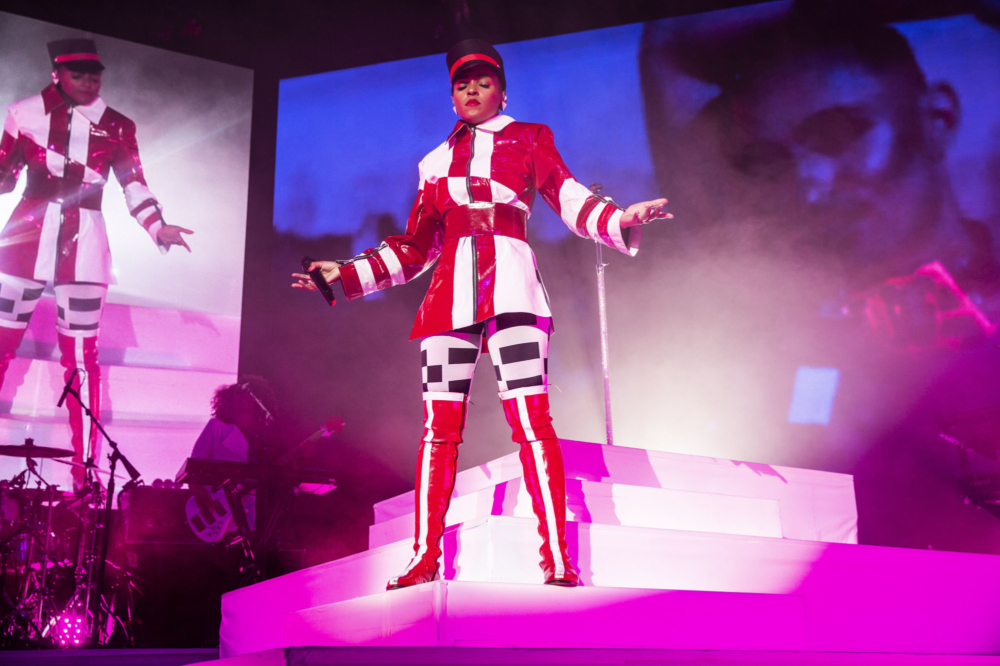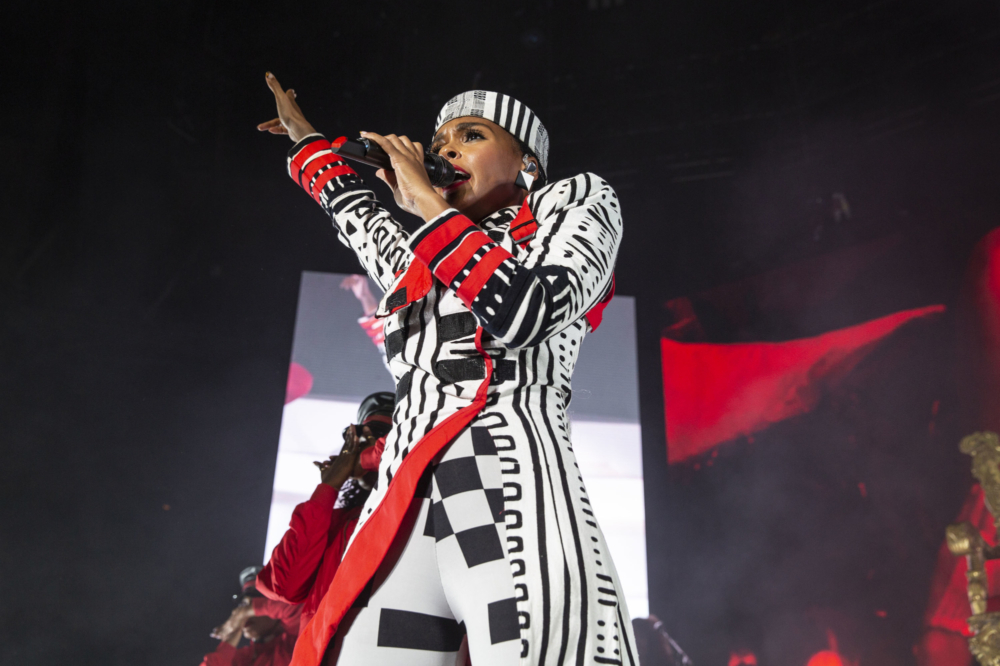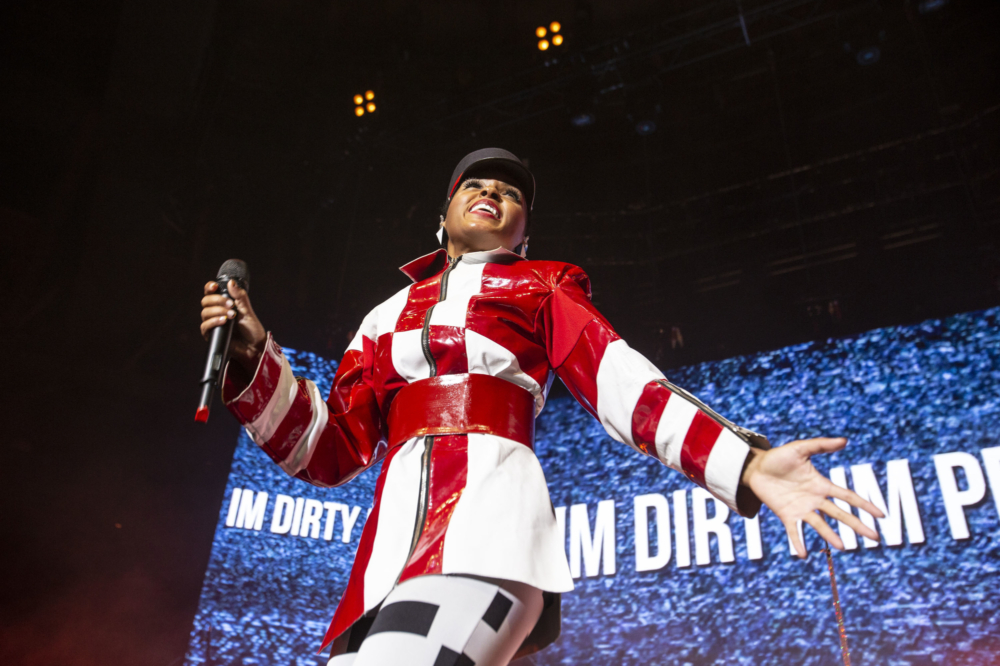 Get your copy of the latest issue
Read More