Live Review
Queens of the Stone Age, Wembley Arena, London
Proof as to why the band stand essentially peerless at the top of rock's summit
"Hey, you with the flashlight," hails Josh Homme to a particularly militant security guard down front who's spent the last 20 minutes trying to nix any audience frivolity with the point of a torch. "Remember you work for me tonight, and these people can do whatever the fuck they want." If it's a questionable decision to piss off any 6ft 4" desert dweller, then this particular specimen will turn you to dust with barely more than a withering word.
See, while the stuffy rules of Wembley – a place more used to hosting Dancing on Ice revues and the odd appearance from Peter Kay – might work for bands of less clout, for the monstrous force of Queens of the Stone Age, they need not apply. Here tonight for the first of two stop offs in the capital (they'll pop over to the O2 Arena on Tuesday), Homme and his band are unholy harbingers of noise, serving up 90 minutes of ecstatic, thundering glory that hits like a saucy sledgehammer at every turn.
Swaggering straight into the rumbling riffs of '…Like Clockwork' cut 'If I Had A Tail', they're flanked on all sides by light poles that contain the band in a Matrix-style forcefield. Of course, because Queens have always had more of a playful twinkle in their eyes than most, said poles also bend – creating a kind of wobbling neon assault course whenever frequently stumbled into. It's a visual example of why Josh and his henchmen have always had one up on the grizzled trad rockers. Lacing their gargantuan sonic assault with humour and sass, they're a rock band for people tired of the hoary old tropes normally associated with them - a collection of towering testosterone that somehow manages to swerve all the blokey unpleasantries that you've come to expect. It goes without saying that, at this particular moment in time, theirs is a more appealing standpoint than ever.
Bringing latest, Mark Ronson-produced LP 'Villains' to the UK for the first time (save a surprise pop-up appearance at Reading and Leeds), the band offer up the cream of its cuts but instead prioritise a comprehensive delve through their last two decades. An impressively un-self-indulgent decision, it makes for a relentless roar of a set that encapsulates why they stand essentially peerless at the top of rock's summit. The slow build intro of 'Villains' opener 'Feet Don't Fail Me' and single 'The Way You Used To Do' stand at the more hip-swinging end of their spectrum, ol' Ginger Elvis dancing his way around the stage like a king, while 'You Think I Ain't Worth A Dollar, But I Feel Like A Millionaire' and 'No One Knows' might be 15 years old now, but still surge out of the traps like untamed monsters.
The sultry prowl of 'Make It Wit Chu' finds Homme calling for everyone to buddy up and get on each others' shoulders – one final 'fuck you' to the already beaten security. "London, we got a thing," he purrs. "And I don't say that every night, because some people suck". Zing. 'Little Sister' fizzes with combustible energy, 'Sick, Sick Sick' is brilliantly disgusting – Troy van Leeuwin's discordant stabs of guitars dredged up from the gnarly depths of the gutter, while an encore of 'Feel Good Hit Of The Summer' is interspersed with lines from Amy Winehouse's 'Rehab'. "You don't understand me, I don't need to go to rehab you dumb asshole," deadpans Josh before kicking back into its narcotic-fuelled climax.

The finish with the apocalyptic tumult of 'A Song For The Dead', five horseman bringing the kind of ecstatic noise that few bands will ever match. "We're here to give you a night you'll never remember," joked Josh previously. The sentiment's on point, but every one of these 12,000 will be holding this one in the memory bank for a good long time to come.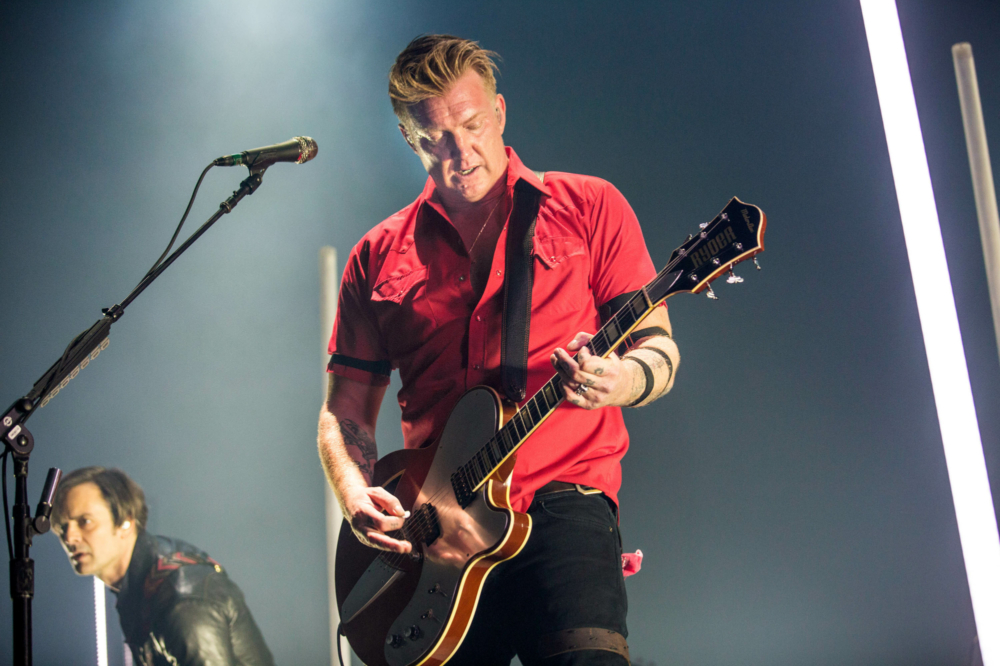 Get your copy of the latest issue
Read More