Festivals The Flaming Lips, Stormzy and At The Drive In win out at Pukkelpop 2017
The Belgian weekender is one that refuses to be pigeonholed.
Playing host to 60,000 really rather dignified revellers each day (European festivals have a tendency of making Reading & Leeds look like Lord of the Flies), Belgian shindig Pukkelpop is sizeable enough to provide a sonic route through no matter what your persuasion. On one end, you have a main stage hosting the likes of London Grammar, Clean Bandit and Bastille. At the other end of the spectrum, you've got Syrian party-starter Omar Souleyman, queer pioneer Mykki Blanco and hardcore aggressors Death Grips. And somewhere down the middle, you've got three days of diverse and fully on point programming that could challenge Primavera in the credibility stakes.
Thursday finds Vince Staples on blazing form, statically staring out the crowd before bounding and striding across the stage when the drop hits. Silhouetted against a bright orange screen, it's as simple a set up as his songs are massive – he even gifts us Gorillaz collab 'Ascension'. Following him, however, Stormzy is clearly today's star. Packing out the Dance Hall, he spends the set demanding the crowd's energy, at one point declaring "if you came with bad vibes then fuck off", and reaps it back in reams. It's a joyous set closed out with the massive one-two of 'Big For Your Boots' and 'Shut Up', and one that clearly means a lot to the South London MC. "I want to show you what happens when you put grime in a huge tent like this," he grins before inciting a final circle pit. It's one of those moments that feels bigger than one man – a victory for the unstoppable charge of grime as much as the rise of Stormzy himself.
Over on the Club stage, PJ Harvey is as competent as ever but, now in her second year touring 'The Hope Demolition Project', she could do with switching the ever-identical set up just a little. Conversely, Solange – decked out in all red and backed by a glowing red sun – is a relentlessly exciting proposition. With a voice that goes unmatched by anyone else on the line-up, she could sing the likes of 'Cranes In The Sky' sitting on the floor in a black box room and still be mesmerising. Of course she doesn't, instead powering through a whole heap of sassy choreography alongside her backing dancers and proving just how effortlessly classy a pop show can be. The evening ends in a jumble of sweat and limbs, with prolific garage rock hero Ty Segall sending crowd surfers flying over the barrier at a rate of knots and Mac DeMarco uniting a surprisingly small Club Stage crowd in a whiskey-swigging, Viceroy-puffing love in. Lovably goofy to the end, he still knocks out 'The Stars Are Calling My Name' and 'This Old Dog' with maximum charm.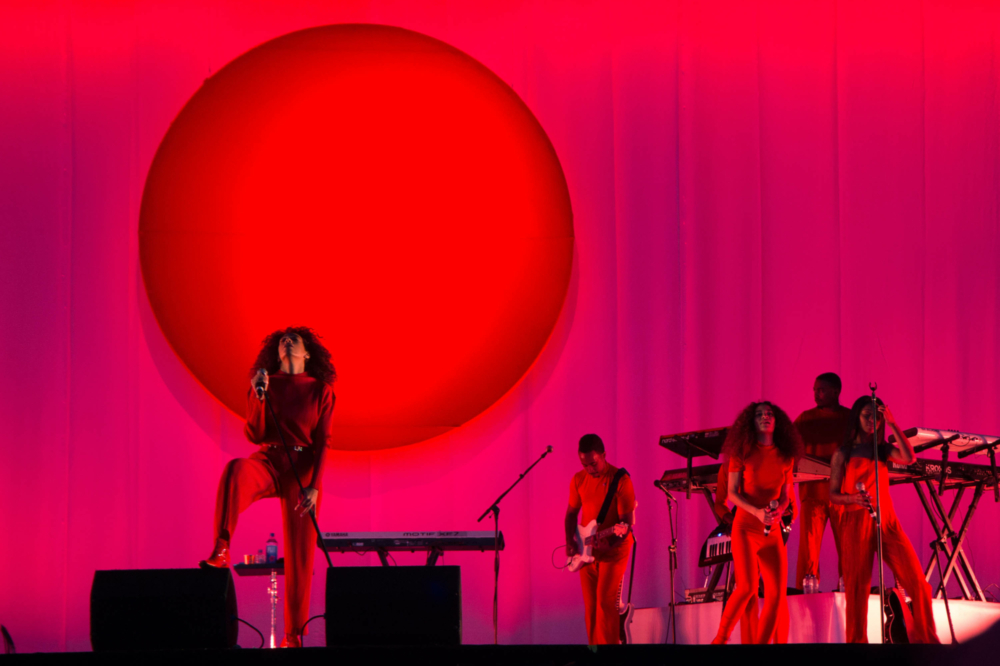 Continuing the American charge, Friday begins with a surprisingly playful turn from Parquet Courts. On a bad day, the Brooklyners have a knack of coming off more than slightly mardy, but today they're on form, rattling between the wonky repetitions of 'Dust' and 'One Man, No City' with nary a pause for breath. With this year's game-changing 'No Shape' in tow, Perfume Genius is unrecognisable from the timid figure, hiding behind a piano of yore. Body rolling and contorting around the stage, he's a bold and brilliant performer now, bringing a defiance to every move and holding the crowd in the palm of his hand.
As a brief storm sends the heavens opening, Flaming Lips offer the perfect antidote – a gloriously excessive glimpse into a fantasy world where the only thing that falls from the sky is pink confetti. More performance art than plain old gig, each track is performed with its own surreal prop – from Wayne Coyne riding through the crowd on a giant white unicorn, to a towering inflatable robot appropriately appearing for 'Yoshimi Battles The Pink Robots'. There's giant rainbows, silver balloons reading 'Fuck Yeah Pukkelpop', a pair of people dressed as massive eyeballs and a constant, celebratory stream of confetti and glitter. And when the singer appears in his customary zorbing ball to cover 'Space Oddity', Flaming Lips feel like the only band with big enough dreams to really do David Bowie justice.
Atlanta 'flower punks' Black Lips round off the night by toilet papering the whole of the Lift Stage, proving that, fifteen years in, they're no less raucous a proposition than they were as tearaway kids, and then we're into Day Three.
If Friday was filled with big, bold characters, then Saturday kicks off with a less flamboyant set of thrills. Car Seat Headrest's Will Toledo, suited up like he's on his way to a job interview, rattles through cuts from recent LP 'Teens of Denial' like the burgeoning college rock cult icon he's fast becoming. The euphoric jangle of 'Fill In The Blank' is already a classic. Meanwhile, over on the Lift Stage, Preoccupations are a relentlessly uncompromising affair. Between singer Matt Flegel's strangled vocal and a final closing 'Death', complete with a repeated one note motif that lasts for literally four minutes, there's little light among the post punk shade to be found.
With Mumford and Sons closing out the day with a set that's high on attendance (almost certainly the biggest crowd of the weekend), but low on any kind of real atmosphere, it's left to At The Drive In to provide a final burst of excitement. Scaling the speakers, riling up the crowd and at one point – bizarrely – removing his belt and pulling his trousers to his knees, Cedric Bixler is an unhinged and mesmerising frontman. It's a feral blast of a set, roaring through old favourites 'Sleepwalk Capsules' and 'One Armed Scissor' with an unstoppable force, and one that rounds off a weekend characterised by its refusal to be pigeonholed.

Get your copy of the latest issue
Read More