Live Review
The Maccabees say goodbye at unforgettably emotional final ever show
What a way to bow out.
If The Maccabees' decision to part ways at the Number One-selling, festival headlining peak of their powers seemed a difficult one to fathom when it was announced last August, then tonight proves there's an undeniable sense of dignity and respect for the superlative body of work they'd created involved in the choice.
While literally none of the 8,000-strong, sold out crowd gathered tonight (the third and final London date of the farewell tour) would have wished for these to be the circumstances in which they were congregating, you need only look at the dwindling stars of The Libertines, Franz Ferdinand or a thousand other bands before them to understand the strength in quitting at your most loved. And tonight, The Maccabees couldn't possibly be loved any more.
On a good day, with the right crowd, a main stage headliner might soak up a solid 15-second cheer at the end of their set. Tonight, The Maccabees get that after every single song. Everyone on stage and off understands the gravitas of the evening, and there's a heart-wrenchingly tangible feeling in the air not just of emotion, but of active good will. A communal thankfulness for a decade-long career that's meant so much to so many, and of roaring that back to the band with as much heart and love as possible.
Somehow holding it together far more coherently than a good portion of the crowd (there are more than a few red eyes to be seen all around), singer Orlando Weeks and guitarist Felix White take turns in introducing their back catalogue – a comprehensive run through from debut single 'X-Ray' to cuts from final LP 'Marks To Prove It' – with the kind of endearingly warm-hearted moments that have categorised them from the off. "We're in North London, which is wonderful. But in South London, we've got a leisure centre…" begins Orlando before launching into 'Latchmere', provoking the kind of fervent screams not usually reserved for a swimming pool. Later, Felix invites the crowd to boo the band for splitting to get it out of their systems, before insisting that the rest of the evening be as celebratory as possible. Before 'First Love', Orlando raises his hands aloft, making a heart shape as the entire crowd returns the gesture in tandem. It's all, to be honest, just a bit too much to handle.
Whether in the warm-spirited family values of earlier tracks 'Wall Of Arms' and 'Love You Better' or the epic catharsis of 'Spit It Out' and 'Feel To Follow', every track is, unsurprisingly, super-charged tonight. 'Silence' – helmed by guitarist Hugo White – is gut-wrenching; 'Precious Time' fizzes with so much electrical energy it feels in danger of snapping apart at any moment; 'Grew Up At Midnight"s soaring climax ("We were only kids then/ But that night we knew") feels like a poignant reflection of the whole last decade.
Fully going in for one last hurrah, they bring out old pals Mystery Jets and Jack Peñate for a rousing 'Something Like Happiness', while Jamie T lends his fretwork to 'Marks To Prove It'. They end, as they always do, with 'Pelican'. "This is your final chance so you've got to give it everything," shouts Felix, while Orlando, usually the softly-spoken, reluctant frontman, yells repeatedly for everyone to get on each others' shoulders. There's confetti. There's a deafening sing-a-long. And as the final notes play out and a solid five minutes of whoops and howls keep the band on stage hugging and bowing long after the music's stopped, a screen above the stage simply reads 'Thank You'. No honestly guys, thank you.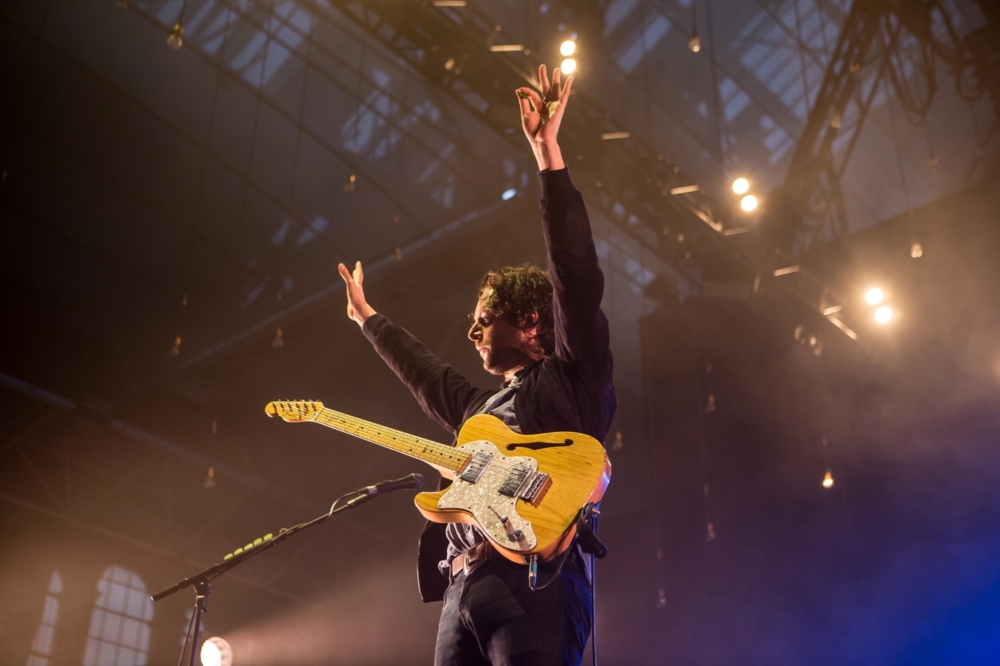 Get your copy of the latest issue
£20
Read More