Festivals Yung Baby Tate, CHAII and Sorry shine at SXSW 2021
Darkoo, Dead Pony, and Iceage also stand-out at this year's online festival.
Heading over to the virtual Afrofuture Sounds stage, Darkoo shows off just why she's one of the rising stars in the Afrobeat scene, with an (extremely) short but very sweet set. With a one song show, Darkoo swerves last year's viral R&B sizzler 'Gangsta' (which scored the number 1 spot on the Official Charts Afrobeats Tracks of 2020), and opts instead to show off latest single 'Pick Up'. A vibey track all about the very-unvibey feeling of getting ghosted, Darkoo flexes her melodic muscles in front of a school-picture-day-esque backing, looking effortlessly cool as her slick vocals emotionally detail "When I call you, no pick up" over the soaring backing. Like when Anne Hathaway pinched the Oscar for the 10 mins she was in Les Mis, the West London genre-blurring artist manages to create a standout performance with just one song, so if you were thinking of ghosting her IRL, it's probably time to think again.
Bilbao gang Belako kick things off at the Sounds from Spain showcase with a ramshackle trio of tracks that land between fellow Spaniards, Hinds and the lo-fi charm of Chastity Belt. Gathered around the drum kit in family portrait formation, what they give off in cutesiness they make up for with 'The Craft' - a nod to the witchy classic and its "light as a feather, stiff as a board" key scene. Elsewhere, London-dwelling, Murcia-born Alien Tango seem to have raided a box marked 'kooky' and decided everything fits. Singer Alberto Garcia is sporting a Phil Collins t-shirt; trippy visuals launch themselves at the screen; one song flits between literal "tra la la"s and wild screams. It's all just a bit grating and only lifts for their final song: a more linear psych number that tries a lot less hard.
In Montreal, meanwhile, Paul Jacobs offers up a set that's at least 100 times more chill than when his main band Pottery stormed SXSW back in 2019. Just the singer and a pal on keys, his lilting, laid back jams set him up in the world of Kevin Morby and the like. Though two tracks barely scratch the surface - the second, a more propulsive offering that nods to Arcade's Fire's 'Keep The Car Running' - there's a silver lining to the succinctness: full of the kind of hazy sunshine good vibes that would sound perfect on a dusty Texas porch, we're at least only left yearning for the festival IRL for a short burst.
Streaming from across the pond, Maliibu Miitch urges everyone watching from their computers to "turn up", which may have been a definite result of her fire rap verses under any other circumstances, but sound problems result in the rapper's set sounding quiet and rattly throughout. A shame, as Maliibu commands the room she's in, opening the set with last year's 'Let's Be Honest' before her breakthrough bop 'Give Her Some Money' manages to still shine despite the shitty sound.
No sound problems hinder headliner Yung Baby Tate however, who performs a show-stopping set, that sees her delivering hit after hit surrounded by a set that looks part 90s music video and part high-tech TV performance. "My name is Yung Baby Tate, but you already know who I am," she smirks, diving into bangers including viral smash 'I Am', 'Bounce' and 'Rainbow Cadillac', with the very apt and true lyrics of "If it wasn't for Corona I'd pack this club". Bossing it throughout, her stage presence keeps you hooked from start to finish, especially when a transition from 'Baecation' into the delicate 'Let It Rain' allows her to show off her incredible vocals as she covers a snippet of SWV's 'Rain On Me'. Ending the set with a brand new track called 'Me First' that is set to feature on her upcoming 'After The Rain' deluxe EP, the bop is all about self-love and self-acceptance, and perfectly seals the deal that Yung Baby Tate is one to watch.
Over to down under, and at Sounds Australia's first showcase Baker Boy brings what is almost certainly DIY's first didgeridoo of the season to the party. Paying tribute to the indigenous people of the land and performing in the middle of a scenic corn field, his glass-half-full brand of hip hop ("And the darkest days won't last forever/ Even brighter days come sooner or later" goes 'In Control') is an injection of positivity - with a didgeridoo! Sydney's The Lazy Eyes bring everyone back indoors with a living room set of Beatles-y psych that posits them as King Gizzard for hippies; full of rollercoaster dynamics, they fit a mini odyssey into 12 minutes. Hachiku's guitarist, meanwhile, must have said something naughty as they've been banished inside to riff from behind a window. But even so, the likes of recent single 'I'll Probably Be Asleep' still land strongly, that track's nocturnal Warpaint vibe translating well even to a reasonably bright Aussie afternoon.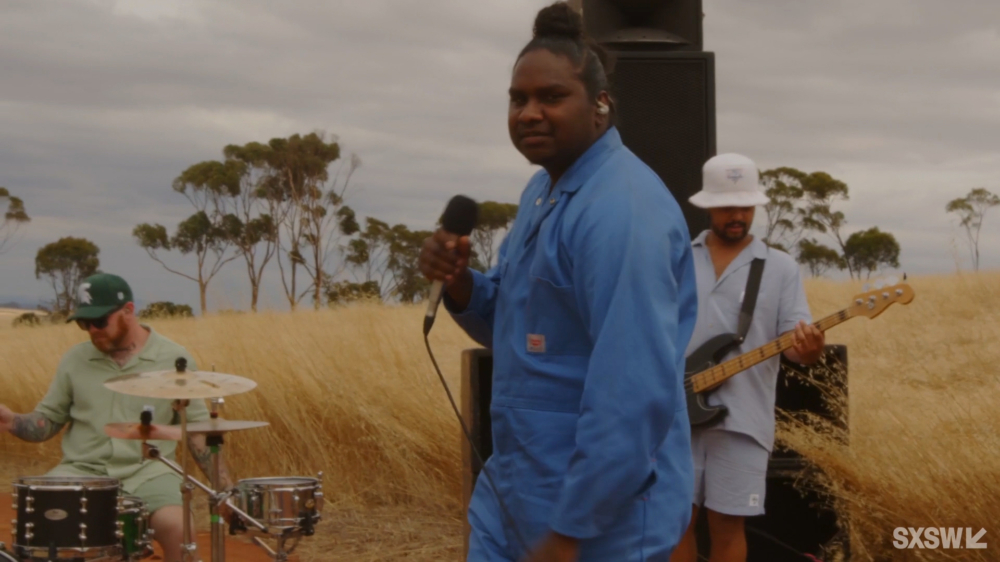 Having already (pre-pandemic at least) found themselves on a slew of new music festival bills, it's little surprise to discover Dundalk quintet Just Mustard as one of the stand out acts from Music From Ireland's showcase. There's something bewitching about their brooding, strobe-tinged set, even if it is only two tracks long. A final highlight comes from Dublin's Pillow Queens, who's fulfilling Americana-tinged tracks - again, just two, which feels a bit of a shame - manage to feel suitably epic, even via a laptop screen.
Across this year's edition of SXSW, there's been a slew of different showcase styles; but none seem quite as wonderful as that of The Close Encounters Club. A star filter-fied version of what Star Wars' Mos Eisley Cantina might look like if its house band was Goat Girl, it feels like the perfect otherworldly set up for an event such as this. It also helps that its line-up is brilliant too. Babeheaven's laid-back groove helps to feed the soul, while Sorry's full-length feature of an appearance shows off exactly what makes the grotty London band so enticing. Melding together sleazy riffs and bursts of saxophone to produce a style so enigmatic yet so satisfying, this is a festival highlight, no questions asked.
It's an awful shame that Focus Wales have presumably forked out a decent sum to put their artists in an, in theory, impressively large venue; the intentions are all there but, without any bodies to fill the room, it leaves Adwaith sounding frustratingly thin, the fuzzy bass line of 'Lan Y Môr' barely causing a dent rather than kicking the door down as it should. Buzzard Buzzard Buzzard, too, don't sound half as glorious as we know they can be, but though the sound exposes every crack in Tom Rees' vocals, the curly-haired frontman has enough charisma to win out. "I'm going to take a short trip over there, let me catch my breath," he tells the camera before walking the five paces to his keyboard; the Steely Dan warmth of new track 'New Age Millennial Magic' ensues - a nostalgic charmer that will doubtless delight in the right surrounds.
If you had any doubts as to where pub rockers The Chats (they of 'Smoko' fame) were from, then their showcase seems designed to be the most Australian thing you've ever seen. Playing in a back garden, they're joined by a mate dressed in a koala outfit sipping a beer, a crocodile that bursts out of their drum kit and the most Aussie BBQ vibes you could fathom. Carrying on countrymen Amyl and the Sniffers' penchant for short, sharp punk manifestos and dodgy haircuts, they bash through two tracks and are out within five minutes. Bonza. It's a wild change in pace to Melbourne's Kee-Ahn, who gives us 'Reckless' and 'Better Things' - the latter a track about moving to the city that'll have Lianne la Havas fans eating out the palm of her hand. But what she lacks in boozy hedonism, the singer makes up for in a Radio 2 brand of class.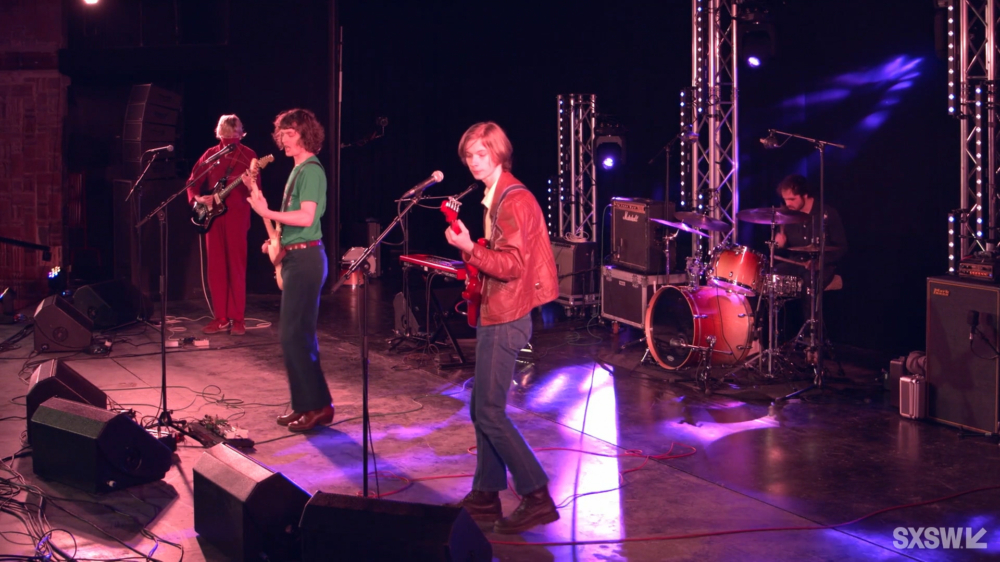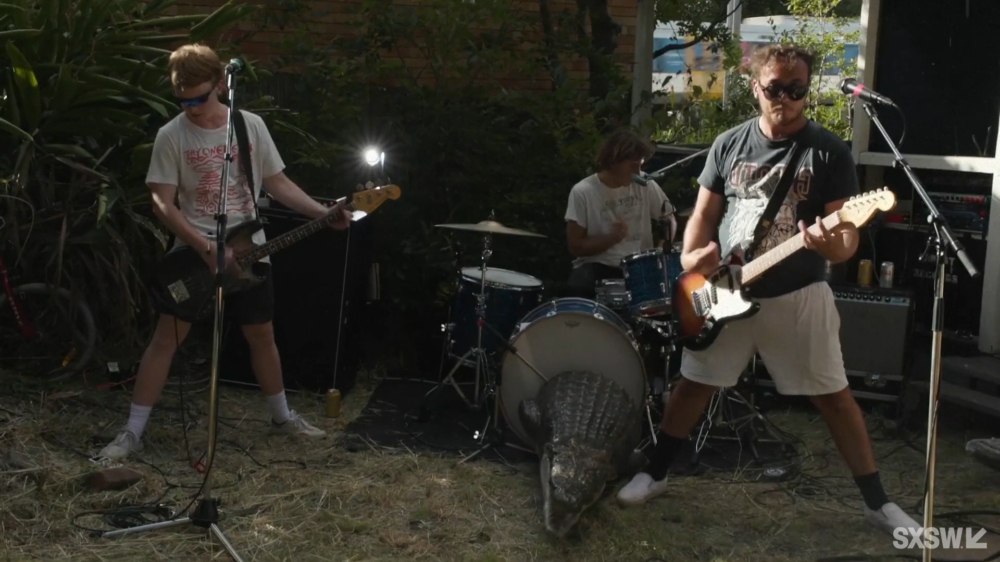 Special effects are as much a part of Music Finland's showcase as the artists themselves; first an angry-sounding man with an accordion sets forth into a dark forest, then EDM nestles in the flowers, and finally pop firebrand Alma is… in front of some giant welders? Picture an early '00s computer game, the effects not quite uncanny valley. Alma's on top of a city skyscraper, sparks occasionally flying behind her, and while the singer's belting out 'Bad News Baby' in front of her mic stand, she's without band. And before that, she's trapped in what looks like the back of a lorry - but turns out to be an industrial lift - without her mic stand - or even a mic - for 'LA Money'. Alma is a decent pop star, the graphics were interesting if nothing else, but the whole performance, nestled among both high-budget TV style efforts and vibey rehearsal room records, just seems a little odd.
Transporting us, quite literally, into the middle of their living room, South Korea's Say Sue Me offer up a dose of 90s-indebted slacker rock which is entirely welcome this Friday evening. Performing as part of the Damnably Records showcase, their scuzzy but infectious tracks are a delight to behold, even when they're not backed by the Texan sunshine. Followed by Indonesian trio Grrrl Gang, the volume gets turned up another notch; their attitude-packed punk tracks fizz with an in-your-face energy.
Formerly known as Crystal, Glasgow's Dead Pony seem to have developed a new ballsy confidence with their new moniker. Striding through Wide Days' showcase, singer Anna Shields makes for a commanding presence - a strong combination of sweet and ballsy - while the manic laughter and weighty riffs of 'Sex Rich' hint that the band have likely studied a few Wolf Alice tracks in their time.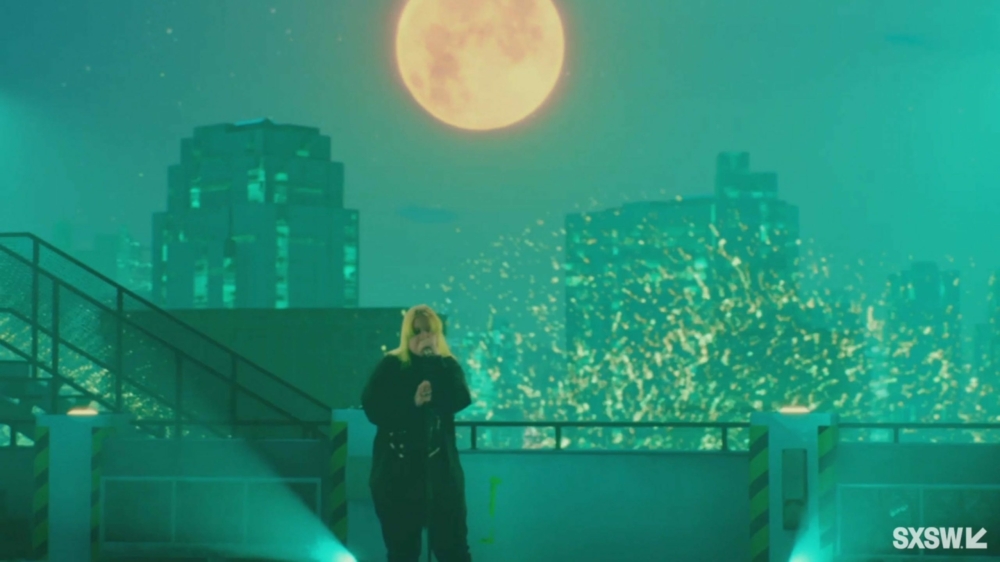 The Northern Expo showcase is as much about showing off the northernmost region of Norway as the music itself, so as well as I See Rivers showcasing their sweet folky sound inside Tromsø's cable car while it makes its ascent, we're treated to plenty of equally soothing shots of the snowy landscape that surrounds them: think an extended Eurovision intro clip. Then, once at the snowy pinnacle, we meet noisier proposition - and the most warmly wrapped-up rock band to exist, possibly ever - Heave Blood & Die (though think more soaring post-hardcore than the thrashiness the name might conjure up).
Across their career so far, Iceage have become renowned for their intense brand of post-punk and, during their return performance as part of this year's SXSW - they last played the festival IRL in 2015 - we truthfully expected nothing less. Unsurprisingly, when it comes to intensity they don't disappoint; performing in mostly shadow, their broody sonics come punctuated by fierce guitars and eardrum-bursting feedback. Pretty much business as usual for the Danes, then.
Repping a strong bucket hat/ kimono combo, Persian-Kiwi rapper CHAII is a magnetic blur of sass, body popping and beats that could happily start a pit as well as a party. Slipping easily between English and Farsi, dropping bass lines that'll make your laptop vibrate, and generally exuding the kind of unfuckwithable confidence that you imagine Ashnikko could get on board with, she's a whirlwind of razor sharp delivery, big, immediate tunes and cheeky charm. A real find.

Get your copy of the latest issue