Album Review
Peace - Happy People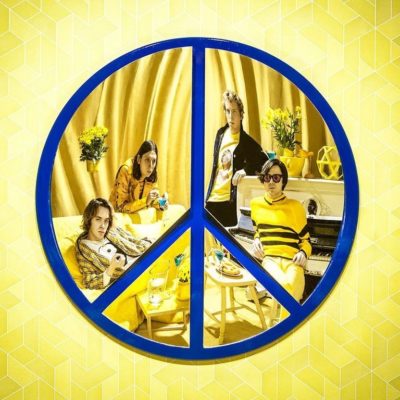 A record chock-full of invention, a pursuit of the new and - most importantly - gigantic songs.
Label: Columbia
Released: 9th February 2015
Leaders of 'Gen Strange', an age where oddities are embraced quicker than a charming smile, on their second album Peace have morphed from giants-in-the-making to curious customers. There's no doubting that 'Happy People' has every means of turning these festival staples into a far bigger deal, but in the same regard, we're also witnessing a transformation. Harrison Koisser's faux fur coats are getting dodgier, and with that, the songs he's fronting are inhabiting their own, unorthodox space.
That's not to say this record isn't built on hooks - big, bellowing monsters, to be exact - but without replacing 'In Love''s instant crush, Peace have managed to make 'weird' something to aspire to. Together, the four-piece dive headfirst into a world run by Bitcoins and creepy characters. Koisser sings about stolen shoes, wanting to have magnificent muscles, the "feral youth and laser guns." In between records, the guy's clearly expanded his mind in one way or another, and he's close to approaching full on "everyone's on bugle" mode at times. But that's a plus - Peace were destined to be different.
It's easy to get lost in the sheer freakshow charm of 'Happy People' without even getting to the biggest strength: The great, galloping choruses that go some way to replicating highlights from Peace's debut. There's no obvious singalong like 'California Daze' - 'Under The Moon' comes close, drifting into swansong territory - with 'World Pleasure' and 'Someday' balancing anthem-factor up against something stranger. Those '90s nods of old are given a recharge, but a song like 'Money''s present-day frustration sounds affirmatively of its time, despite bordering on ridiculous.
Truth of the matter is, Peace give the impression of a band who've been through the ringer. Like any group touring non-stop and becoming poster boys in a flash, at the very least something's gone to their heads, even if 'Happy People' isn't one giant ego wrestle. But despite the evident WTF factor, this remains a record chock-full of invention, a pursuit of the new and - most importantly - gigantic songs.

Get your copy of the latest issue
More like this