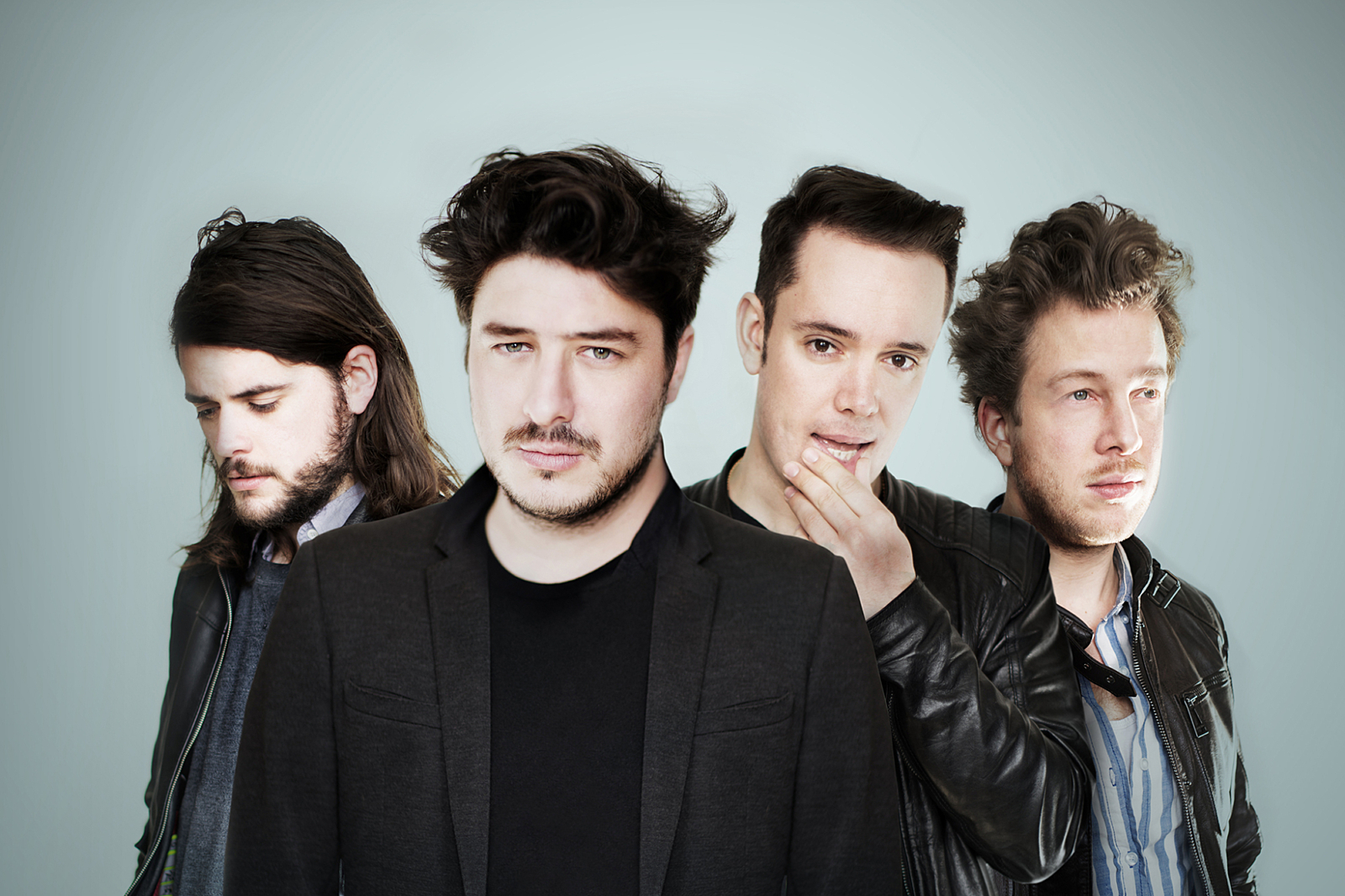 Mumford & Sons: "Fuck the banjo"
After they (kind of) split, Mumford & Sons returned by ditching their trademark. It's out with the folk instruments, in with the electrified 'Wilder Mind'.
If Mumford & Sons ever wanted to prove a point - that they're new people, banjo-ditching progressives with a different perspective - this was it: At separate times in the space of an hour, all four turn up to their South London rehearsal space on motorbikes. Revving through an industrial courtyard and parking up, they reminisce about "last night's ride", which parts of the capital they explored, and where they're going next. Is this a multi-million selling folk sensation, or Hells Angels with good connections? A lot's changed in the group's last couple of years, but this might be a stretch too far.
They're more rugged than before. Gone are the waistcoats, tucked-in shirts and dubious chinos. But what else is new? Swiftly after breaking through with 2009 debut 'Sigh No More', the band became poster-boys for vocal hate. Their traditional, sentimental first sound was - and still is - the antithesis of cool. Only this time, with third album 'Wilder Mind', they're putting their staples to one side. The banjo's been locked away somewhere (perhaps in a safe, sitting somewhere in the bottom of the ocean, never to be recovered). They've ditched the double bass, too. This third LP isn't exactly fuelled by raging guitar solos and bold synth parts, but it's significantly different. With early sessions taking place at Aaron Dessner's Brooklyn basement, this is no surprise, but big chunks of the record sound like The National. The customary Mumford image - one of country barn brodowns, line-dancing and sweet, sweet music - has disappeared altogether. But how much of this is a misconception, and where has everything gone?
Judging by the immediate YouTube comments to brooding lead single 'Believe', Mumford & Sons' love / hate split isn't under any threat. "Where are the deep lyrics?", asks one commenter. "This song needs more cowbell," claims another. "What's Winston supposed to do now?" is probably the best reaction. It's a good question. Designated banjo-bearer Winston Marshall is also the most likely out of the four to break cover and say something either tongue-in-cheek or brutally honest. For years, he's been saying "fuck the banjo" at every opportunity. Whether he was taking the piss or making a point, his wish has come true. He starts justifying the change by saying he "grew up playing in rock bands", so it's "kind of back to our roots". But he's interrupted by Ted Dwane (former double-bass straddler), who bursts out laughing. Even the band themselves find this transformation at least a little bit funny.
"When we started playing folk instruments, we didn't have a fucking clue what we were doing," says Marshall, trying to back up his first point. Jerry Douglas (a famous dobro player) once told Winston he was a talent at banjo because "I didn't have a fucking idea what I was doing." He was winging it. "It's harder to blag it in rock, because there's so many rock bands," he admits.
"I stand by what I said, but it's tiring slagging something off the whole time," he says, giving a slight nod to the hordes of Mumford haters, willing this third album to go tits up. "For some reason, I think banjo might win. It's putting up a fight…"
"
For some reason, I think banjos might win this fight.
— Winston Marshall
It's Winston who's most willing to acknowledge the big shift. This is the first time that any of the group have actually spoken about 'Wilder Mind' since finishing it. And in between live rehearsals for a tour that looks likely to last for years, every member has a different perspective. Marcus is the most averse to meeting change head-on. "People who haven't seen us live or haven't heard the full albums - which is the majority of people who have a view on Mumford & Sons - will associate the banjo with every song," he says. "We don't feel like it's any kind of betrayal to the acoustic instruments we were playing. It's more a continuation of the other stuff that we were doing."

Winston claims the group were "a bit fed up" after touring the first two albums. "Not so much with those instruments, but we toured so hard with a very small repertoire. We've been playing for seven years. It was a reaction against that."

Ted backs up the band's frontman, saying: "There's no sound on 'Wilder Mind' that you wouldn't have heard somewhere on a Mumford & Sons record before," and he calls the idea of there being some kind of dramatic transformation "a little exaggerated."

"We wanted to stay unique," begins Winston. "That uniqueness of being how shit we are! We're still shit."

But there's no use in fooling around. 'Wilder Mind' is led by electrics. It's a record that comes to life at night. 'Tompkins Square Park' is just as romantic and doe-eyed as previous material, but it's delivered with an amped-up tension. 'The Wolf' is most significant, placing this record way outside of where the other albums operate. Technically, the two years separating 'Babel''s tour and their new LP count as the first break Mumford & Sons have ever had. It was dubbed an "indefinite hiatus", which complicates matters, but it was also the first step back from a whirlwind five years that took this hyped-up folk group into the stratosphere. "We could have stuck to what we knew. It was going down well," claims Ben Lovett, and he's right - by ticking the same boxes as their first two albums, they could've secured another few years in stadiums. Instead, they took the opposite route. "I think we got a little addicted to the road," says Ben. "It got to the point where there was an expectation for a record. To tour more, we had to put another out."

As the demand reached new levels and the tours trundled on, in stepped a sense of burnout. In June 2013, they cancelled a Bonnaroo appearance and nearly did the same for their Glastonbury headline slot, when Ted Dwane underwent emergency surgery for a blood clot. He grew up near Worthy Farm. "Me and my mate used to drink cider under the main stage, when we were like sixteen… Glastonbury was always going to be immensely poignant. By not dying, the poignancy was magnified!" he jokes. Ted is most aware that things came to a head around the end of 'Babel''s tour. "You occasionally look down and realise how far you've come. The whole scale of the operation has become so big, that you do feel a bit lost in it - carried along with this huge juggernaut," he pauses. "So yeah, it's a bit scary sometimes. It's a general feeling of anxiety…"

Winston pipes up. "That's not a good sign. If you're feeling anxious, you shouldn't be doing this."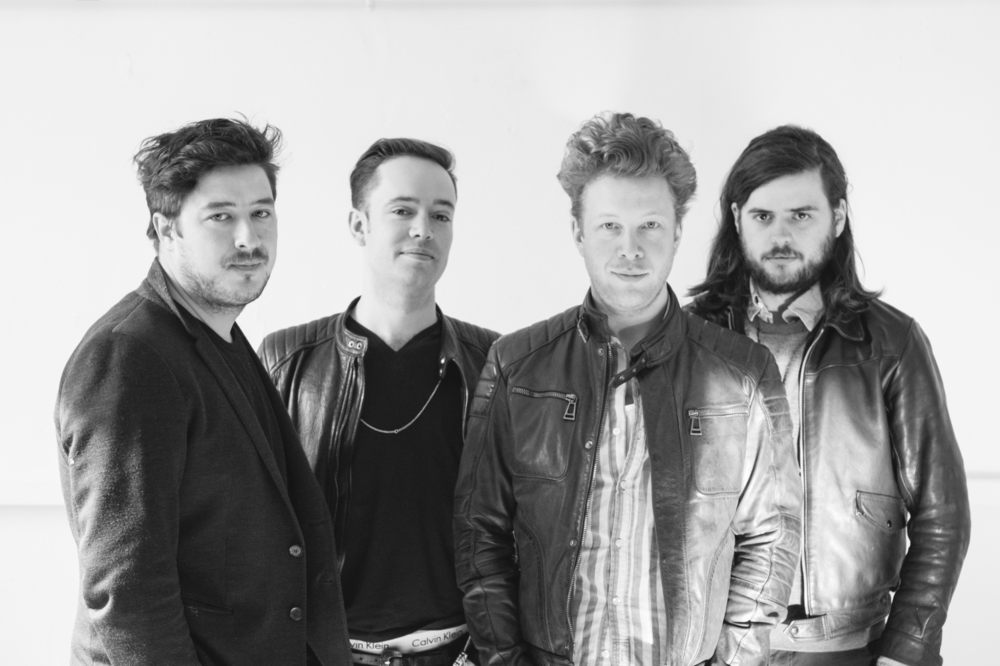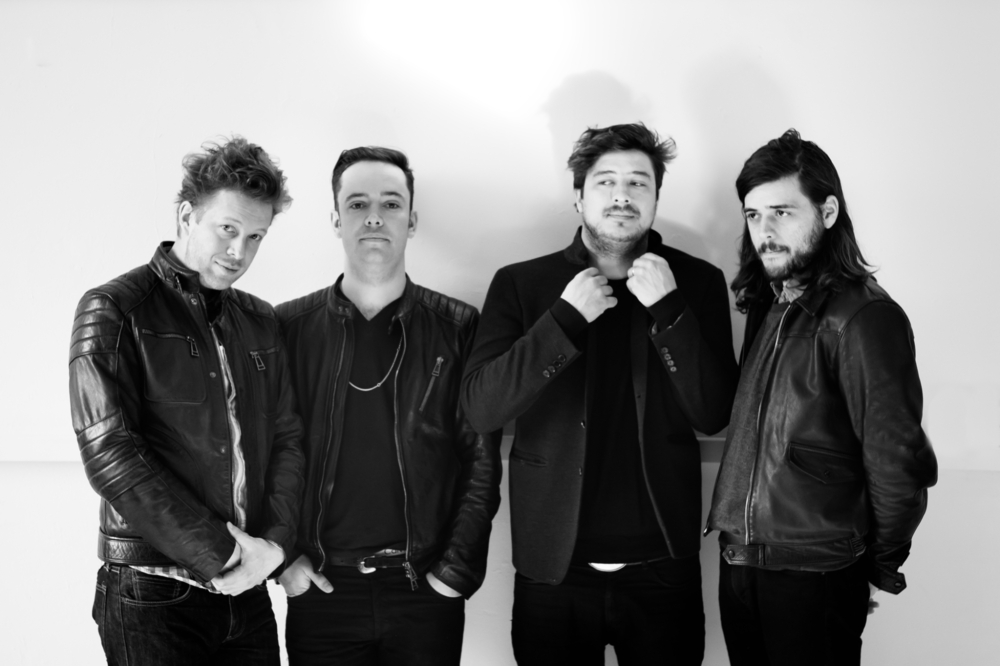 "
We genuinely gave ourselves the choice - do we wanna do this?
— Marcus Mumford
Mumford & Sons asked that very question, back in 2013. Should they carry on? When announcing their "hiatus", 90% of music fans with a Twitter account publicly celebrated the news. "I think a lot of people are upset to find out that we've not broken up," jokes Winston. Part of this declaration, they say, was to give themselves as much space as possible, to get people off their backs. "We never had a time when we didn't have a gig booked ahead of us," says Marcus. But the idea that they might actually call it quits - this became a part of the conversation. "We were joking with all the crew for months, going 'Last tour guys!'" remembers the frontman. "And then I guess we hadn't really realised that this was an option."

Staggering drunk in a New York after-party, shortly after the "hiatus" announcement, Winston Marshall told reporters the band had officially split for good. "It's over," were his exact words. "We had a good time though." Reps for the group quickly cleaned by the mess by countering Winston's claims. "People were asking fucking stupid questions," he says, two years on. "I was interviewed at a fucking aftershow. I was wasted. And then someone just got a fucking microphone out and asked about the band." He then shuffles in his seat, and backtracks a little. "I don't know. No… I mean yeah, we kind of split up," he says.

"With the intention of probably getting back to record," says Ted, attempting to clarify.

"I mean yeah, but that was your intention!" says Winston, half-joking. "I don't think you ever know when you're in a band. It could be at any moment when someone turns around and says, 'I'm gonna do something else for a bit'. Fair enough - you can't really argue with that."

During the hiatus, each member did their own thing. Winston made the smartest move, travelling to Brazil for the World Cup. Ben put his efforts into running the Communion label, Ted worked on producing other bands in his own East London space, while Marcus maintained the essence of Mumfords' folk roots with songwriting roles on Coen Brothers film Inside Llewyn Davis. He also joined a band with Elvis Costello and My Morning Jacket's Jim James - The New Basement Tapes.


"
I think a lot of people are upset to find out that we've not broken up.
— Winston Marshall
Eventually, everyone got a non-Mumfords dose out of their system. They reconvened to Ted's space in February 2014, a few months on from sessions at Aaron Dessner's New York space. "Just after Ted recovered, Aaron invited us over," remembers Winston. "We worked there for two days on a tune, and then the last night, we just played songs. And we got really excited about those songs. And then we left it, took our break." Dessner - ever the trusting type - gave Winston a key, and he'd go back to this space whenever The National were on tour. "I dug a tunnel underneath," he jokes.
"Aaron's got an amazing energy about him, and it rubbed off on us. It made us want to get out of bed in the morning," Ben enthuses, dubbing this converted garage a "really positive place." Still, the break took place as planned, and by the time studio time came round, ideas were buzzing. They brought in James Ford, presenting twenty songs from a rough batch of forty. "And he whittled it down to a list of… two!" says Marcus. "And then we really started writing the record - we brought all the co-writers in!" Ben jokes.
If there's one running thread between these scattered, sort-of-broken-up two years, it's that when Mumfords did rack their brains for new ideas, they did so with the help of electrically-minded heavyweights. Ford and Dessner aren't likely to have begged for banjos to come back. But the band are keen to point out that change arrived from the source. Ted describes early sessions as "just a synth jam, basically… Except for me, with a bass guitar, going, 'What the fuck is going on?!' It became clear for me from an early stage that this was going to be an experimental record. Not quite Kraftwerk, but it could've been…"
"We could put banjos on the fourth album, if we want to," says Ben, like he's making a threat. Truthfully, whether all four are agreed on the idea, Mumford & Sons are a completely different band with 'Wilder Mind'. They'll still be adored and loathed in equal measure, and if those Kraftwerk nods eventually emerge, it'll take a few records. Same goes for the banjo revival - this LP is too far removed to be ditched altogether next time round. For years, there's been a very different group waiting to show their true colours. As second album 'Babel' gave them a headlining status, the fabric of 'Wilder Mind' was coming together. Chances are, what happened next only enhanced the transformation. Near-death experiences don't exactly lend themselves to the status quo.
But as the leather-clad bikers depart, there's still a sense of continuity. On the other side of the construction site, a builder taps away at his phone, looking intrigued. Eventually he walks over. Sheepishly, he says: "Sorry for being nosey, but I couldn't help asking - who are those people having their photo taken?" Given the answer, he exclaims: "I thought so! Ah, I love them. Brilliant band. I've seen so many of their shows. Are they going on tour? Me and the wife are going to get tickets. I love Mumford & Sons." Despite the transition behind the scenes - something made even more pointed on record - those bikers outfits aren't fooling anyone. They're still one of the biggest bands in the world, only this time, they're making a big leap.
'Wilder Mind' is out 4th May via Gentlemen of the Road / Island Records.
Styling: Stylist's name
Grooming: Groomer's name