Interview:
How Spring King finally broke through
After years slogging away, Spring King are suddenly on the edge of everyone's lips. But it wasn't just a Zane Lowe seal of approval that changed their lives (that did help, mind you).
On 1st July this year, Spring King's Tarek Musa was recording music in his bathroom. As usual. He was treating the day like any other, either putting down songs for his go-to project or mixing other bands' music. Then his phone buzzed. Email alerts started flashing up. And it kept happening. Either he'd forgotten it was his birthday, or something really strange had happened.
As it turned out, his life had taken a very sudden, ridiculous turn. A few minutes before Musa's phone went apeshit, a familiar voice was on air. "We've spent the last three months trying to build this radio station and now we can build no more," said enthusiasm-volcano Zane Lowe, introducing the first song on his newly-launched Beats 1 station. "There's been one song we've been coming back to. I've referred to it lyrically." And then out stepped 'City'. Being fair, this was already Spring King's breakthrough moment, only on a much smaller scale. Make no bones about it - they weren't the talk of the town.
Almost two months later, drummer-slash-vocalist Musa and his bandmates - guitarists Pete Darlington and Andrew Morton, bassist James Green - were on another planet. Lapped up by hundreds of pit-hungry new fans at Reading Festival, they'd played their set of their lives. "The reason I'm sitting like this is because I might spew," says Musa a few minutes after the show. He's a known vommer. Midway through a set you'll often see him tucking his chin underneath a tee - just in case.
One radio play can do a lot, but nothing on this scale. When Beats 1 launched, everyone was listening. Not just musos and diehard fans. Tech geeks were tuned in. Reporters worldwide at least had it on in the background. When Spring King's 'City' launched Apple Music's flagship station, it also launched these DIY diehards. "USA Today… Wired… Entertainment Weekly did an article on us," says Darlington, listing off the new fans. "But in terms of day to day life, it's exactly the same," he claims.
Musa doesn't completely agree. "Things have definitely changed, though. I've been at the post office every day, posting out t-shirts. There's been more and more people at the shows. I never expected that. It's just an accumulation of the whole year. Somehow, I don't know which of the seven Gods is looking down on us…"
Shortly after the breakthrough moment, Spring King played a free gig for DIY Presents at London's Old Blue Last. On previous occasions, there was a fever pitch around their no-inhibition garage punk, but nothing of this scale. A&Rs who'd previously dismissed the band's prospects were there to get a glimpse. In true Zoolander-style, someone was actually overheard saying: "They're the hottest unsigned band right now." It was surreal.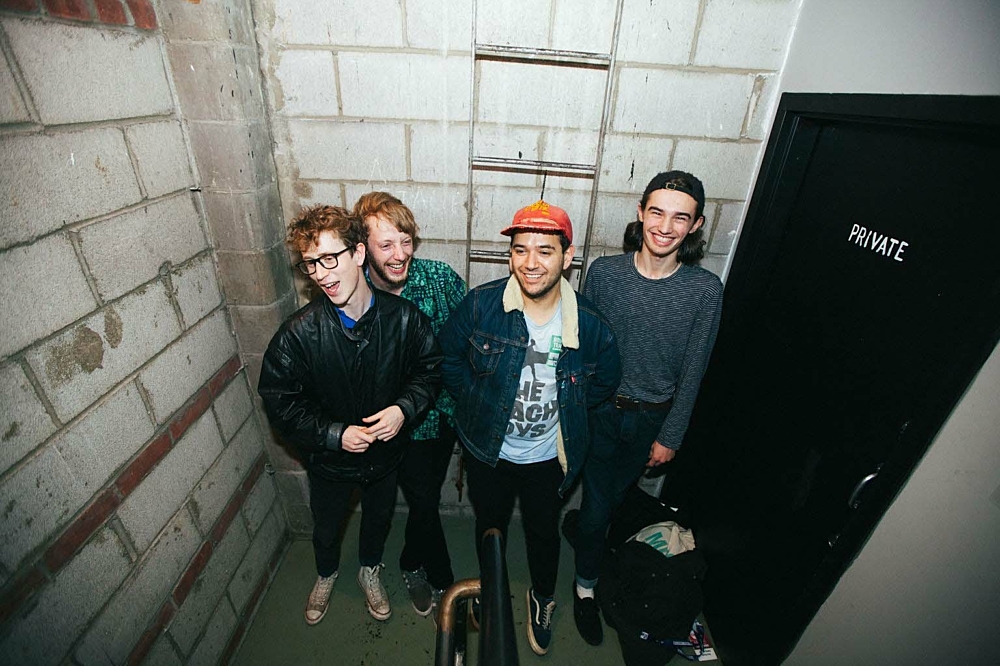 "I don't know which of the seven Gods is looking down on us."
— Tarek Musa
If the change in situation's impacted on anyone, it's Musa. Before the OBL gig and at Reading, he still looks taken aback, like he's pinching himself. "It doesn't necessarily change anything," claims Green. He could be right. For the last three years Spring King have done things their way, bit-by-bit cementing a rep as underground heroes. If anything, they've had equally big moments in 2015 by supporting Courtney Barnett, with Spector and Slaves tours also around the corner. Darlington cites the Barnett dates as their big break. "On a personal level - for me that was the highlight of the year. I think we grew so much, playing those bigger stages."
"Today's been the highlight for me," interjects Musa. "I'm still recovering right now, as you can tell."
What's next, in the surreal stakes? "I would love Adele to do a cover of 'Demons'. That would be amazing," laughs Musa.
"I've got Paul Epworth on speed-dial so we'll see how it's going," agrees Green. "Paul, we need you in the studio. 'Which one?' The bathroom!"
The bathroom is still in use, but not for much longer. That's not because Spring King have gone A-league all of a sudden. Musa's moving house, so he'll have to find somewhere else to cram in band members. "We're gonna record new songs in a proper studio this month, so I'll be like a kid in a toy shop. Pete wanted me to take a picture of the bathroom, frame it and get it in the new studio," he beams.
Spring King's trusty home studio / bathroom. Photos: Yaseen Musa.
Once Musa settles down and stops needing to spew, the band collectively agree that yes, life's changed. "It's like we were dislodged. Unlocked into this new world," claims Morton. Darlington agrees: "We are a DIY band but we wouldn't really have it any other way, to be honest. In some ways it's been a slow build, but we've done it the way we wanted to do it We've definitely been contacted by more and more labels, but… We've been doing this for a long time.
"When we were supporting Courtney Barnett, we played this show at the Brudenell," he remembers. "We were all so hyped for it. We thought it'd be the wildest show of the tour. And we played. And the crowd was so unresponsive. They were so stone-faced. But that night we sold more than we'd ever sold before."
"It's like The Great Escape," adds Musa, referring to the Brighton buzz festival. "For us on stage it was really hard - the sound was really difficult. I wouldn't even call it a sound on stage. But when we got off, people were like: 'That's the best we've ever seen'. It's a headfuck, isn't it?"
The whole thing is a headfuck, at this stage. For years Spring King have been chipping away, getting closer to their breakthrough. And all of a sudden half a dozen watershed moments have hit at once. It'll take a lot to top Zane's seal of approval, but few bands deserve a leg up like these guys.
A word from Zane
Zane Lowe made Spring King's 'City' the first song he ever played on his Beats 1 station. Here, he explains why he opted for an unsigned band on the other side of the world.
"It was this record that I genuinely referred to constantly. It came with me from the UK over to America, and I couldn't stop listening to it. I listened to the lyrics in a different light. And whenever we'd do these demo runs, we'd go down to an office room with a microphone, and I'd record links. Just to give an idea of what kind of broadcast we'd be bringing. And I'd always use Spring King. It was in my head as Beats 1. That's what it sounded like to me. That's the fucking song.
"I didn't really know what this [station] would become. You're just trying to build it. But the closest thing I could get to what I wanted, at that time, was me yelling over Spring King. That's it! It's the energy of that song. It sounds brilliantly-produced, scrappy - it sounds like a play fight. I hope it was a breakthrough moment for them."
Taken from the October 2015 issue of DIY, out now.

Get your copy of the latest issue