Interview:
In the Studio: Lucy Rose
'Something's Changing' in the world of Lucy Rose; we meet her at her Brighton studio to talk all things album three.
Last year, Lucy Rose packed up her rucksack and went worldwide. For two months, she played free entry, fan-booked shows across South America, living with those fans along the way. It was a tour to remember as she performed everywhere from a brewery in Uruguay to a blocked off street in Sao Paulo, where the second floor window of a laundrette had to be removed to create the stage. She also ventured to other countries rarely visited by UK artists: India, Taiwan, South Korea and Turkey.
Now, Lucy has decamped to Brighton. Recording album three in the residential studio of producer Tim Bidwell, home comforts are at hand. In the kitchen, she piles another used tea bag onto a Jenga-style tower. "That's the daily challenge: how big can that get before it falls?" Lucy explains, as she stirs a fresh cup. Despite famously selling her own blend as merch, it appears she's finally met her match. "I've never drunk so much tea in my life but if anyone has out-tea'd me it's Tim and I honestly didn't think that was possible" she says, before she tries to estimate quantities. "Maybe twenty cups a day for Tim!"
Parting from her major label deal with Columbia, Lucy arrived into unfamiliar territory once more when she returned home from South America. "I suddenly came back from this trip, this crazy experience which was the best thing I've ever done, and had no manager, no booking agent and no label and I had all these songs and I felt really good about it all still" she recalls. "It was a weird place to find myself after two records."
Taking control, she decided to manage herself and figure out a way of self-funding the album for remarkably low cost. "I didn't want to go around playing my demos desperately, going around labels and being like, 'Will you put my record out?' It was like, 'I'm going to make the record I want and have full creative control over it.'"
"I've found my sound and now I want to do this again and again and again…"
— Lucy Rose
Thanks to a friend's tip-off, Lucy boarded a train to Brighton and made her way to Tim's living room set-up, known as 'Clockwork Owl Studio'. Armed with her Beatmaker 2 demos, the pair hit it off immediately. "He seems to be someone who can see potential in something before anyone else," she says. In a similar vein to her debut album 'Like I Used To', recorded at her parents' house, she began living and working in the same space. It marked a departure from the bigger, shinier studio where 'Work It Out' was made.
Features of the room include a 1920s Spencer piano with "sticky keys" but a "beautiful sound", vintage mics, and a vocal booth consisting of the snug space between two rails of maroon velvet curtains from Debenhams. "Having a duvet day!" Tim quips, before Lucy steps into the cosy curtained enclosure. "I like it in here, no-one can see me," she replies.
Possessing a strong vision for songs written in locations as diverse as a host's bedroom in Paraguay, to a beach in Mexico, to her London home after the trip, has made the process easier. "For the second record I was like, 'I don't know what my vibe is so I'm just gonna write tonnes and chose the best.' For this one I've written nowhere near as much and I haven't finished anything that won't fit exactly what I want this record to be."
Reference points include a heady bunch of songwriters. Neil Young's 'Harvest', Carole King's 'Tapestry' and Joni Mitchell's 'Blue' are classics bandied around in conversation. Newer names such as Nadia Reid, Tobias Jesso Jr., Agnes Obel and Julia Jacklin have also been getting spins on the studio record player. "Old Neil Young bass sounds, even Radiohead for the drums," Lucy says, expanding on the influences. "The beginning of 'Find Myself' - that acoustic guitar line which is just one string - Nick Drake does a lot of that."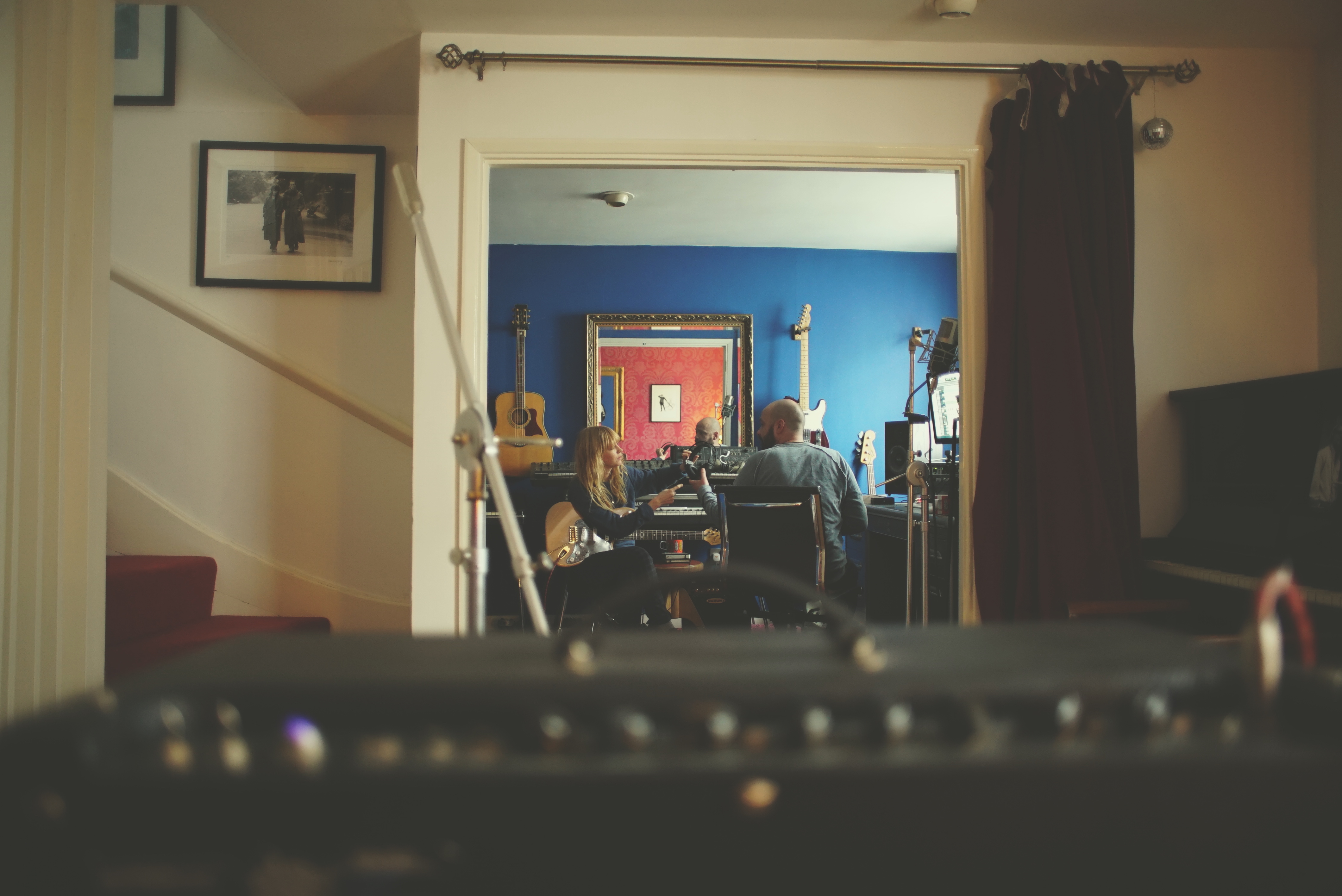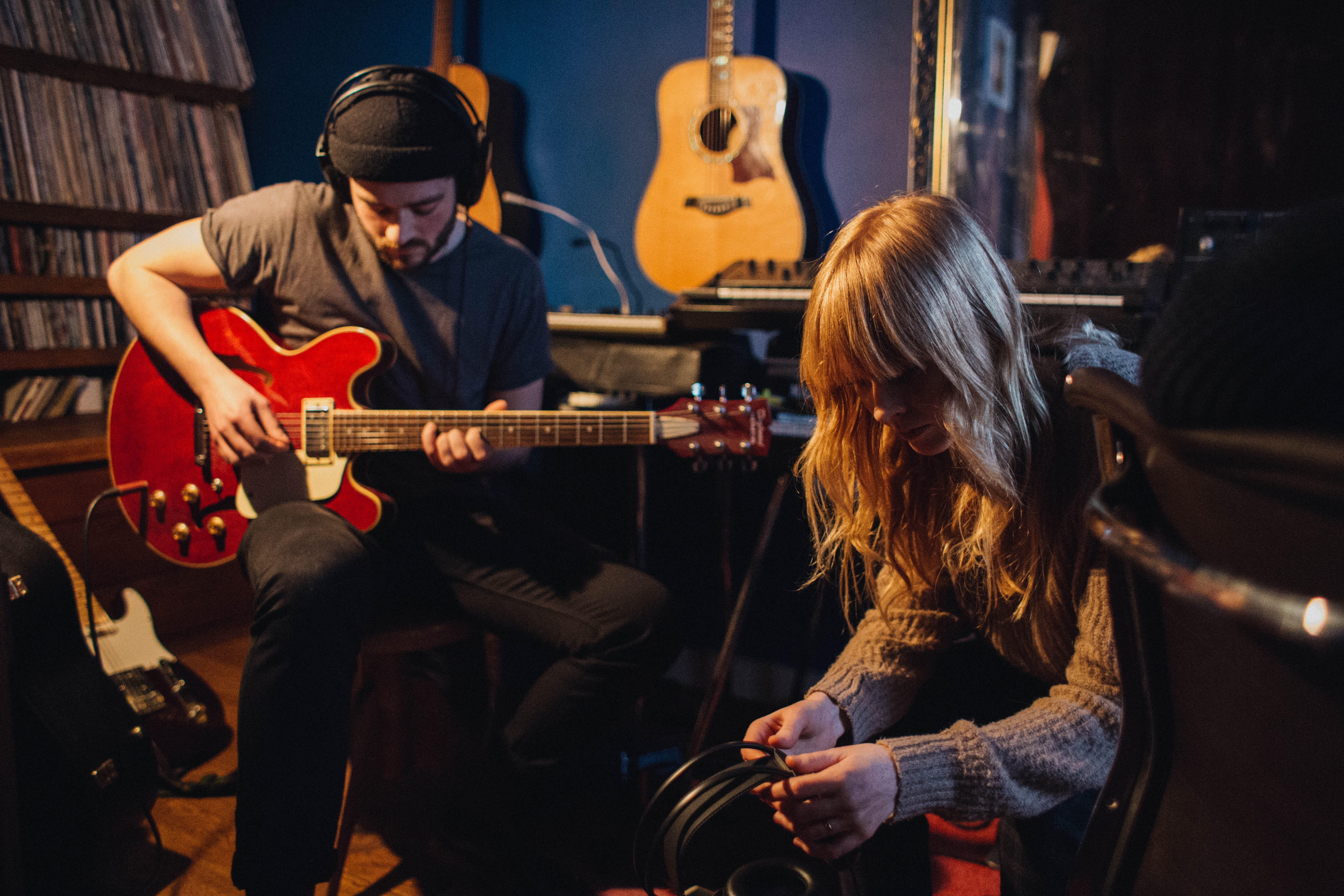 "I want to make a classic album that's totally timeless."
— Lucy Rose
Exasperated by pressure to chase trends, she's remained committed to authenticity. "For my last record I remember someone at the label saying, 'Lucy, this record is gonna come out in 2015 so it needs to sound like 2015' and I was like, 'What the fuck does that mean?!' I want to make a classic album that's totally timeless and doesn't sound like 2017!" she laughs. "If it can't be a great song just me and a guitar, or me and a piano, then it's not going on. There are songs on my other records that don't really stand up without everything else."
The back-to-basics ethos informed the decision to track the record live. Sat on Tim's sofa with only a couple of mics, Lucy recorded both vocals and guitar in one take for certain songs. In her determination to lose none of the feel to studio trickery, she's even refused to record most of the album to click. "You always say you like the imperfections but then it's really easy to say, 'Except for that one! Except for that really out-of-tune note!' and it's like, 'No I'm just going to keep it all in this time!'"
When it comes to Brighton's musicians, there seems to be something in the water. Joined by some of the finest local talent, she was astonished by their musicianship. "They just blew my mind," she enthuses, recalling a conversation with bassist Ben Daniels. "I was like, 'How are you so good? Have you been touring?' and he was like, 'No I just play every night on my couch and I love it!' There's a real hub of musicians here who are doing it for the right reasons," she continues, "London can be more intense and I don't know - professional. It's just simpler here in many ways, it's like 'I love the music, I'm free next Tuesday, let's do it.'"
Working a strict 9 to 6 day has also allowed Lucy to spend her evenings frequenting Brighton's pubs and venues. "I saw Martha Wainwright on my own last week and last night I went to Cass McCombs on my own," she reveals, discovering flying solo to gigs to be a liberating new experience. "To be so happy watching it totally on your own proves to yourself that music's important to you. People last night probably did think, 'Who's that crazy girl just swaying around?' I was so into it!"
"I've never drunk so much tea in my life."
— Lucy Rose
It's evident that it's been a fun album to make. The pub next to the studio has been a regular spot for Lucy, Tim and the band. Plus she's called upon mates for backing vocals, including Elena Tonra from Daughter and The Staves. "I haven't ever laughed as much as during the making of this record. That's been key, surrounding myself with the right people."
Jokes aside, it feels and sounds like an epiphany. It's a breakthrough Lucy recognises as she compares it to her previous work. "I've just been making the record that I'm capable of at that time but hoping for something more. And now for the first time I feel like I'm capable of making the record that truly represents me. I've found my sound and now I want to do this again and again and again…"
"Like you've found your musical home in a way?" Tim suggests.
"Yeah. Big time."
Lucy Rose's new album 'Something's Changing' is out on July 14th via Communion Records.
Photos: Jodie Canwell, Will Morris.
Lucy Rose plays Latitude (13th - 16th July) where DIY is an official media partner. Tickets are on sale now. Visit diymag.com/presents for more information.