Live Review
Liverpool Sound City 2018
​5th-6th May 2018
King Nun and Alaskalaska also came up trumps at the bank holiday weekender.
Taking over the weekend for a triple hit of musical high jinx, north of the
M25 is very much where the action's at this early May bank holiday. In Yorkshire, there's one-dayer Live at Leeds (read our report from that one right here), in Newcastle there's Hit The North, while over in Liverpool we have Sound City: a two day, 20-venue buffet of new music and more established favourites, all packed into the semi-industrial warehouse district of the city's Baltic Triangle.
Kicking things off at Constellations, Dama Scout have an unfortunate rival in the form of the blazing ball in the sky keeping people basking outside. But those who do venture into the darkness are rewarded with a set that comes good on all the trio's early promise, and then some. After a fairly quiet start to the year, the group's off-kilter dynamics and constant sonic curveballs are an even more delightful treat. If people need a reminder of just how good this lot are, then Dama Scout go about providing it at every turn. Oldie 'Forget It's Good' veers from twinkling beginnings to three-part harmonies to unexpected fuzz, while recent track 'Milky Milk' slams in with some of the chunkiest riffs around before warping into a spiralling, starry outro. These are songs that are impossible to predict, and that's a truly exciting thing.
London boy Mellah and his five onstage cohorts are also a tricky proposition to second guess, but in an altogether different way. To the singer's left are two lycra-clad backing singers and percussionists. To his right are a more classically indie bunch. In the middle, Mellah has the vibe of a laid-back Mac DeMarco type but is making jokes about Mongolian throat singing and then actually doing a fair approximation of it. Musically, it veers between eccentric Meilyr Jones-esque theatricality, strange shanty songs and the odd dose of flute. It's an odd combo, but an utterly entrancing one.
Matt Maltese and his wry, piano-led love songs have, for reasons unknown, been put on the noisiest stage known to man. Yet, despite being up against a gigantic air conditioning unit huffing through the entire first half of the set, the young crooner still has the sizeable crowd in the palm of his hand. On the cusp of releasing debut LP 'Bad Contestant', Matt's arsenal is stronger than ever now. On top of the soaring swoons that first piqued everyone's interest, we get the tongue-in-cheek eyeball roll of 'Misery' and, on recent single 'Greatest Comedian', the singer even comes out from behind the keys to deliver the track in full cabaret compere style.
Over to main venue Camp & Furnace and it's clear where all the people are. Packing the space out to capacity, Black Honey might be playing second billing to DMAs tonight but they embrace the set, as ever, like they're headlining Glastonbury. Playing a host of new material from their forthcoming debut album, their set is a meaty thing these days: from the dead-eyed snarl of new single 'Bad Friends' to the more familiar headrush of 'All My Pride', the Brighton quartet make it clear they're not here to play nice anymore. There's an ambition and scope to it all that feels limitless; put these tracks on huge stages and they'll do just fine.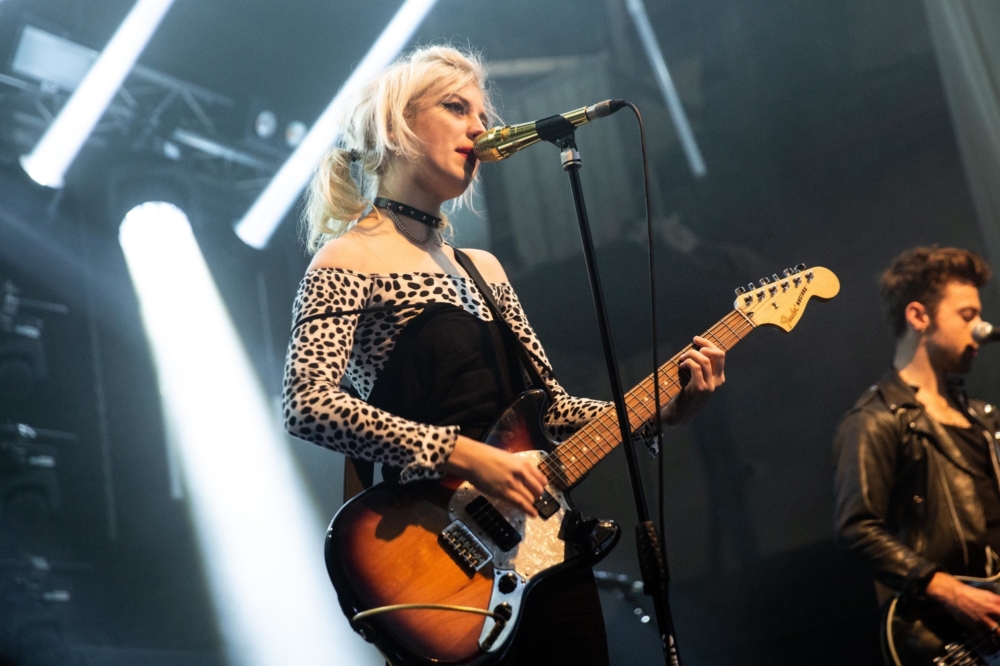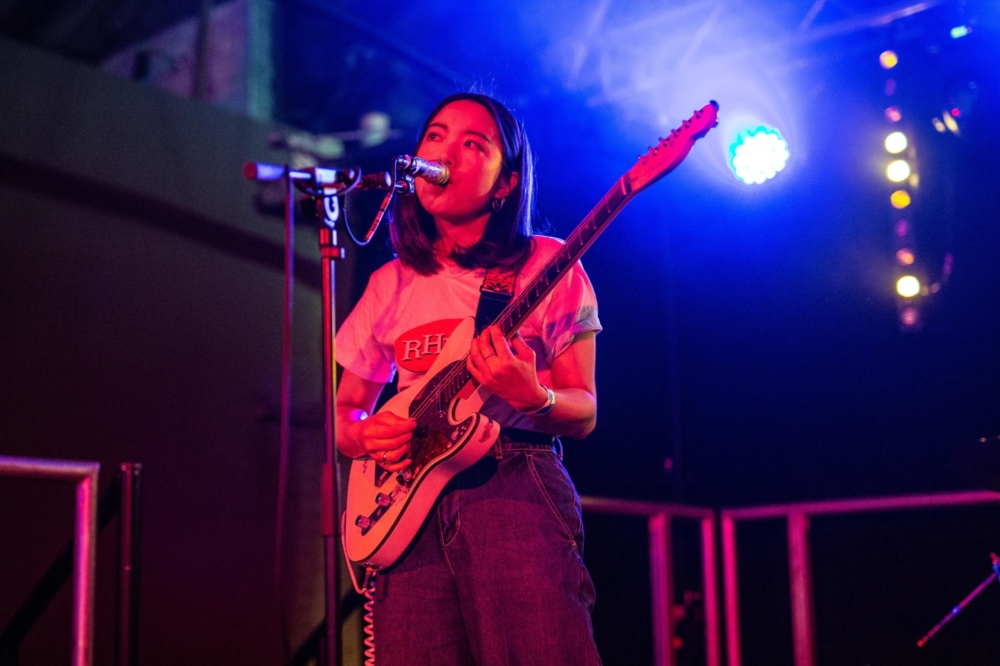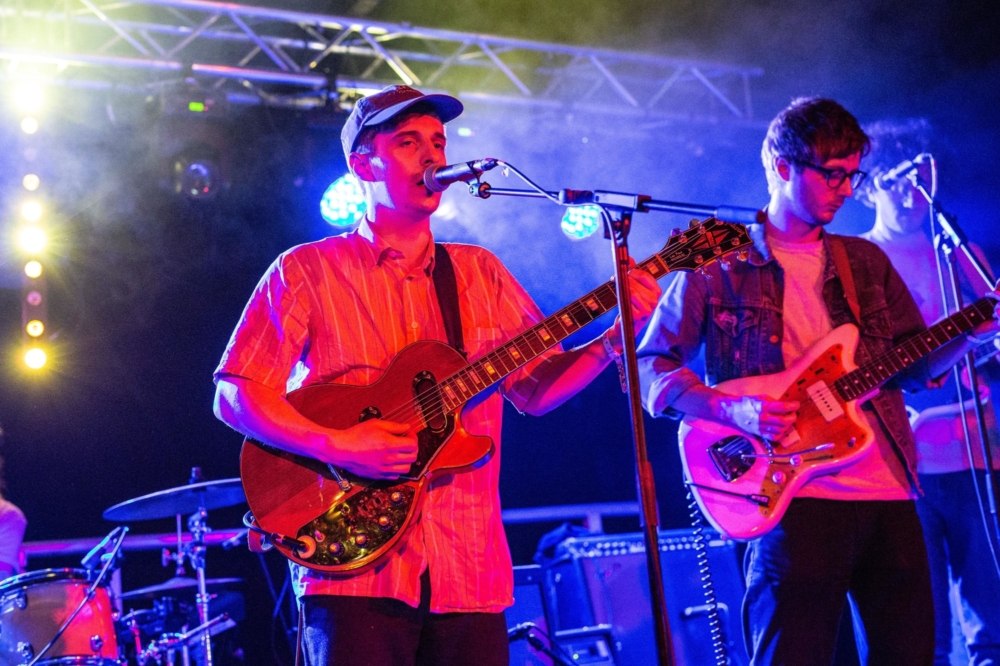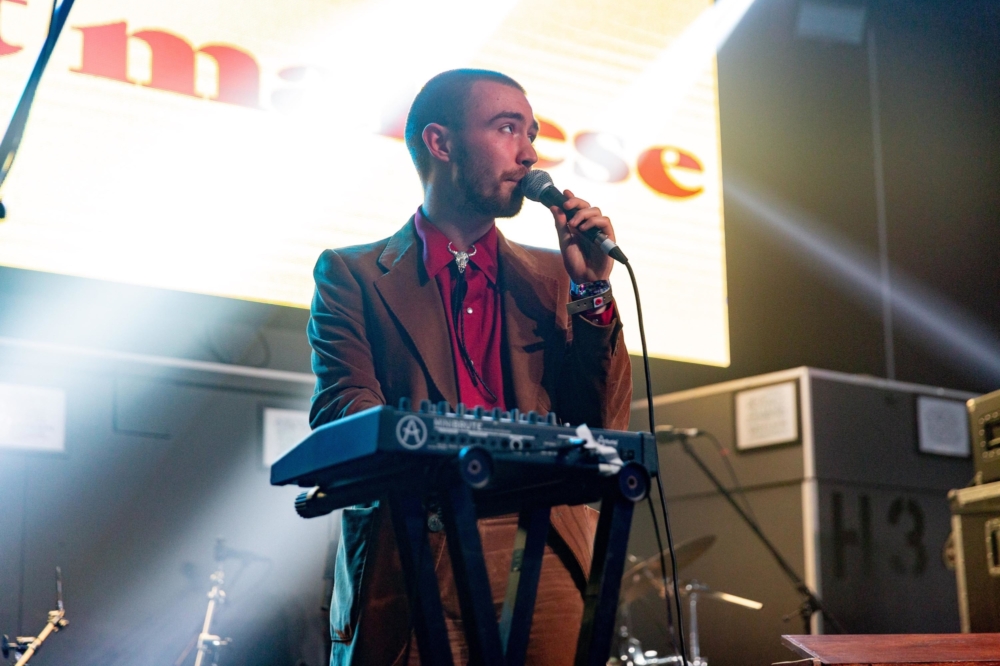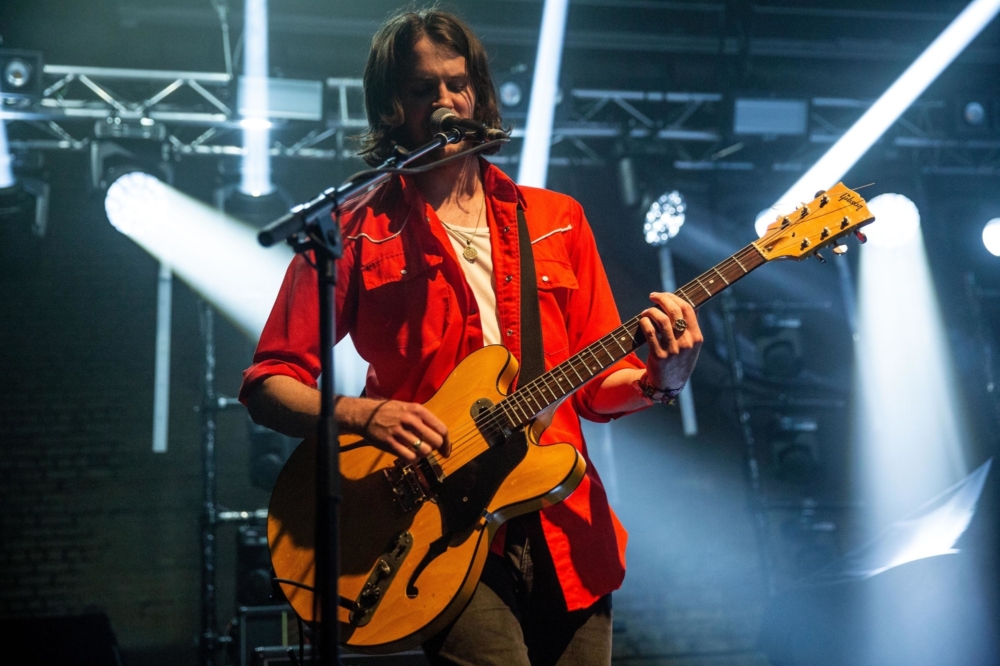 By contrast, Idles' late night set fizzes with added energy because of its intimacy. Having escalated to venues of a fairly hefty size these days, seeing the Bristol punks in a pretty small, no frills space feels special. By now, their live prowess is well documented: singer Joe Talbot spits the pained lyrics of '1049 Gotho' and 'Benzocaine' out like he's exorcising every demon in his body, while guitarists Mark Bowen and Lee Kiernan bound their way merrily around the stage, serving up huge, cathartic spells of noise. But, even upon umpteenth viewing, their particular chemistry is still joyous; at once brutal but accessible, emotional but hilarious, riddled with pain yet bursting with humanity, they're a true one off. In new track 'Lovesong', meanwhile, they've written perhaps their most exciting offering yet: a surging, sarcastic, danceable monster. Roll on Album Two.
Over at Constellations on the Sunday, DIY have taken over the venue for a line-up that finds King Nun amping up the volume on their earlier offerings. New tracks range from the rhythm-heavy 'Chinese Medicine' to a fully shouty rager that singer Theo Polyzoides introduces as "a song about fucking off and being fucked off". There's still plenty of endearing enthusiasm to be found, however; even when they're hammering out the fuzzy power chords of 'Hung Around', King Nun are still an infectiously upbeat proposition.
Following them, Alaskalaska channel Polica's jazz-inflected classy pop, bringing the likes of 'Bitter Winter' and 'Patience' into fuller, sumptuous life, while Edinburgh boys Vistas pack out the room for their subsequent turn. Full of simple, Circa Waves-esque hooks, their brand of accessible indie doesn't rewrite the rulebook but it seems to land nonetheless.
Peace take Sunday's top spot at Camp & Furnace with the kind of joyous, celebratory and just a little bit ridiculous set that's been sorely missing in the couple of years they've been away. With third album 'Kindness Is The New Rock'n'Roll' out mere days before, you could forgive the heaving crowd for still being a little reserved with the new tracks, but every offering is greeted like an old friend. The band are clearly having fun with it, too. During old slowie 'Float Forever', drummer Dom Boyce wanders out from behind the kit (now emblazoned with his own name) and hangs out on the barrier for a bit, as bemused members of the front row start to recognise him and take photos. Harry Koisser, meanwhile, is as superlative a frontman as ever but nowadays he's got different levels to the show. Sure, old rippers 'Follow Baby' and 'Money' might still swagger around like 70s lovechildren, but when the singer unleashes recent emoter 'From Under Liquid Glass' it feels like a whole other kind of moment. Even taking to the piano for 'Kindness…"s title track, it's a return that feels like, far from trading off their former glories, the band are hungry to keep pushing things forward. It's good to have you back, lads.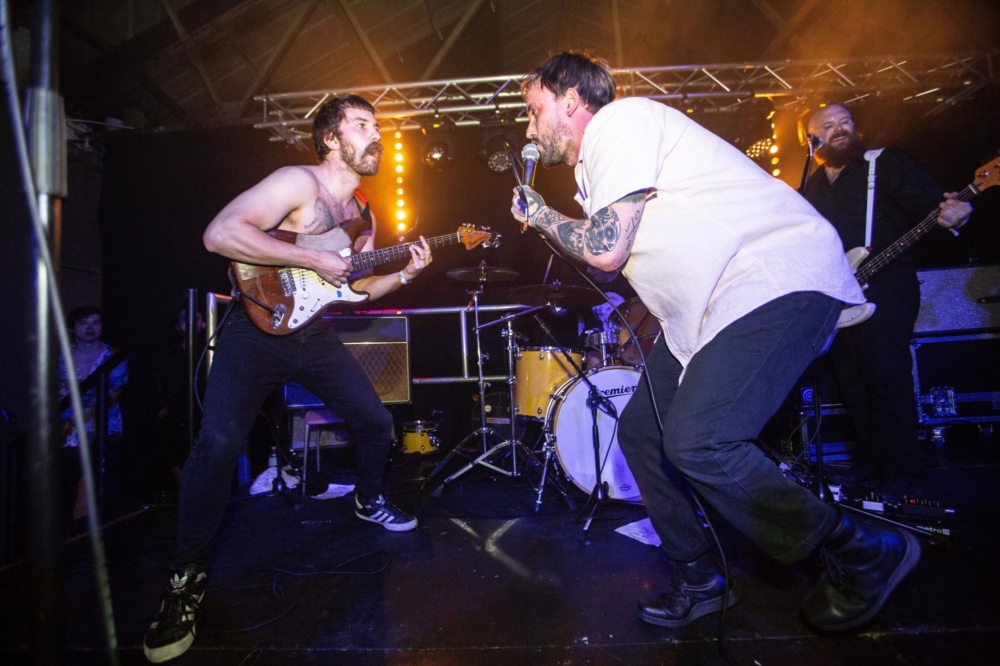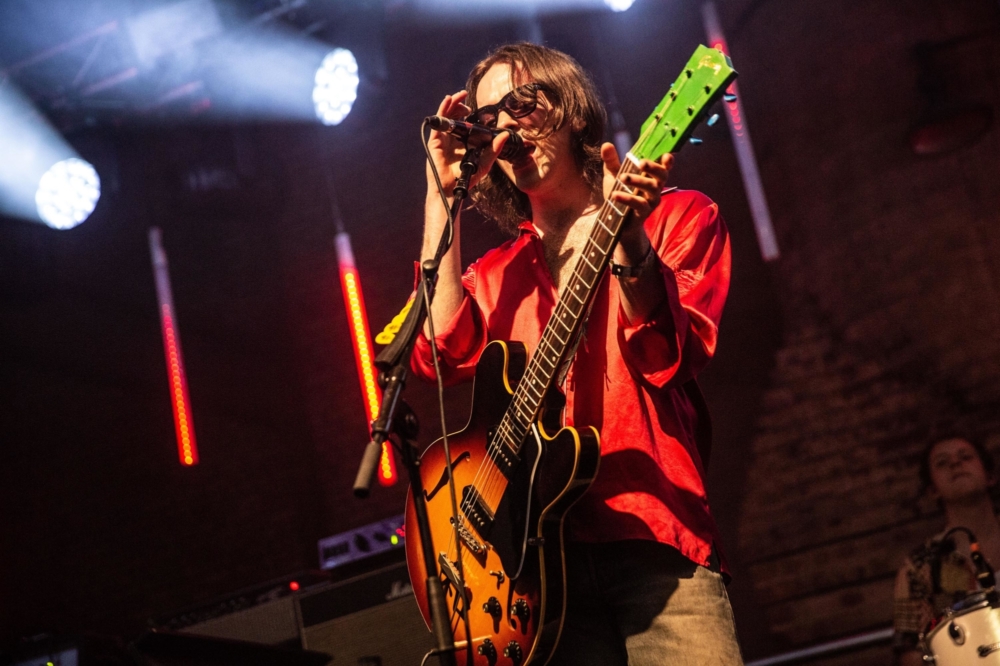 Get your copy of the latest issue