Festivals
Live At Leeds 2018
5th May 2018
Her's, Sorry and more also play across our two stages at the Brudenell Social Club.
It's a blisteringly hot in Leeds today, one of the hottest of 2018 so far. Perfect for the start of festival season, we'd say. As soon as the doors to the legendary Brudenell Social Club are swung open, a brilliantly varied barrage of new music begins, and doesn't stop until the clock ticks into Sunday morning.
On early in the main room is Sports Team, who command the stage like a band playing significantly later in the day, frontman Alex Rice their effervescent focal point. New single 'Kutcher' recalls Pulp in its winking romanticism, and the day can be considered well and truly started.
Meanwhile, down at Leeds University's Stylus, Superorganism are offering up a glimpse into their weird and wonderful world. Dressed completely inappropriately in their multi-coloured rain macs - for today's weather, at least - their set is a perky, multi-sensory affair, all animations and projections, but landing this early in the day, it doesn't quite match up to the exuberance of their debut on record.
Significantly more widescreen in scope is Boniface, who - back up at the Brudenell - takes to the Neu stage in the venue's new Community Room and proceeds to shoot for the stars. Channelling the huge, shiny soundscapes of M83, the young Canadian newcomer is heading for far bigger stages than these, and when the songs themselves catch up with the sheen and ambition, they'll greet him with open arms.
Meanwhile, on the other side of town, Peace are getting ready to showcase a slew of slick new cuts from their freshly-released third album. Marking their first live performance of the day in the city's O2 Academy - they're headed up to Newcastle play a second set later today - they may be playing early on, but there's certainly no cobwebs to shake off here. The likes of 'Power' and '(1998) Delicious' sound huge while 'From Under Liquid Glass' is already fast becoming a real moment for the quartet and fans.
Whenyoung, meanwhile, are heading full pelt through a huge Spring schedule, coming to the Brudenell in between tours with Declan McKenna and Peace. Understandably, then, they're now a wonderfully tight live band, crashing through their half-hour set without a hitch. New tracks 'The Others' and 'The Collector' join the irresistibly hooky indie-pop of 'Pretty Pure' and 'Actor' in making them one of the most instantly appealing new indie bands we have at the moment.
Closer 'Given Up' will soon become their calling card though, a simply huge soon-to-be-classic that's destined for indie discos for years to come when it's finally released. ALASKALASKA handle things a little more subtly back in the Community Room, swaying their way through majestic, jazz-flecked pop, with new single and set closer 'Meateater' possibly their finest yet. They're followed by the equally woozy, Tame Impala-esque psych-pop of Brighton's Underwater Boys.
Down in the dark confines of The Key Club, King Nun are returning to the festival for a second time after a rather memorable debut last year, and they're giving it all they've got in the process. Potent from the off, their set today includes a hefty chunk of intriguing new tracks alongside heavyweights 'Sponge' and 'Tulip', with the band themselves really stirring up a storm.
Possibly the Brudenell's highlight of the day comes from Stella Donnelly, though. Everything from rape culture to failed relationships are put to rights over firm, strummed electric guitar and a wonderfully unique hybrid accent from the Welsh-born, Australian-based singer. Team that with hilarious between-song (and sometimes during-song) chatter, and it looks like she's onto a winner.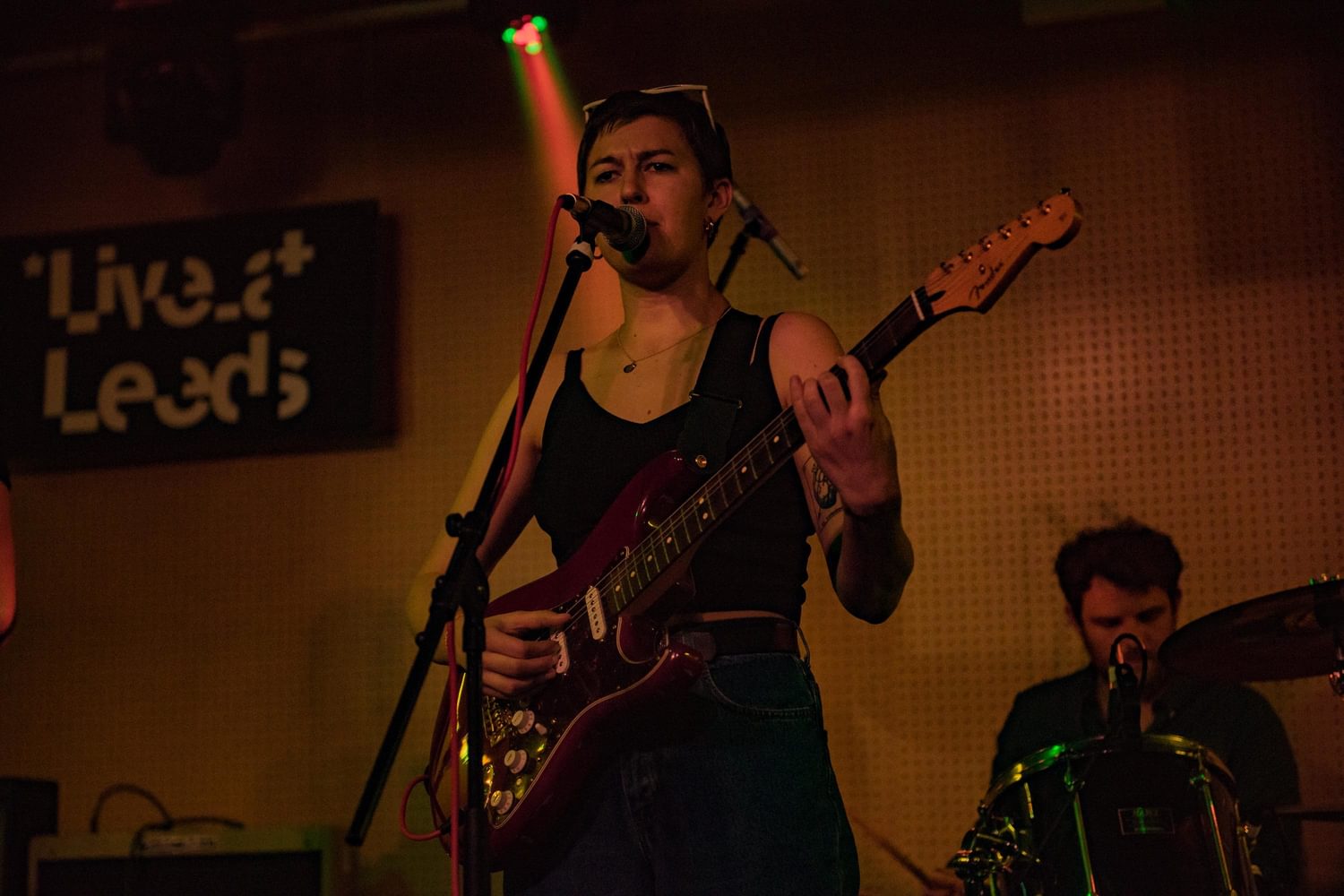 The evening then powers on, via the hyper-active, superbly confident pop of Suzi Wu and the heavy yet intricate hammerblow of one of the indie world's next big hopes, Boy Azooga, before Her's do what they do best, namely providing a wonderfully fun, wide-eyed jolt awake.
Sorry then bring their zig-zagging, unpredictable rock to the Community Room before Anteros bring what can only be described as a carnival to the night. Vocalist Laura Hayden - every inch a superstar of the future - invites a slew of women onto the stage for the band's calling card 'Bonnie', and the sense of community and togetherness created is intoxicating, and necessary. Complete with a cover of 'These Boots' running into recent single 'Drunk', the set sees Anteros feeling invincible, and capable of anything.
Somehow, though, Pale Waves manage to top it. Heather Baron-Gracie's evolution as a frontwoman has been a delight to watch, and tonight she feels like the real deal. Ditching her guitar to mingle with the front rows for the opening 'Television Romance', the vocalist matches the adoration shown from everyone squeezed into the Brudenell, handing the mic to the crowd in nearly every song, and taking their live show to the next level.
It's a trend seen throughout the day; with long summers ahead of these bands, they all look ready to grab 2018's festival season by the horns and make it an absolute cracker. We can't wait.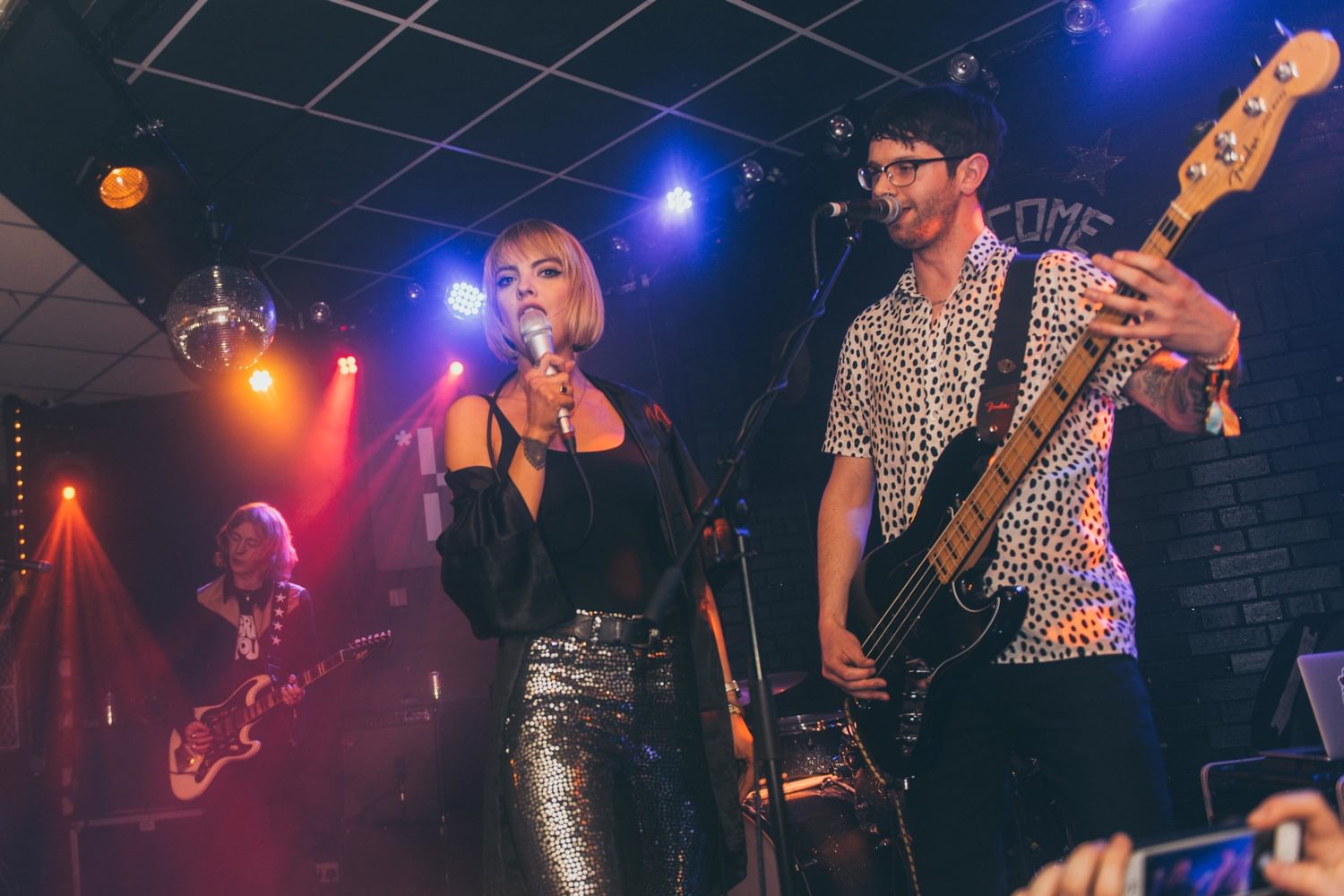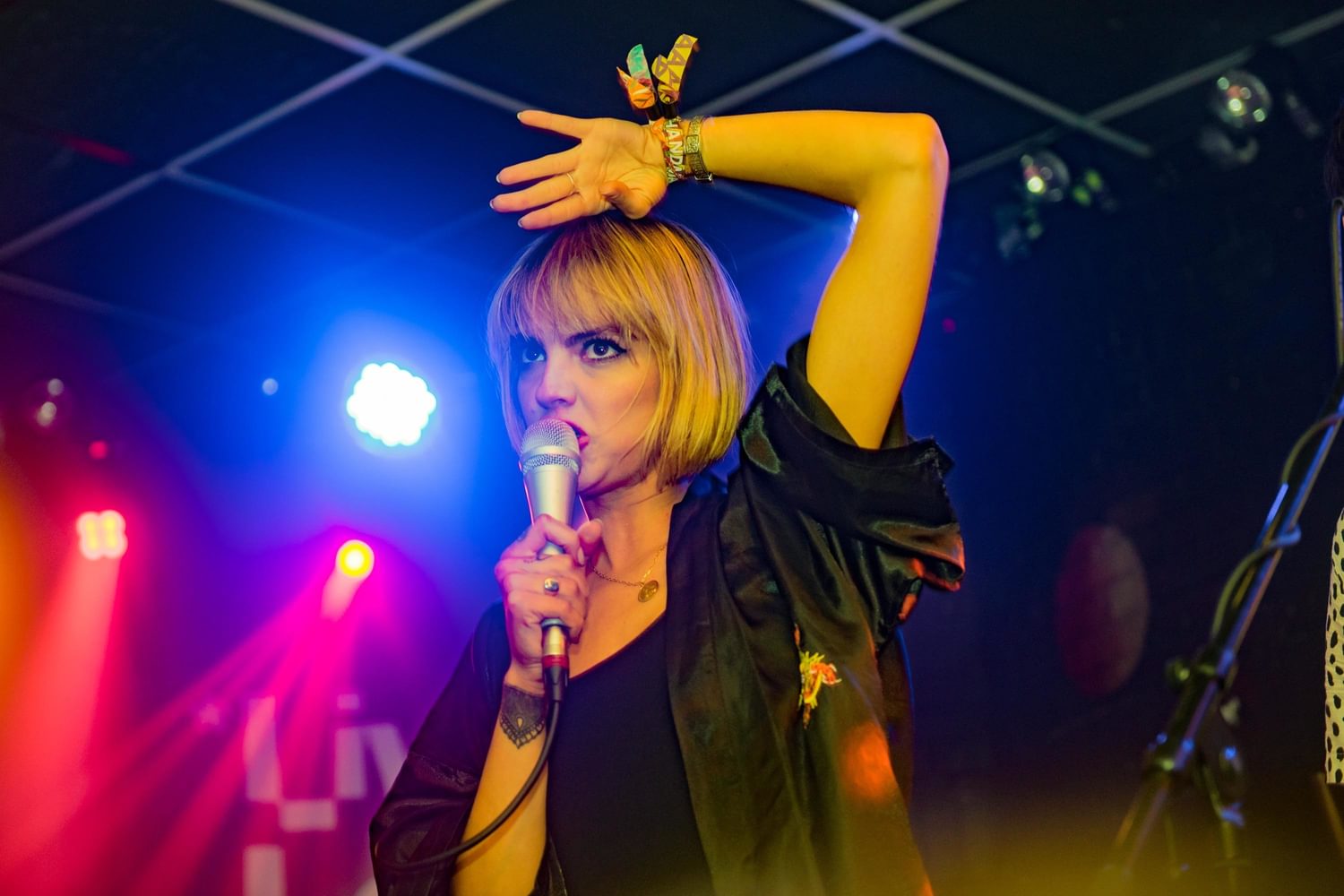 Photos: Lindsay Melbourne / DIY
Read More