Interview
Self Esteem: Independent Woman, Part 2
For the best part of a decade, Rebecca Taylor was one half of indie folk duo Slow Club. Now, she's setting her powerhouse pipes free with a solo pop project full of humour, sass and wild ambition.
It's a rainy Friday morning and Rebecca Taylor is checking her Instagram in a West London dance studio, rocking the kind of head-to-toe metallic outfit that's more suited to 3am in the club. "Ah, are these all my daughters?" she jokes, as a dozen perfectly-preened young ballerinas gather round her for our photo shoot. Posing and giving the kind of face that Tyra Banks would be proud of, the singer seems entirely at home in this kind of surreal situation. To the uninitiated, you'd never guess that actually, until very recently, Rebecca spent her musical days living a very different life indeed.
From 2006 until their indefinite hiatus in 2017 ("We haven't officially broken up; if someone wants to pay us enough money for a gig, we'll do it," she laughs), Rebecca formed one half of Sheffield indie folk duo Slow Club. The band released four albums, toured extensively and received a decent amount of critical acclaim. But throughout it all, the singer harboured the kind of dreams that went beyond mid-level indie gigs and, as the years went on, 'decent' increasingly proved itself not to be enough. "I've always been mega ambitious, but in the indie world I was made to feel shame about that," she explains. "I had to stop it – stop all this nonsense! - and stay in my lane a bit. And I made the executive decision to do it because I thought that was the only way to succeed."
The catalyst that would eventually call time on the band after years of tenacity turned out to be more of a slow realisation than a fiery fall-out. "[When we released] album three, we were on the telly and I had this day where a stylist took me shopping and bought me clothes and it was like, the best day of my life," she remembers. "It felt like it was going up a bit and I really liked the legitimacy of it, that more people were working on it and it had a direction. But then that didn't happen for album four and I just knew there was no way to push it to how I wanted it to be, and I was quite tired of trying." However, over the last couple of years of the band, Rebecca had found a way to help ease these frustrations. Quietly posting bits of her own outside of the Slow Club umbrella - thoughts and observations screen-shotted and put on Instagram and "a secret Twitter where I tweeted raunchy poetry" - the outlet wasn't a high-profile one, but it satisfied the side of her that was being suppressed by being in a "cool guy indie band". "The freedom of that made me realise that you can have an output and even though no-one knows it's you, it gets it out of your body. So I thought, this is how I handle this," she explains.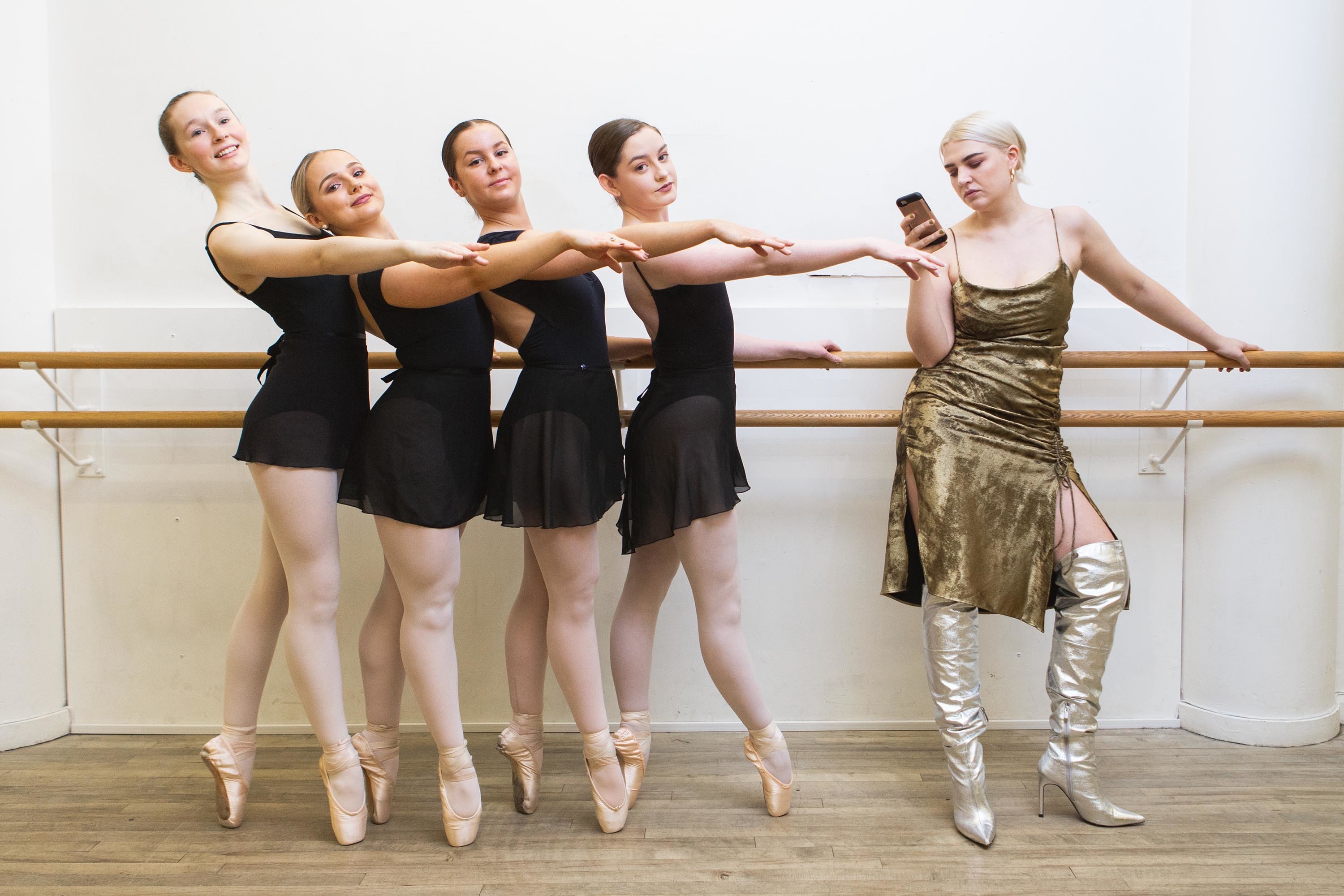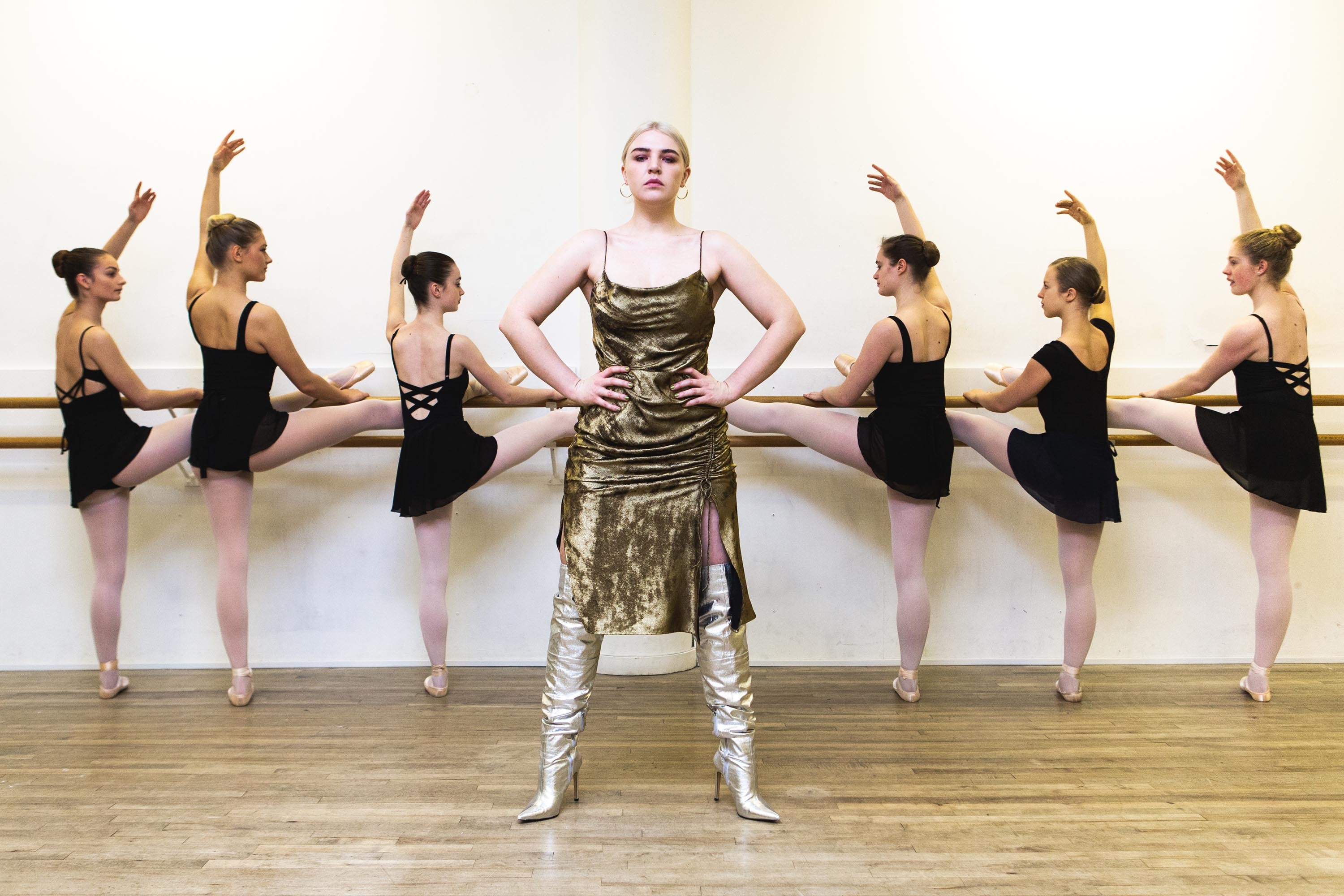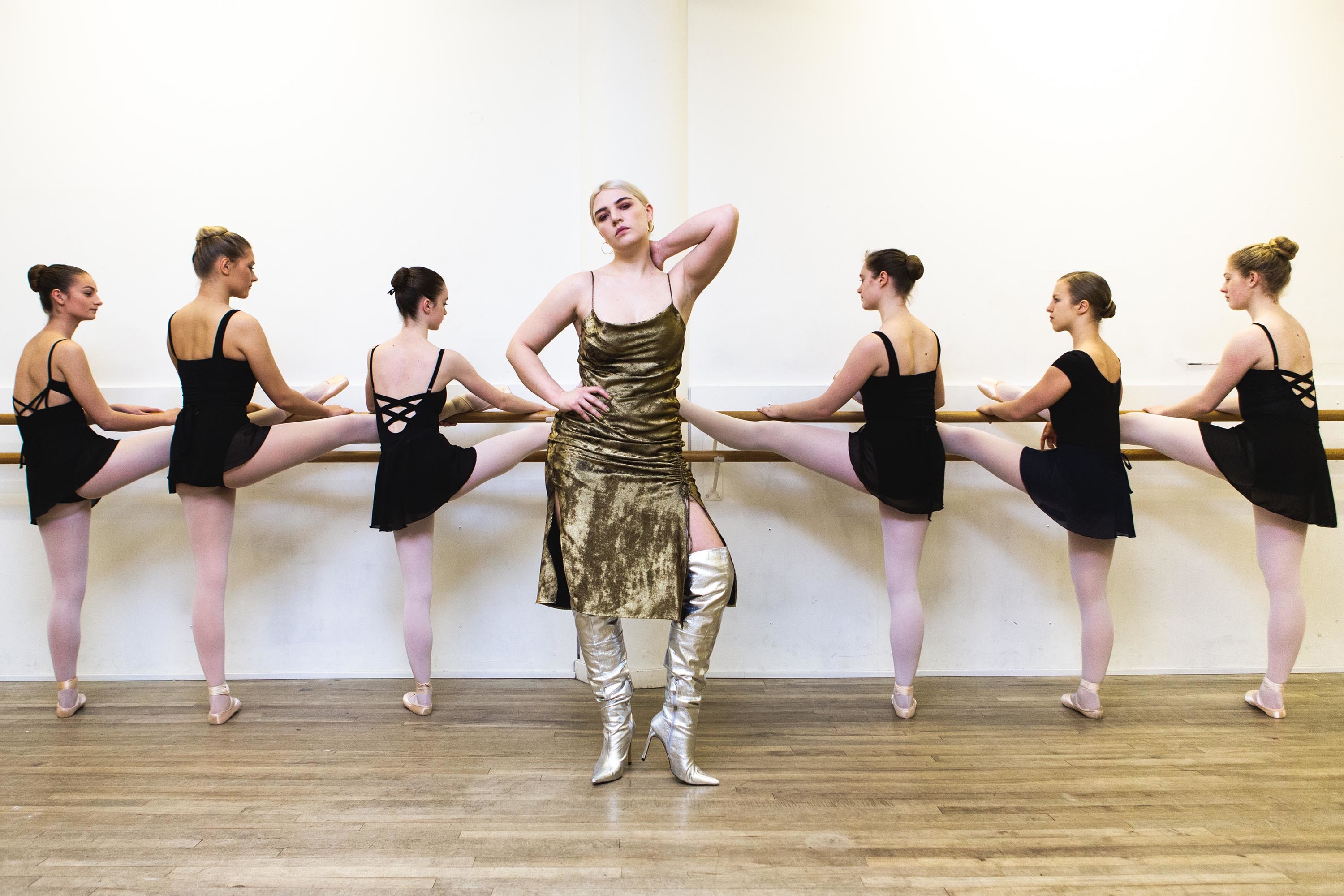 "I'm showing more of myself now and it's making more sense to people."
Fast forward to 2019 and these initial seeds have now turned into Self Esteem: a fully-fledged, all-singing, all-dancing solo project designed to fulfil every part of Rebecca that was left unsatisfied before. If the genesis of this new guise came from trying to 'handle' her previous situation, then the onus second time around seems to be on creating a new one that's free from any such needs. The reason we're pissing about in a dance studio today is because it seems emblematic of everything the singer is trying to represent these days - humour and confidence and, above all, not giving a shit if what you wanna do is considered by some as a bit 'extra'. "What I've found is that I must be communicating myself well, because people are communicating these things back. I'm showing more of myself now and it's making more sense to people," she says. "I'm a lot more comfortable and playing less of a role and I feel a lot more like myself, which is what I needed to happen anyway because life's really hard and very unaccepting, so I sort of bullied people into accepting me."
Kicking around as a name for ages, from when "me and my bestie were just these trolls scrabbling around in our early 20s and all that mattered was men and what we looked like and it was fucking rank. I assume the name came from having no self esteem, which we didn't because we were just dreadful," the project has now come to encompass the complete opposite of these ideas. An album full of sparse, beat-led bops full of witty, sexy lyrics on the nuances of love and life, forthcoming debut 'Compliments Please' is a record that's unapologetic in its sense of self. "What I might have achieved, if I wasn't trying to please" goes the chorus of lead single 'Rollover'; now, Rebecca's trying to find out. "I kept thinking, I get to stand on a stage and what am I doing? Zipping my coat up, looking at my feet and saying sorry? I can't believe I spent [so long doing that]," she says, shaking her head. "When I was little, everything was a stage; if I was standing on a patio then that would be the stage and the grass would be my audience. And then I'm on an actual stage and I wasted it for years." She chuckles. "It's all very selfish though, and it's all for me. It's all just to make my daily life more fun..."
It's these kind of statements that make Rebecca and Self Esteem such a welcoming prospect. Because really, if you're given a stage and a spotlight, why wouldn't you put on your best frock and have a dance and actually fucking enjoy yourself?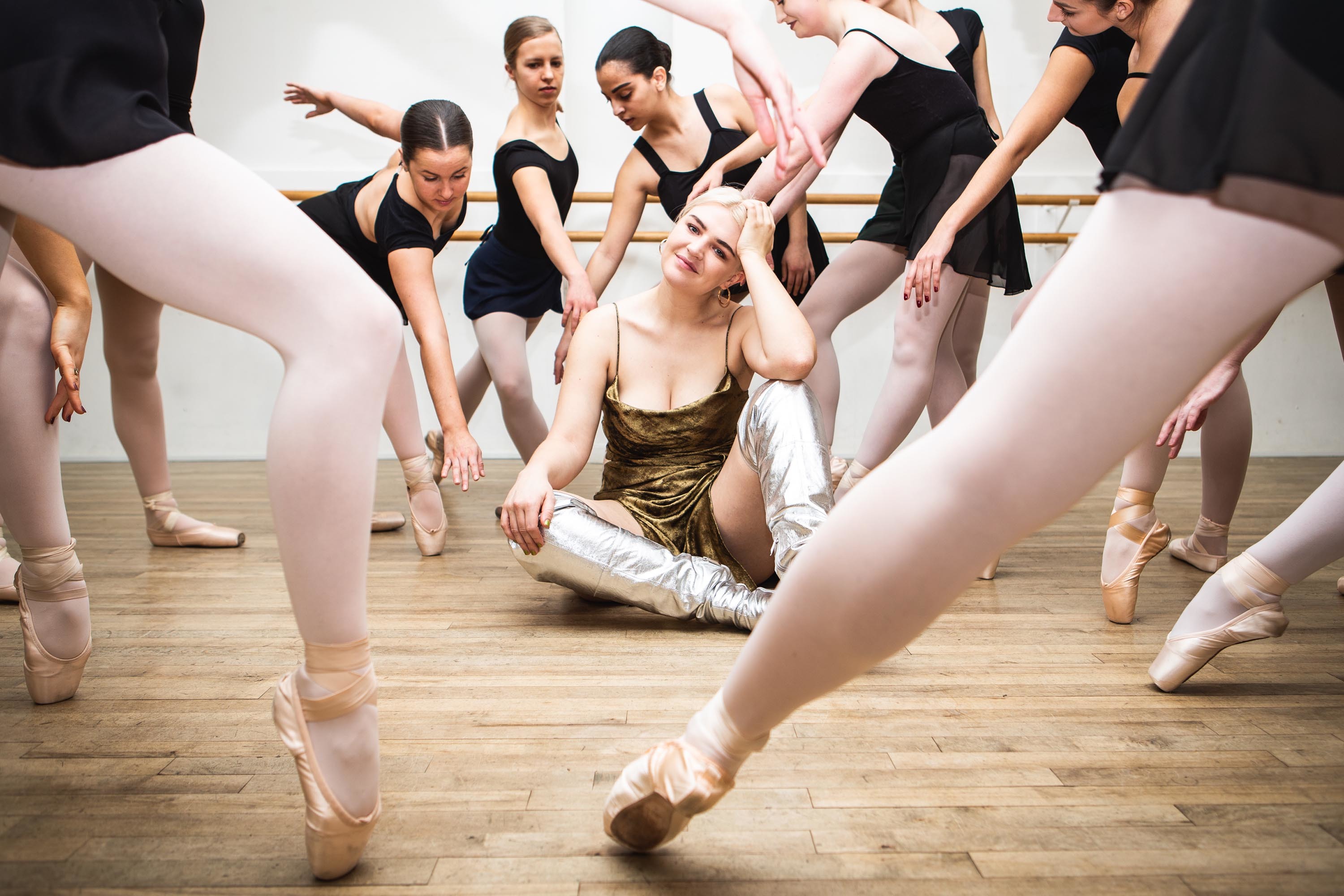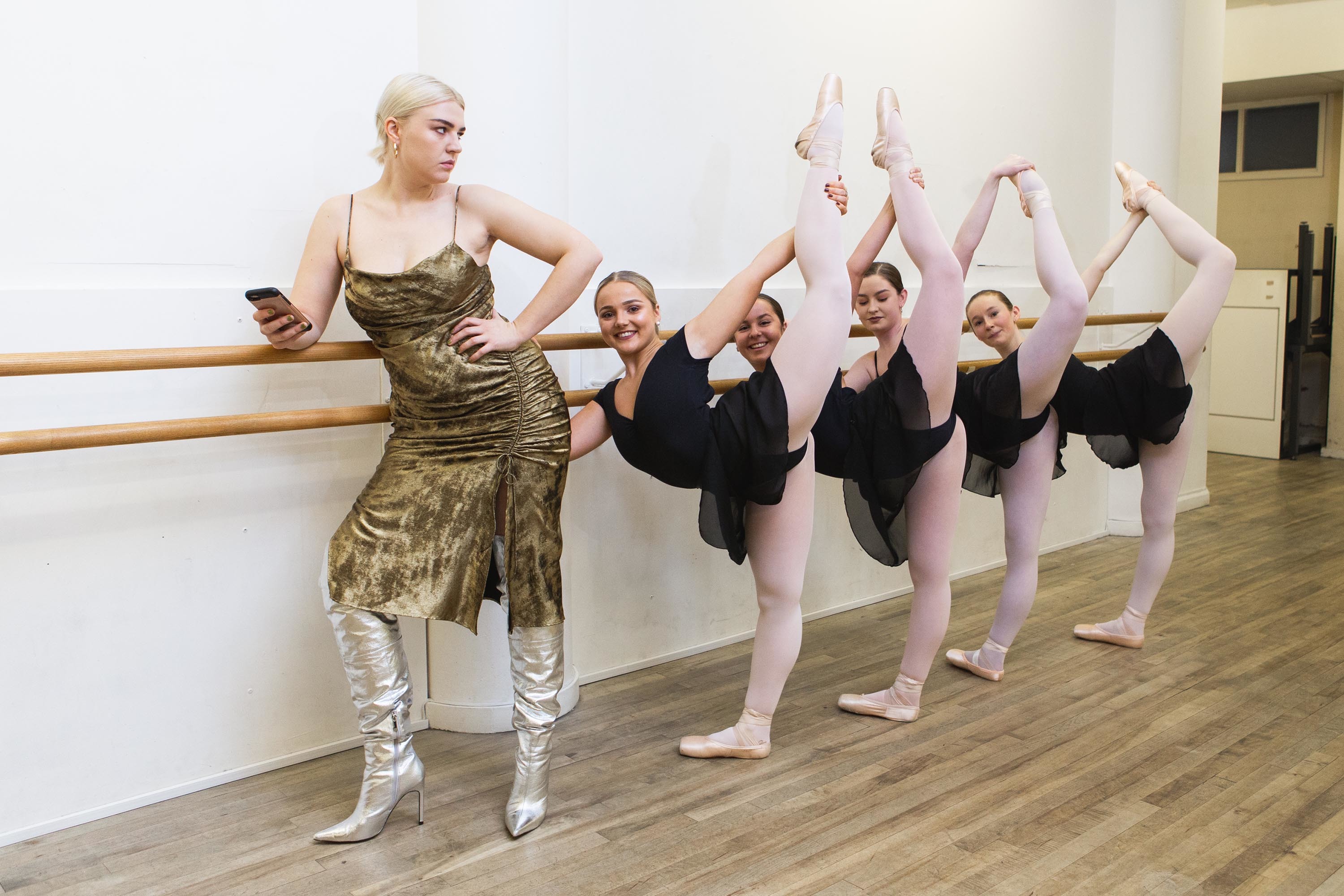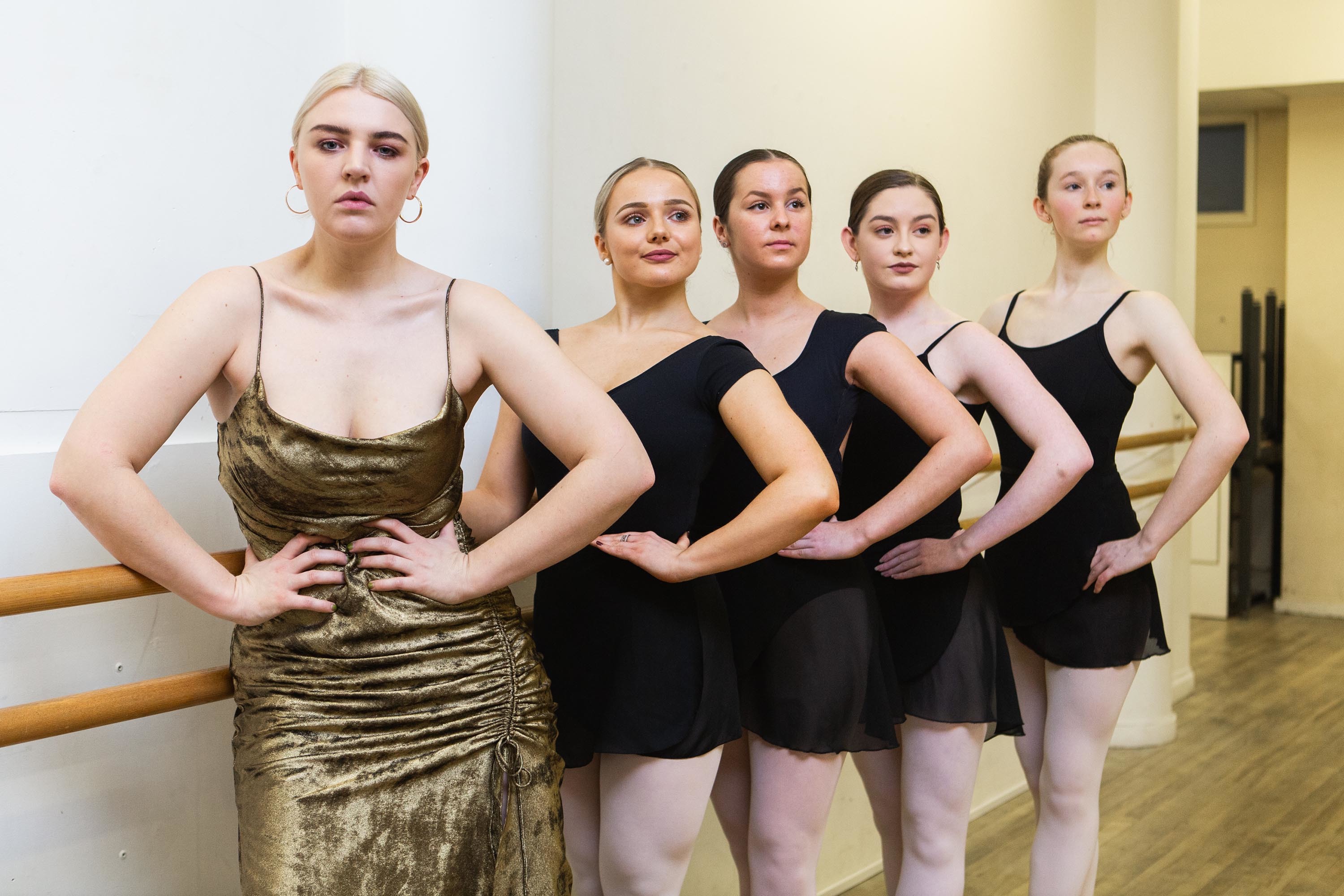 "I felt like I needed to undo my button on my jeans all the time – physically and metaphorically."
"We played The Lock Tavern [in Camden] and I had like, 20 nervous shits. I was completely terrified of even going in there because I thought it was so cool and I might fuck up," she recalls of an early Slow Club gig. "I know exactly which vintage dress I had on and I had a big flower in my hair and so many bangles, loading my gear up these narrow steps and sweating so much and being mortified that I was sweating. But now I'm so done with that, and I feel so sorry for her, because that girl was terrified all the time." The specifics might not apply to most, but the general feeling of youthful anxiety and people-pleasing undoubtedly will.
Now, however, Rebecca couldn't give a toss, and that seems like a pretty damn healthy attitude for a would-be pop star to promote. "I felt so embarrassed about [my ambitions before], but now it's not embarrassing. And now I've also learnt not to be embarrassed about myself," she nods. "I felt like I needed to undo my button on my jeans all the time - physically and metaphorically. This [project] is just a version of me doing that."
So pop one open and let it all hang out with her. Now, doesn't that feel better?
'Compliments Please' is out now via Fiction.
WE'VE GOT A FAVOUR TO ASK
We're often asked by potential advertisers about you, our readers. So we'd really appreciate it if you'd offer up a bit of information about you, and your music-loving habits by filling in our 2019 readers' survey.
Click here to reach the 2019 DIY readers' survey.
(Don't worry, none of what we're asking for is personally identifiable - and no questions are compulsory.)